Boring is a fundamentally basic lathe operation: you use a cutting tool to expand an existing material hole. A well-placed and successful borehole requires you to know several things, from whether you're using the right bore bar, how you set up the bore, to how you cut.
Step 1: Selecting Your Boring Bars
There are three types of boring bars for metal lathes with their own specifications and benefits. Choosing the right one can make your boring task and the boring process easier.
Don't forget to check your bore gages dial whether you can use them on your material. Softer materials can be used with most boring bars, but harder materials will require specific types of boring bars.
When choosing a boring bar for your project, think about bore stiffness and borehole size. For better stiffness, use a boring bar with the largest hole diameter and shortest extension length.
Also, don't forget to get a boring bar holder.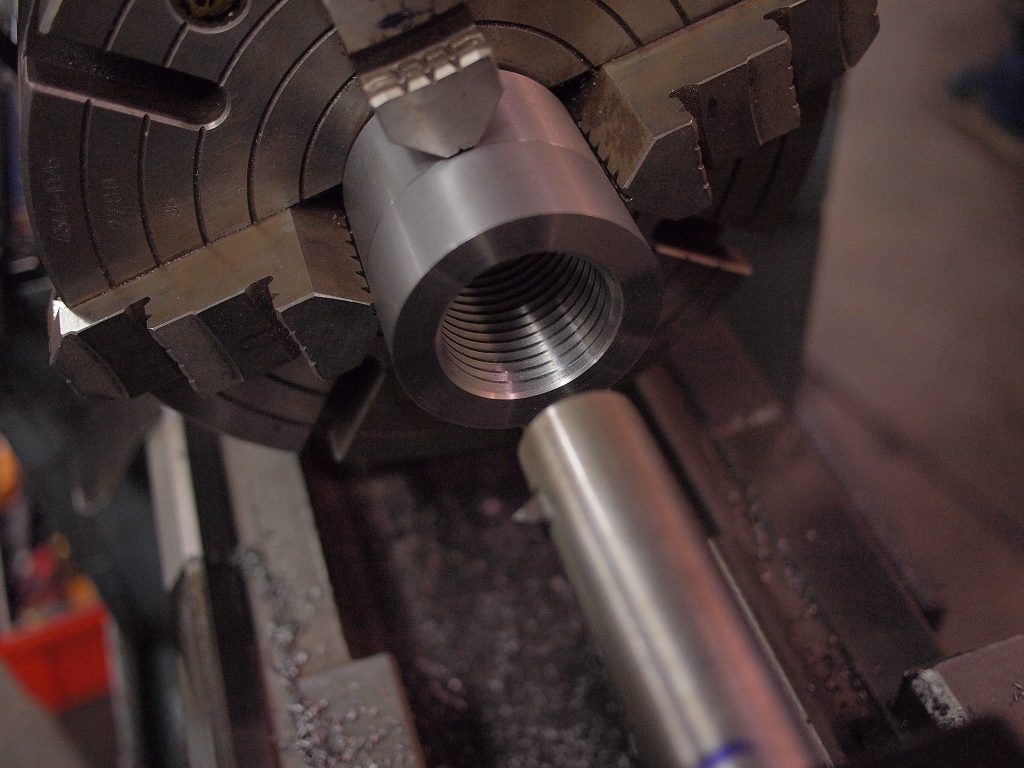 High-Speed Steel boring bars are the cheapest and toughest. They are easily re-tipped on a standard grinder and honing stone if the cutting edge wears a small amount, giving the tool longevity.
Easy to source and cheap to replace, these tend to be the more popular bore bars for beginner lathe enthusiasts.
If you're drilling with HSS boring bars, you get a consistent diameter, plus it's easy to source stock, making them a great basic boring bar.
A Brazed Carbide Boring Bar can cut 2.5-5 times faster than a High-Speed Steel Bar. This means it can tolerate much more heat including surface heat.
Brazed carbide tips have 2.5 times more modulus of rigidity than steel.
These boring bars are great for a variety of metals, are easy to buy, and they produce accurate minimum bore diameter cuts.
Unfortunately, when their cutting edges wear, these boring tools are either reground (which is very difficult) or discarded.
Indexable Carbide Boring Bar
Sale
OSCARBIDE 3/4" Shank Indexable Boring Bars 8 Pieces/Set,90 Degree Round Shank Boring Bars with Indexable Carbide Inserts 4 Pieces TCMT21.51 & 4 Pieces TCMT221
OSCARBIDE Boring Bar Set ,Bar holders are made of high quality steel with coated, inserts with Tin-coated are made of carbide,for moistureproof, rust-proof,for long time use
Round shanks allow the operator to set positve or negative rake,chip breaker eliminates long stringer chips
Carbide Inserts can be indexed, when it is dull use another sided,It is not necessary to remove tool from chuck or tool post
Used for Turning internal hole, reaming, copying,etc.,used for semi-finishing on the existing hole cutter,fit boring machine, lathe machine
Replacement insert for this kit ,please search the Asin of item: B07Q2HNGVF & B07R6M1F3H
Indexable carbide boring bars are similar to HSS bars, however, the radius of the cutting edge varies. Also:
While a cutting edge with a large corner radius is good for roughing, a smaller corner ensures a better surface finish.
The boring bar tooltip can produce a more accurate borehole size.
The boring bar is made from a robust metal that can be used more precisely to bore different radii and varying materials.
So, indexable carbide boring bars are good for projects that need different bore feed drill parts or materials that benefit from a different cutting angle.
Step 2: Measuring the Boring Bar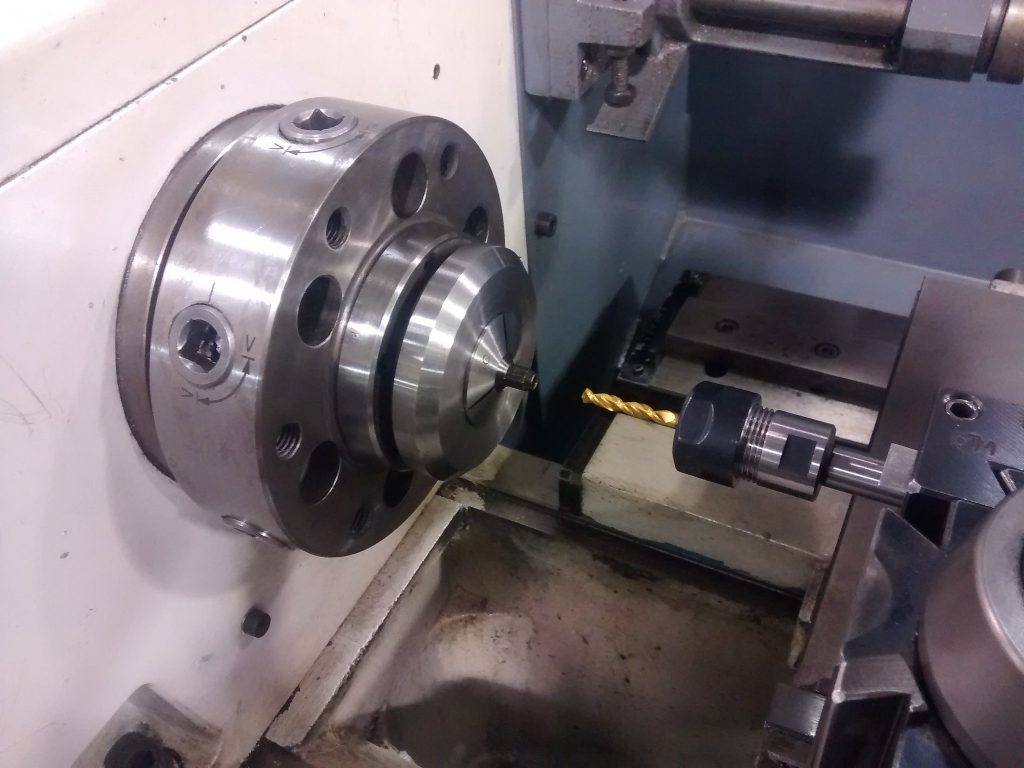 You need to measure the boring tool accurately when you're using your lathe. This will ensure a perfect result and a straight hole. 
If you drill too big you will blow out the borehole and destroy your project. Too small and the hole will need to be re-drilled. It may also be rough and chipped, causing damage to your lathe and boring bars. 
There are several tools you can use to measure the right bar for the right machine:
Dial or Digital Calipers: not the most accurate due to the flat ground on the inside jaw of the dial calipers, but easiest to use. Use a dial indicator. Read more about digital calipers here.
Gage Pins: available in any size, manufactured to be a precise measure. There's a learning curve. 
Bore Gages: precision measure telescoping gages with dial indicators built in. Commonly used and accurate and easy to use. 
Telescoping Gages: the most common tool but requires a lot of skill to produce accurate results. Can measure deeper bores and the taper in a bore.
Inside Micrometres: easy-to-use tools but only work on shallow bores up to 3 inches in diameter. Not for use with larger boreholes. 
Small Hole Gauges: inserted into the bore until drag is felt, accurate tool but very sensitive and difficult to use. 
Step 3: Setting Up the Bar
Setting up a boring bar into a lathe machine requires the correct orientation and height for an effective and clean bore.
You need to take into consideration the drill angle and the drill height before boring. A drilling test may be a good way to ensure you have the correct set-up without ruining your project.
Finally, take into consideration the material you will be boring. The orientation of your boring bar is especially important when considering project materials and density. 
Orientation and your cutting edge
There are three possible orientations of a boring bar tool. Negative-rake, neutral, and positive rake.
Neutral is the safest and easiest to use, however it is always good to test the other orientations. To do so set the tooltip on the vertical spindle centreline, checking the dial indicator and the vertical centerline.
Care must be taken when cutting weaker materials like aluminum or plastics.
A positive rake setting is best, avoiding chip evacuation, however, a negative rake setting is best in higher-strength steels and stronger materials.
Normally boring bars do not have alignment flats on them, therefore orientation of the top surface of a cutting edge parallel to the XZ plane of the lathe is necessary.
Always ensure you have provided adequate cutting tip clearance for the particular size bore tool.
Height
Height is an important factor when setting a boring bar onto a lathe machine. Whilst the bar needs to be as close to the vertical spindle centerline as possible, a boring bar with an adjustable height is important.
If the boring bar is not on the vertical spindle centerline it will fail to bore your desired size, causing damage to the material being bored, and will also run the risk of reducing the tool life or ruining the boring bar permanently.
Step 4: Selecting Cutting Parameters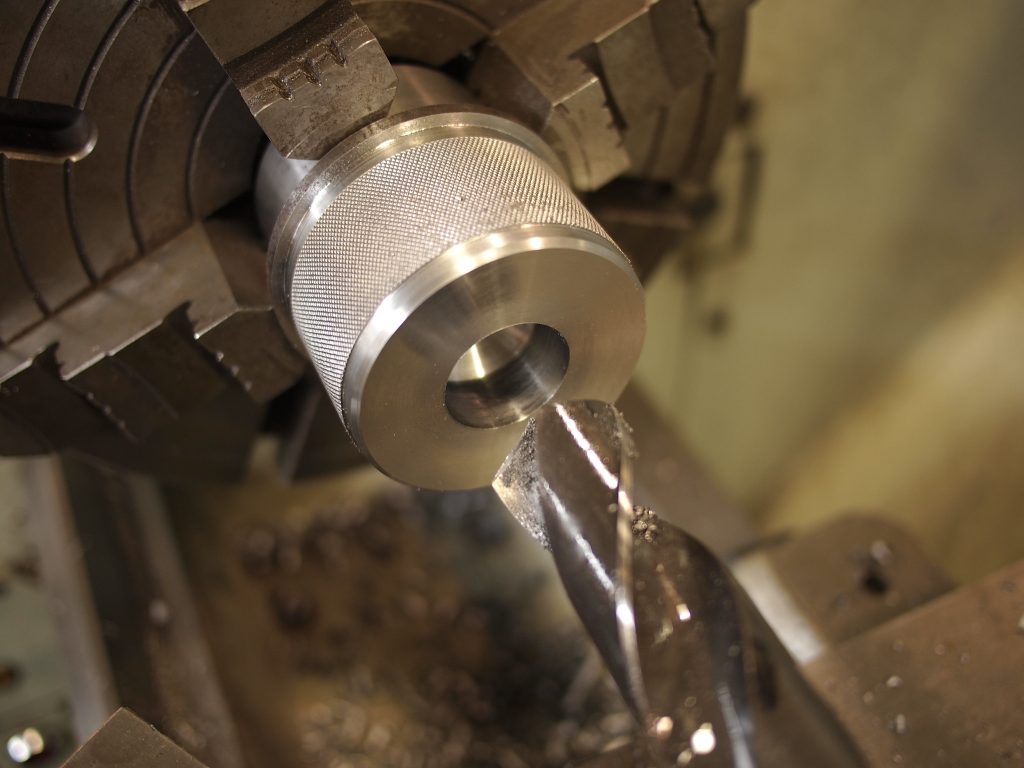 There are a few lathe parameters you need to select before cutting to ensure an accurate and smooth cut.
Chips can occur within the boring process, so using the correct cutting speed and depth will help minimize these chips and drag.
Your tools will thank you for taking the extra time to set these parameters up. Poor cutting speed and depth of cut is a surefire way to trash those lovely new boring bars.
Cutting speed
The cutting speed of a lathe should be equal to half of the calculated value. However, if the boring bar allows it, you can work with a higher cutting speed than the typical lathe value.
If any vibration is felt during the cutting process stop and re-adjust the speed, the RPM of the boring tool may be incorrect, leaving a rough finish on the borehole.
Cutting speed has a direct influence on tool life. A consistent medium speed will get the most out of your bore tools with the least amount of wear and tear.
Depth of cut
The depth of the cut hole is an important parameter to ensure the boring bar does not get damaged. The lathe should be set to a depth of twice the corner radius, this is the maximum safe cut depth.
Depending on the material, a safe maximum bore depth would be 0.1-0.2mm of the cut, with 0.002-0.005 mm as the minimum safest depth of cut.
If you cut lower than the minimum borehole depth, there is the risk of very inconsistent size and finish. The dial indicator will confirm if there is a tight tolerance.
Feed rate
The maximum feed rate of a boring bar on a lathe machine is measured as one-quarter of the corner radius as shown on the dial.
Your feed rate will vary based on your lathe, material, and bore bar. Refer to the manufacturer's instructions for your feed rate if unsure. This will ensure that your chips form as expected.
If at any point, vibration is felt whilst boring a hole, stop the boring process and re-adjust the parameters. In boring, a vibration means the bore tool is off-center and is causing a rough finish.
Conclusion
To complete a successful and precise borehole, make sure that:
you selected the correct boring bar,
you set up the lathe to the right orientation and height, and
you are using precise cutting parameters.
With boring, it is too easy to destroy the material you are drilling and damage your equipment in the process. The correct boring bar and setup will help minimize this risk but do not underestimate the importance of the cutting parameters.
Paying close attention to the size of the bore, the material you are working with, and the setup will ensure your bores drill accurately and more comfortably, leaving you with a smooth and correct borehole.
Hope this helps!