Lathe chucks are devices that hold workpieces in place during the machining process, and they come in a variety of shapes and sizes to accommodate different types of workpieces and machining operations.
The article provides an overview of the different types of lathe chucks, including three-jaw, four-jaw, and collet chucks, and discusses the unique features and benefits of each type. It also explores the various parts of a lathe chuck, such as the jaws, scroll, and chuck body, and explains how each part contributes to the chuck's overall performance.
In addition to discussing the types and parts of lathe chucks, the article also provides guidance on how to select the right chuck for a given job. It covers important considerations such as workpiece size, material, and shape, as well as the specific machining operation being performed.
What is a Lathe Chuck and how is it Used?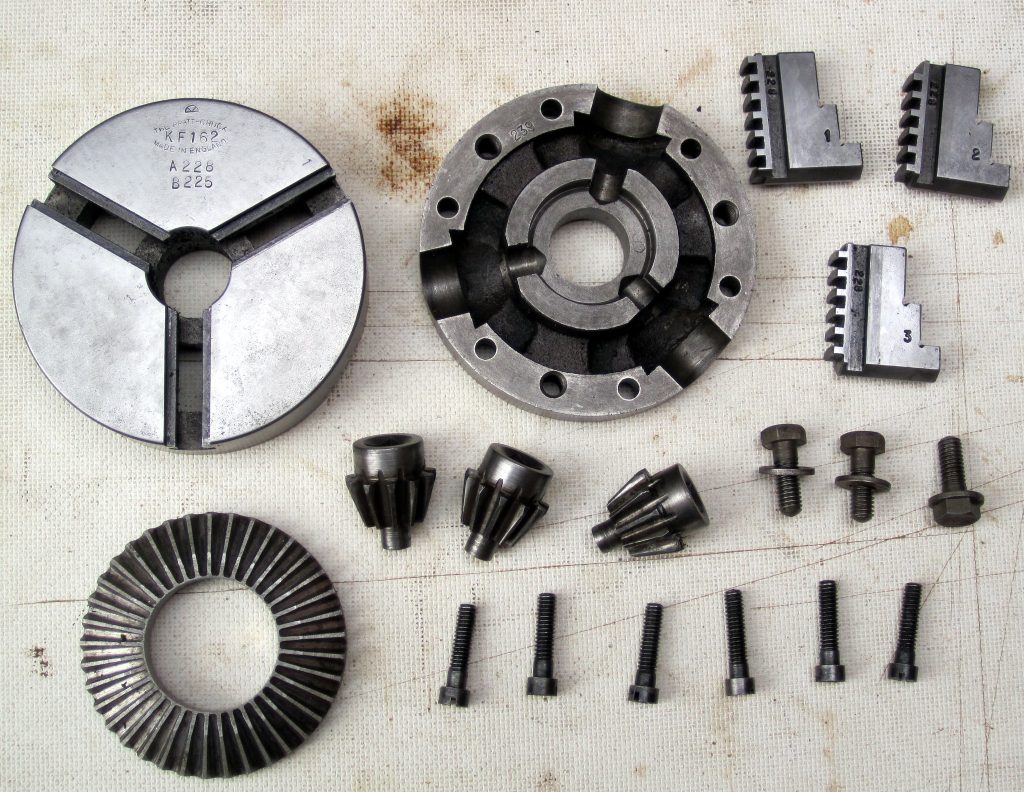 Lathe chucks are an integral part of a lathe machine used to hold and rotate a piece of work while performing a lathe operation.
Symmetric and asymmetrically shaped objects can be held by the chuck, and crucially, those that lack radial symmetry. As well as lathe machines, chucks are also commonly used in milling machines.
The chuck is attached to the lathe spindle by bolts, with the backplate screwed onto the spindle nose, as seen in this image:
Lathe Chuck Types
There are several different types of lathe chuck types; magnetic, four-jaw independent chuck, combination, three-jaw universal chuck, collet chuck, drill chuck, and air or hydraulic-operated chuck.
Magnetic сhuck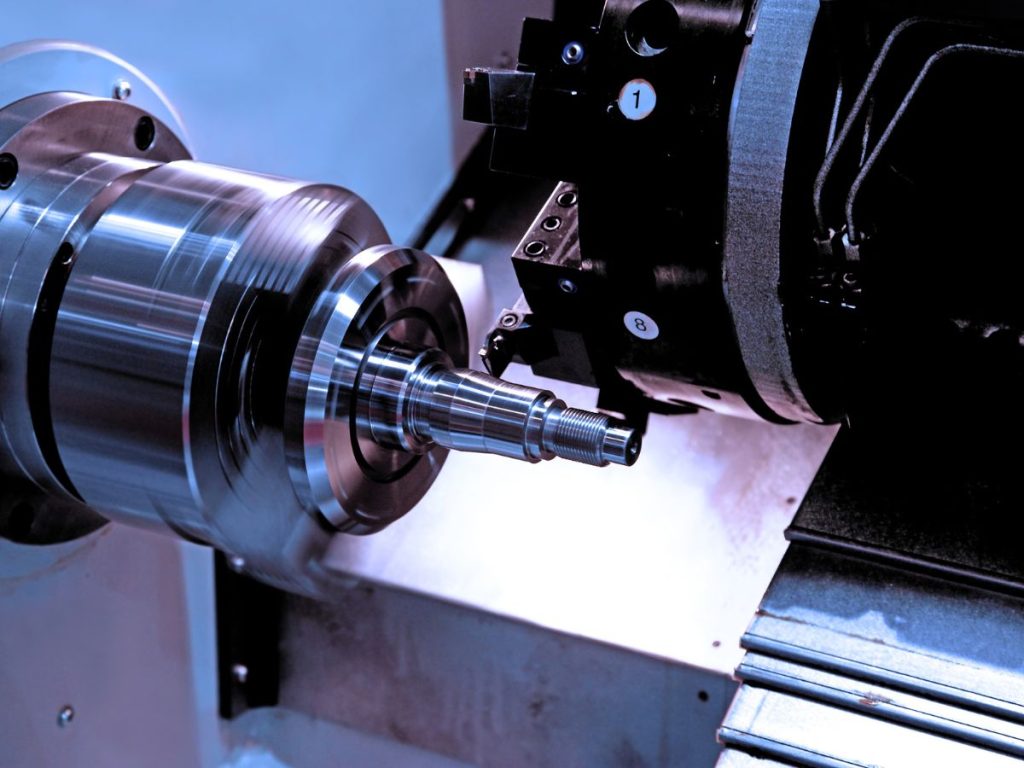 A magnetic chuck is used for grinding and turning. Primarily used for holding thin workpieces made of metal that cannot be held in an ordinary chuck.
In addition, when there is a high need for the workpiece to be unmarked by the pressure of the jaws, a magnetic chuck may be used to reduce this risk.
The holding power of the chuck is obtained by the magnetic flux radiating either from the electromagnets or from the permanent magnets introduced within the chuck.
When in the ON position, the flux passes through the workpiece, gripping it. In the OFF position, the magnets are set aside, thus bringing them in contact with highly permeable keepers.
These short-circuit the flux, preventing them from passing through the workpiece.
Four-Jaw independent chuck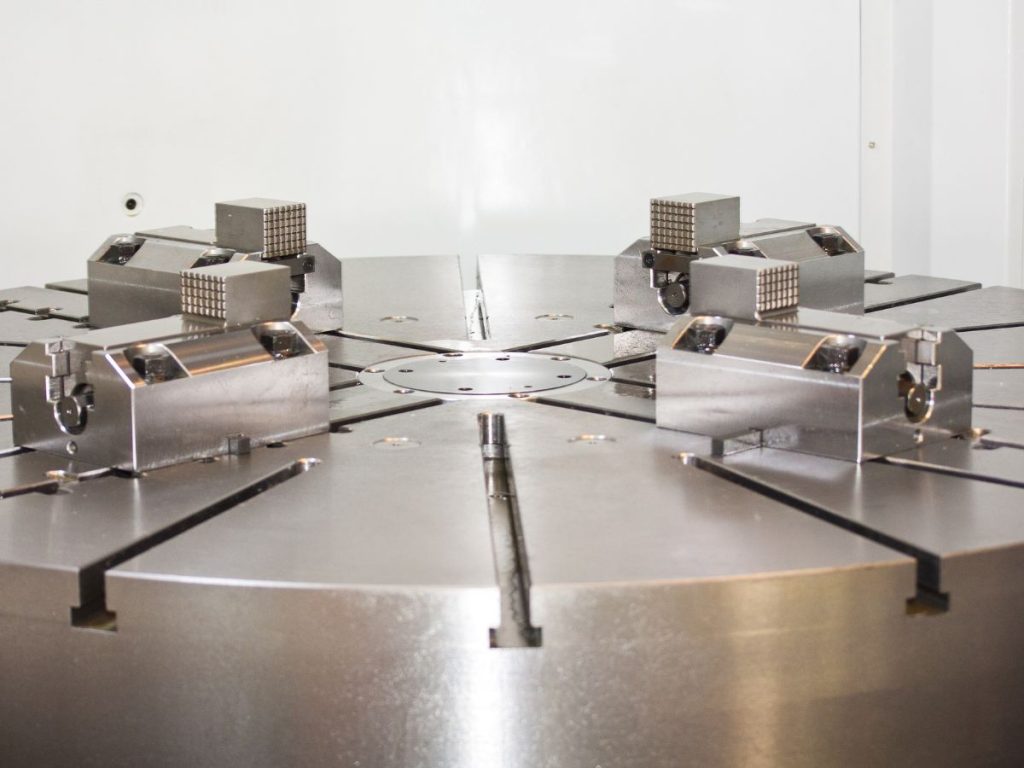 The four-jaw independent chuck is made of tough steel comprising three inner and one outer gripping surface. As the jaw can be reversed, its outer gripping surface is often used for holding larger pieces of work. Four screws are used instead of the scroll disc, and all four jaws open independently.
The independent chuck works without the use of a scroll. Jaws move within their own jaw-ways and move independently to fit asymmetrical workpieces.
These independent jaws ensure accuracy and control to the user.
A longer setup is required to ensure all four jaws grip the piece precisely as intended. These types of chucks are commonly used to grip unusually heavy-duty material and irregularly shaped workpieces.
The four-jaw chuck is classed as an essential piece of equipment for any professional lathe worker. Lacking the self-centering convenience of the three-jaw chuck, it has many other capabilities including;
Grip rectangular and other non-cylindrical shapes for turning or facing
The ability to form rectangular-shaped objects
Deliver high levels of precision when centering cylindrical stock to within the limits of the lathe's accuracy
Drilling off-center holes is made easy with the ability to hold work off-center when drilling holes or turning cams. Forming Non-cylindrical ObjectsThe rotational nature of a lathe makes it perfect for turning radially symmetrical shapes: Beginner lathe workers are surprised to realize that a lathe can be used to form cubes and other six-sided rectangular objects. This is done through a sequence of facing operations using a 4-jaw chuck.
Combination сhuck
Used as both a self-centering and an independent chuck, meaning it's a popular choice as it can move simultaneously or independently, working as both chuck types.
Combination chucks allow the operator to set jaws to a workpiece, insert a chuck key into the chuck body, and turn a scroll interconnected to all four jaw screws to move jaws to and from a workpiece at precise intervals.
Similar to an independent chuck, the setup process of a combination chuck is more time-consuming than that of a self-centering chuck.
This allows for repeatability over several similar workpieces at a faster rate than a basic independent chuck. An independent chuck would be mounted on lathes and index heads.
Three-jaw or universal chuck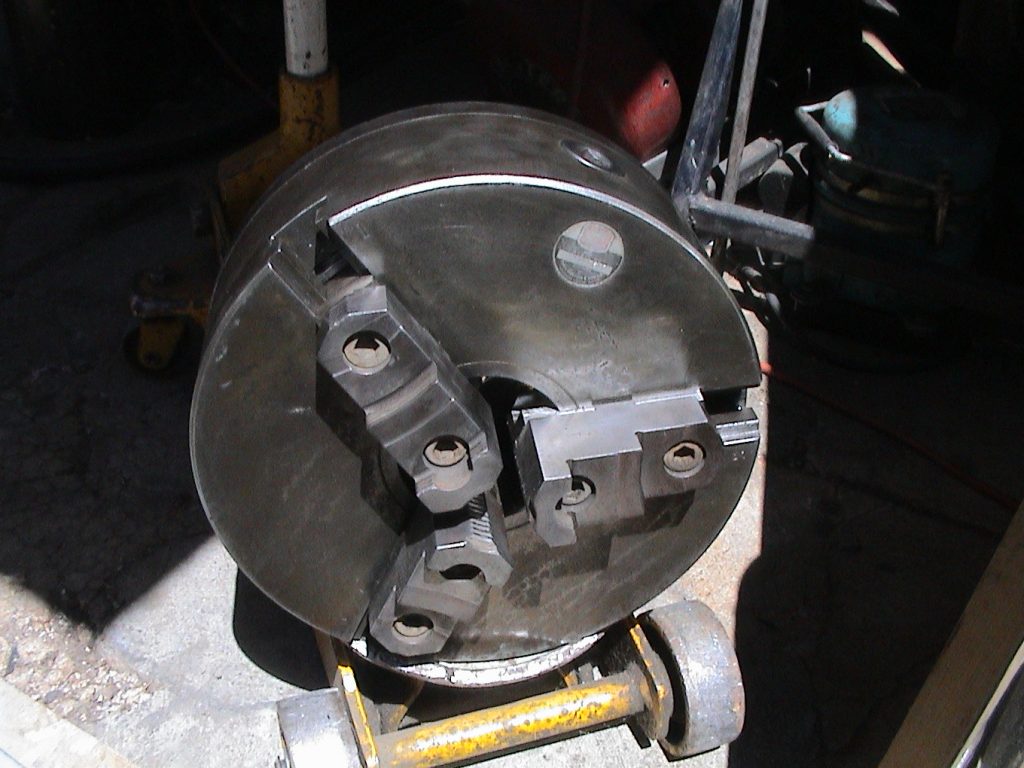 The three-jaw chuck is the most commonly used type of chuck in the lathe machine.
It is used for holding round or hexagonal work and is known for its automatic quick centering ability. It can however wear quickly, due to only having three centering jaws, meaning less gripping capacity and centering accuracy over time.
High-quality steel is used is construct the three jaws and they are arrogated at an angle of 120 degrees to each other.
During operation, the jaw teeth mesh with scrawl spiral teeth (Bevel's Teeth). This meshing creates a moment of all three jaws either towards or away from the chuck center, dependent upon the direction of rotation of the bevel pinion.
The pinion is operated by a square-end key called the chuck key.
Collet chuck
For work that requires highly accurate centering and quick setting a collet chuck is often used. The collet chuck forms a collar around the object and can be clamped onto the object when tightened firmly. A common usage of this chuck is for holding bar stock in production work where accuracy is key, as well as in industry for the cutting of tools and workpieces at high pressures and speeds.
It is attached to the spindle by a nut made from a thin cylindrical brushing called a collet. The inside bore of the collet can be cylindrical, hexagonal or square, depending on the work passing through it.
The collet's outer surface is tapered, therefore fits the taper hole on the body of the chuck, the tail end is threaded and meshes with the key. Once turned from the outside, the collet moves in, pushing the split tapered end inward due to the springy action.
The workpiece is then accurately and securely held in the chuck.
These chucks are commonly used in capstan and turret lathes.
Drill chuck or Jacob chuck
The drill chuck comprises centering jaws that are operated by rotating a key. Often held in a tailstock spindle or headstock, they are used in a lathe for holding a straight shank drill, reaming, or in a tapping operation.
Highly specialized and self-centering the drill chuck three-jaw chuck is used to hold drill bits or other rotary tools.
This works by jaws being brought together or separated when the shell on the outside of the chuck moves.
If the shell rotates clockwise, the jaws will then come together, clamping the drill bit in place so that it can be used.
When the shell turns counterclockwise, the jaws come apart and release the drill bit so it can be replaced.
Keyed, keyless, and hybrid systems are available, allowing for rapid drill bit changes. A drill chuck arbor is commonly linked to a machine's spindle which may be removed if required.
Air or hydraulic operated chucks
An air-operated chuck is often used in mass production settings and is relied upon for its effective and fast gripping capacity. Incorporating hydraulics or air, a cylinder mounted at the back of the headstock spindle rotates with it.
In a hydraulic chuck, fluid pressure is delivered to the cylinder by operating a valve with a lever, the piston then slides within the cylinder.
One of the most popular chuck types for when a fast tool change is required and is enabled by the assistance of a special extraction key.
Wood Lathe Chuck Types
A wood-turning chuck is a must-have for wood-turning work. A wood lathe chuck is commonly used to keep the piece the user is working on stable (see "Lathe Chuck Mounting Methods").
This allows the user to make accurate changes to the workpiece.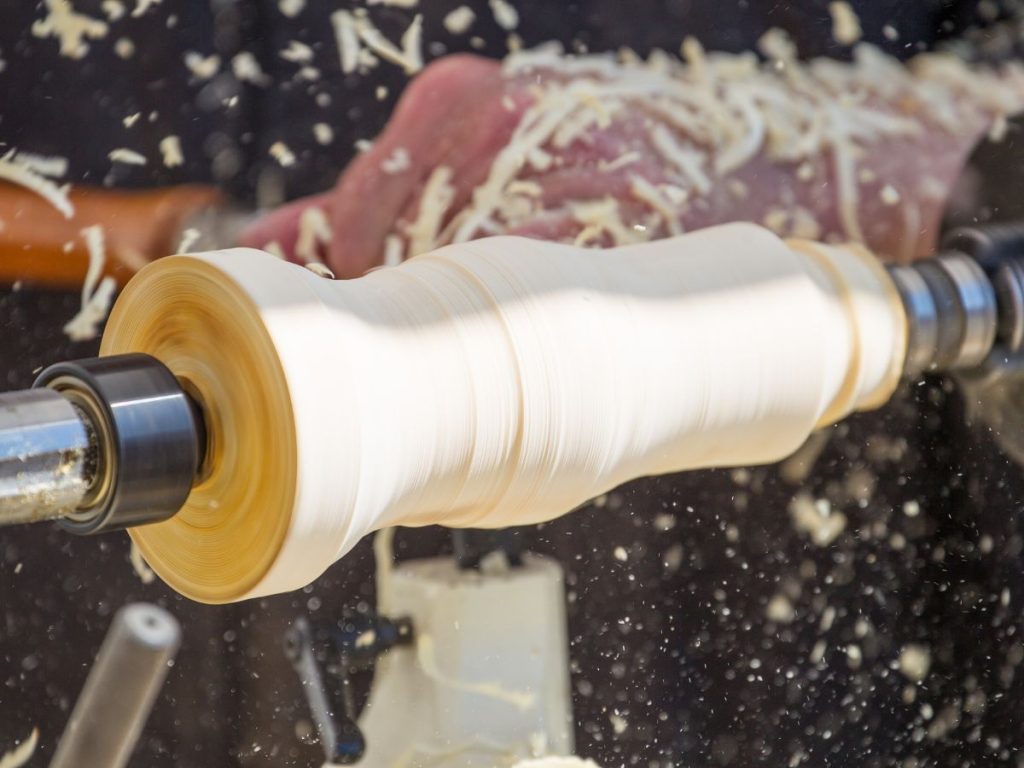 There are many other wood lathe tools and accessories that can ease your workflow and help you increase productivity.
Self-centering chucks that are often called scroll chucks. These are wood lathe chucks that come with jaws that are connected with a scroll.
These chucks are available with two, three, four, or even six jaws.
Self-centering chucks are mostly used when it is important to center the workpiece accurately.
By housing up to six jaws, they're ideal for holding hexagonal and circular objects.
If the object is thin, applying a lot of pressure would not be a good choice. In these instances, self-centering chucks with four or six jaws can assist as the pressure can be equally distributed.
Lathe spindle and nose mounting systems
Lathe spindles are used for the machine-cutting of workpieces. Also referred to as workpiece spindles, due to the workpiece being clamped via the chuck of the lathe spindle. The rotating workpiece is machined by the tool attached to the driven machine axis.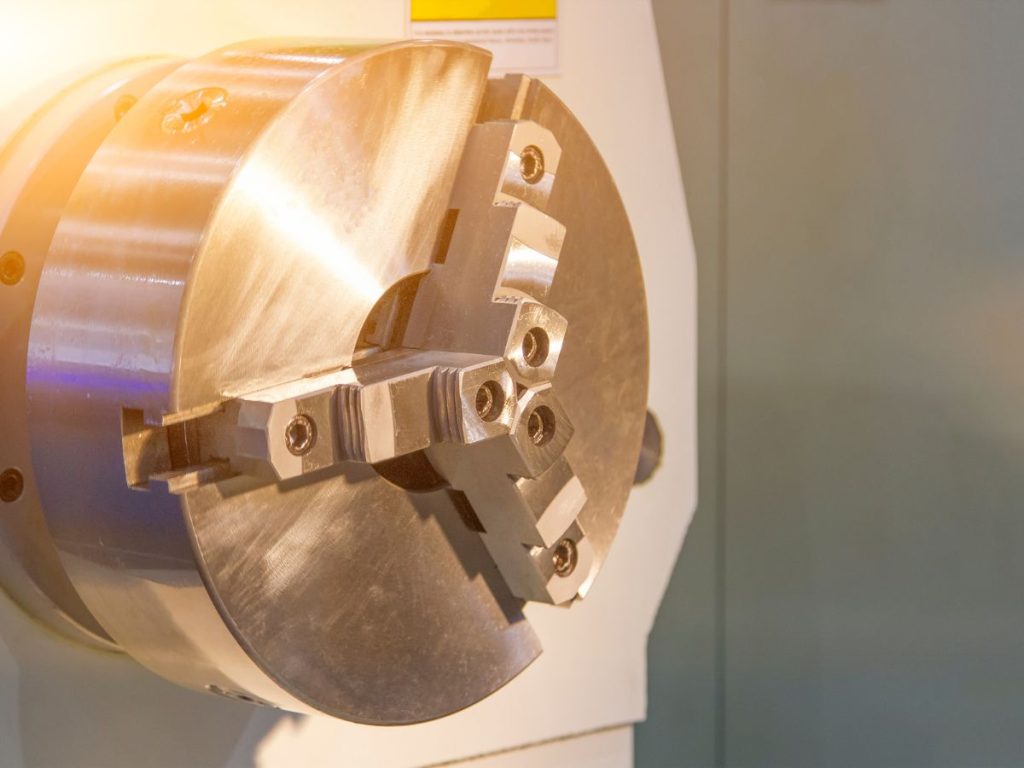 Self-centering or scroll chuck types
The self-centering chuck lathe chuck is also known as a scroll chuck and uses jaws, interconnected by a scroll, to secure a workpiece.
Self-centering chucks can be fitted with 2 jaws, 3 jaws, 4 jaws, or 6 jaws, depending on the needs of the user.
FAO's
How do I choose a chuck for my lathe?
Firstly, it is important to identify the workpiece requirements. Once this has been determined, check the machine requirements to be certain they are compatible.
Selecting a chuck jaw requires time and effort as well as meticulous calculations to find the correct piece for maximum efficiency.
Take your time to get this right and be mindful that doing so could increase your work efficiency drastically.
Which wood lathe chuck type is recommended for woodturning?
The woodturning chuck or four-jaw chuck is a key tool used in the wood bowl-turning process.
Although possible to turn a wood bowl without a chuck, the four-jaw woodturning chuck makes this action much easier.
What to Look For in a Chuck
Size of the chuck.
Workpiece dimensions.
Workpiece material.
Production volume (hard or soft jaws)
Maintenance expectations.
The manufacturing process (what rpm will the chuck run at given the size and weight of jaws and part)
Price.