The Rikon 70-100 Mini Lathe is an amazing piece of machinery that really packs a punch for its size. As a mini-lathe, it's perfect for a small workspace and a small budget. In this in-depth Rikon 70-100 review, we break down the specifications of this model in detail and show you just how versatile it can be. You can do a whole lot more than just turning pen blanks!
What To Consider Before Buying a Mini-wood Lathe.
If you have purchased a wood lathe before then you likely know what you are looking out for. However, if you are reading this review with the intention of buying your first wood lathe then there are some important things to think about before making a purchase.
In general, when it comes to wood lathes it's best to go with the biggest you can afford. This is because whilst you can make small pieces on a large lathe, you can't make large pieces on a mini lathe. If you are hoping to make large bowls, big table legs, or any other bulky item then the 70-100 mini lathe isn't going to be the right thing for you. However, this does not mean that mini lathes are without merit. Not every workspace and indeed, not every budget, has the space for a full-sized wood lathe. A mini wood lathe offers a cheaper and more compact alternative that is still capable of creating a good many different projects. We have included several project ideas at the end of this review so that you can gain some inspiration for the kind of things you can create using these fantastic little machines.
Right, now you know what you are looking out for let's get into the Rikon 70-100 review.
The Rikon 70-100 Specifications
Overall Size: Length 32", Width 10-½", Height 17-½", Weight 89 lbs
12" Swing/16" between centers
Motor: ¾ Horse Power TEFC, 5.7 A, 115V, 60Hz, 1,720 RPM
MT2 Taper for Headstock and Tailstock
Self-Ejecting Tailstock
Spindle: 1" x 8 TPI
Spindle Lock
Indexing
Variable Speed (5 Speed): 430, 810, 1,230, 1,810, 2,670, 3,900
Runs Forward
Accessories: spur center, live center, 3" faceplate, tool rest, knock-out bar, wrenches, and tool holder.
5 Year Warranty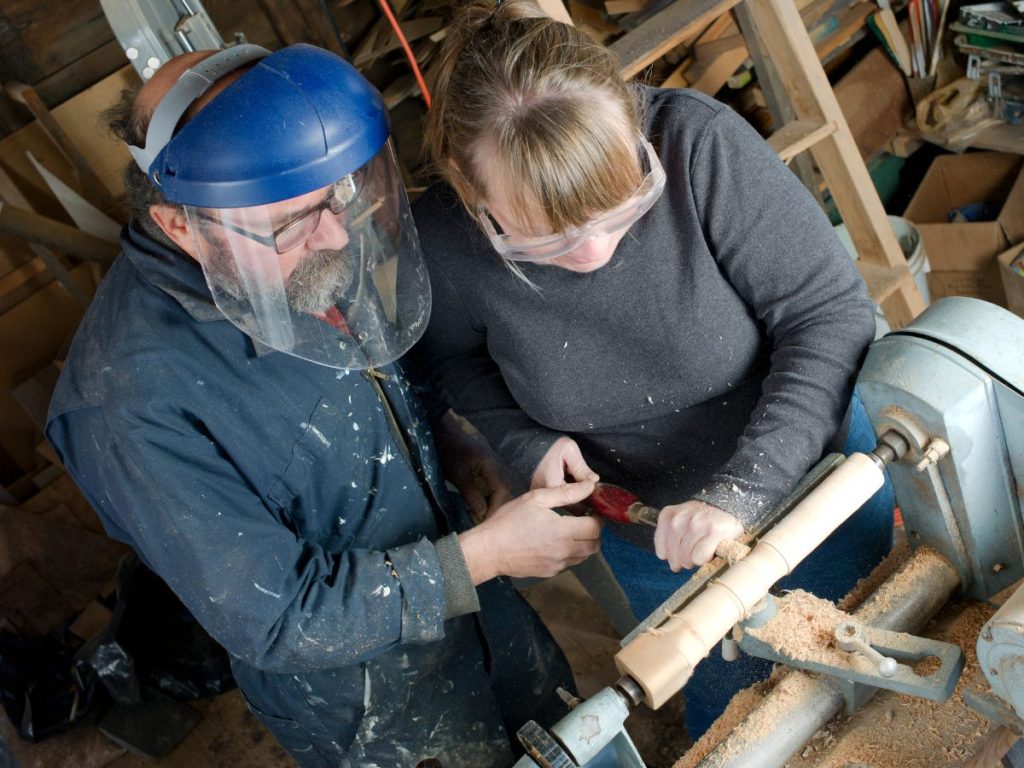 Overview
The Rikon 70-100 is a fantastic little lathe that is amazingly accurate and has a great capacity for its compact size. It has a very user-friendly interface and while it may not be suitable for professional use it is perfect for beginner woodturners or someone looking for a smaller lathe. Its variable speed and other special features allow for great control and ease whilst turning and its swing size makes a wide range of small projects possible using this machine another useful feature that is not mentioned above, is that the ram can be moved up to 2-1/2 Inches and even the headstock is moveable and can be moved quickly and easily by loosening the locking lever. I have broken down and explained the rest of the specifications in depth below.
Small and Sturdy Construction
The weight of the machine is a little on the heavy side for a mini-lathe, however, this is not necessarily a bad thing. The extra weight means increased stability and less vibration. If you are looking for a replacement for a machine that rattles and vibrates all over the place then the Rikon 70-100 may be the lathe for you. It certainly is a sturdy little thing!
The Rikon mini lathe's 12" swing is respectable for its size. Whilst it is no match for the swing size of a full-sized lathe the Rikon 70-100 can still undertake many small projects such as chess pieces, pen blanks, and tiny bowls. This is what can be expected from a lathe of this size. The distance of the swing over the tool rest is 9-1/2" and the tool rest post diameter is ⅝".
Powerful motor with Variable Spindle Speed
Smaller lathes often leave something to be desired in the power department. This is not the case for the Rikon 70-100. With its ¾ horsepower motor, this Rikon mini lathe is more powerful than many machines of the same size. Again, this is no real match for the power of a full-sized lathe but perfect for smaller projects.
A surprising feature of the Rikon 70-100 mini is that it has 6 different spindle speeds. Mini lathes often only have 2 speeds or are even only a single speed which severely limits the crafting capabilities of the machine. The variable speed option on the Rikon 70-100 allows for greater control when crafting making a wide range of projects possible without a struggle. The variable speed can be controlled by opening the access flap and making loose of the locking joint.
One drawback of the Rikon 70-100 mini lathe is that it does not have the option to run in reverse. This feature is useful for sanding finished pieces. It is unusual for these mini-lathes to include this so it is not a massive drawback however it is worth taking into consideration.
The Headstock and Tailstock
The self-ejecting tailstock is something that really makes the Rickon 70-100 stand out from other mini lathes. Using a knockout bar can be a bit of a faff but you don't need to worry about that with this machine. The self-ejecting tailstock means that it's super easy to remove your work and that there is one less thing to worry about!
This mini-lathe also benefits from a standard-sized taper. Morse Taper 2 is the standard size of taper for most mini, midi, and full-size lathes. Some mini lathes opt for the smaller MT1 taper which is more unusual and more difficult to find matching parts and accessories. With the Rikon 70-100, you know you will be able to find a replacement, and additional, parts with ease – especially if you prefer to shop second-hand and keep those costs down!
The Rikon 70-100 is also equipt with the standard spindle size making finding additional and replacement parts a breeze! Some mini-lathes may undercut the Rikon 70-100 in the upfront cost but will leave you scouring the internet for obscure and overpriced parts. It's always worth exploring the availability of parts and accessories for your machine before purchasing!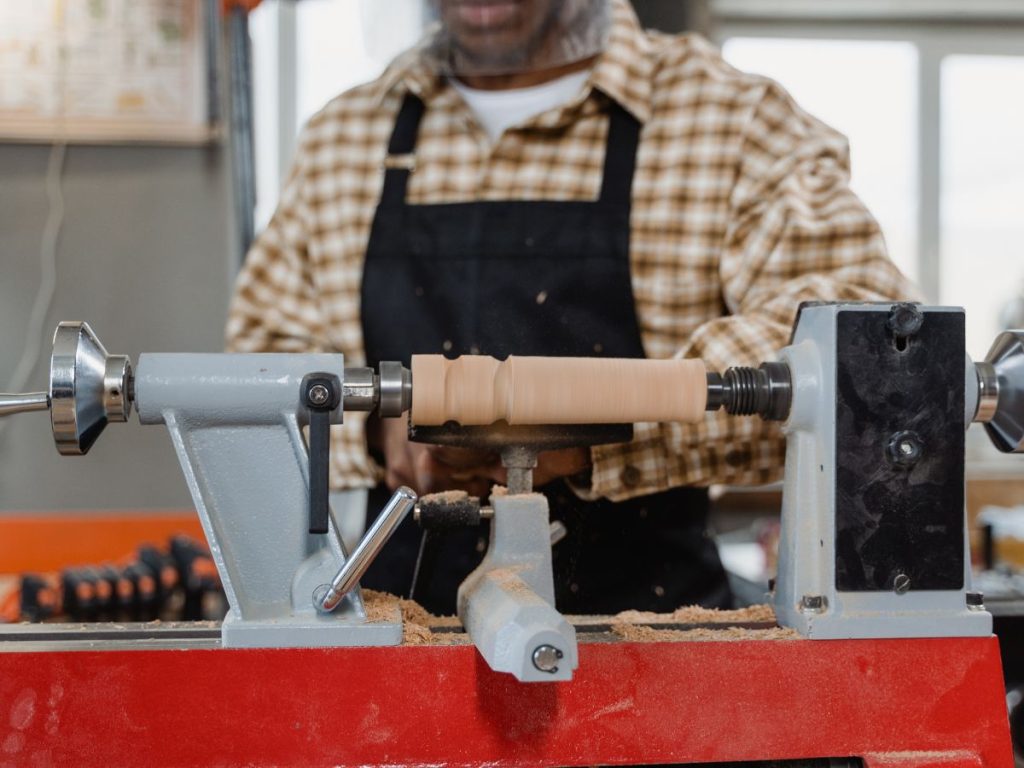 Additional features
The Rikon 70-100 includes a spindle lock and a 12-position indexing head. is a useful feature on any wood lathe.
The indexing head feature is one of the things that really makes the Rikon mini lathe special. The indexing head locks in 12 different positions allowing for a high degree of customization. This feature is highly unusual for a lathe in this price bracket and something that is included in the best wood lathes. It allows you to lock your work at many different angles which can be useful for straight fluting, layout making, grooving, drilling, and a whole host of other things. This paired with the variable speed ranges allows for a high level of control when crafting.
The spindle lock allows you to lock the spindle in place which makes it easier to add and remove attachments such as face plates and chucks.
Accessories and Add-ons
The machine comes with a great selection of accessories: spur center, live center, 3" faceplate, tool rest, knock-out bar, wrenches, and tool holder. The nylon faceplate washer is easy to use and helps stop the residue from building up in the spindle. There is also a flip up handle which increases mobility and can also be used as a tool holder. Multiple extensions can also be purchased increasing the versatility of the machine even further!
Pros & Cons
Pros
Sturdy
6 Speed Options
12-Position Indexing Head
Comes with a good selection of accessories and the option to add multiple extensions.
Cons
Doesn't run in reverse
Heavy
Lacks the power of a full-sized lathe
Can only be used for small projects
Final Verdict
This is a great little lathe. Perfect for beginners or those looking to save on space in their workspaces. Rikon is a trusted and reliable brand (see "List of Wood Lathes and Their Specifications") so you can't go too far wrong. The variable speed and indexing head really make it stand out from the standard mini lathe. Parts and accessories are easy to find and often available secondhand. The only real reason not to buy this lathe is if you are looking for something to make big and bulky projects. If this is the case it may be worth looking at midi lathes or full-size lathes. If you are mainly looking at making smaller items a mini lathe like the Rikon 70-100 is a perfect budget-saving option – and even with a small lathe there are so many things you can make!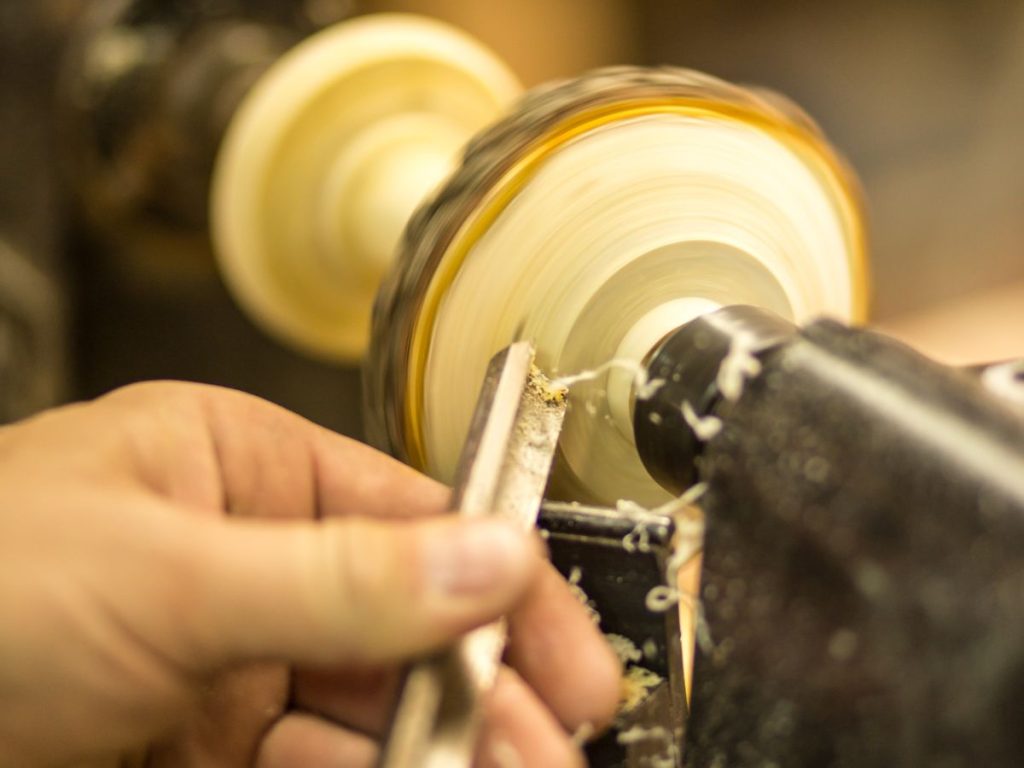 Project Suggestions for a Mini Lathe
There are many small projects that can be undertaken on this Rikon model. Check out our list below for some ideas of where to get started!
Beads
Earrings
Whistles
Bird Calls
Tea Light Holders
Candlesticks
Chess Pieces
Spinning Tops
Tool handles
Honey Dipper
Rings
Pen Blanks