In this article, we briefly go about the different types of lathes, their differences, and how to choose one for your needs. I've spent quite some time doing the research so you don't have to.
Let's dive in.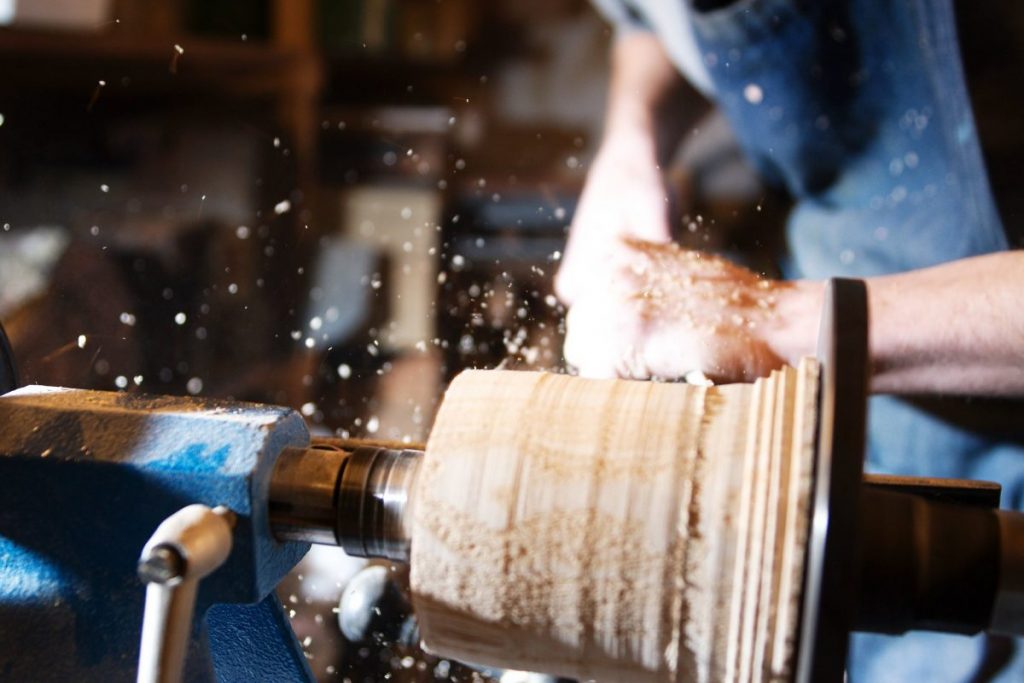 Disclaimer
We'll start with a simple fact: there is no such thing as "The Perfect Lathe". Whichever lathe you eventually choose will be a compromise in one area or another – be it in price, size, features, quality, etc. I don't say this to discourage you, I'm just stating a fact. The secret to choosing the perfect lathe for you is in deciding what is important to you. We've already mentioned two important factors: budget and project requirements.
Another fact is that many turners own more than one lathe. Why? The reasons vary but for most, it's simply the continual lust for bigger and/or better iron. (Is this your personality type? If so just save yourself time and money by skipping the budget lathes and going straight for the "Big Iron".) Many turners start with a mini lathe and eventually upgrade to a full-size. Others start on a budget full-size lathe and later move to a better-quality lathe with more capacity. The root motivation in nearly every case is simple: Turning can be very addictive.
Factors to Consider When Buying a Woodworking Lathe
To buy the best lathe, there are several things you need to consider, apart from the performance and the cost. These are size, base, headstock, tailstock, power, speed, and capacity. You will also need the right safety measures and accessories in your workshop to begin your woodturning journey. Let's have a look into each of these aspects here:
Size
Lathes come in three sizes: mini/benchtop, midi, and full size.
Some prospective buyers tend to discount mini lathes as a toy because of the name. We often hear, "Aren't they only good for turning pens?"
Nothing could be further from the truth. Most experienced turners will tell you that a good quality mini lathe is a serious tool and very well suited to a new turner looking to learn the craft with minimal investment. This makes the mini a great entry point for those who can't afford to start with that infamous and elusive "Last Lathe I'll Ever Own". Minis are ideal for bowls, vases, hollow forms, etc. up to 10″ or 12″ in diameter. Do you really need to turn a bowl larger than 12″ in diameter?
The main advantage of a full-size lathe is obvious – capacity. A common argument for the full-size lathe is: "You can turn small objects on a full-size lathe but you can't turn large objects on a mini."
If you need to turn long spindles, such as table legs, you'll probably be looking at a full-size lathe. But again, give some thought to a mini with a bed extension. These generally extend the bed length up to 40″ or 50″ depending on the lathe model.
Other things to consider in terms of size:
The size also determines the maximum size of wood you can work on.
The larger the lathe, the heavier it gets. As full-size lathes tend to be very heavy, usually upwards of 300 pounds, ensure that your workshop flooring can support the weight.
Height of the lathe also makes a difference. The lathe's spindle should be at the same height from the ground as your elbows. If this is lower, you may tend to bend over the machine, leading to sore backs. If it is higher, aligning your tools can get difficult.
As this depends on your height, and not everyone's height is the same, you can even choose to raise the base of the lathe, or conversely, stand on a platform to achieve the right height.
Base
The bed or base of the lathe is usually a cast-iron beam that is heavy and can endure any intensity of vibrations from the lathe. No matter what size of lathe you prefer, make sure that the base is sturdy and solid.
The heavier the base, the sturdier it is, making it easier to use. Instead of looking for lightweight, portable bases, invest in a heavy, sturdy base and dedicate a space in your workshop to set it on.
The slightest vibrations can affect the stability of your workpiece, making it move or swivel in the wrong direction as it spins. This can result in accidental cuts and unintentional tears that might not be fixable. This is why a sturdy base or stand is necessary while woodturning.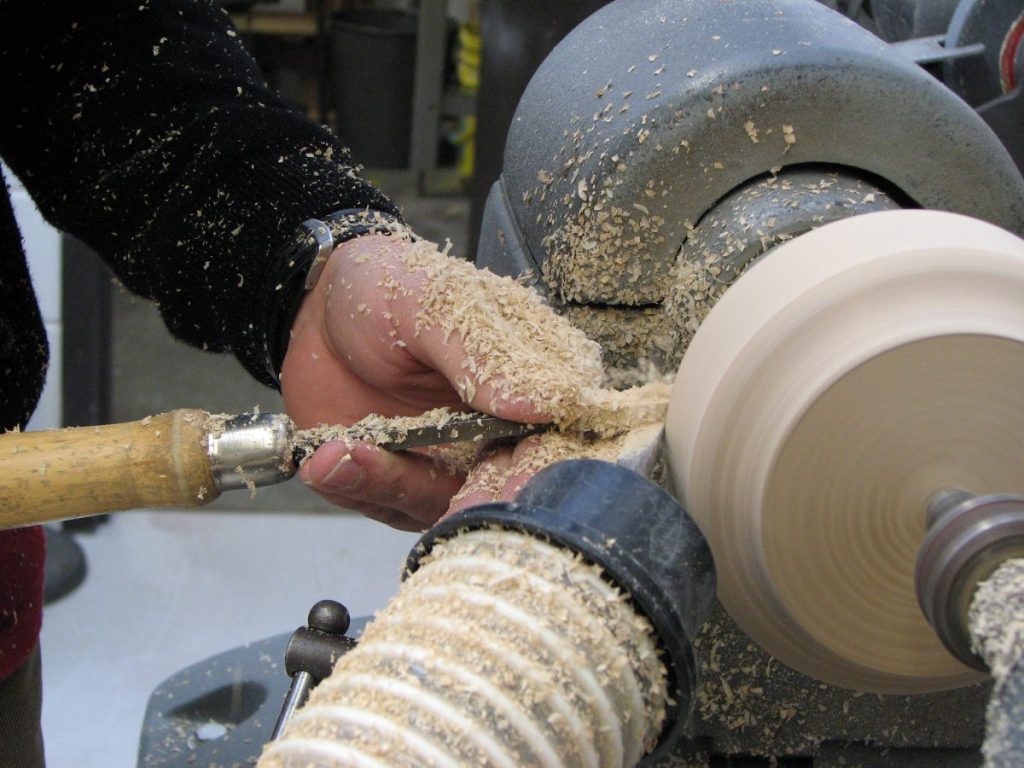 Headstock
The headstock of a lathe machine is the part of the lathe that has the motor attached to it. This is connected to the power input and is essentially what regulates the speed of the spin.
A spindle is attached to the headstock which extends towards the middle of the lathe. As the motor is turned on, the spindle spins, thus spinning the wood attached to it.
Some lathes have a digital readout meter on the headstock that shows the current speed of the lathe.
Tailstock
On the opposite side of the headstock is the tailstock. Its position can be shifted and fixed to the base according to the length of the workpiece. It ideally locks the spindle in place to the center of the base, preventing it from rotating unevenly.
The tailstock can be moved along the length of the lathe and fixed at the desired position. Once fixed, it grips the wood in place so that the wood rotates parallel to the base. While this ensures that the workpiece rotates evenly, your hand stability is equally important for symmetrical cuts.
Capacity
The capacity of a lathe is a measure of the maximum size of working material you can use in the lathe. There are two ways to determine a wood lathe's capacity:
Distance between centers (DBC): This is the distance from the headstock to the tailstock of the lathe. This essentially tells you the maximum size of wood that can be worked on. This can range from 12 inches to over 40 inches.
Swing over bed (SOB): This is the distance between the spindle and the bed of the lathe, which gives you the maximum width of the wood that you can work on. This can vary between 6 inches to over 15 inches.
Power
The potential of a lathe is usually gauged based on its power output. This is measured in terms of horsepower (HP). Most wood lathes have power ranging between ¾ HP to 2 HP. Higher horsepower equals higher speed, which means that the wood rotates faster. A faster spin enables you to complete your projects faster.
To regulate the power, you also need to make note of the voltage of the input power source. If you need to switch between power sources for different input powers, make sure that these power sources are all easily accessible and workable from your workbench, as it can be difficult to move the entire lathe machinery for this purpose.
Moving away from the lathe to operate these switches while the lathe is still spinning can be dangerous as well. So try to stay within arm's reach of the power button.
Speed
The speed of a lathe is the speed at which the spindle rotates. This is measured in terms of rotations per minute (RPM) and ranges from 250 RPM to 4,000 RPM. For more controlled, delicate cuts and while working on smaller pieces, it is easier to work on higher speeds as it maintains consistency.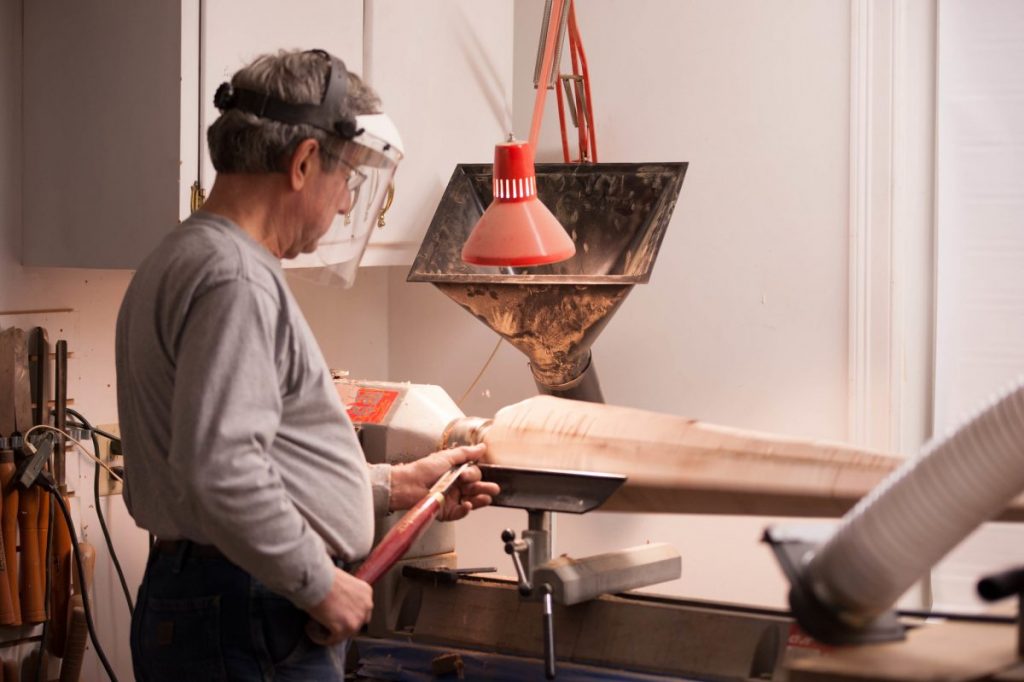 Tool Rest
As the name suggests, the tool rest is a place to rest your spare tools while working. Most lathes have tool rests that can be attached directly to the lathe. It makes your woodturning experience convenient, by keeping your tools handy.
Tool rests are usually just a horizontal bar. For safety purposes, these should ideally be fastened away from the rotating wood, but close enough so you can reach your tools easily.
Mini/benchtop and midi-sized lathes have a tool rest that can be attached to the lathe and easily repositioned. Full-size lathes come with extendable tool rests that can be swiveled around for easy access while working on larger workpieces.
Safety
We have a substantial safety guide here.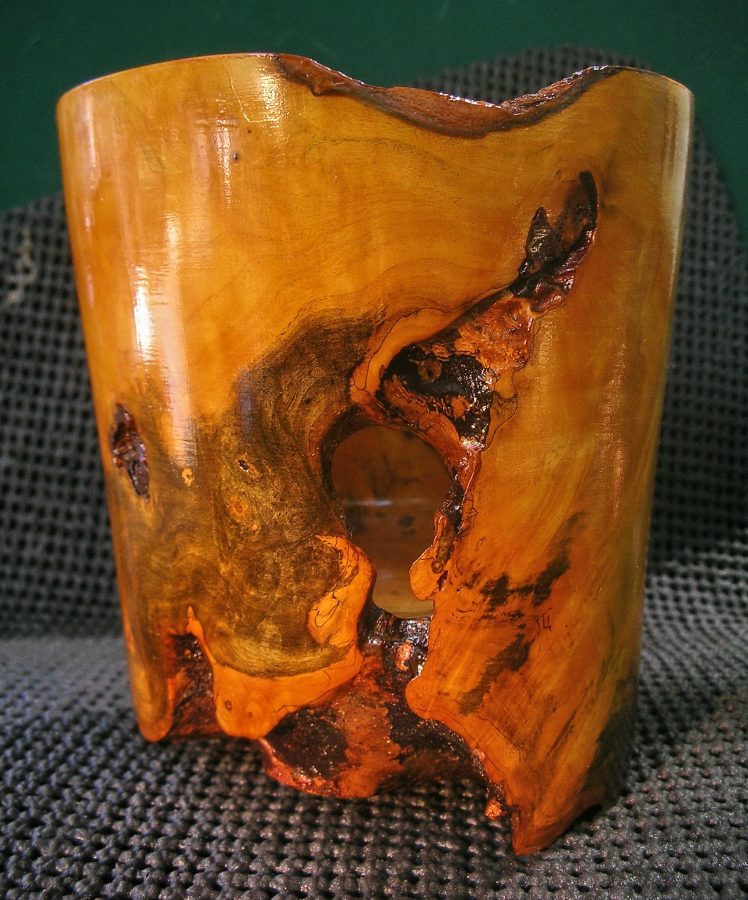 Accessories and Tools
Apart from the lathe, you will also need spring calipers, gouges, chisels, and hones for woodworking or woodturning. While some of these accessories are for working on the wood directly, others are used for measurements and quick fixes.
Spring Calipers: A key step to woodworking is to make sure your measurements are right. Spring calipers are used for measuring the diameter of the wood that you're working on. After stopping the motor, you can use spring calipers to measure your wood while it is still on the spindle.
Spring calipers are of two types, outside calipers that are used to measure the thickness of the wood from the outside, and inside calipers that measure the width from the inside.
Gouges: Gouges are tools that are used to cut the wood. Based on the width and shape of their tips, they can make fine, medium and broad cuts, on the inside as well as outside.
There are different types of gouges that serve different purposes like bowl gouge, spoon gouge, fishtail gouge. While some of these are designed for rough cuts, others can be used for more intricate designs.
Chisels: Chisels are tools that are used to smoothen the surface of the wood. They usually have flatter tips and are used to hip away rough edges to make further sanding easy.
Like gouges, chisels also come in a wide range of tips that can be used for specific purposes like a corner chisel, fishtail chisel, or paring chisel.
Honing Tool: While working with lathes, burring in the lathe and tools is a common sight. Burrs are metal ridges that form on the edges and tips due to continuous friction. Honing tools can be used to remove these metal abrasions. This is an inexpensive way to increase the longevity of your lathe and tools.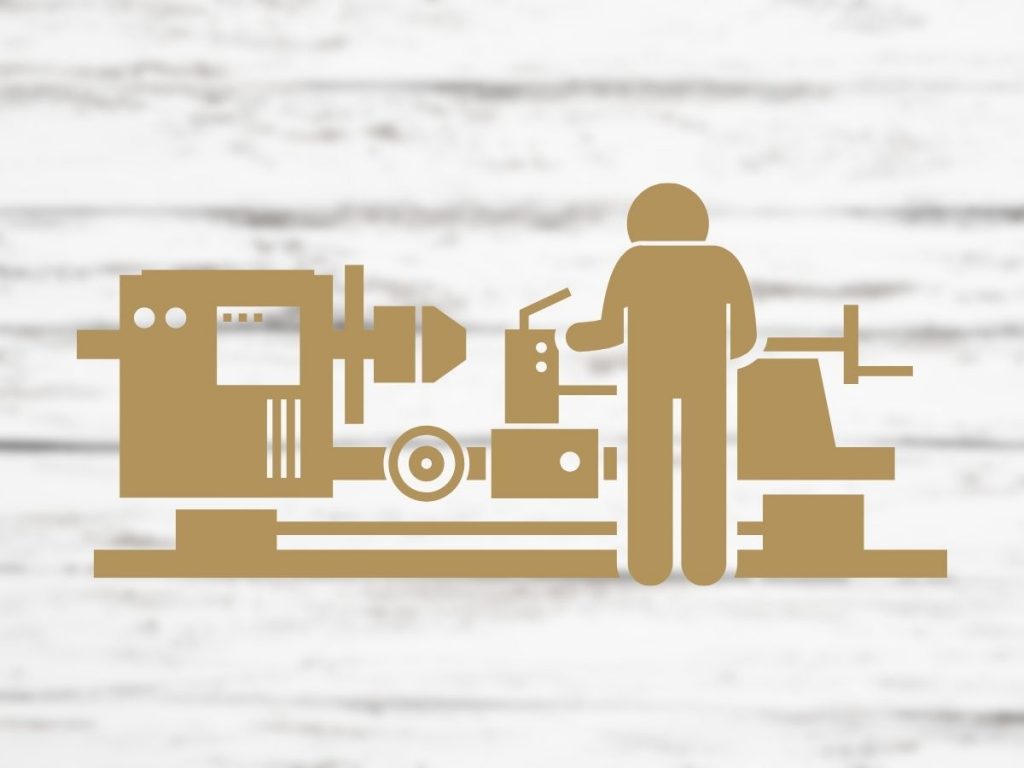 Major Types of Wood Lathes
Woodworking lathes can be largely categorized based on their size. These are mini/benchtop, midi, and full-size lathes. Based on your workshop size and the amount of space you're willing to reserve for the lathe, you can opt for any of these sizes.
Also, If you have a drill press, you can easily convert it to a lathe that rotates the wood vertically instead of horizontally.
Mini/Benchtop Lathe
If a lathe has a DBC of less than 20 inches or SOB of fewer than 12 inches, it is considered the mini/benchtop size. These are the smallest sizes available and are perfect for small workspaces.
Mini lathes are perfect for beginners or hobbyists who work on smaller projects like pens, nib holders, bowls, and miniatures. These are also inexpensive, thus a great option for those who are just starting with woodworking.
Midi Lathe
Midi lathes allow for a slightly higher allowance for the wood size. While the DBC is still around 20 inches, the SOB can be upto 15 inches. With increased size, the price of the lathe also increases, but these are still more affordable than full-size lathes.
Midi lathes do not take up too much space and also use less power than full-size lathes. They can be used to make slightly larger items like chair legs, larger bowls.
Full-Size Lathe
Full-size lathes can have DBC up to 45 inches and SOB more than 15 inches. These are very powerful and can rotate at extremely high RPMs. They take up a lot of floor space and can typically stand at about 4 feet from the ground.
These are usually seen in full-fledged workshops, rather than at home, as they use up a lot of power and tend to make a lot of noise.
Full-size lathes can be used for all types and sizes of projects as they can hold any size of wood. You can make table legs, baseball bats, and even other projects that can be done in mini and midi lathes.
Full-size lathes require standing space as they are large, bulky, and come with a vibration-absorbing base. Also, be sure to keep some extra room for outboard turning as the larger wood might need to be rotated at different angles to be worked on.
Top Lathes for Woodturning
To make your wood lathe buying decision easy, here are the best wood lathes currently available in the market. This list has the best wood lathes in each category, with regard to size and price. The best accessories set and stand are also included here. With this list, you can find the optimum wood lathe machine for your workshop.
The WEN 3421 is overall the best wood lathe to add to your workshop. It is ideal for a home workshop and is perfect to make small items like pens, bowls, chess pieces, and cups.
The lathe also comes with a flat wrench, a knockout rod, a headstock spur, a tailstock cup center, 2 interchangeable tool rests, and a 2.3" faceplate. It also comes with a two-year warranty from WEN.
Features of WEN 3421 Mini Benchtop Wood Lathe
The DBC is 12 inches.
The SOB is 8 inches.
It weighs about 45 pounds.
The 3.2-amp motor generates more power than most lathes of this size.
The rotational speed can be regulated between 750 to 3,200 RPM.
Easy-to-use lever clamping system for tool rests.
Tailstock can be easily adjusted for precision.
Among the inexpensive lathes available, the WEN 3420T packs a punch. This too is perfect in small spaces like home workshops and shop classes at schools. This can be used to make all sorts of small items like bowls, cups, and pens.
Just like the WEN 3421, this too comes with a flat wrench, a knockout rod, a headstock spur, a tailstock cup center, two interchangeable tool rests, and a 5" faceplate for working on non-spindle pieces. It also comes with a two-year warranty from WEN.
Features of WEN 3420T Mini Benchtop Wood Lathe
The DBC is 12 inches.
The SOB is 8 inches.
It weighs about 43 pounds.
The 2-amp motor generates sufficient power for most speeds.
The rotational speed can be regulated between 750 to 3,200 RPM.
Easy-to-use lever clamping system for tool rests.
Tailstock can be easily adjusted for precision.
While the benchtop size lathes come with high-speed ranges as they are used for smaller projects, the high speeds might not be ideal for larger wood. The Delta 46-460 has a much lower speed range which is perfect for working on larger wood.
The lathe also has a reverse function that lets you change the direction of spin, allowing for smoother finishes by sanding in both directions. This is the best option among low-speed lathes.
The Delta 46-460 comes with two tool rests (6" and 10"), spur center, 3" faceplate, tool rest base, knockout bar, live center, and wrenches.
Features of Delta Industrial 46-460 Variable-Speed Midi Lathe
The DBC is 16 ½ inches.
The SOB is 12 ½ inches.
It weighs about 97 pounds.
The motor operates at 1 HP.
The rotational speed can be regulated between 250 to 1,725 RPM.
The lathe has a switch that allows you to reverse the direction of rotation.
If you're looking for a mini benchtop lathe that packs a punch, the Shop Fox W1704 is the one for you. It is perfect for beginners and hobbyists who are just getting started with woodworking. It has a special spindle that allows even beginners to work with a lot of precision and control.
The Shop Fox W1704 lathe comes with a safety paddle switch, a spur center, 2 tool rests (4 ¼" and 7"), 5 ¾" faceplate, and a spindle.
Features of Shop Fox W1704 1/3-Horsepower Benchtop Lathe
The DBC is 13 inches.
The SOB is 8 inches.
It weighs about 52 pounds.
The 1/3 HP, 4-amp motor is very powerful and accommodates variable speeds.
The rotational speed can be regulated between 700 to 3,200 RPM.
Among the midi-sized lathes, the Nova 71118 Comet II stands out among the competition. It is made of heavy cast iron that absorbs the vibrations from the machine, thus stabilizing the wood and making your work a lot easier. It can hold larger wood than mini benchtop lathes but with a similar range of speeds.
The Nova 71118 Comet II comes with a 3" faceplate and a 6" tool rest.
Features of Nova 71118 Comet II Dr – Midi Lathe
The DBC is 16 ½ inches.
The SOB is 12 inches.
It weighs about 82 pounds.
The ¾ HP motor accommodates a wider range of speeds.
The rotational speed can be regulated between 250 to 4,000 RPM.
It also has a digital readout so you can set the ideal RPM for your woodwork.
The broad paddle allows to easily turn the lathe off during emergencies.
It has a button that toggles the rotation between forward and reverse.
Among the full-size lathes, the Grizzly G0462 model surely takes the cake. If you're taking woodworking as a serious project or profession, then splurge on the Grizzly G0462 without a doubt. This powerful machine has a solid cast-iron body that ensures total stability.
The Grizzly G0462 comes with a spur center, a cup live center, and a 6" faceplate. The machine also has a 1-year warranty from the manufacturer.
Features of Grizzly Industrial G0462- 16″x 46″ Wood Lathe
The DBC is 43 inches.
The SOB is 16 inches.
It weighs about 354 pounds.
The 2 HP motor is very powerful for working with any size and strength of wood.
The rotational speed can be regulated between 600 to 2,400 RPM.
The tool rest extension is built-in to provide easy access to tools without any hindrance.
The digital readout system allows you to set the exact RPM required.
The legs of the base have shelf supports to add additional storage space.
The headstock can be swiveled up to 180 degrees for outboard turning.
In the case of smaller lathes, you might need to place them higher on workbenches or stand to bring them to the optimum height. Although designed for the WEN lathes,  the WEN LA8800 lathe stand fits most commercial lathes and can hold mini and midi-sized lathes up to 225 pounds.
The WEN LA8800 is also height adjustable. The height is adjustable between 23.55 inches to 35.5 inches, with increments of 1.5 inches. It weighs about 48 pounds and absorbs the vibrations from the lathe and increases stability. Like all WEN products, this comes with a 2-year warranty.
The Final Word
The ideal wood lathe for you depends on the space you can reserve for it and the type of projects that you want to take up. With so many lathes available, finding the perfect one can be difficult, but this article makes your decision a whole lot easier.
Woodworking is an expensive hobby, so jumping into it without prior knowledge can cost you. Do your research before buying anything as this equipment is expensive, huge, and might not be right for you. Hopefully, this article helps you choose the ideal lathe for yourself and the accessories to go with it.
You can also see our guide on the best metal lathes or see a step-by-step tutorial on how to turn a toy soldier.