It's a common misconception that a mini metal lathe is "just for beginners". We're here to tell you that mini lathes are not the sole domain of metalworking newbies!
Don't be deceived by their small stature, mini metal lathes are versatile tools in their own right. They're just as at home in a professional workshop to manufacture small, precise parts as they are in a home workshop in a garage.
The amazing benefit of having a mini lathe in addition to a full-sized lathe is that you can save yourself the time and hassle of turning on the full-sized lathe when you only want to make a single, delicate item. These invaluable machines are ideal for enabling you to work on smaller parts that a full-sized metal lathe may be too cumbersome (and expensive!) to fire up.
Whether you're just starting out on your metalworking journey, or a seasoned professional, we've got you covered with some hints and tips on how to choose the perfect mini metal lathe for you, and our opinion of the top 5 mini metal lathes on the market today.
What is a Metal Lathe?
Lathes have exploded in popularity in recent years and are used to turn a variety of materials, including wood and metal. You just need to type "metal turning" or "wood turning" into a YouTube search engine to be shown a huge range of inspiring (and often mesmerizing) videos!
A metal lathe is a machine that uses a spindle to rotate your metal workpiece around an axis of rotation. This allows you to perform a variety of different processes accurately to shape the metal, such as cutting, drilling, or polishing.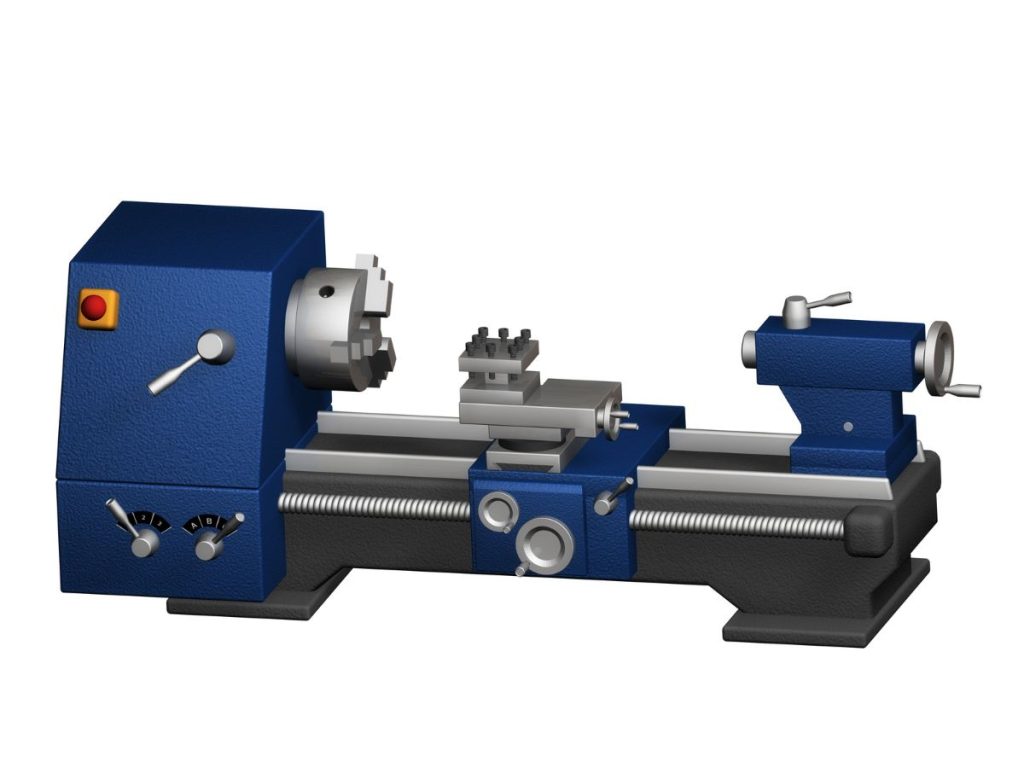 The common parts of all metal lathes include the headstock, tailstock, bed, carriage, and spindle.
Headstock: The headstock houses the spindle, the change gears, and a speed-changing mechanism. The size of the headstock determines the maximum size of your workpiece.
A feature that's worth keeping an eye out for is whether the headstock can be rotated. A rotating headstock can allow easier onboarding, which means you may be able to work on a piece of metal that's larger than your lathe's swing capacity.
While this feature is usually reserved for standard-sized lathes or midi lathes, it's worth keeping an eye out for, as it can be a real bonus feature.
Chuck: The chuck diameter determines the size of the workpiece that the lathe can hold securely. So you'll need to pay attention to the chuck diameter when choosing a lathe that meets your project needs.
Tailstock: The tailstock can be an added or removable feature on newer styles of lathes. However, for the smaller projects that you can work on a mini lathe, the tailstock is not a necessary feature to consider, as you don't need to worry too much about the flex in your workpiece.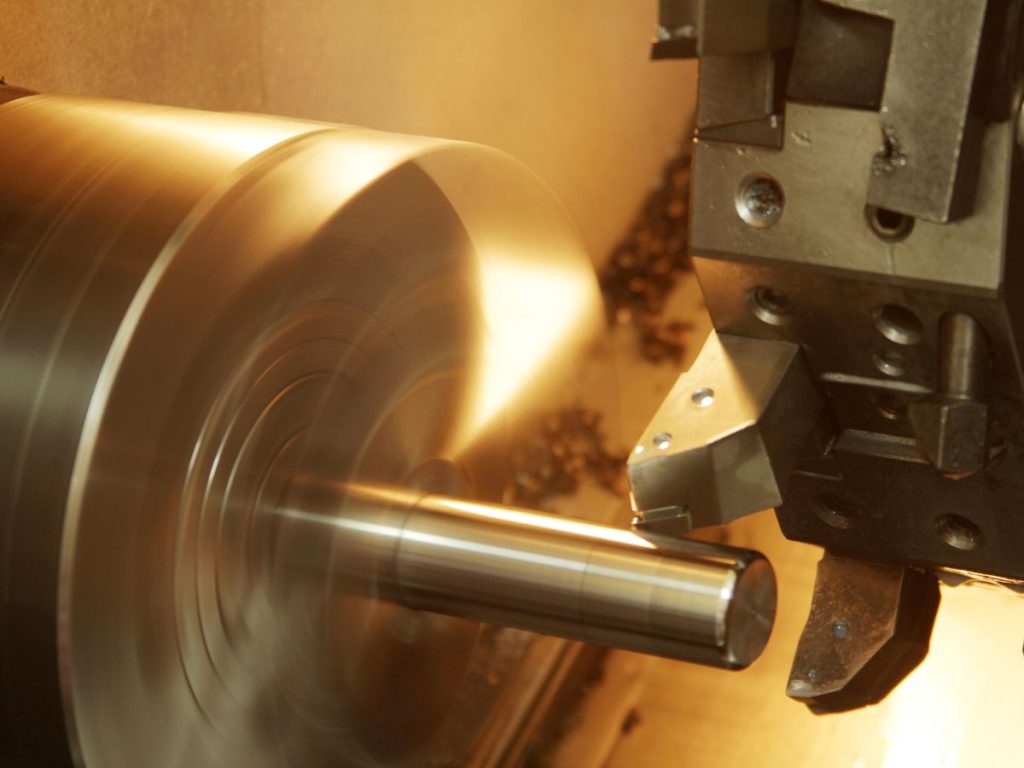 What is a Mini Metal Lathe?
A benchtop mini metal lathe typically has a distance between centers up to 20″ and usually a maximum swing of 12″. These power tools tend to offer a motor with power usually between 1/2-3/4 HP, but some can go up to around 1HP.
The size and affordability of mini metal lathes mean that you no longer need access to a full, industrial workshop to indulge in your metal working hobby. A good quality mini metal lathe can mean that you can hone your craft from the comfort of your own home.
What About a Micro or Midi Metal Lathe?
When you first get started with metal turning, the terminology can be confusing. As well as mini metal lathes, you'll also come across the terms micro lathes and midi lathes. So how do you know whether you need a mini, micro, or midi lathe?
With all three types of a lathe, you'll get a machine where you attach the workpiece to a chuck to turn it, while you move a tailstock mounted with the relevant tools to shape the metal.
The main difference between the three lies predominantly in the size.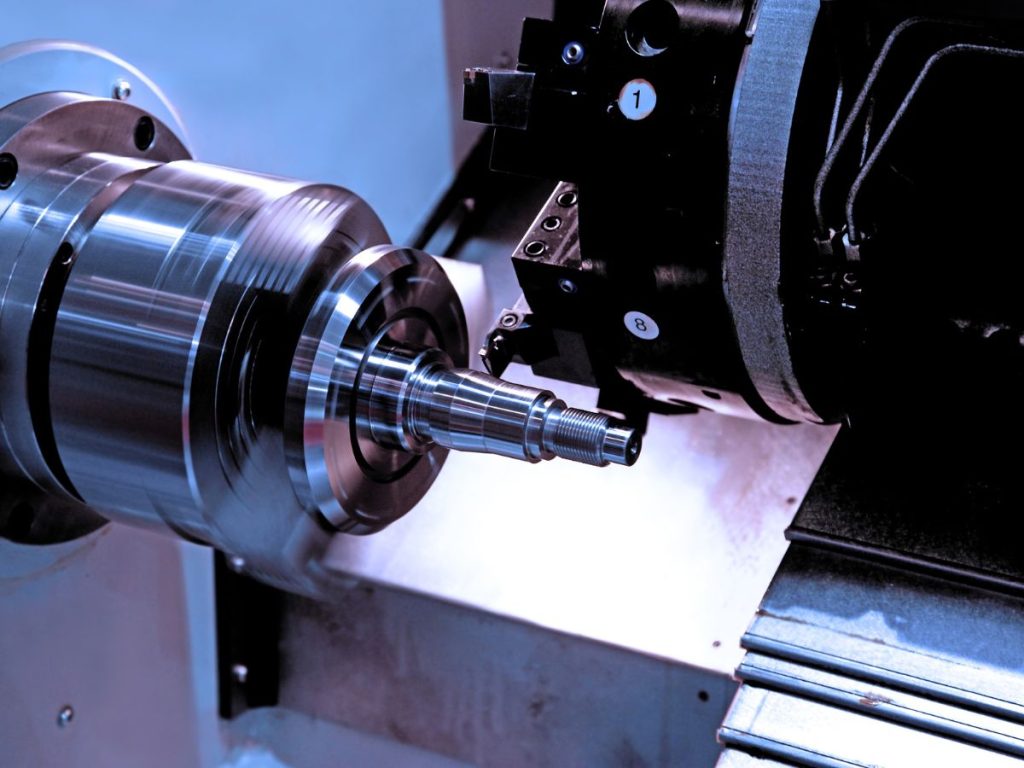 Mini lathes are at the smaller end of the scale, while a midi lathe sits between the size of a mini and a full-sized lathe. A micro lathe is actually another term for a mini lathe (just to add to the confusion!)
There are several reasons why you might opt for a mini or midi lathe over a full-sized lathe machine. For starters, they're smaller and so they're more likely to fit the space and needs of a home metal turner or hobbyist. Often these machines are so small, they can fit into a converted basement or garage workshop.
Smaller machines also tend to be more affordable, which can be attractive to people just starting out with metalworking and aren't completely sure what their needs are yet.
They're also convenient. If you want to make a quick prototype, you're more likely to turn on the mini lathe machine than the full-sized machine.
Of course, when you start to compromise on the size of the lathe, you'll also need to compromise on the size of the workpiece that you can comfortably handle. So you'll find yourself restricted to smaller projects like cups, chess pieces, or jewelry. That's not necessarily a bad thing, you just need to be aware of the types of things you'll be able to make on a mini lathe.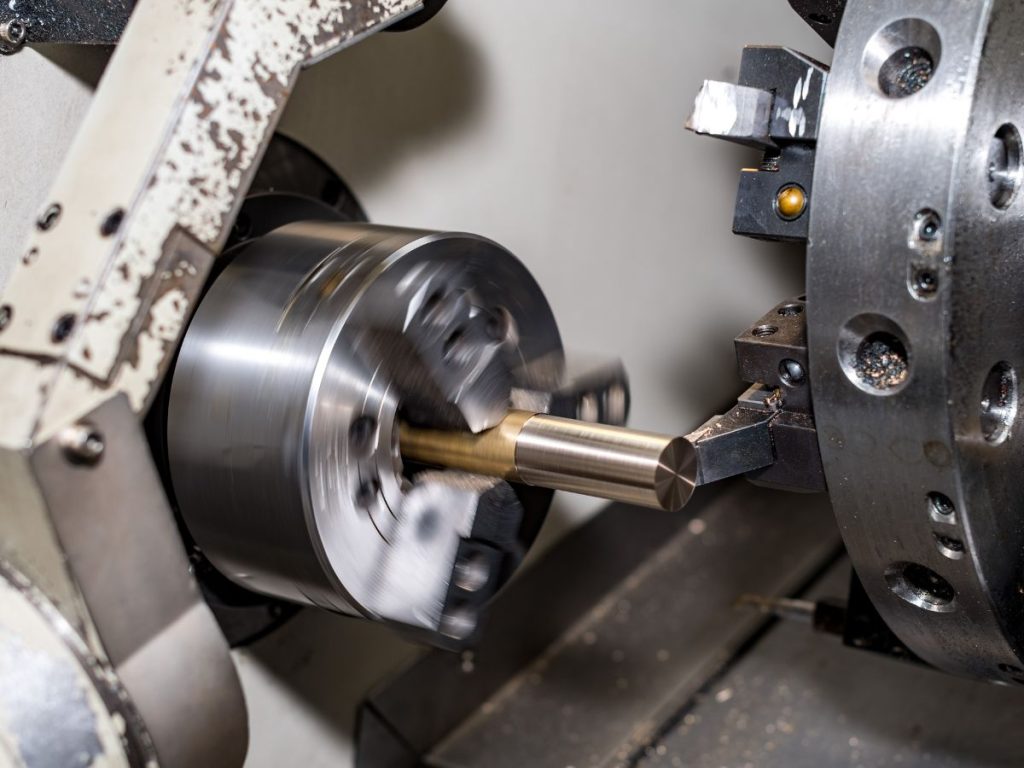 In addition, you may also find that you're compromising on the spindle accuracy and therefore, the quality of your finished product in comparison to a standard lathe. This may be a small price to pay for an affordable lathe.
Nonetheless, there are many mini and midi lathes available that can still produce a high degree of precision when you need to manufacture small, precise parts to fit a bigger project.
Choosing the Best Mini Metal Lathe
With such a wide variety of metal lathes available on the market, choosing a lathe machine to suit your DIY projects can be confusing.
Key Mini Lathe Design Criteria
As a rule of thumb, you need to consider what you're planning to make and then choose a metal lathe that best fulfills those needs. Key criteria to consider include:
The mini metal lathe power
Motor speed ranges
Center distance
Swing over bed size
Let's talk about these key design criteria in a little more depth to help you identify the best mini metal lathes to fit your needs.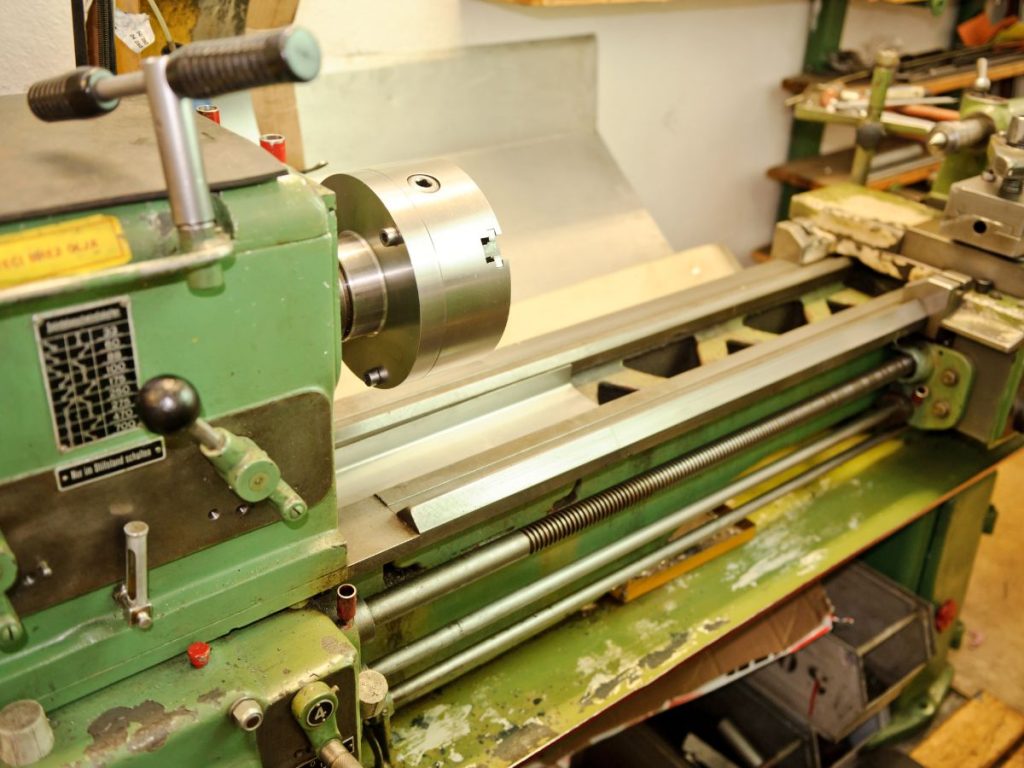 Mini Metal Lathe Power
The size of your workpiece will heavily influence the power your metal lathe will need to produce successful results. In general, the more power your metal lathe has, the easier and quicker your mini metal lathe will find it to turn your metal workpieces.
While power isn't everything, having enough power to handle your particular projects will save you a lot of frustration further down the line.
Our suggestion is that a mini metal lathe with 3/4 HP is a good all-rounder. This size motor is capable of turning jewelry or small cups.
Motor Speed Ranges
The size of the motor will determine the motor, and ultimately, the spindle speed. For maximum control and thus, better quality results, you'll want to purchase a mini metal lathe with variable speed control.
Most mini metal lathes offer variable speeds between 100 RPM and 2,500 RPM. As well as looking at the maximum speed range, you should also take a look at the minimum speed range. You'll want to ensure that your mini metal lathe has enough power to keep your metal workpieces turning smoothly whilst being able to maintain full control over the piece.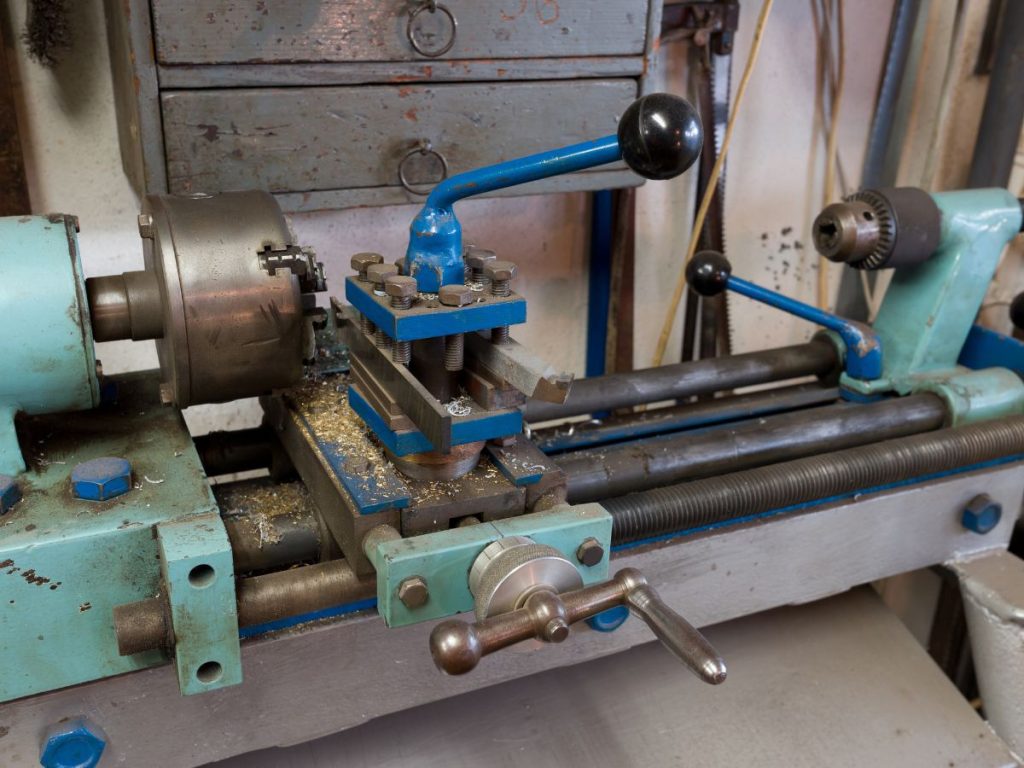 There's nothing more frustrating than the speed running a bit too fast, causing you to mark your metal in an unintended way.
As well as looking at the forward speed controls, consider the reverse speed controls. Most mini metal lathes will allow you to vary the speed as you work the piece in the forward direction. However, not all mini lathes will allow you to vary the speed in reverse!
While it's not an essential function, having control over the reverse speed saves you a lot of setup and adjustment time as you can continue to use your dominant hand to work the metal, without needing to turn the machine around or reset it.
Center Distance
The Distance Between Centers (AKA DBC) is a vital statistic when you're choosing the best mini metal lathe for your requirements.
This measurement tells you the distance between the headstock and tailstock. So it's the maximum length of metal that your mini metal lathe can manage. Choose one that's too small for your projects, and you'll find yourself frustrated far too often!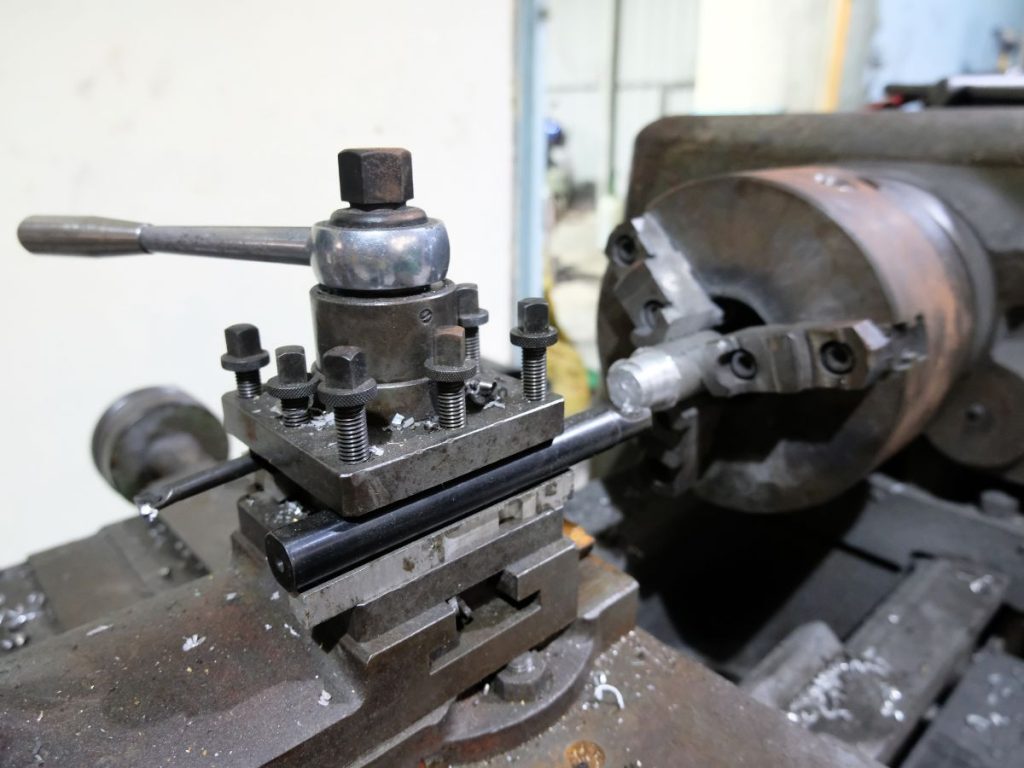 A good size DBC to aim for is 15″, which tends to fit most projects that you'd tend to use a mini metal lathe for. If you find yourself looking for a mini metal lathe with a DBC longer than 15″, then you're probably moving into midi metal lathe or standard metal lathe territory.
Swing Over Bed Size
In addition to the DBC, you'll also need to consider the Swing Over Bed size (AKA the SOB). This measurement tells you the maximum diameter of the metal that you can work with on the mini lathe. Again, there's nothing more frustrating than unboxing your brand new mini lathe and finding that your workpiece doesn't fit!
At a minimum, look for a lathe with around 6″ SOB. For better versatility, you may want to opt for a 7″ SOB – it's just enough to avoid awkward angles!
Key Mini Metal Lathe Functionality Criteria
As well as the machine's design criteria, you'll also need to consider the functionality of your potential mini metal lathe. Whether you're completely new to metal turning or a professional, you'll not want to spend any more time (or money!) than necessary to set up and maintain your new tool.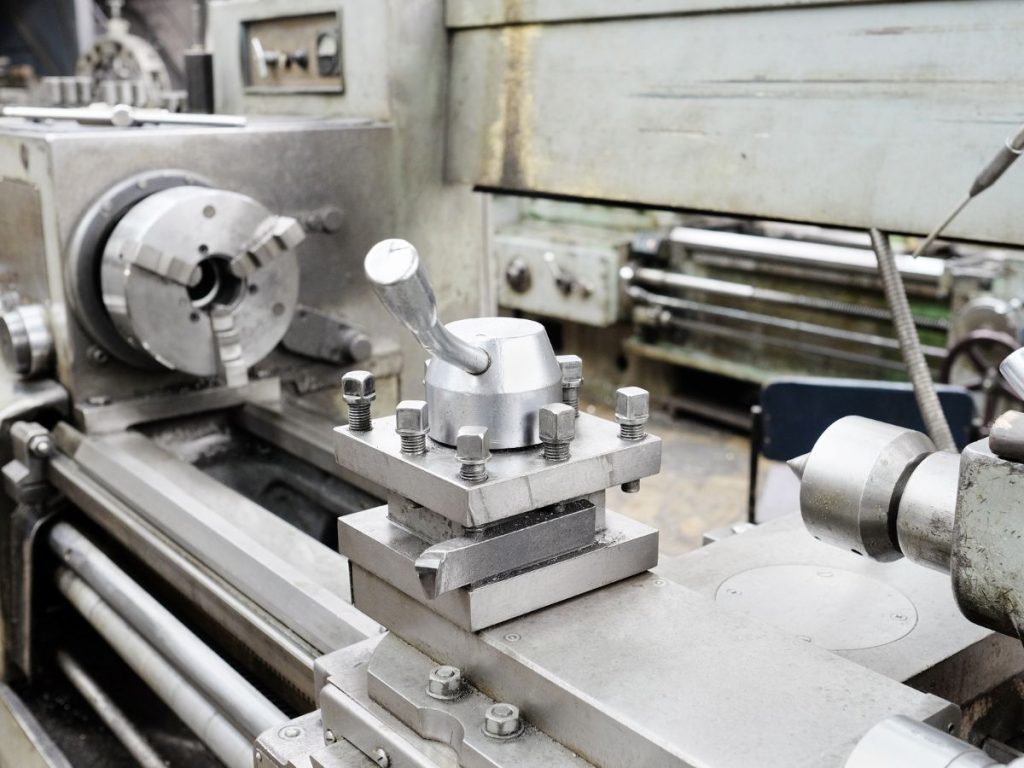 Some functionality criteria you may want to think about when choosing your next mini metal lathe include:
How easy is it to set up?
How easy is it to control aspects, such as variable speed, of your mini metal lathe?
Can you adjust your lathe to suit your project?
Do you get consistent, high-quality results?
If a tool is complicated to put together or use, you're much less likely to actually turn it on and use it, which defeats the purpose of buying a lathe in the first place! So take your time so that you can find the perfect fit for you.
Our Top 5 Mini Metal Lathes
Now that you've got an idea of what key features to look for in a mini lathe that will best suit your needs, why not take a look at our top 5 mini lathes?
We've scoured the market for the best mini metal lathes that offer a great range of features and are also good value for money. In pulling together our list of recommended mini metal lathes, we've considered ease of use, the user-friendliness of the controls as well as motor power, spindle speed, center distance, and swing-over bed size.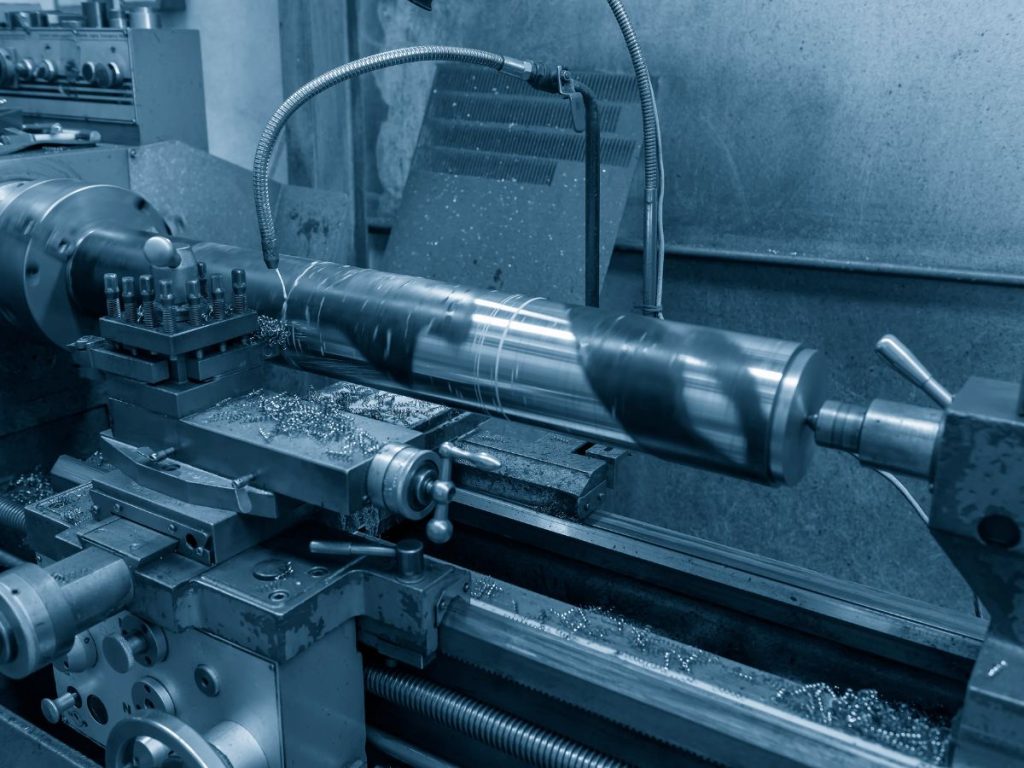 Best Budget: Grizzly G8688 Mini Metal
They say the best things come in small packages, and it's certainly true with the Grizzly G8688 mini lathe.
This powerful machine has a motor that produces 3/4 HP, but weighs in at just 75lbs and is less than 30″ long.
Overview
The Grizzly G8688 has a distance between centers of 12″ and a swing size of 7″. You're also getting a 2 2/3″ cross slide travel, 2 1/2″ tailstock travel, and 20mm spindle bore.
Perfect for placing on your benchtop, the Grizzly G8688 features variable speed control, which allows you to choose between two-speed ranges. At the low end, the Grizzly G8688 mini metal lathe ranges between 0 to 1,100 RPM, while at the other end of the scale, this lathe can produce spindle speeds between 0 to 2,500 RPM.
Above all else, the variable speed can be controlled easily. So it's the perfect tool for a beginner or for use in an academic setting. Slowing down the machine can give you more confidence, especially when you're still learning the tricks of the trade. Speed control is also a skill that's vital for manufacturing small, delicate parts and takes a lot of practice to master.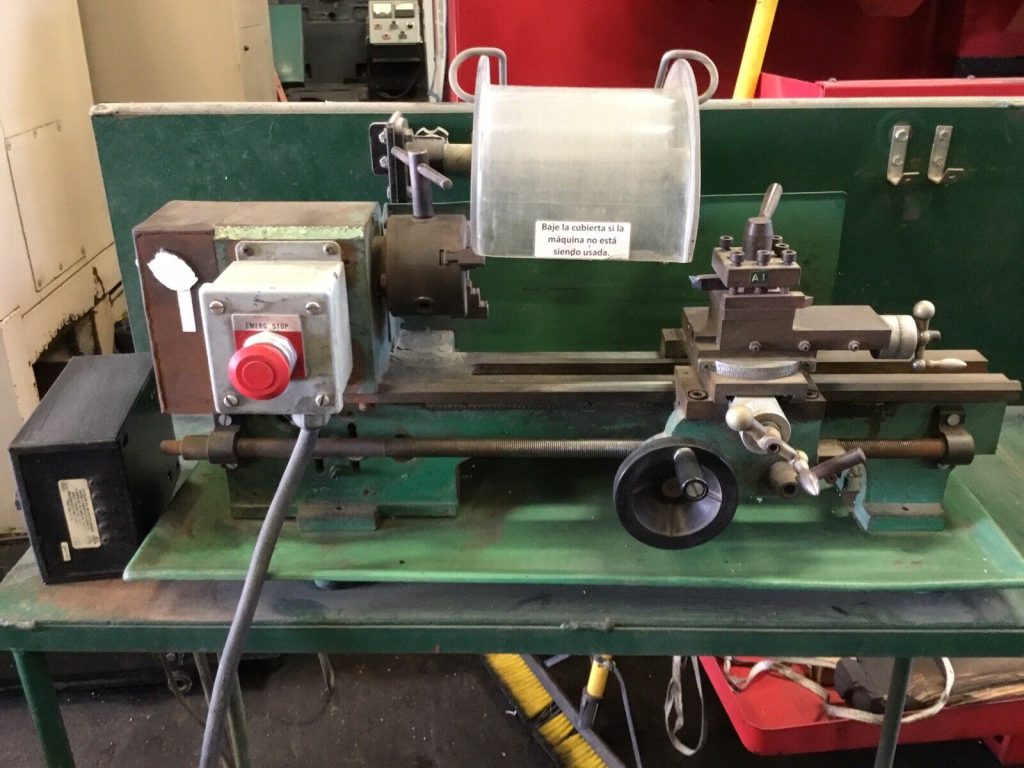 Not only can you control the variable speed on the G8688 mini lathe, but you can also control it in both directions. Forwards and reverse! With this tool, you'll save yourself a lot of time taking the lathe down and adjusting the direction so you can work with your dominant hand (not all of us are blessed with being ambidextrous!).
The Grizzly G8688 offers a Thread Per Inch (TPI) range between 12 to 52, which gives you a wide variety of sizes and the ability to ensure you enter the same groove every time. With this machine, you'll get consistency with every cut.
This precision metal lathe has many of the same features as larger lathes, such as a turret tool post, a 3″ three-jaw chuck, and a steady rest.
It also offers a good set of safety features, which are essential for new metalworkers and professionals. In addition to an emergency stop button and plastic gears, you'll find a splash guard and a chip tray that helps keep debris contained rather than flying around your workspace.
Specifications
Motor Power: 250W, 3/4 HP, 110V
Spindle Taper: MT3
Tailstock Taper: MT2
Spindle Speed Range: Low 0-1,100 RPM, High 0-2,500 RPM
Weight: 75lbs
Dimensions: 27-3/4″ x 11-1/2″ x 12″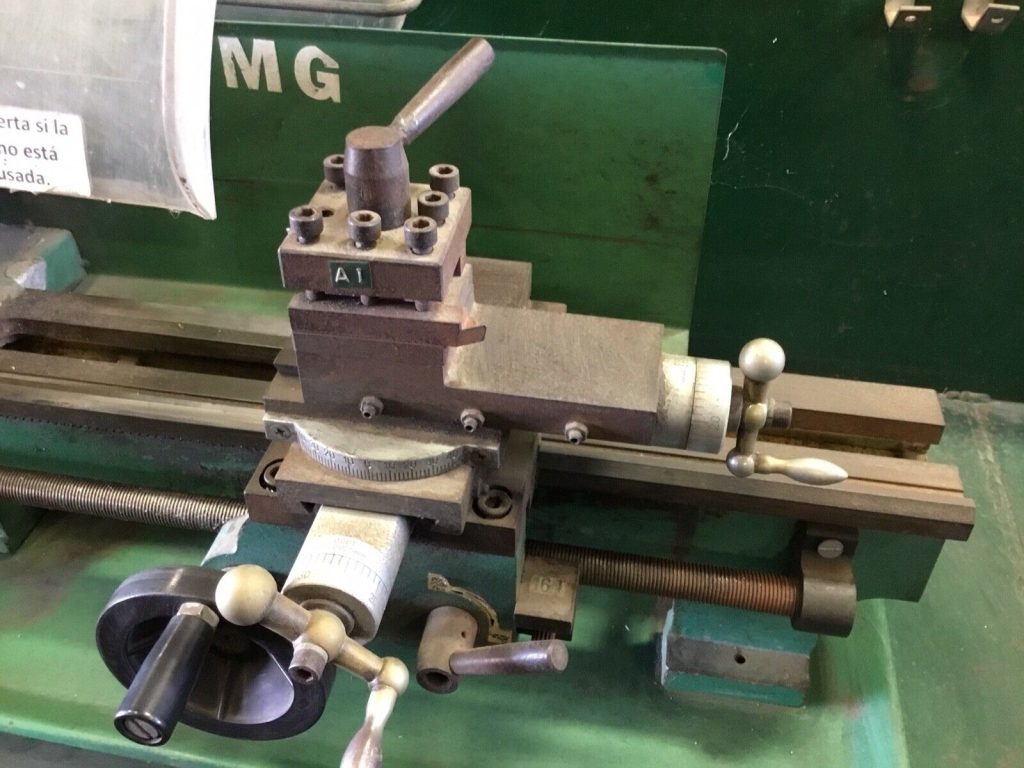 Pros
A powerful motor in a small package
Easy to set up, just follow the user manual
User-friendly variable speed control
Reverse the lathe's direction with a single flick of the switch
Great choice for new metalworkers
Cons
Lacks a digital readout to tell you the exact speed
Conclusion
The Grizzly G8688 mini lathe is a powerful machine at a great price. It's easy to setup and doesn't take up huge amounts of space, making it an ideal choice for hobbyists short on room.
This versatile mini lathe not only allows you to work on a variety of small metal projects. it's also powerful enough to cope with other materials including plastic and wax.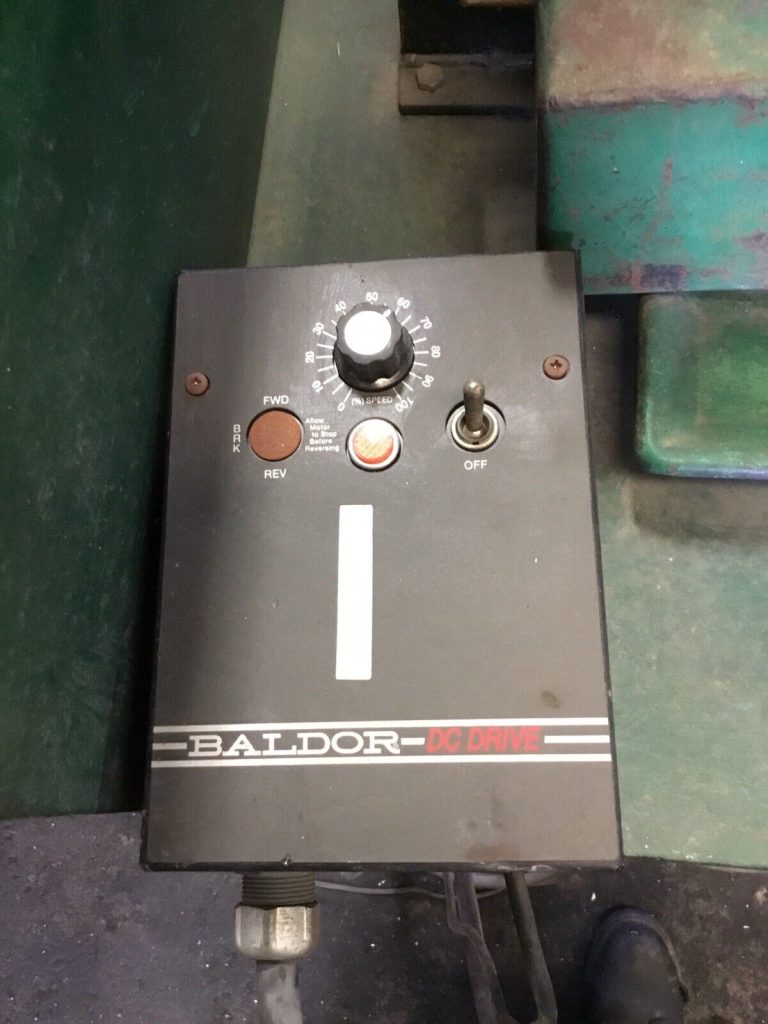 Most Compact: Mophorn 7×12″ Precision Mini Metal Lathe
For those of us who are genuinely confined in terms of space, the Mophorn 7×12″ metal lathe can be a great option!
This is one of the most miniature mini metal lathes on the market but still packs a power punch with a 3/4 HP DC motor and generates spindle speeds up to 2,5000 RPM. Despite its small size, you still get a speed control dial, so you remain in control over your workpiece.
Overview
The Mophorn 7×12″ is almost (but not quite!) the smallest mini metal lathe listed in our Top 5, and while it only offers a 12″ distance between centers, you still get a full swing bed of 7″. That's good enough to cope with a range of different projects but is definitely on the smaller end of the scale of what you can achieve with ease.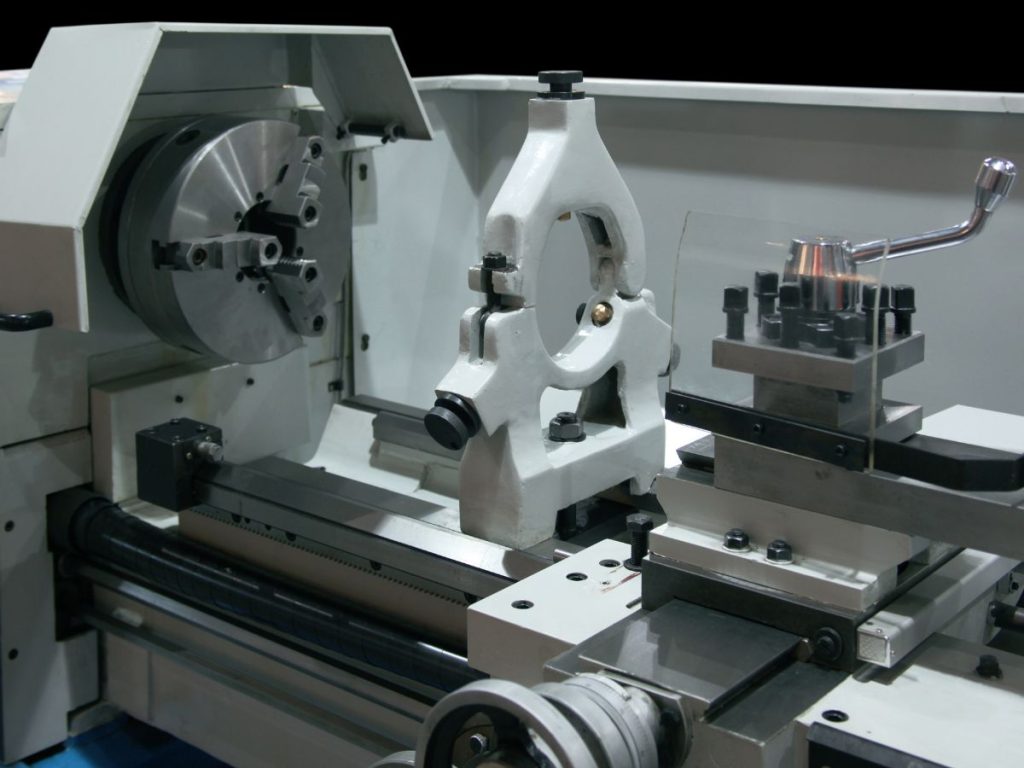 This robust machine is made from a sturdy cast iron construction and includes a 4″ three-jaw chuck, which can hold up to 3/8″ bits.
Safety features are not compromised, either. With this model, you still get a full splash guard to protect you from flying debris and metal shards.
It also includes a quick change tool post, which means you can achieve internal cutting, bevel cutting, and face cutting, efficiently. You just need to change the tool post angle and adjust the compound rest.
Specifications
Capacity: 7″ swing and 12″ between centers
Motor Power: 550W, 3/4 HP, 110V
Spindle Taper: MT3
Tailstock Taper: MT2
Spindle Speed Range: 50-2,500 RPM
Weight: 89lbs
Dimensions: 27-1/4″ x 8.5″ x 11-1/2″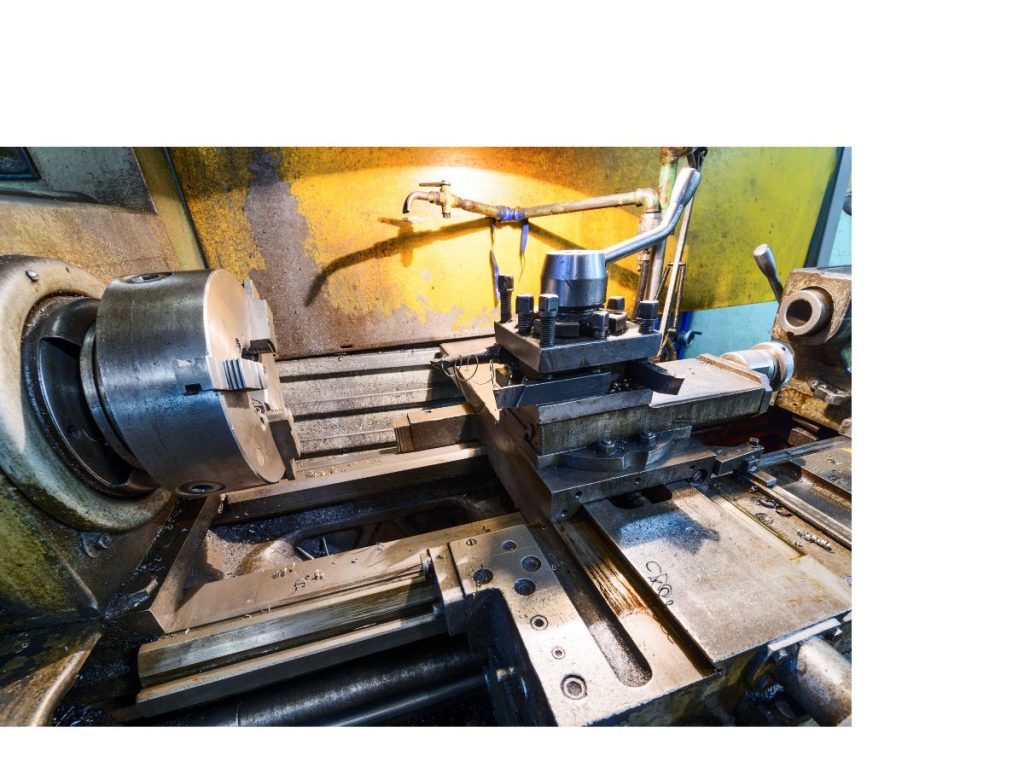 Pros
Small but powerful
Includes a variable speed dial to control the tool speed
Built to last and easy to set up
Minimal vibration – great for home settings
Cons
The small center distance may be a limiting factor in your project sizes
Conclusion
Overall, this small, but mighty model includes all the useful features you'd expect from a mini metal lathe. With the Mophorn 7×12″ mini lathe, you'll get accurate, consistent results, all from the comfort of your benchtop.
Best Overall: BestEquip 7×14″ Mini Metal Lathe
If you're going to be investing in a mini lathe, it's well worth considering a BestEquip mini metal lathe. Offering more than the average basic mini metal lathe, BestEquip manufactures some of the best mini metal lathes around, with a wide range of features designed to make your life that little bit easier.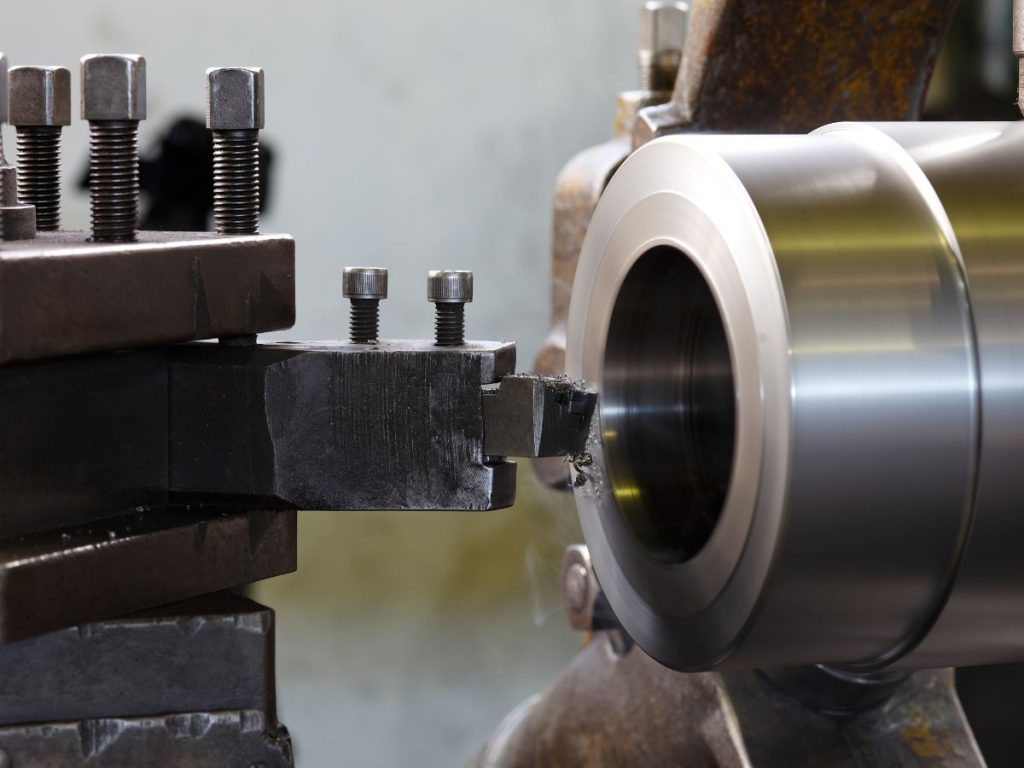 Overview
Like most mini metal lathes, the BestEquip 7×14″ comes with a 3/4 HP brushless motor.
It also includes a variable speed option, which allows you easily switch from 100 RPM up to 2,500 RPM in both forwards and reverse directions. The controls are superb for letting you slow down the lathe and maintain complete control over the cutting tool.
Not only does the BestEquip 7×14″ come with 18 threads, but it also has an adjustable auto feed rate, which allows you to preset and manage the rate at which the tailstock advances toward your workpiece. This is particularly useful if you need to achieve perfect symmetry and high-quality results.
One of the best features of this particular lathe is the four-way tool post, which allows you to add four different 5/16″ bits in one go. This makes it easy to switch tools whilst you're working on your project, saving you a lot of valuable loading and unloading time.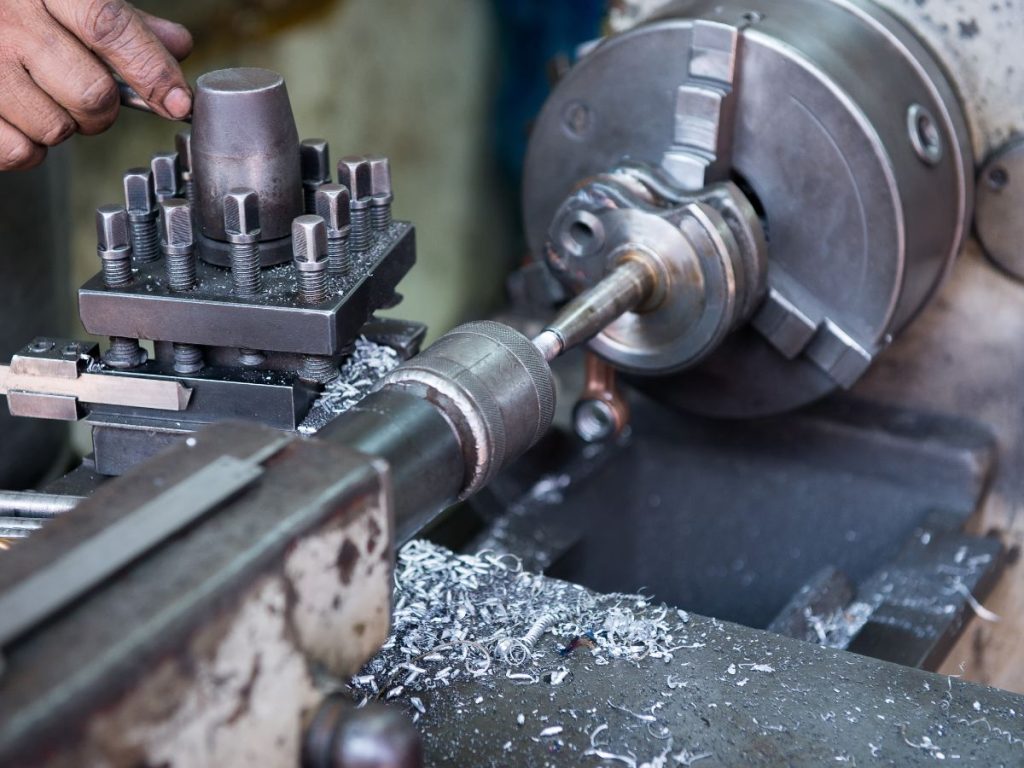 There are some great safety features on the BestEquip 7×14″ mini lathe. As well as an emergency stop button, which allows you to quickly shut off power when the unexpected happens, you also get a full-sized backsplash guard.
Light and compact, this BestEquip metal lathe is ideal for benchtops. Made from high-grade iron, this machine is robust and built to last. It includes nylon gears, which are lightweight but still offer accurate rotation.
If you're looking for a machine that can work with a variety of materials, then the BestEquip mini lathe is for you. This machine not only cuts metal but also wood!
Specifications
Capacity: 7″ swing and 14″ between centers
Motor Power: 550W, 3/4HP, 110V DC
Spindle Taper: MT3
Tailstock Taper: MT2
Spindle Speed Range: 0-2250 RPM
Weight: 102.7 lbs
Dimensions: 29.4″ x 8.7″ x 10.8″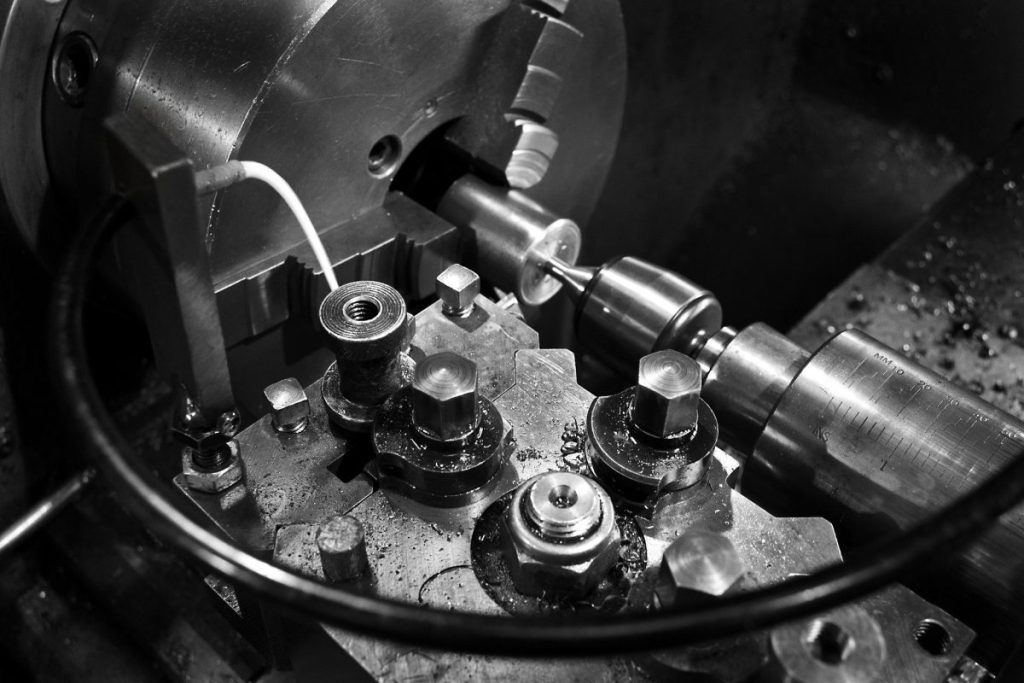 Pros
Powerful enough to get through different metals and also other materials, including wood
Easy to switch between forwards and reverse directions
Infinitely variable speeds
Includes an adjustable and automatic feed
Cons
While the range of features is a bonus, new metalworkers may find it a bit overwhelming.
Conclusion
From the BestEquip 7×14″ mini lathe, you're getting plenty of functionality including a wide range of cutting features and bit options.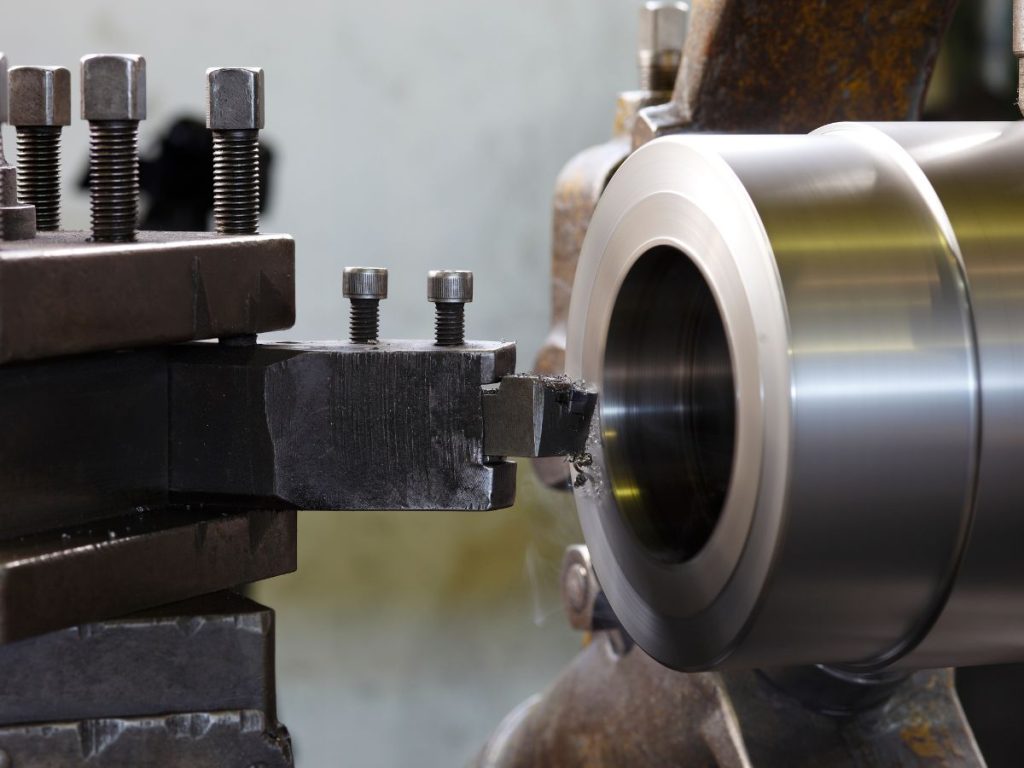 It's easy to use and to set up, so even beginners can be up and running quickly (which is always a bonus when you're enthusiastic and ready to go!).
With a center distance of 14″ and a swing bed of 7″, you'll find the BestEquip mini metal lathe ideal for a wide range of projects.
Best for Power Users: BestEquip 8×16″ Maintenance-Free Mini Metal Lathe
Weighing in at 170lbs, the BestEquip 8×16″ mini metal lathe is at the larger end of our selected metal lathes. The bigger, stronger cousin of the BestEquip 7×14″ metal lathe, it boasts a motor with a full 1Hp, making it robust enough to manage larger, heavier home projects.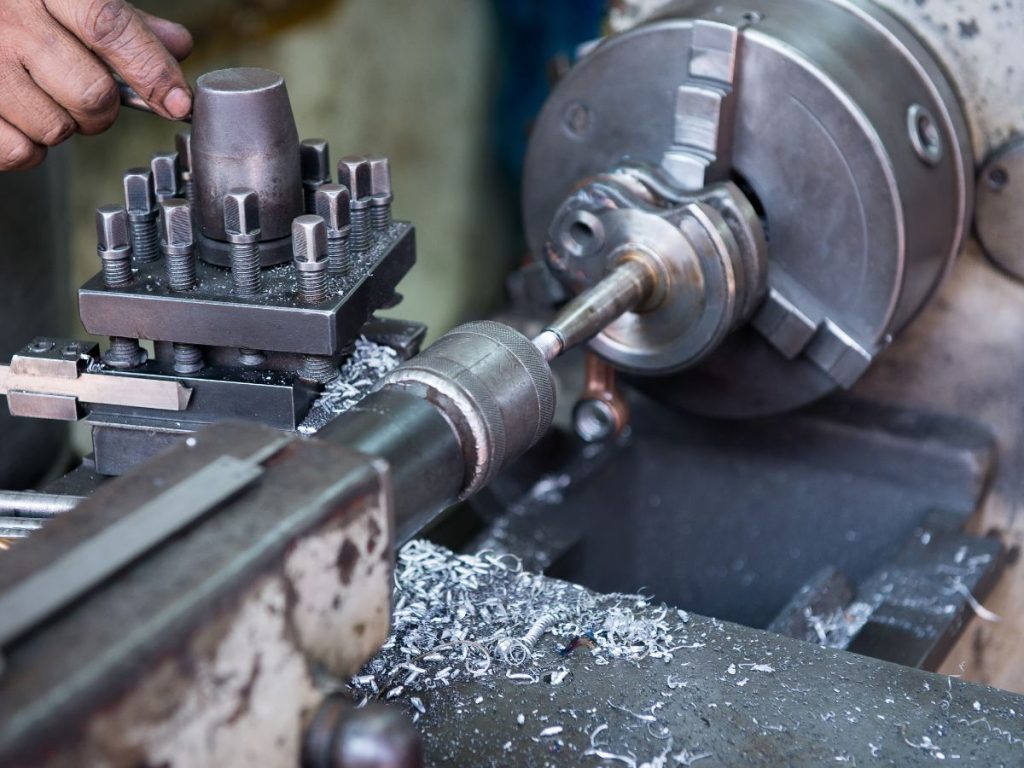 Overview
Like the BestEquip 7×14″, this metal lathe is very versatile and can handle a range of materials, including wood.
Equipped with a brushless motor, you'll find the BestEquip 8×16″ is easier to maintain, meaning it's cheaper to run and longer-lasting than many of the other mini metal lathes around.
An LED screen keeps you informed with an accurate speed reading, so even new hobbyists can learn to produce precise metal turning results.
The BestEquip metal lathe allows you to move through speeds from 0-2,500 RPM. With an easy-to-use dial, you can switch between the low range of 50-1,250 RPM to the high range of 100-2,500 RPM.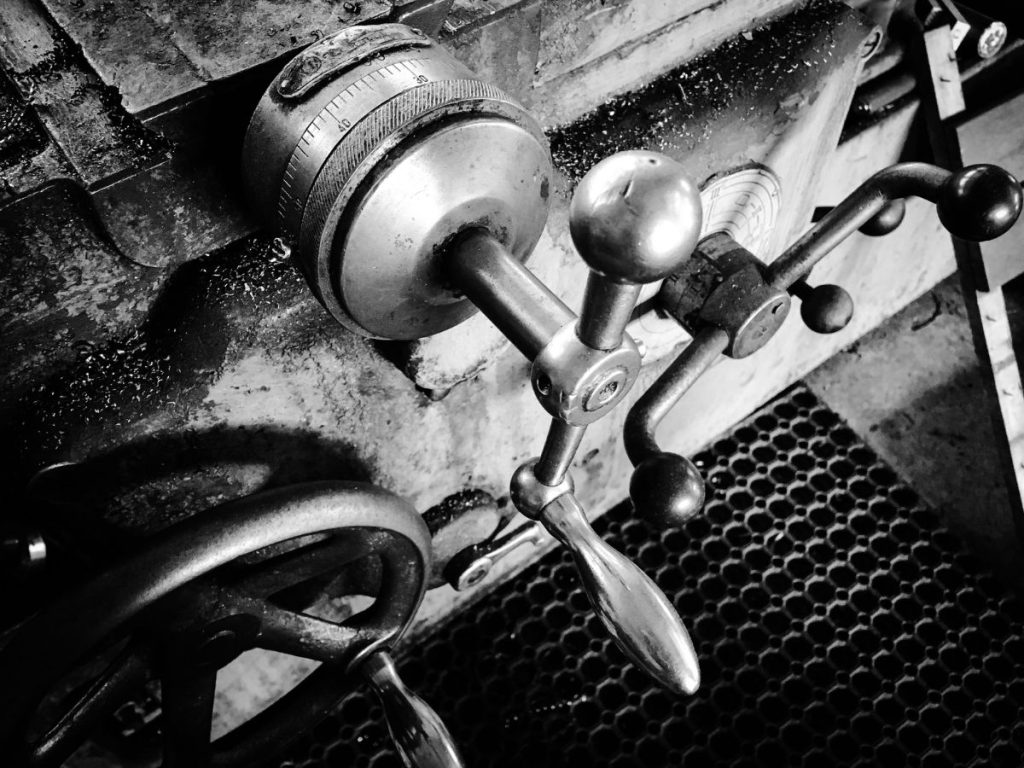 Like the 7×14″ model, you get a four-way turret post that allows you to quickly change the bits, hassle-free.
In addition, the 8×16″ features an adjustable tailstock, so you can easily set up your lathe to provide enough support for your workpiece.
This easy-to-use metal lathe has been designed to be user-friendly. With such a wide range of features, there is a little initial setup to do, but the user manual provides a simple set of instructions to get you up and working in next to no time.
If you're looking to invest in a robust, durable machine, then the BestEquip 8×16″ could be the right machine for you. Rather than plastic gears, you'll get metal gears which are generally longer-lasting.
This machine includes a soft start for the motor, so it doesn't start at full power the moment you hit the "on" button. Also included is a splash guard, so you can feel confident that metal chips will not go flying around the workshop.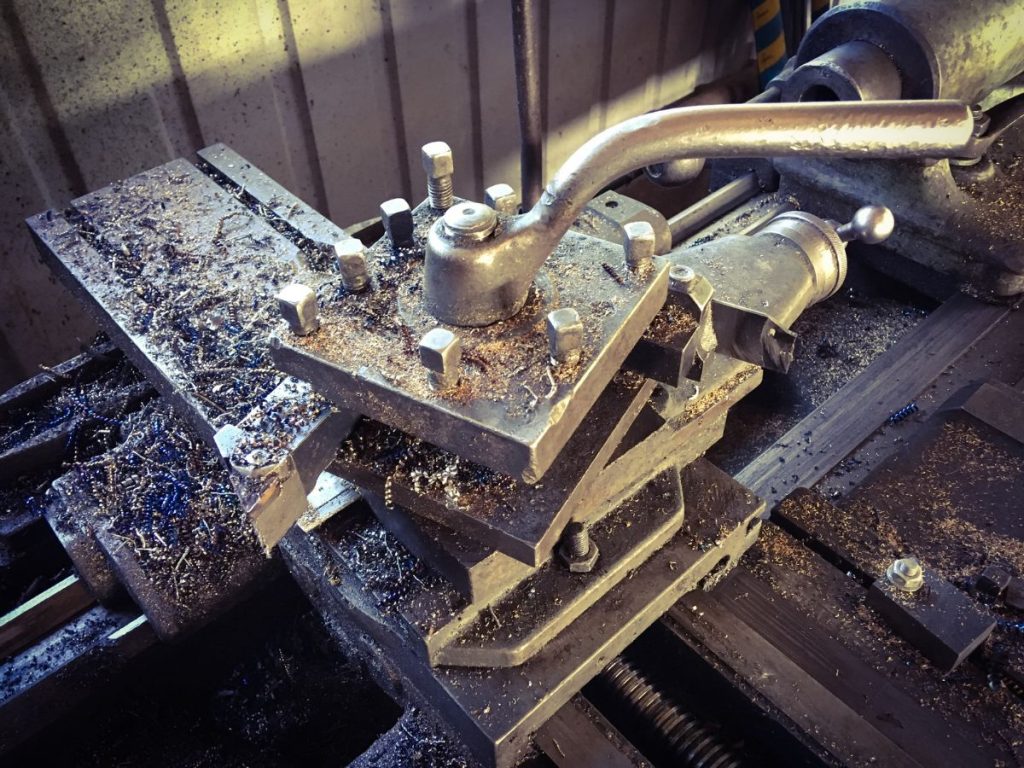 Specifications
Capacity: 8-1/4″ swing and 16″ between centers
Motor Power: 750 W, 1HP, 110V
Spindle Taper: MT5
Tailstock Taper: MT2
Spindle Speed Range: Low 0-1250 RPM, High 100-2250 RPM
Weight: 170lbs
Dimensions: 38″ x 20″ x 20″
Pros
The most powerful motor of our chosen lathes at 1HP
Controlling speed is easy with the speed dial
Handles large, heavy projects with ease
Sturdy construction that's built to last
Cons
More suited to intermediate experienced metal turners than a complete beginner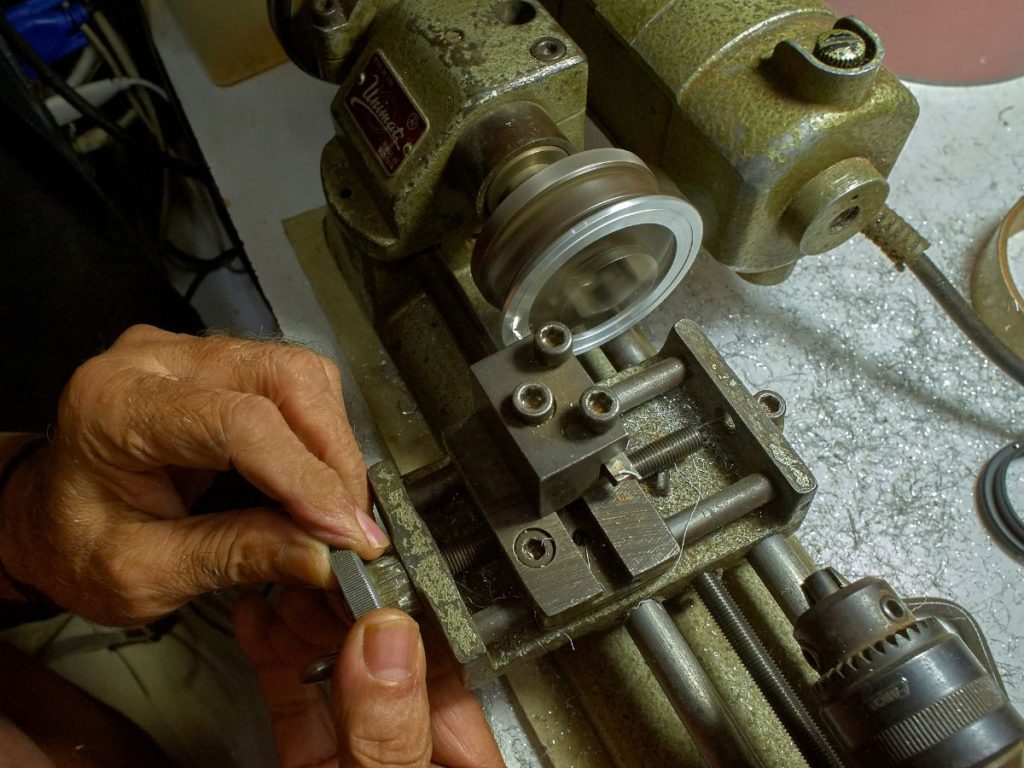 Conclusion
For a mini lathe that produces professional-quality results without the price tag, turn to the BestEquip 8×16″ metal lathe. Versatile and robust, this tool will be your go-to mini lathe before long.
Best for Beginners: Shop Fox M1015 6×10″ Micro Lathe
The Shop Fox M1015 is the smallest mini metal lathe listed, but it's adept at mini precision parts processing. This makes it an invaluable tool for people working on very small projects or parts for larger projects.
Overview
The motor comes in at a tiny 1/5 HP, but don't let that put you off! It's only designed to work on workpieces that fit a 10″ center distance and a 6″ swing bed. The small distance and high spindle accuracy make it great for precision working.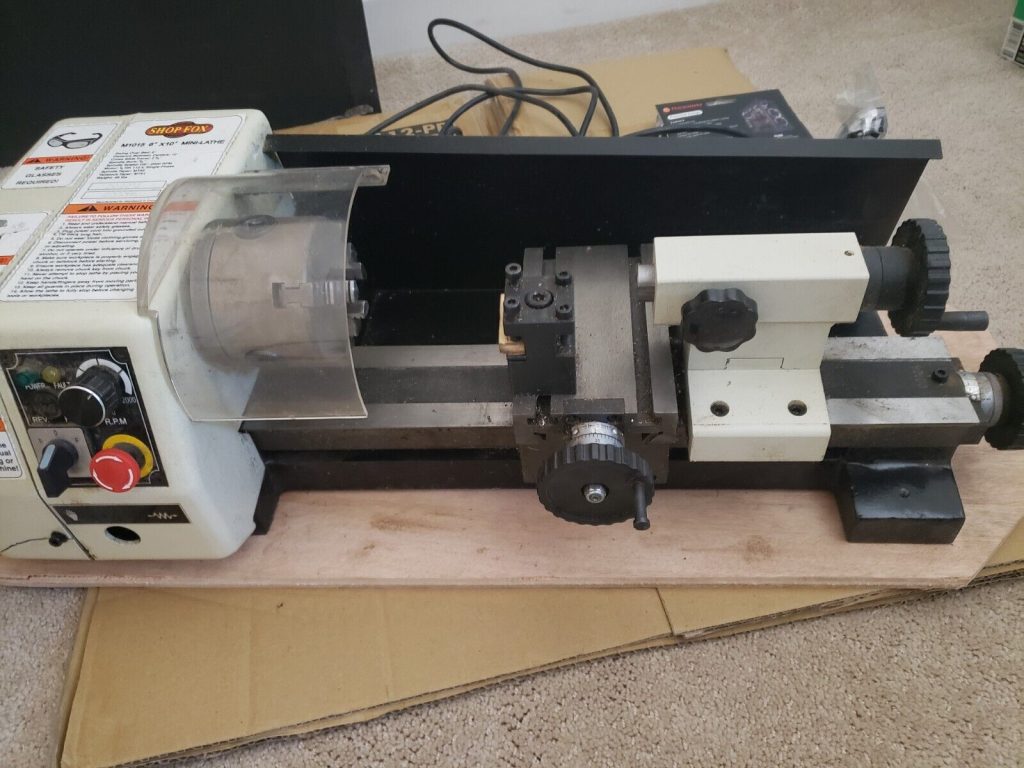 Despite the small motor size, you still get a variable speed dial, which allows you to change between speeds of 100-2,000 RPM. So you still have full control over your speed and accuracy.
You do get a lower thread range than the average mini lathe, which is not necessarily an issue since you're typically working on smaller projects. The Shop Fox's thread range falls between 16-24 TPI.
The Shop Fox is still packed with features that allow you to work on small-scale turning. In fact, it's the perfect tool for people who enjoy scale model building.
This lathe offers a very convenient control panel that allows you to manage the speed, rotation, and clutch. You can also change from manual to automatic feed, which again, offers you a good degree of control over your project.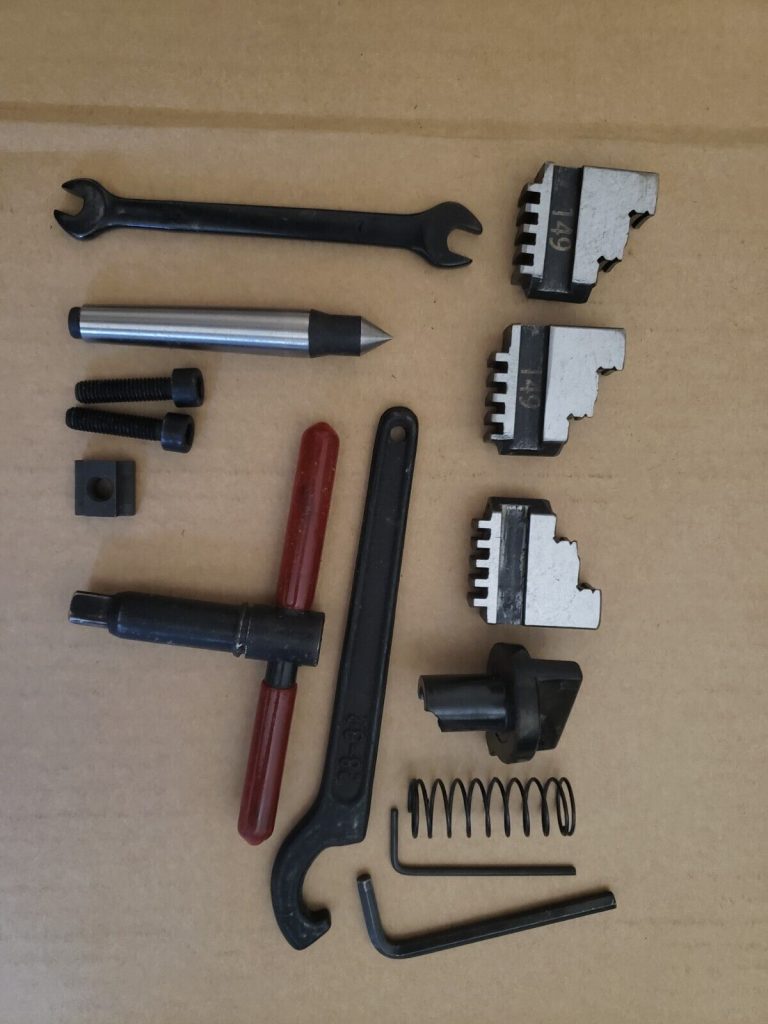 Specifications
Capacity: 6″ swing and 10″ between centers
Motor Power: 1/5 HP, 1.2A
Spindle Taper: MT2
Tailstock Taper: MT1
Spindle Speed Range: 100-2,000 RPM
Weight: 71lbs
Dimensions: 27-3/4″ x 11-1/2″ x 12″
Pros
Compact, ideal for small spaces
Variable speed dial to manage the lathe speed
Easy to set up, following the manufacturer's instructions
Robust, durable build
Perfect for small parts and designs
Cons
The motor is small and less powerful than many of the models listed
Conclusion
As far as micro lathes go, the Shop Fox M1015 performs to a high standard. Its compact size makes it ideal for occasional use or weekend hobbyists.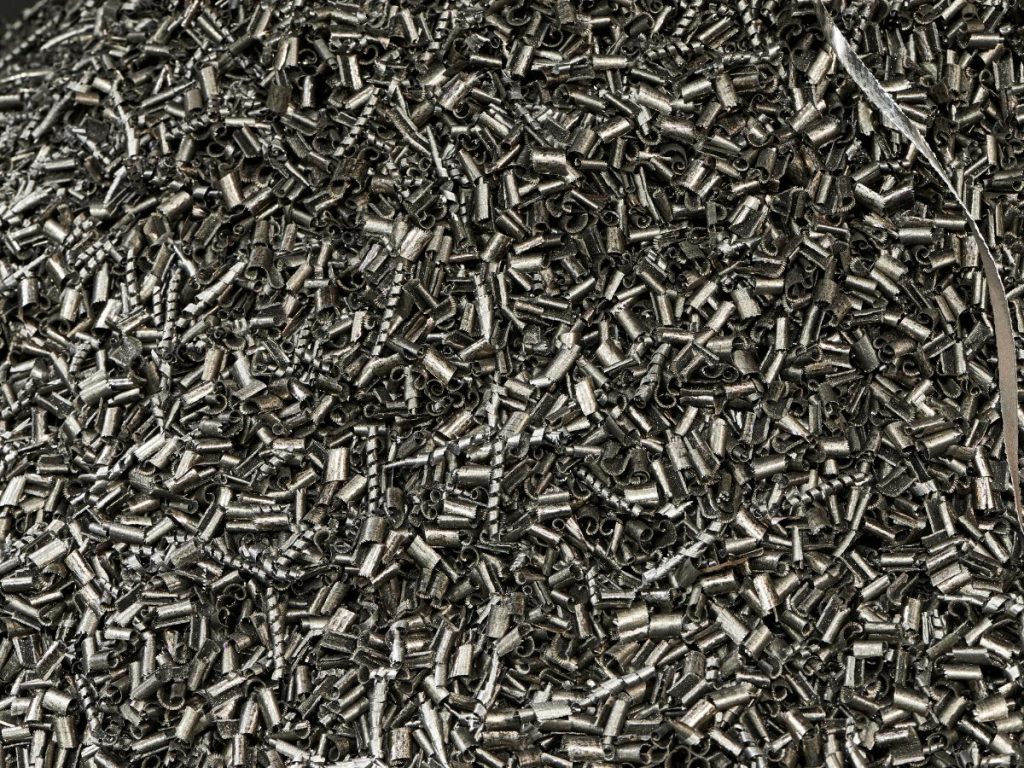 Which is the Best Mini Metal Lathe?
As you can see, when it comes to the best mini metal lathes, there are a lot of aspects to consider. Most importantly, it's worth putting the time up front to really consider what kind of projects you're aiming to make as this will save you a lot of headaches down the line.
When you've got a good idea of what you're planning to make – whether it's pens, cups, or miniature train models – you'll have a much better chance of choosing the right lathe for you. Power, the distance between centers, and speeds will suddenly make much more sense!
While we highly recommend all 5 of our chosen machines, we think you can't go too far wrong with a BestEquip 7×14″ mini lathe. It's got the best of all worlds, including a small and lightweight chassis, balanced with great features and accessories.