Carbide-cutting tools are the "Marmite" of the woodturning world – you either love them or you hate them! Carbide tools are still relatively new to the woodturning markets, so traditionalists tend to lean towards the tried and tested traditional tools.
However, carbide tools are becoming increasingly popular, particularly with newer woodturners, because you can see results almost instantly. In comparison to traditional HSS tools, the initial learning curve for carbide-cutting tools is a lot less steep.
But are carbide tools as effective as traditional turning tools?
What are Carbide Cutting Tools?
When you're working with wood, you need cutting tools that are hard enough to withstand the force you're applying. Traditional woodturning tools tend to be made from high-speed steel AKA HSS, which can withstand the higher temperature generated by the spinning wood, without losing any of its hardness.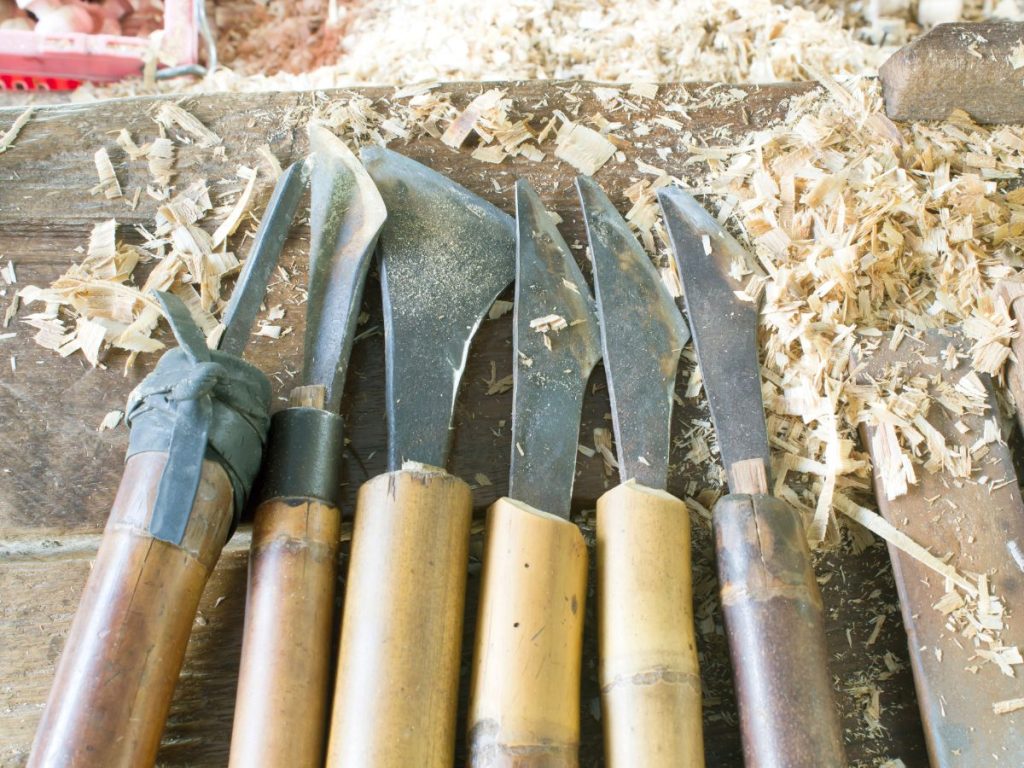 By contrast, carbide cutting tools have cutters that are coated in carbide, which is a chemical compound made from a mixture of carbon and hard metallic elements, such as titanium, tantalum, or tungsten. The result is a strong, rigid material that is resistant to wear and tear and heat. All valuable features for woodturning tools.
Carbide-turning tools are used as wood scrapers, and can rapidly remove substantial amounts of material. Each carbide tool has a steel shaft and a blade. The benefit of this setup is that when the blade gets blunt on one side, you can loosen the nut or bolt and rotate the blade to a sharper side, much like a craft knife. So you get a lot of use out of your carbide tool before you need to replace the entire blade.
Difference Between Carbide Cutters and Traditional HSS Tools
In general, you'll find two main types of woodturning tools – cutting tools and scraping tools.
Traditional HSS tools fall into the first category. These are traditional gouges that are used to cut wood, rather than scrape. To use a traditional HSS tool, you make use of the tool's bevel to support the tool, which prevents your wood from being torn as you make a cut.
With carbide tools, you're actually scratching the surface of the wood to remove unwanted pieces. Essentially, you're scraping the wood.
For more information on differences between carbide and traditional tools, see Carbide VS. Traditional HSS Woodturning Tools.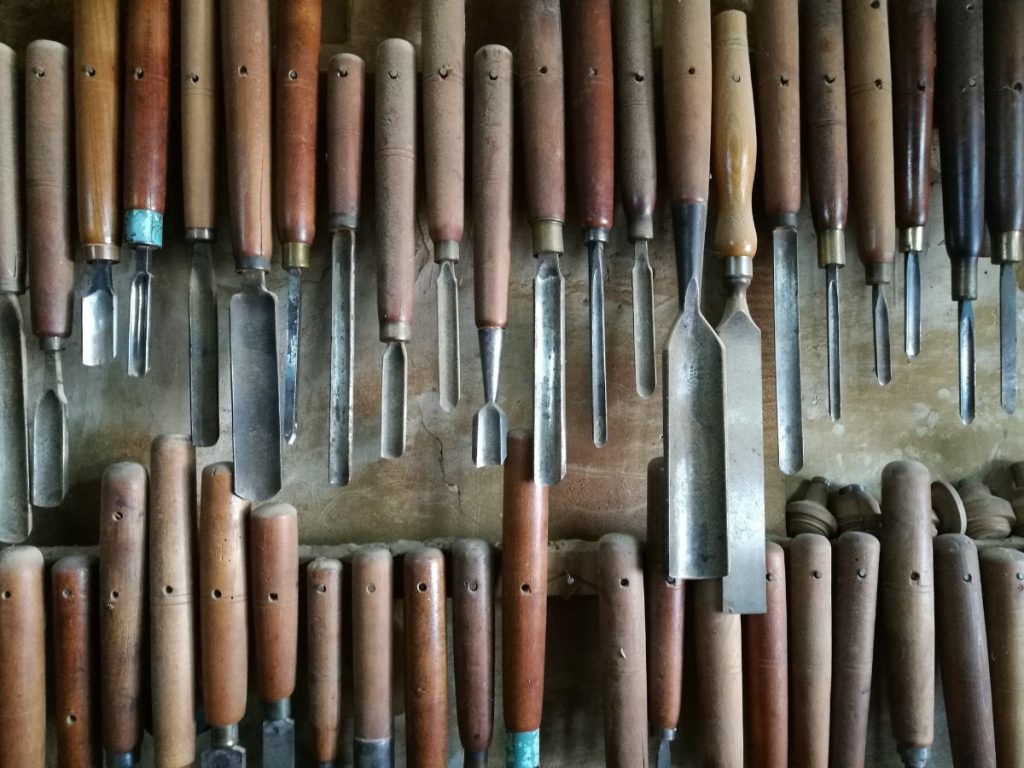 Does It Matter Whether You Cut or Scrape the Wood?
It's a good question… and mostly, it's a matter of preference. If you cut the wood with a traditional woodturning tool, you'll typically get a smoother finish. However, with carbide cutters, your finish will be rougher and on the whole, you'll need to spend some time sanding your project to get a clean finish.
Why Is There a Steep Learning Curve for HSS Tools?
We've all heard the saying "practice makes perfect", and the phrase is especially true for woodturning with traditional tools.
The reason behind the steep learning curve is that each HSS tool can have a differently shaped tip, which means they'll each have different angled bevels. It takes time, practice and patience to learn the correct angles to hold your HSS tool in order to achieve the desired results.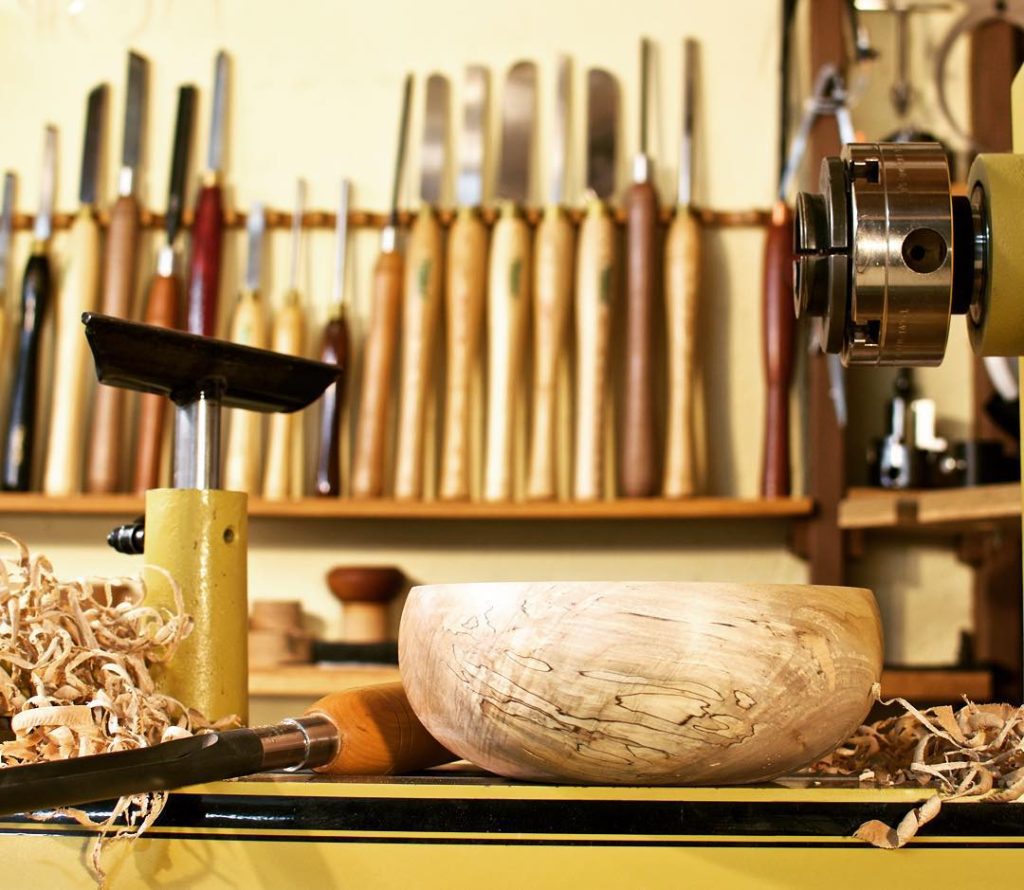 On the other hand, carbide tools are all held at 90º to the piece of wood, and you don't need to worry about the bevel angle at all. So it's much easier and quicker to see results when you first start out.
Although you're able to work with carbide cutters straight out of the box, that doesn't mean you're going to be a pro from your very first turning project! Even with carbide tools, you'll need to practice to perfect your skills.
Types of Carbide Woodturning Tools
On the whole, you'll find four types of carbide woodturning tools around:
Rougher: A rougher has square inserts, and allows the wood turner to remove material fast. It's usually the first tool to reach for when you start shaping a block of wood.
Finisher: A finisher is used to quickly cut curved surfaces, process fine surfaces, or perform hollowing. It uses round inserts.
Detailer: Detailers use radius diamond inserts and are used for detailed, intricate work such as beads or coves in spindles.
Swan Neck Hollower: The swan neck hollower also uses round inserts. This tool is used to add curves to your cylinder of wood.
There are a few different shaped tips or inserts available for carbide cutters, which all have different purposes:
Square: Used for rough shaping and exterior curves
Radius Square: These are slightly bulging on the flat sides, which makes them great for smoothing cuts
Round: Used for interior curves and finishing
Rounded Point Diamond/Sharp Diamond: Used for adding detail to your workpiece
For more information on tools, see Guide to Best Woodturning Tools.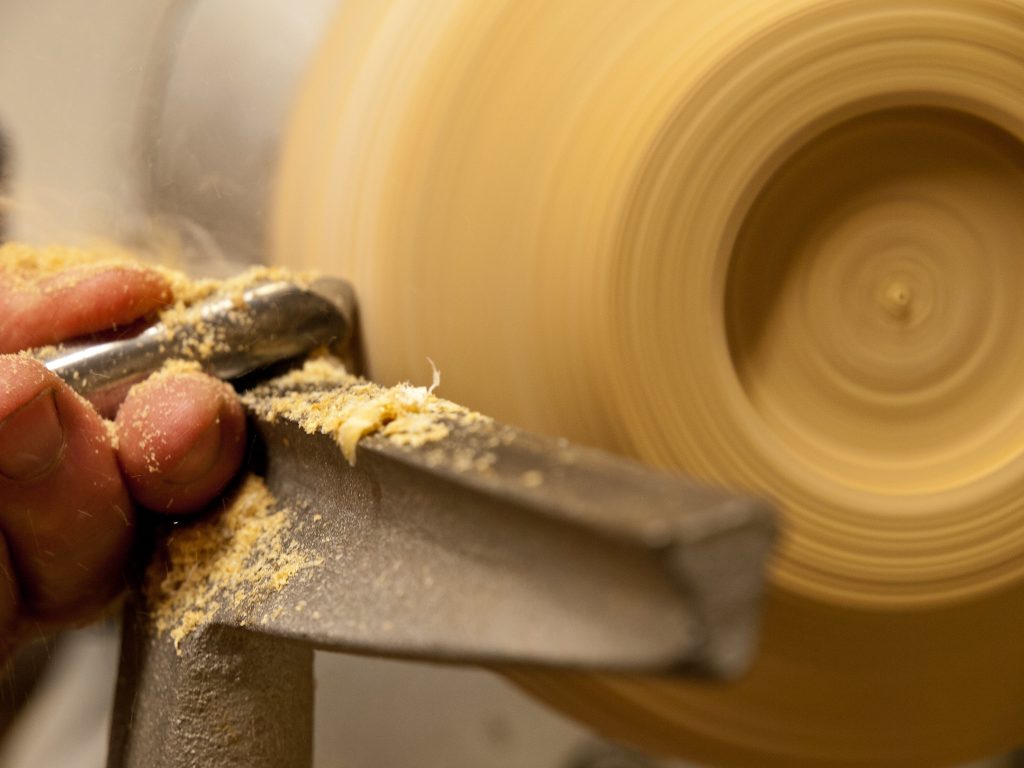 Top 9 Full-Size Carbide Woodturning Tools
Now that you've got an overview of what a carbide-cutting tool is and how it's used, let's take a look at some of the best tools on the market.
Full-size carbide cutters, with a minimum handle length of 12″, offer you both leverage and control. The longer handle length offers you plenty of support when you're turning a workpiece.
Best for Beginners: Asieg Carbide Tool Set (4 Pieces)
AT04 Carbide Tipped Wood Turning tools Lathe set Rougher Detailer Finisher Swan Neck Hollower with Solid Wood Handle and Diamond Round Square Carbide Inserts 4pcs
Indexable Replacement carbide insert design: matched with Carbide Insert, Indexable give you fresh edge for maximum cutter life. If you need Carbide Replacement Tip Insert , you can find it in our...
Handle:solid wood material,Ergonomics design makes it more comfortable while doing turning job
Mid Size Tool Details: CNC machined from square STAINLESS STEEL, making them stronger, stiffer and less likely to roll than round shaft tools, Features a square shaft so the flat back can be kept flat...
Easy to use: greatly simplified learning curving when turning,No complicated angles to learn and remember,For all skill levels woodworking enthusiast or DIY
Package: Set of 4, Plastic case packaging
What's in the box?
Rough Turning Bar: 0.55″ square carbide insert
Finisher Bar: 0.6″ round carbide insert
Hollower Swan Neck Bar: 0.7″ square carbide insert
Detailer Bar: 0.5″ round carbide inserts (Additional optional inserts available)
1x Interchangeable Aluminum Alloy Grip Handle
This 4 piece tool set by Asieg includes a rougher, finisher, detailer swan neck, and hollower tool, as well as an interchangeable aluminum alloy grip handle.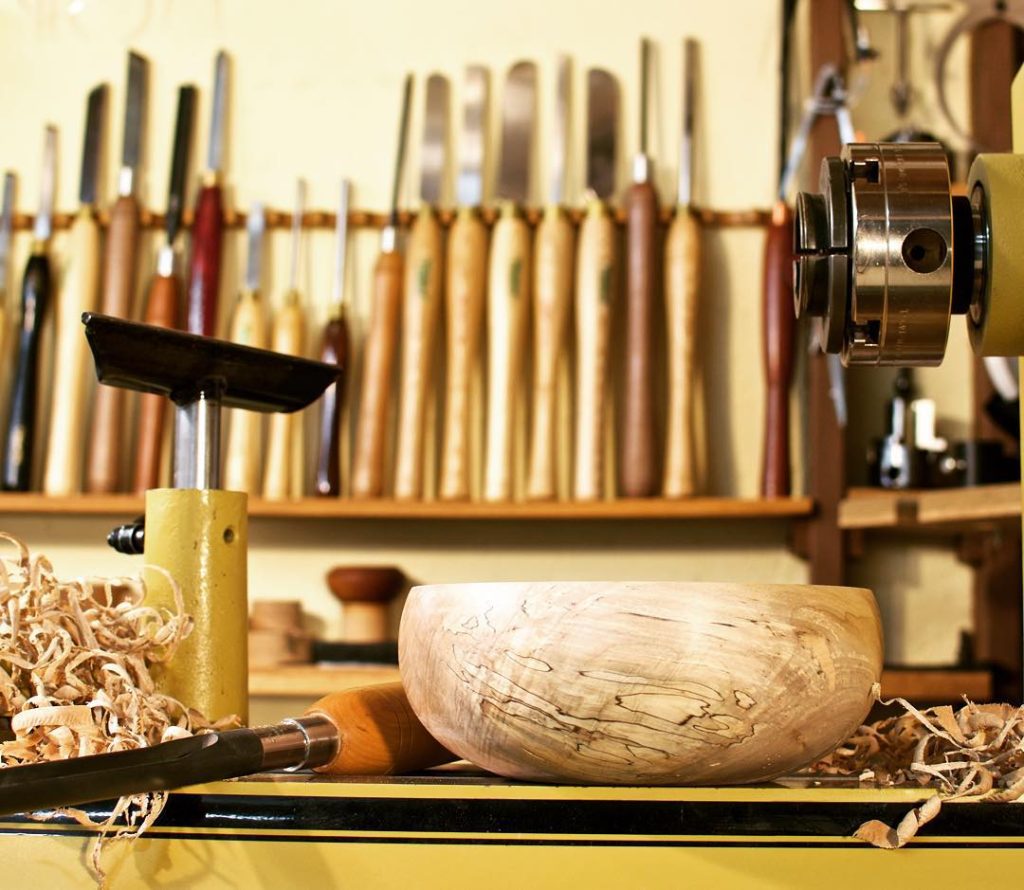 Each insert is made from stainless steel coated in tungsten carbide, so you have a durable, stiff, and strong tool. The inserts come in different thicknesses, so you can pick and choose the right tool for larger and smaller projects. In particular, the Swan Neck Hollower Bar comes with a 0.7″ square carbide insert, which is a great option when cutting large bowls.
The Asieg carbide tools are less likely to roll around than steel shaft tools as they feature a square shaft, which means the flat bottom can be kept on the tool rest and parallel to the floor.
The Asieg carbide tool set uses the Indexable Replacement carbide insert system, which makes buying replacements as easy as A-B-C! Just check the index letter on your insert and you'll be able to buy the exact insert that you need, whether tomorrow or five years from now!
The replaceable handle is made from an aluminum alloy, so it's relatively lightweight. As a result, you'll be able to work longer and still maintain excellent control over the tool. It's a well-balanced tool that's comfortable to use.
Pros
Good value starter kit for beginners or hobbyist woodturners
Easy to source replacement inserts
Cons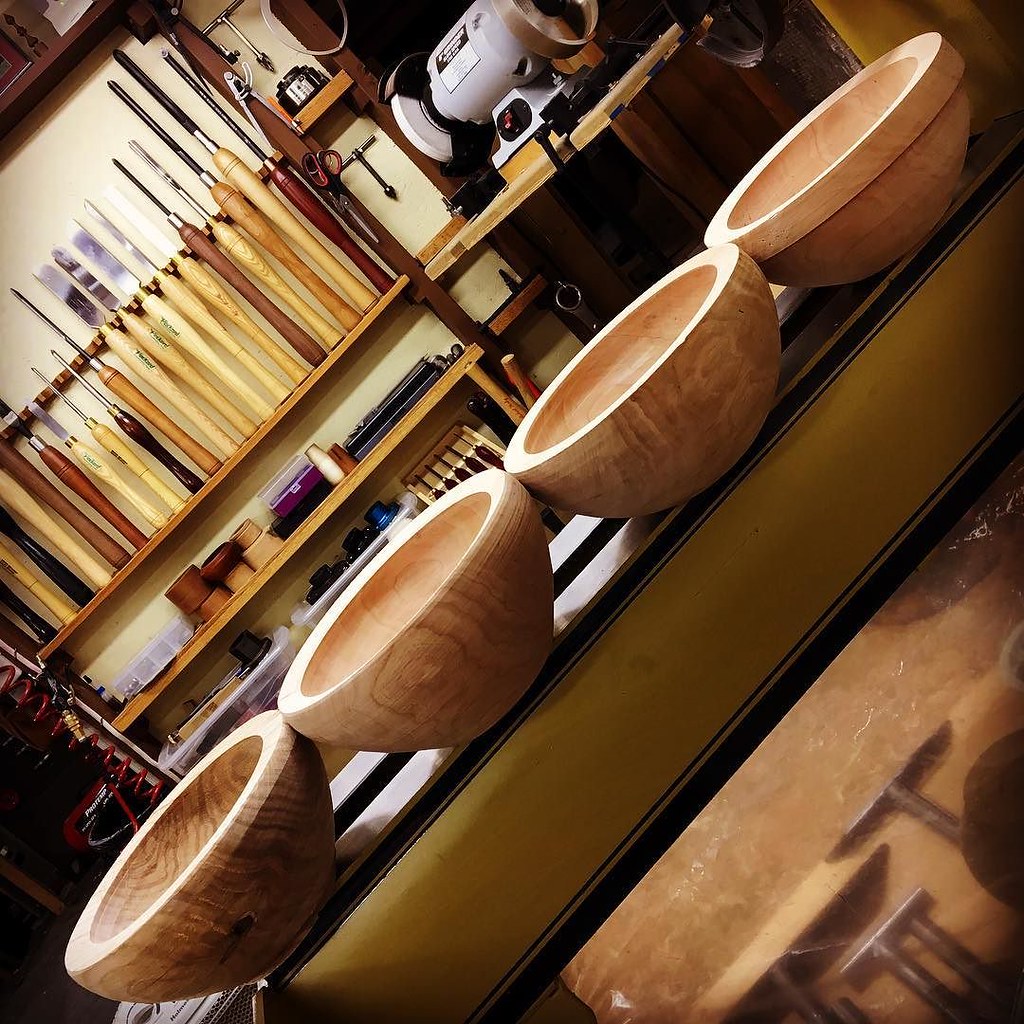 Conclusion
The Asieg Carbide Tipped Wood Turning tools are ideal for beginners or hobbyists to cut their teeth in wood turning. They're easy to source since you can buy them from well-known stockists, such as Amazon. Likewise, purchasing replacement inserts is also straightforward.
Best for Hobbyists: Asieg Carbide Tipped Turning Tool Set (9 Pieces)
What's in the box?
Rough Turning Bar: 0.55″ square carbide insert
Rough Turning Bar: 0.59″ square carbide insert with radius edge
Finisher Bar: 0.5″ round carbide insert
Finisher Bar: 0.6″ round carbide insert
Hollower Swan Neck Bar: 0.47″ round carbide insert
Detailer Bar with 2 Diamond Carbide Insert
Parting Tool Bar
8 screws
Star Key Wrench of T20
Star Key Wrench of T15
2x Interchangeable Aluminum Alloy Grip Handle
For more versatility and choice in carbide woodturning tools, you may wish to consider the upgraded version of the Asieg Carbide Tools Set (4 Pieces). This expanded set includes two roughers, two finishers, one detailer, one hollower, a parting and grooving tool, and two handles.
Simply having access to two aluminum handles will save you a lot of time in the workshop, as you can have your most frequently used tools set up and ready to go. You won't need to spend as much time swapping the inserts in and out.
Like the 4-piece set, the inserts are made from stainless steel and coated in tungsten carbide, so you can be confident that you're getting a strong tool that can withstand the heat and pressure of wood turning.
The Indexable Replacement carbide insert system means you can easily and conveniently identify and source any replacement inserts that you made in the months and years to come.
The additional parting tool is a nice bonus since you can use it to make deeper cuts.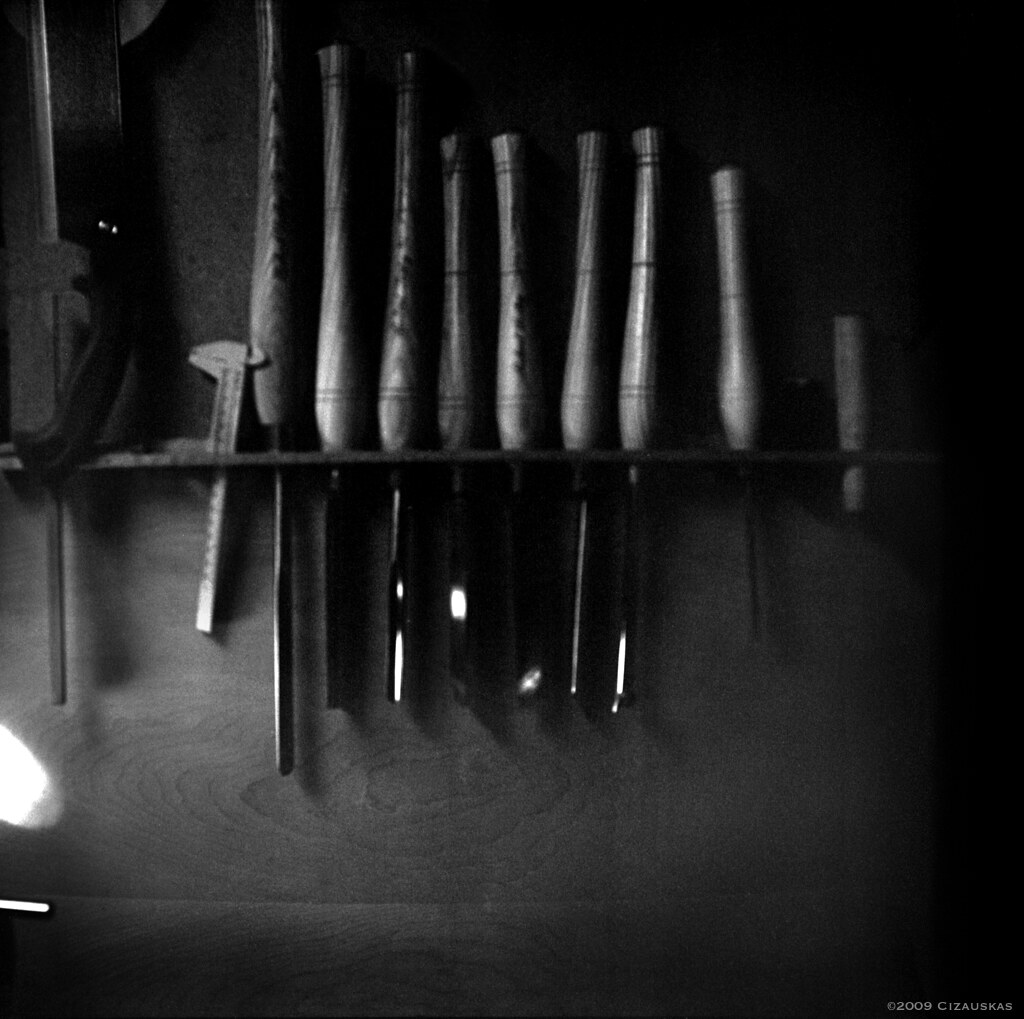 Pros
Good quality tool set
Excellent variety of inserts to cover most tasks
Lightweight handles for better balance and use
Cons
An expensive initial outlay, but you get a lot of inserts for your money
Conclusion
Like Asieg's 4-piece toolkit, the 9-piece carbide cutter tool set is an excellent investment for beginners or hobbyists. The additional inserts mean that you have a lot more choice from the get-go when you're turning your project, without needing to rush out and buy a new insert with a different diameter.
Best Overall: Wolltex Carbide Lathe Tools (6 Pieces)
What's in the box?
17 different inserts
4 interchangeable, multi-colored handles
12 wood turning carbide cutters
The Wolltex Carbide Cutting Tools are a cut above the rest and include a wider variety of inserts and a choice of color-coded handles. The brightly colored handles make it easy to identify each insert that you've set up, quickly, as well as meaning that you can have several cutting tools ready and waiting to use. Think of all the time you'll save from having to swap the inserts!
The Wolltex cutting tools are of a professional standard, and ensure that you can make precise cuts, exactly where you want (with a little practice, of course!). The blades are sharp and remain sharp for a long time, so you can cut and slice your wood as easily as a sheet of paper. You can go years without needing to replace the blade!
Pros
The blades stay sharp for a long time
Easy-to-use, making them ideal for beginners
Several different size cutters in the kit
Cons
With so many inserts included, this set may cost more than you wanted to pay
Conclusion
The Wooltex Carbide Lathe Tools are an excellent option for both new and veteran woodturners. They're easy-to-use straight out of the box and made to a high-quality standard. With the variety of different insert sizes, there's an insert for everyone from pen turners to table leg turners!
YUFUTOL Carbide Wood Turning Tool Set (6 Pieces)
YUFUTOL Wood Turning tool set Carbide Tipped Lathe Tools Finisher/Rougher/Detailer/Hollower(6pcs Bar+1pc Interchangeable Handle) With Carbide Inserts and Screws and Wrench
Designed to be kept flat on the tool rest and level to the floor, the YUFUTOL Finisher/Rougher/Detailer will effortlessly hog away massive amounts of material for any woodturning process without the...
Dimension and Material:Tool Bar 9.25"(235mm) ,Head 0.59"(15mm), Overall length 9.84"(250mm),diameter 0.472"(12mm);Tool bar-CNC machined High carbon steel,increase the stability and shock...
Indexable Replacement carbide insert design:matched with Carbide Cutter (2 pcs Square14 × 14 × 2.0mm,2pcs Square 15×15×2.5mm-R50,4pcs Round 12 × 2.5mm-30°,2pcs Round 16×3mm,2pcs Diamond...
Interchangeable Handle:black aluminum alloy handle(290mm*26mm).
Easy to use:greatly simplified learning curving when turning,No complicated angles to learn and remember,For all skill levels woodworking enthusiast or DIY
What's in the box?
1x 0.47″ × 0.1″ Hollower Tool Round
2x Finisher Tools (0.47″ x 0.1″ and 0.63″ x 0.12″)
2x Square Rougher Tool (0.55″ x 0.08″ and 0.59″ x 0.1″)
1x Detailer Tool (diamond with radius)
1x Interchangeable Black Aluminum Alloy Handle (11.4″ x 1″)
The YUFUTOL inserts are made from premium quality CNC-machined high-carbon steel, which improves the tool's stability and shock resistance. These tools have been designed to be long-lasting.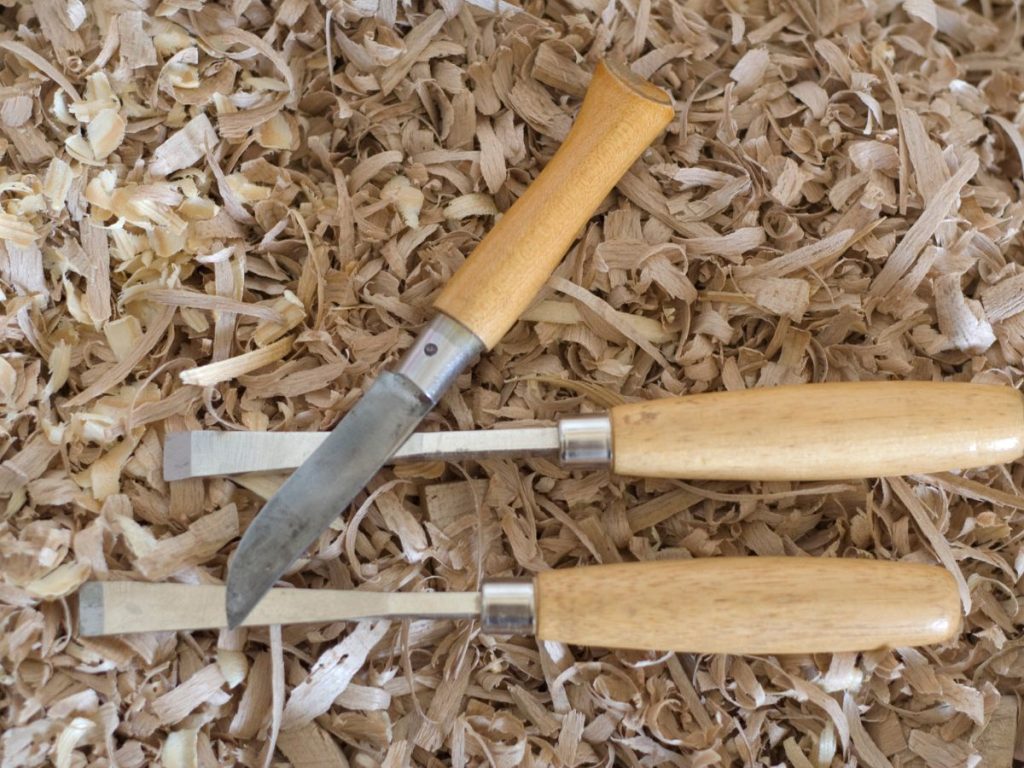 YUFUTOL uses the Indexable Replacement carbide insert system, so you can be confident that you'll be able to source suitable inserts whenever you need to fully replace a blunt blade. Included are three interchangeable heads, each angled in a different direction – so you won't need to learn any complicated angles to get the perfect cut.
These practical carbide tools are easy-to-clean and there's no need to sharpen the blades, unlike HSS tools, so you can prioritize your time for creative work rather than tool upkeep.
In the box, you'll also find some additional accessories that make switching the inserts a breeze, such as the T15 and T20 key wrenches, an Allen key wrench, and an adjustable wrench.
Pros
Good variety of inserts
Lots of accessories to make it easier to change inserts
Easy to clean
Cons
The handle has been known to become unscrewed when using reverse turning on your wood lathe.
Only comes with 1 handle, so you may find yourself switching in and out more often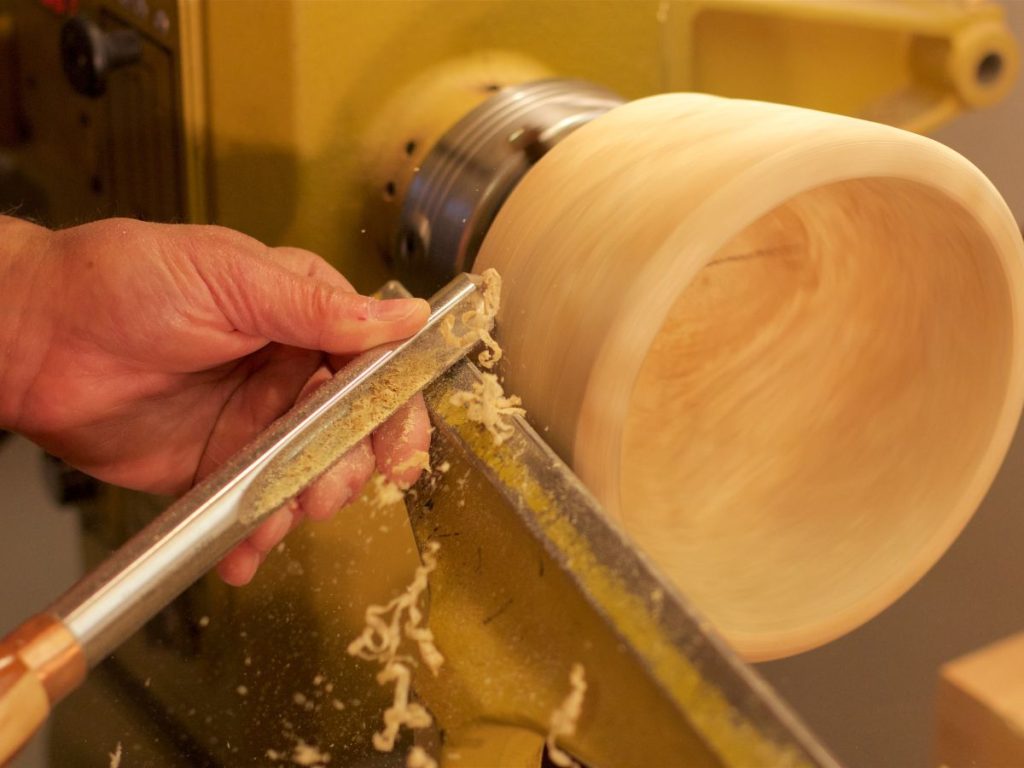 Conclusion
The YUFUTOL 6 Piece Set is good value for money but only comes with one handle. It's a great starter tool set, but you may find yourself needing to upgrade sooner than with other carbide cutter sets, or at the very least buying some extra handles to save you the frustration of needing to swap inserts mid-project.
Best Budget: YUFUTOL Carbide Turning tool (3 Pieces)
What's in the box?
3x woodturning tools: Mid Finisher, Rougher, Detailer
Carbide Insert Cutters
Allen Key
This YUFUTOL carbide cutter tool set comes with 3 pieces rather than 6. Rather than an aluminum handle, it comes with a 9.84″ wood handle. When coupled with the tool bar at 5.91″, you get an overall tool that is 15.75″ long – it's a decent length for good leverage and support.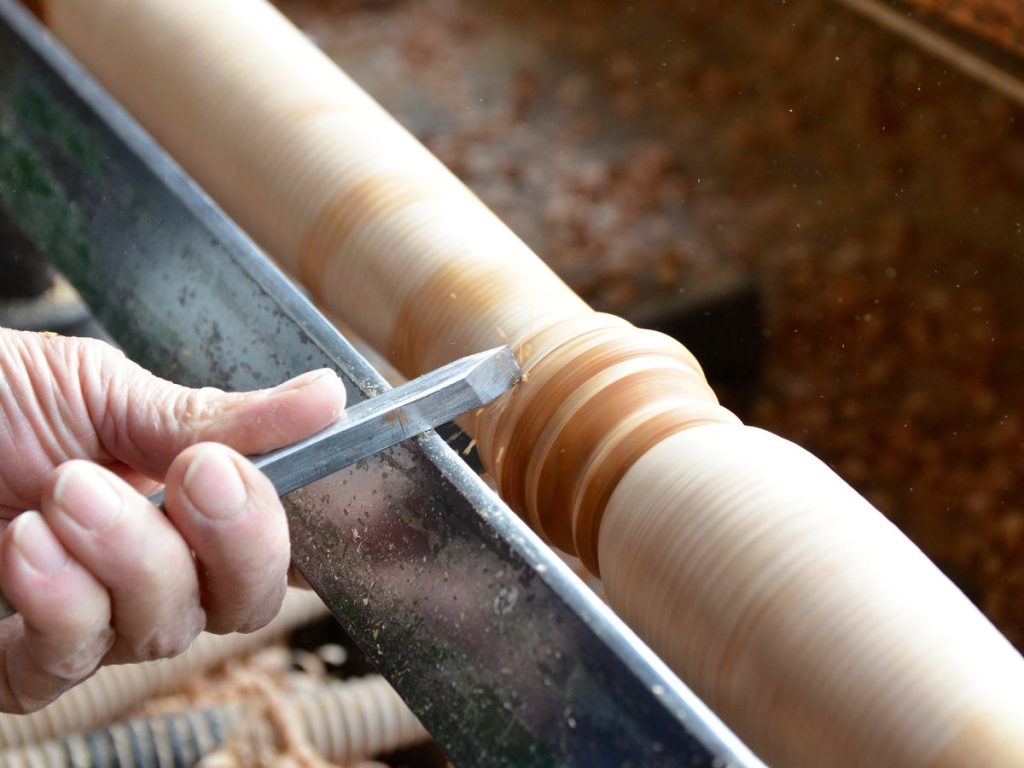 Like many of the other carbide cutter sets we've reviewed, it also uses the Indexable Replacement carbide insert system, so replacing your inserts should be straightforward as well as fast.
The inserts are made from high-carbon steel and coated in tungsten carbide, for long-term, durable use.
Since the set only comes with 3 pieces, it's really aimed at entry-level wood turners who may just be testing the water. If you stick with wood turning as a long-term hobby, you'll eventually need to invest in new carbide woodturning tools, with a bigger variety of inserts. However, it's a good option if you want to have a taste of woodturning without paying a fortune.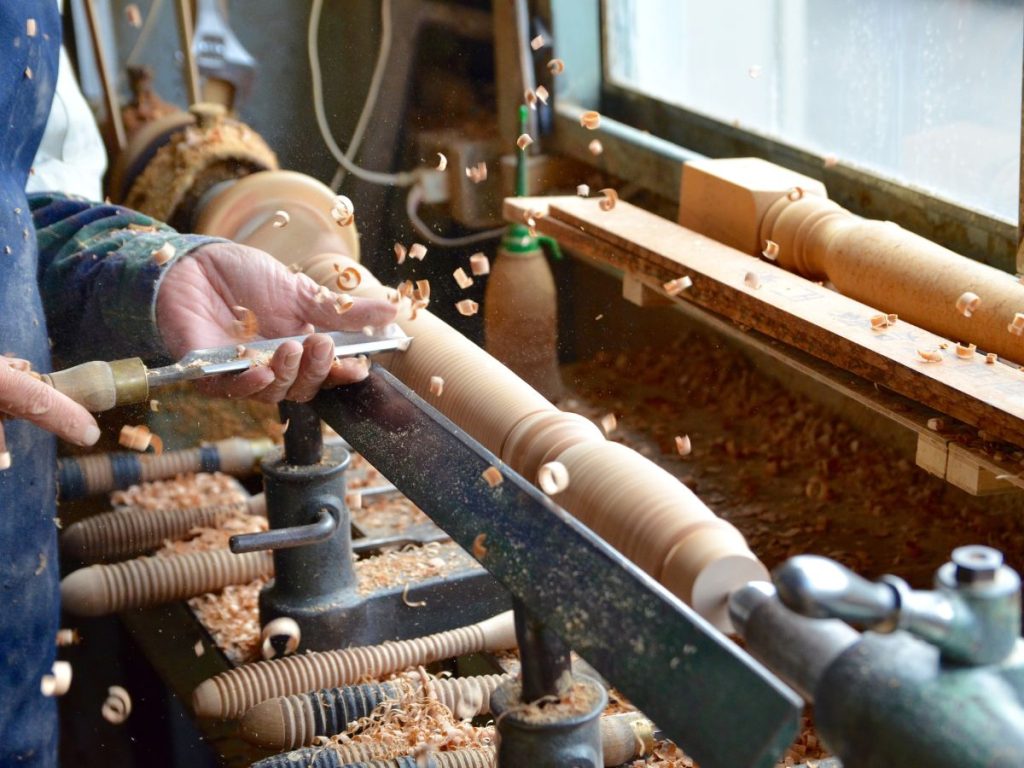 The set includes an allen key and carbides, so it's easy to replace tips whenever you need to.
Pros
Excellent budget set for new turners
Cons
Trade-off between quality and cost
Conclusion
Great budget tool set for newer woodturners who aren't ready to invest in a huge number of tools. The easy-to-use changing system means you can swap inserts easily, so you can progress from roughing out your workpiece to finishing touches within minutes.
VINWOX Carbide Turning Tool Set (4 Pieces)
VINWOX 20" Full Size 4 PCS Carbide Wood Lathe Turning Tool Set, Carbide Wood Lathe Chisel Set, Carbide Lathe Turning Tool, Carbide Turning Tool
The VINWOX Carbide Turning Tools are designed with ease of use in mind. It is ideal for wood turners of all skill levels and helps ensure success right from the start. The VINWOX Carbide Lathe Tools...
10mm Straight Square Steel Shank
Including One set Replaceable Carbide Tip Insert installed on chisel. Rougher: 11.1x11.1x1.75mm 4 sided Square Shape Carbide Tip. Finisher: 12mm Diameter Round Shape Carbide Tip. Detailer: 28x10mm...
1/2/3/4 Indexed Carbide tip design always offer sharpest edge for turning and maximum cutting life
Top quality and Long cutting life Guaranteed
What's in the box?
1x 0.4″ Straight Square Steel Shank
1x Replaceable Carbide Tip Insert installed on a Chisel
1x Rougher: 0.43″ x 0.43″ x 0.07″ square shape carbide tip
1x Finisher: 0.47″ diameter round shape carbide tip
1x Detailer: 1.10″ x 0.4″ diamond shape carbide tip
1x Peach Square Radius: 0.44″ x 0.44″ x 0.07″ with 4-sided 2″ arc square radius carbide tip
The VINWOX Carbide Lathe Tools feature a rotatable cutter head, which means you don't need to sharpen your tools! Just switch to the next edge when your blade is blunt.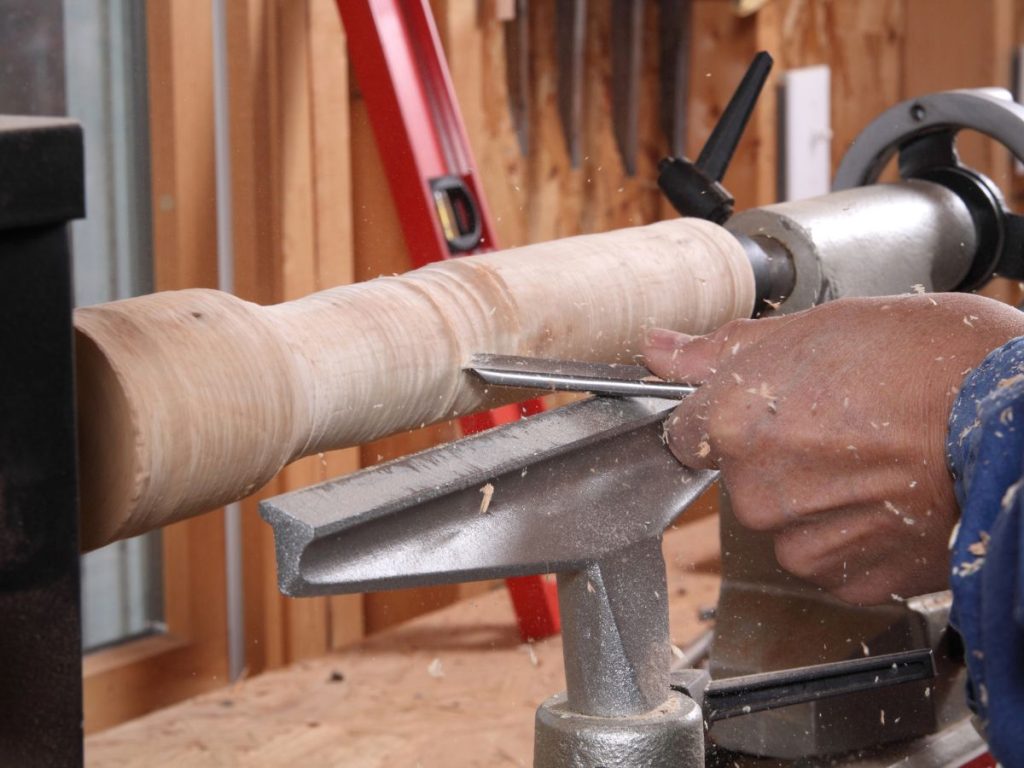 Crafted from high-quality carbide and steel, the VINWOX carbide tools have an electronically ground tip, which means you can be sure that your cuts will be accurate and precise.
It allows for greatly simplified wood turning and includes sufficient options in the inserts. that you can successfully use the toolset to turn bowls, pens, spindles, bowls, or almost any kind of furniture you can imagine, large or small!
The carbide rougher provided by VINWOX is suited to cutting tenons, rough turning, and outside curves. It's also ideal for heavy, precise cuts on the surface of your wood.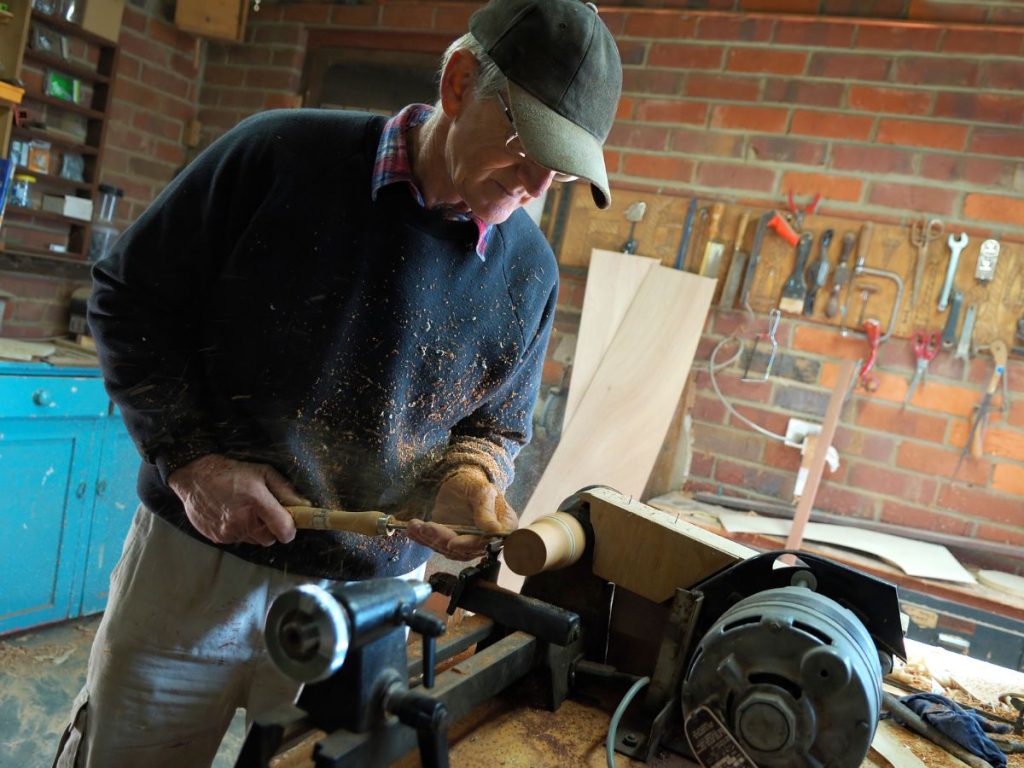 The finisher works well for general shaping and light finishing cuts. It's better suited for inside curves and spindle coves than exterior curves.
A carbide detailer cutter is included in this set, which is the perfect tool for adding finishing touches to your project, as well as small beads and coves. With the sharp pointed tip, you can cut chuck tenons, roughing and finishing.
The VINWOX set also includes a precision radius cutter, which enables you to make precise, equalizing cuts to smaller items such as bowls, pens, or egg cups. It's perfect for tiny, accurate cuts.
PROS
Reasonably priced
Stylish packing – the whole set comes in a wooden case for easy storage
The screws are Torx, rather than Hex
Cons
The tools are extremely lightweight, which can make them harder to control
Conclusion
This is a good starter tool for anyone looking to try out woodturning for the first time and is trying to keep to a budget, but be mindful that there will be a trade-off between quality and cost.
Aogbra Carbide Tipped Wood Turning tool set (4 Pieces)
Carbide Wood Lathe Turning Tools, Aogbra Quick Replacement Turning Tools Set, Latest Version Lathe Full Size Rougher Finisher Swan Neck Hollowing Tools
ELIMINATE INEFFICIENT: Developed for the experienced or novice woodturner, Aogbra's turning set features tungsten carbide cutters that keep their sharp cutting edges longer than typical carbon or...
QUICK DISASSEMBLY DESIGN: The 10.6"-long, machined aluminum solid handle additional incorporates an 8.6" extend grip that utilizes a unique forward chucking system. No tools are required! Simply...
MATERIAL: High quality steel turning arbor and carbide insert, excellent ergonomics and a sure grip, Each tool is beautifully coated for durability, Unlike the wood handle wood turning tool on the...
STABILITY: Each one of the four 8-1/4" steel tool shafts is supplied with one of four carbide insert cutter profiles: a circle, square or diamond. The machined shafts have bottoms that are milled with...
OUR TURNING SYSTEM INCLUDES: (1) 10.6 '' shank, (1) longer 8.6 '' shank extension, (1) gooseneck hollow tool, (3) 8.3 '' shafts with a carbide cutting head of the circle, square or diamond, each...
What's in the box?
1x 11" Tool Handle,
1x 9.8" Handle Extension
3x Carbide Cutter Tool Shafts (Circle, Square, Diamond)
1x Swan Neck Carbide Cutter Hollowing Tool,
1x T15 Wrench
1x Allen Wrench
1x Aluminum Protective Case With Foam Insert
Enjoy extended cutter life with Aogbra's carbide tipped wood turning tools. These tools are made with tungsten carbide tips and have stainless steel arbors for strength and durability.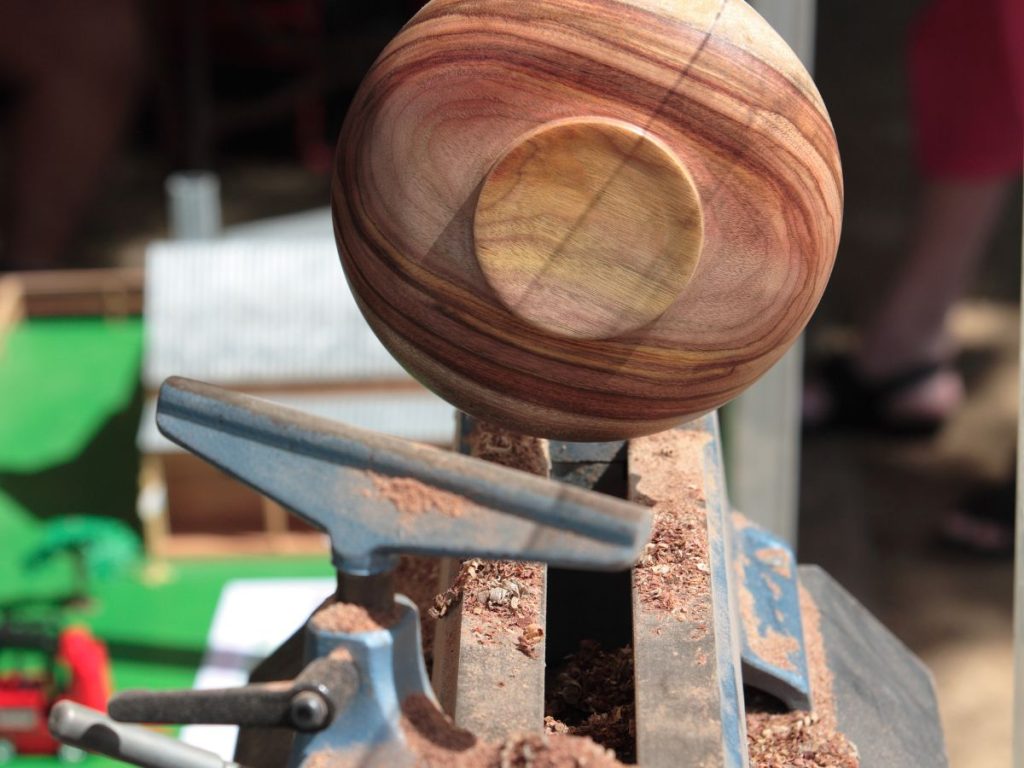 The aluminum oxide alloy handles make for better grip and comfortable usage. It features an anti-vibration grip, which absorbs the vast majority of vibration from the lathe, allowing you more control when you're working. You should also find that your hand is less fatigued when cutting rough materials.
The tool shafts are CNC machined from square high-carbon steel, so they're both strong and solid. Aogbra has designed its carbide-tipped wood turning tools to have square shafts rather than round shafts, so you'll find that the tool's flat bottom keeps the tool flat on the tool rest and parallel to the floor.
Again, an indexable cutter design means it's easy to locate and source a suitable replacement when it's time to switch out your blade.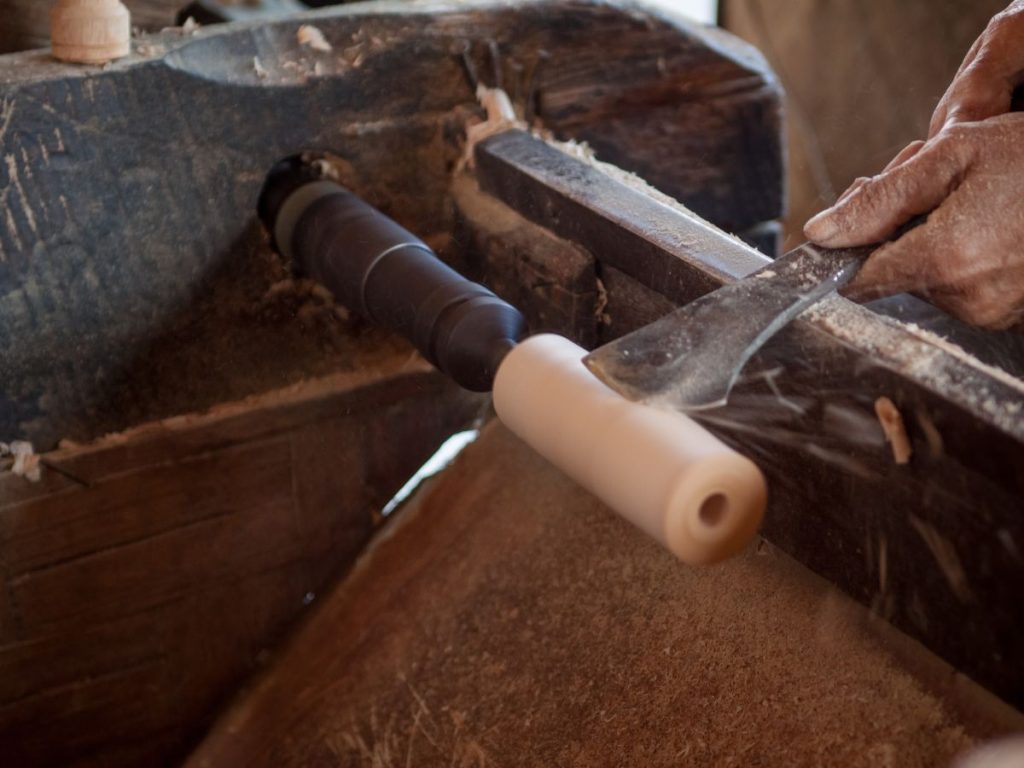 The Aogbra Wood Turning Tools Set includes a huge variety of shapes and sizes for each of the three carbide tips. It also features a front chuck system that enables you to quickly change the carbide cutter shafts. It's as easy as unscrewing the collet from one end of the handle and screwing in another.
Pros
Anti-vibration grip on the handle
Handy storage box
Quick and easy to switch a dull blade edge for a sharper edge
Cons
There is a slight variation in actual dimensions vs the marketed dimensions. The bars were listed as 0.47″-0.55″, but in reality, they measured in at 0.4″ – don't be caught out!
Conclusion
If you're going to be working with rougher materials on a regular basis, then you'll appreciate the anti-vibration grip on the handle. However, do take care with the dimension variations as you may find it a struggle to source replacement shafts that actually fit the handle.
Savannah – 7586 Carbide Turning Tool (3 Pieces)
Sale
Savannah - 7586 Carbide Turning Tool Large Size (3 Piece Set - All 3 Turning Tools) Includes Diamond Shape, Round and Square Turning Tools With Comfort Grip Handles, Three Tool Set,Silver
Easy wood turning on your lathe with Savannah Carbide Turning tools. The Savannah Large Carbide Turning Tools are designed with ease of use in mind. It is ideal for wood turners of all skill levels...
All you have to do is rotate the the cutter head for a clean, sharp edge and continue turning. The solid carbide stays sharper for a longer period of time in comparison to steel tools. Once the cutter...
To make turning even more enjoyable, the shaft of the Savannah Carbide Turning Tool also features a flat back for stability while your turning. The solid wood ash handle is coated with a comfortable...
The comfortable rubber grip helps reduce hand fatigue while turning. Handle length is approximately 13-1/2" from the end to the stainless steel ferrule. With the Savannah Large Carbide Turning Tool,...
Set includes the Large Round (# 7537), Square (# 7538) and Diamond (# 7539) cutter tools. The round tool measures appx. 6-9/16" from the tip of the cutter to the ferrule, the square tool measures...
What's in the box?
1x Large Round (#7537) cutter tool, approx 6-9/16″ from the tip of the cutter to the ferrule
1x Square (#7538) cutter tool, approx 6-9/16″ from the tip of the cutter to the ferrule
1x Diamond (#7539) cutter tool, approx 6-5/8″ from the tip of the cutter to the ferrule
The Savannah Carbide Turning Tool provides you with a solid wood ash handle, which is coated with a rubber grip for comfort and ease of handling. The rubber grip is designed to reduce hand fatigue while turning, a common complaint amongst woodturners.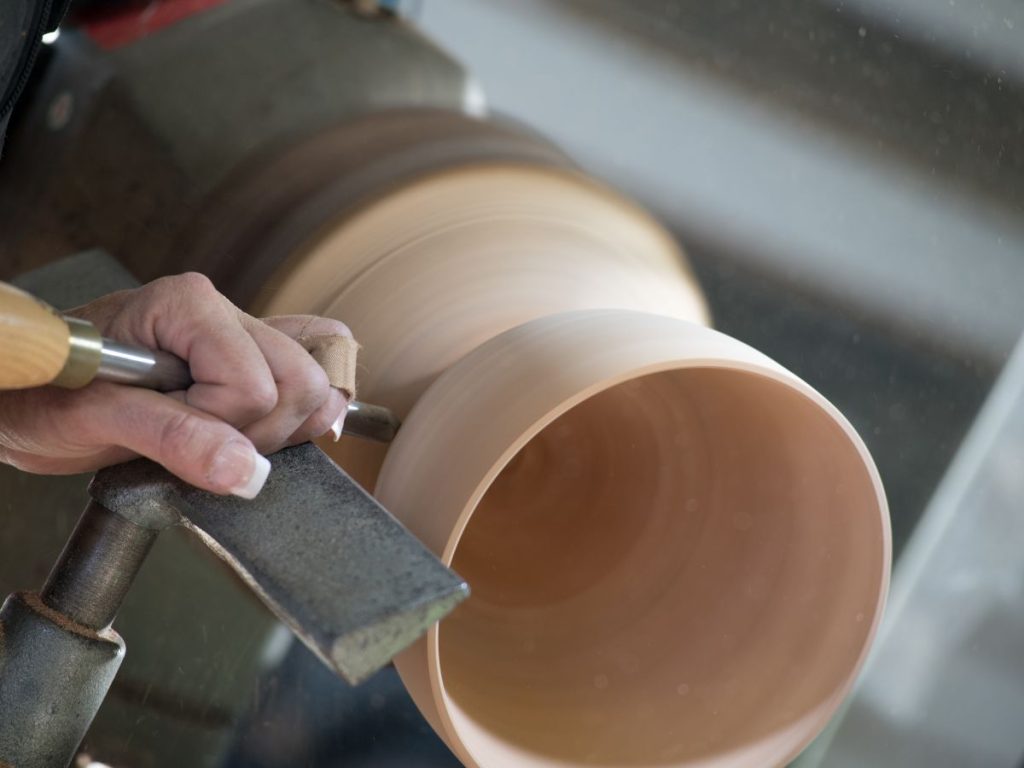 The handle length is approximately 13-1/2″, which is a comfortable length for most wood turning operations. Savannah has succeeded in creating a comfortable, ergonomic handle so they're a real pleasure to use.
The Savannah 3 Piece Carbide Turning Toolset is well-designed and can cut through hardwoods, softwoods, ply, acrylic, and even, inlace acryl ester.
Pros
Good value for money
Comfortable, ergonomic grip on the handle
Stylish wood ash handle
Cons
Instead of a wooden case, the tools are packaged with protective caps, which is not ideal
Conclusion
The Savannah tool set is great for beginners and newly-qualified professionals who don't have a lot of money to spend on tools. It's not packaged as well as some of the other tools, which may be annoying if you need to spend time going back and forth with the seller for replacements.
Simple Woodturning Tools (3 Pieces)
Simple Woodturning Tools Carbide Lathe Tool Set of 3 Plus Solid Aluminum Handle, Stainless Steel, American Made (3 Tools w/Bright Copper Handle)
Benefits of Carbide Lathe Tools: Simple to use for all skill levels making woodturning fast and more enjoyable. You can focus on your project and not on techniques or sharpening. No long learning...
Handle Details: The most beautiful, solid aluminum lathe tool handle on the market, 100% USA made by American craftsman. CNC machined from solid aircraft aluminum for balance & durability. Beautifully...
Mid Size Tool Details: CNC machined from 3/8" square stainless steel, making them stronger, stiffer and less likely to roll than round shaft tools.These mid size tools feature an overall length of...
Tool Use: The mid size Simple Turner & Hollower is ideal for turning small bowls, handles, bottle stoppers, etc. The mid size Simple Rougher carbide tool makes roughing much simpler & less physical as...
Tool Engraving: Each Simple Woodturning Tool is engraved so you know exactly what tool you have. That makes finding replacement cutters very simple! Look for authentic mid size Simple Woodturning Tool...
What's in the box?
Premium Quality Solid Aluminum Handle
90º square rougher
9/16″ diameter turner & hollower
55º diamond detailer
T15 and T20 Torx star tip
Simple's turner and hollower are one of the simplest carbide tools to use. Quickly turn and hollow your project to the desired shape.
The Rougher takes out some of the physical strain of roughing as most of the shock from interrupted cuts is absorbed by the tool rest, before it ever reaches your hands and arms.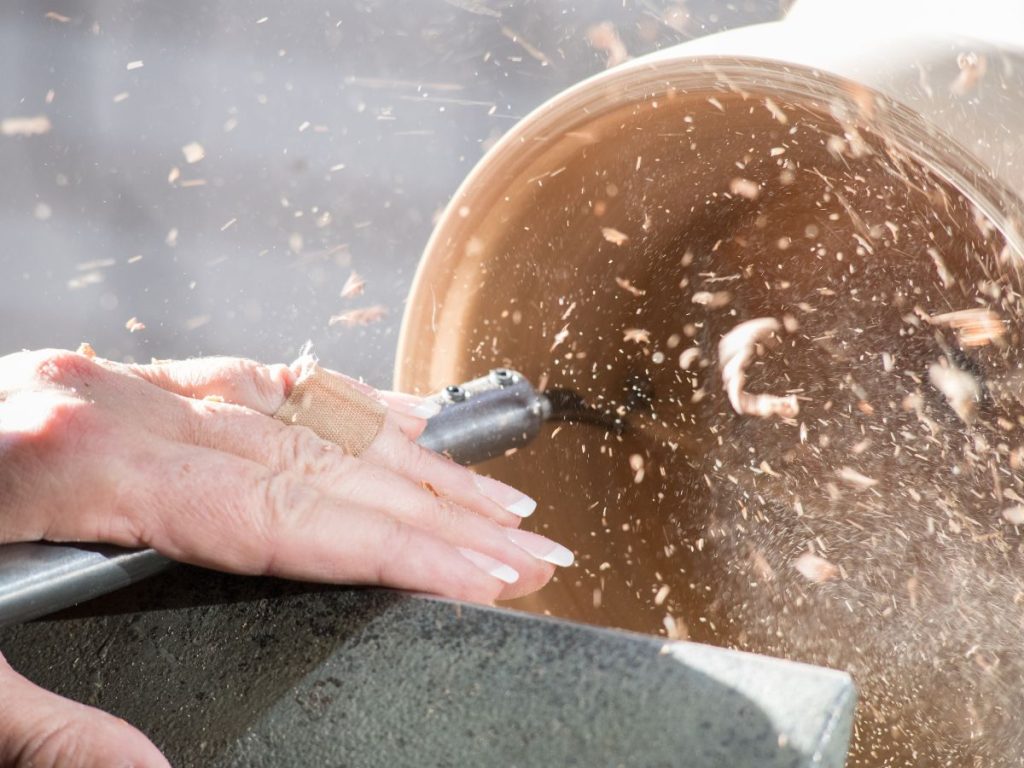 The Detailer offers you a high degree of accuracy for adding detailed finishing cuts.
You'll love the rustproof aluminum handle, which is 100% made in the USA by American craftsmen. These handles are made from aircraft aluminum for balance and durability, and they'll keep going for years and years! The handle remains cool even after hours of use.
The foam rubber grip has been designed to reduce hand cramping, which is a fantastic feature if you're planning to be in the workshop for any prolonged amount of time. Additionally, the handle design gives you great tool control.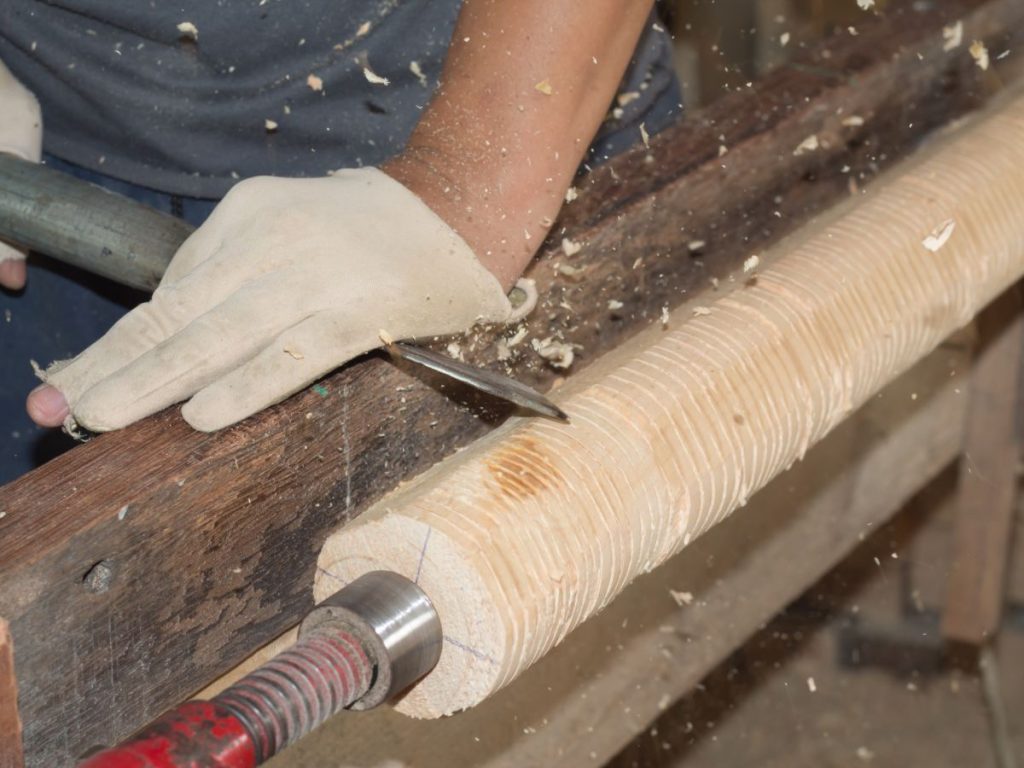 Changing the inserts is easy as you only need to loosen two stainless steel screws.
While the Simple Woodturning Tools do not use the Indexable Replacement carbide insert system, it's still easy to source replacement cutters. Just look for authentic Simple Woodturning Tool replacement cutters. These will be marked STH for the Simple Turner and Hollower, SR for the Simple Rougher, and S55D for the Simply 55º Detailer.
Simple Woodturning Tools come in three different sizes, so you'll have a very versatile tool for your wood turning needs.
The blades are sharp and even with just a straight cut, you can turn up to 50% faster than with traditional woodturning tools. Their unique cutting-edge cuts extremely well and doesn't catch.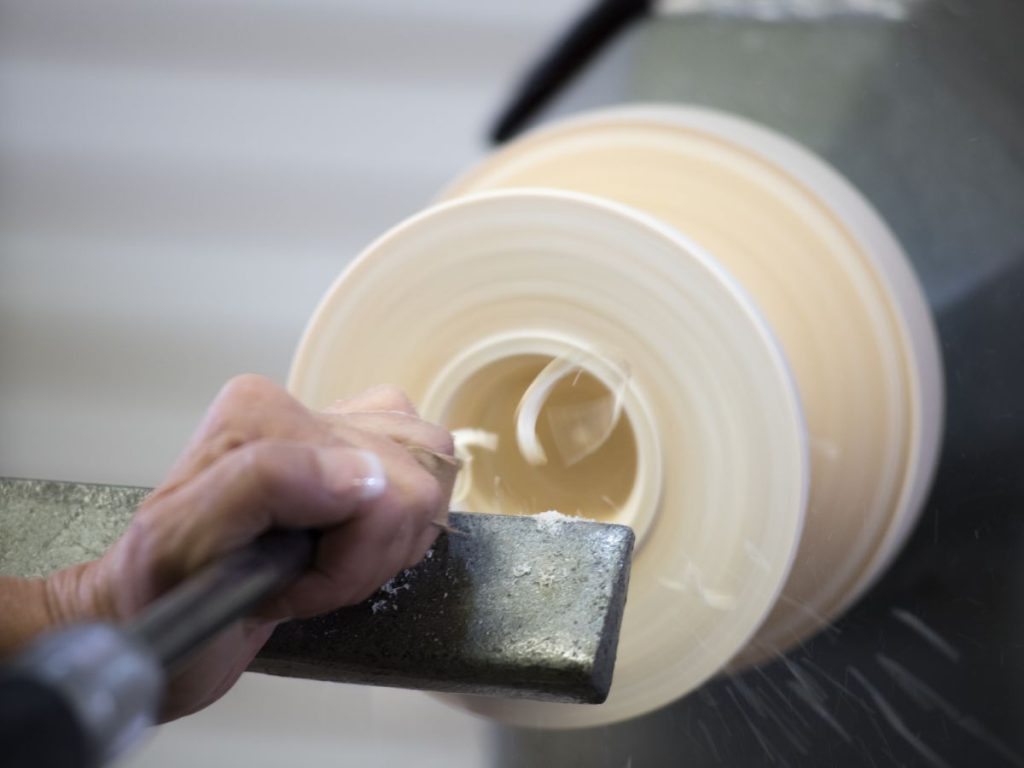 Pros
Anti-rust handle with a good grip
Doesn't catch
Easy to find replacement inserts
Cons
The blade can get dull quite quickly
Just one handle, adding time to switch blades
Conclusion
The Simple Woodturning Tools set is a great starter set for entry-level woodturners. You may find the blades get blunt quicker than some of the other sets, but we like the anti-rust handle and comfortable grip.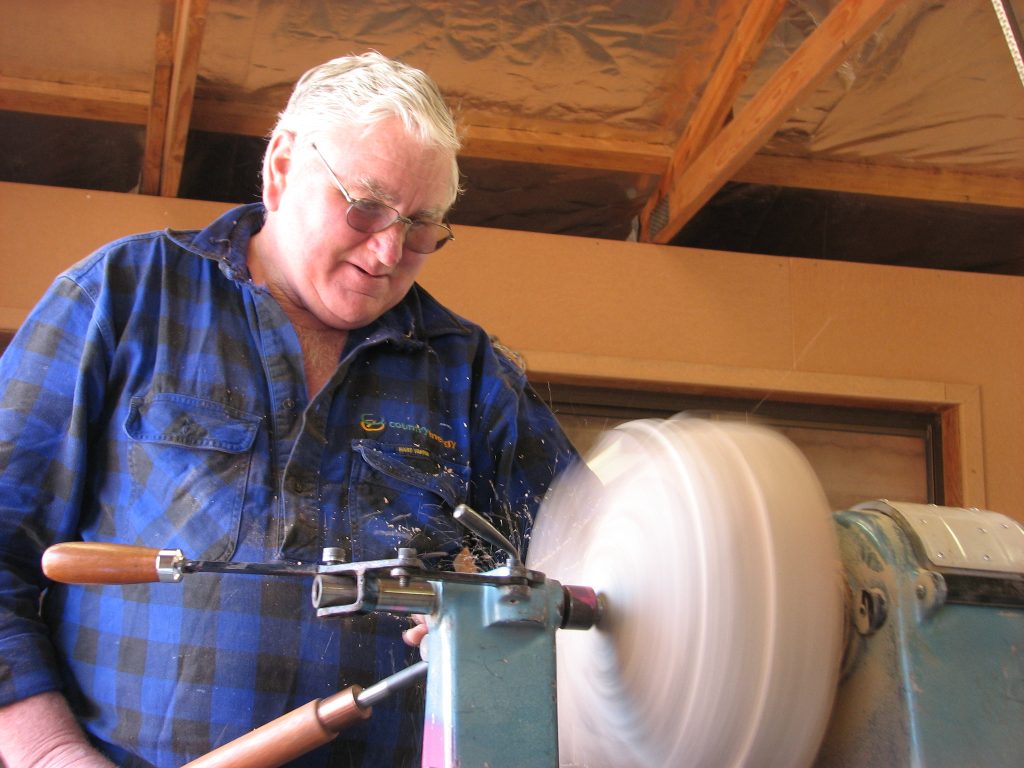 Are Carbide Turning Tools Worth It?
For a Beginner
You can literally get your tools out of the box and start working right away. The output is visible from the start – you can see progress immediately, unlike with HSS tools where you need to spend a lot of time practicing to get the correct angles. Although you may spend a disproportionate time sanding your project to achieve your desired final surface, it's a minor inconvenience when you consider that you're able to get started sooner, you can get your project done quicker and you don't need to sharpen your tools throughout your woodturning session.
Carbide turning tools are a great option for new woodturners or people working at home in their garage or basement. The tools can be safer than traditional tools as they can be less prone to catching. If they do happen to catch, the jerk tends to be less violent, too.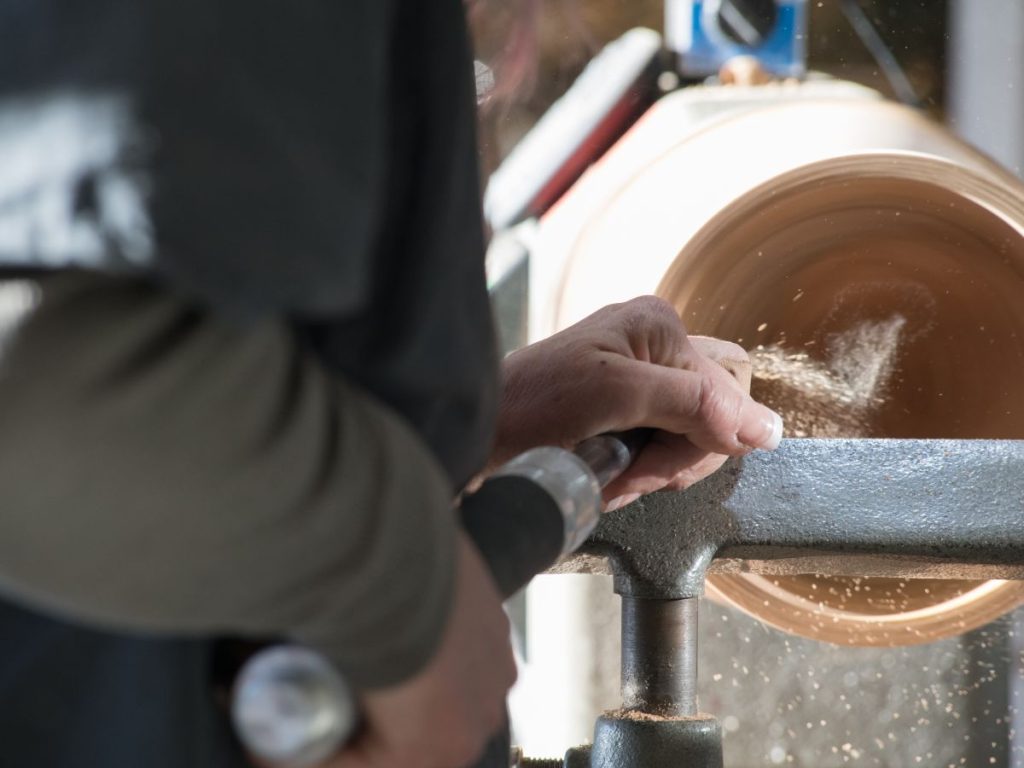 On the surface, it may seem that carbide cutters are expensive, but when you consider that you can use them for a long time before needing to replace the blades and you don't need to spend money on any sharpening equipment, then the Maths may work out in your favor. Of course, if you're looking to prolong the life of your carbide inserts even longer, then you may find it beneficial to invest in a simple diamond stone sharpener.
For a Professional Woodworker
While a veteran woodturner will likely argue long and hard in favor of HSS tools, there is a place for a carbide set (or two!) in a professional setting.
When you consider that carbide wood turning tools can cut away excess material quickly, then using them to start your project off will save you a considerable amount of time. You can always switch to traditional turning tools to finetune your work.
Invest in Carbide Turning Tools And Start Turning Today
All-in-all, carbide-turning tools have their place in the workshop and you can use them as much or as little as you want. They're easy to use and efficient at removing material quickly. As they're scraping tools, there is a trade-off with the finish so you'll spend more time finishing your project.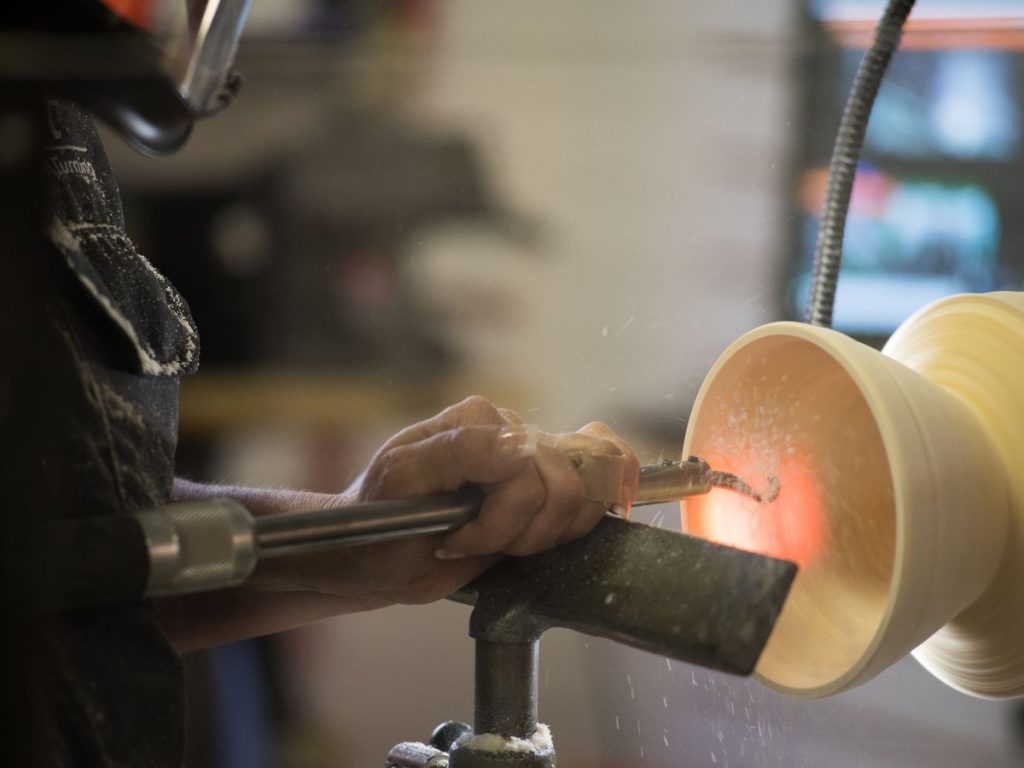 Like everything in life, you reap what you sow! It's a great idea to get started with carbide tools so you can quickly appreciate the wonders of woodturning. But don't neglect HSS tools. They also have their place and making the effort to learn the skills needed will benefit your work greatly, leading to more refined, intricate projects.