In this post, I review the semi-professional metal lathe Grizzly G0602.
Grizzly Industrial
I'm a huge fan of Grizzly products. They are the best of both worlds! They have the affordability and plug-and-play ability of an entry-level tool, while still packing the high-quality construction and features of an expert-level model.
Grizzly Industrial is a well-known company that has been making lathes for over thirty years. In addition to lathes, they sell mills, drills, power tools, and hand tools. I've been buying from them for years because I know I can expect great quality and customer service.
Like many cost-effective lathes, the G0602 is built in China. Grizzly Industrial, however, has its headquarters in the USA. Even though Chinese-made products have a bad reputation, that hasn't been my experience with Grizzly lathes.
Overview of the G0602
The G0602 is a miniature benchtop metal lathe that combines cost-effectiveness and all the features you want. I hesitate to call it mini, as it has a footprint of about 1 x 4 ft. and a weight of several hundred pounds. This is only really "mini" when you realize that full-size lathes can be weighed in tons.
I was very happy with the G0602. It had everything I needed, the wonderful customer experience, that Grizzly provides, and plenty of small design features that took the product from good to excellent.
Some highlights of the G0602 include its variable speed control, user-friendly construction, and vibration-free design.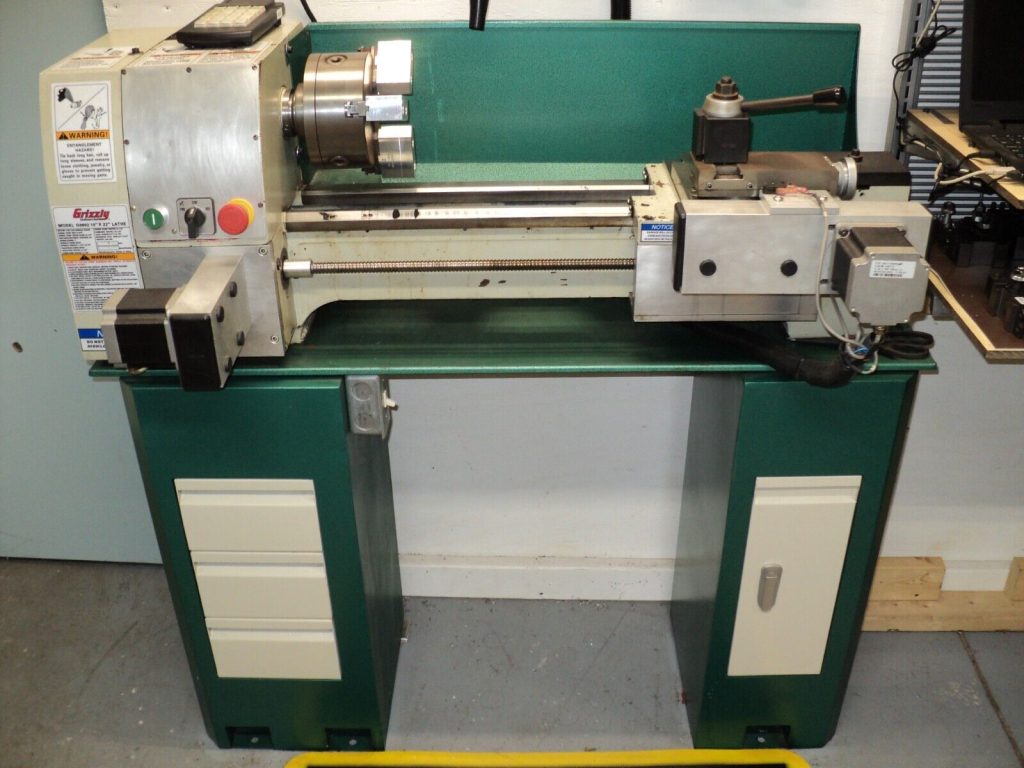 Shipping
After ordering, I had to wait for the product to arrive. Tools in the same league as the G0602 can take anywhere from a month to a year to arrive. This is because many companies make the tools to order in the interest of saving on operating costs.
The G0602 however, is ready to order, meaning that they have a couple of units assembled at any given time. This significantly shaved off wait time, and I got mine in the mail after a few weeks.
Shipping large tools can be pretty tricky, as they require specialized equipment – can you imagine the postman trying to deliver a 500-pound package?! The G0602 is on the small side for a metal lathe, which helps with shipping logistics, but it still needs to be shipped upright and brought in by several people. The total estimated shipping weight is about 450 pounds.
Grizzly lathes always include a warranty to cover damage during shipping and manufacturing defects – which I find important. After all, due diligence can only get you so far when a third party is going to be handling the delicate machinery in transit.
First Impressions
The first thing I noticed about the Grizzly G0602 is its outstanding manufacturing quality and thoughtful assembly. The pieces come pre-assembled, including a healthy coating of protective oil where necessary. When it arrived at my door, it was tuned to perfection. It comes out of the box ready to use, complete with a glossy paint finish.
The second thing I noticed was its convenient design. This mini lathe can be mounted to the bench – meaning you aren't required to have a leg extension to use it. The tabletop design makes the components easier to access, and it comes with its' own service tools kept in a handy compartment.
Materials
The G0602 is made of high-quality cast iron. I love when tool companies utilize cast iron because it negates several risks inherent in power tool usage.
Cast iron limits the vibration transfer due to its carbon content. This makes it more comfortable to use, and less likely to cause nerve damage over time.
In addition, cast iron has low ductility, meaning it is unlikely to bend out of shape during use. During a parts failure, cast iron snaps instead, preventing damage to your project.
If you do experience a part failure, you can rest easy. Grizzly Industrial offers a one-year warranty on all parts of the G0602. They also have a wide selection of replacement parts available for order on their website, great customer support, and clear labeling of parts for easy replacement.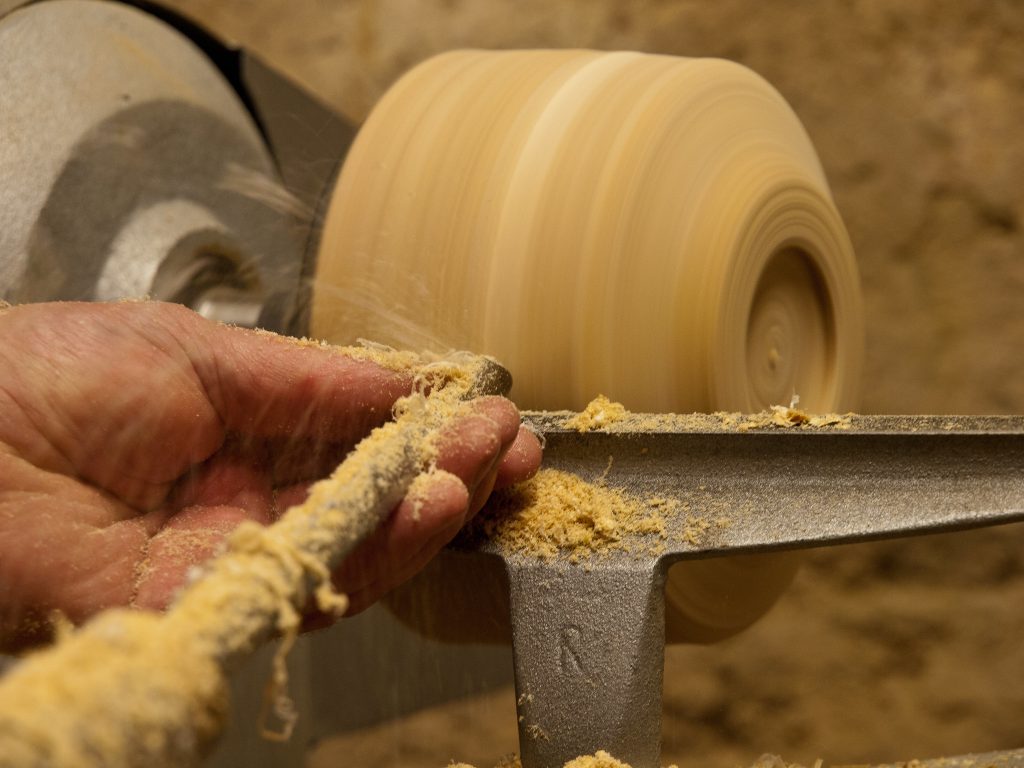 In-Factory Tuning
The G0602 is a semi-professional metal lathe, which means that steps have been taken to ensure it is accessible to beginner to intermediate users. One of the ways that Grizzly accomplishes this is by assembling, tuning, and adjusting the project before shipping. They advertise that when your lathe arrives, you can expect it to be ready to use right out of the box.
I was a tad bit skeptical when I ordered my first pre-tuned product. I thought for sure that something would go wonky during delivery. However, Grizzly has a great track record for ensuring that a perfectly tuned tool arrives at my doorstep. This is exactly what I am looking for because I can never wait to get started with a new toy.
Specifications
Below you'll find all the information under the hood of the G0602, courtesy of the manual included in the box.
Motor: 1 HP, 110V, single-phase, 13.6A
Swing over bed: 9-1/2″
Swing over cross slide: 6-1/8″
Swing over saddle: 6-1/8″
Distance between centers: 22″
Bed width: 6-1/8″
Spindle bore: 25mm
Spindle type: Threaded, 1-3/4″ x 8 TPI
Spindle taper: MT#4
Tailstock taper: MT#3
Tailstock quill travel: 2-1/2″
Cross slide travel: 6-1/2″
Compound travel: 3-1/2″
Maximum tool bit size: 1/2″
Spindle speeds: (6) 150–2400 RPM
Leadscrew: 3/4″ x 12 TPI
Longitudinal feeds: (9) 0.0025, 0.0140 in./rev.
Inch thread range: (31) 8–72 TPI
Metric thread range: (26) 0.25–3.50mm
Footprint: 12-1/2″ x 47-1/2″
Overall dimensions: 46″ W x 22″ D x 16-5/8″ H
Approximate shipping weight: 432 lbs.
Using the Lathe
Once I'd given the machine an initial once over and mounted it on my table, I couldn't wait to start my first project. So far I've had the chance to do two projects with the lathe:
A stainless steel ring
A Copper Goblet
These projects were chosen first because I thought they'd be great for putting the lathe through its' paces. Both projects are common for beginner to intermediate users – the target audience for the G0602.
Motor
The powerful motor of the G0602 is (in my opinion) a highlight of the design. It maintains its' small footprint while still containing adequate horsepower by using a 1 HP single-phase motor. As a result, you can get work from the G0602 that would normally require a much larger metal lathe. It didn't struggle at all with either piece.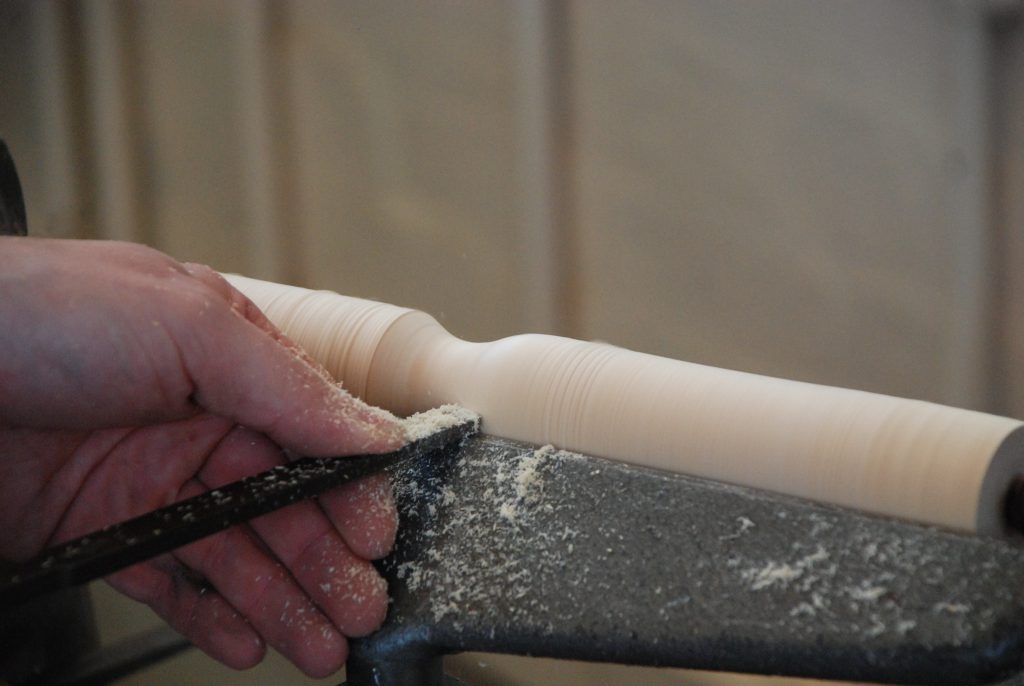 Gearbox
To support the powerful motor, the Grizzly G0602 features a fantastic transmission. It includes a 1-inch spindle bore and a 1-3/4″ or 4-inch spindle with an MT4 cylinder tapering.
Many lathes of a similar size to the G0602 only have a single speed. However, the G0602 has a variable speed control motor. The lathe keeps the constant speeds of its gearing to ensure there are no failures and adjusts via the turn knob on the front of the machine. I took advantage of this by moving from metal to metal, each of which required different amounts of force.
The motor has six speeds ranging from 150-2400 RPM.
Variable Speed Ranges
150 RPM
300 RPM
560 RPM
720 RPM
1200 RPM
2400 RPM
Controls
Most metal lathes need to be adjusted using specialized tools, which limits their user-friendliness. Adjustments to the G0602 are quite easy in contrast, and most can be done by turning the knobs on the machine. You can change gears using a single knob on the front, for instance. I was able to shift from lathing steel to lathing copper in a matter of minutes.
For more delicate tuning or maintenance, there is a service tools compartment located near the back of the machine with everything you need inside. Luckily, I haven't had to use these yet, but it's reassuring that they are there. For more information about the controls of the G0602, see the manual.
The Lathe Bed
This fundamental part of your metal lathe will dictate how big of a project you can do, what kind of work, and the amount of cleanup.
The G0602 has a built-in chip tray to limit cleanup, as well as a ground V-way bed to allow for detailed work. This made the small spiral decoration I wanted on the stem of the goblet possible with minimal fuss.
The distance between centers comes in at 22 inches, meaning that the lathe can turn a piece that is a maximum of 22 inches long. Neither of my projects was very large, but it looked like the machine would be able to handle pieces like chair legs, or even a rolling pin.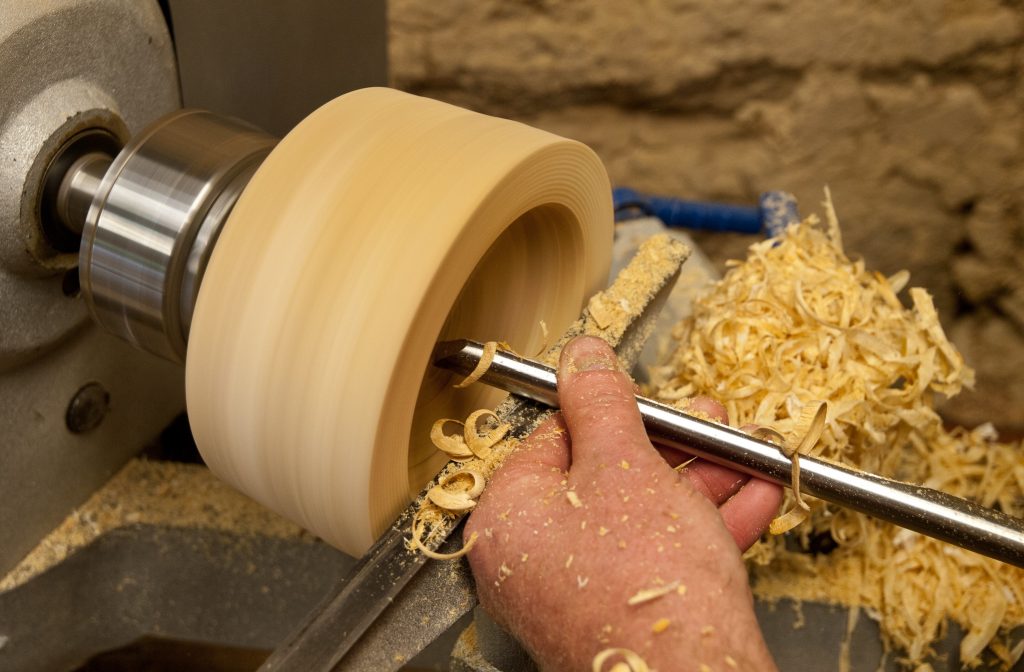 User Experience
The G0602 is designed for beginners and advanced users alike. It comes pre-tuned at the factory, meaning you can start to use it right away. As an additional benefit, many of its features rely on simple twisting knobs for control.
In addition to these user-friendly features, this metal lathe has many of the features usually found in larger, more expensive machine tools like variable speeds, a ground V-way bed for precision work, and potential CNC conversion.
CNC Conversion
I haven't personally converted for CNC yet, but the ability to do so is a nice cherry-on-top feature.
The G0602 can be converted by adjusting the cross slide to match the z-axis. When converting a lathe for use as a CNC, make sure to read up about using a stepper motor instead of servos.
For New Users
Even though the G0602 is an accessibly designed metal lathe, I still highly suggest reading the manual thoroughly before you start. This will give you an overview of all of the parts of the machine, what they do, and how to adjust them. You can find the manual inside the shipping container or on the company's website. I've also linked it here.
Potential Problems
While the Grizzly G0602 is a great metal lathe, no product is perfect for every consumer. There are a couple of things I noticed while using the G0602.
Paint Job
While the G0602 is made of excellent quality cast iron pieces, the paint job left something to be desired. After a couple of months of use, the paint started to flake off. According to reviews, this seems to be a sporadic problem with the G0602.
I don't love this because it exposes parts of the machine to rust. Overall the machine was still great, as the poor paint didn't affect its' ability to function.
In order to prevent damage, you can protect the exposed metal in a few ways. Some people decided to remove the poor paint job and redo it with enamel metal paint and primer, but I decided to stick with waxing the areas where the paint had fallen off.
Benchtop Metal Lathe
Many metal lathes are milling machine combos, especially at this size. However, the G0602 is a semi-professional metal lathe, and can't be used for milling. If you need a tool that can do both, consider the Grizzly G0937 – 6″ x 10″ Combo Lathe/Mill instead.
Competitors
The G0602 is by no means the cheapest lathe on the market. Many machinists prefer the PM1022 metal lathe for instance, but I've found such reliability with Grizzly's tools that I can't be convinced. You pay a premium price for the G0602 and get a premium product.
For more information about competitors check out our best mini metal lathe.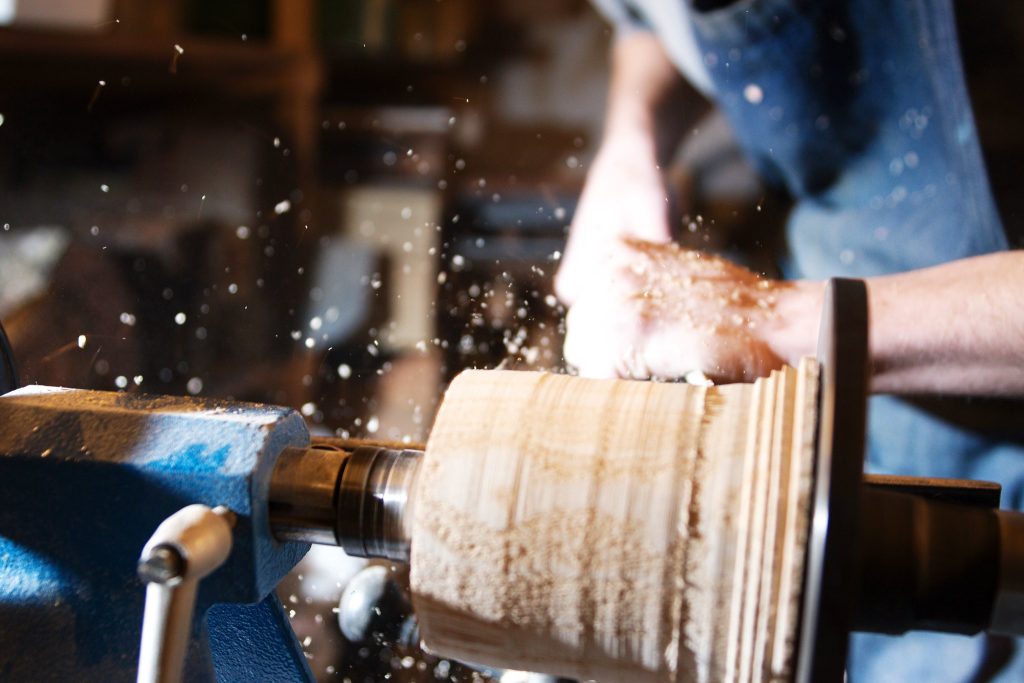 Other Related Products
You will want to consider what you are going to mount your metal lathe on since it is quite heavy. The average wooden table is unlikely to do the trick. If you're a fan of matching tools and simplicity, consider one of the bench tables sold by Grizzly in the same color.
Grizzly T27839
Grizzly T27838
Check my list of best wood lathes.
Summary
The Grizzly G0602 is a fantastic miniature benchtop metal lathe. You can expect to get a quality cast iron design, all service tools included, and a pre-tuned machine.
I always suggest reading the manual to familiarize yourself with a new lathe, but the G0602 is very user-friendly compared to the competition.
The motor and gearbox of the G0602 are massive talking points because they allow you to choose between six speeds. Variable speed controls are not super common at this size, and being able to reach up to 2400 RPM is a huge plus since it gives you flexibility.
The lathe bed is well suited to detail work as well as standard lathing, and you can really do whatever your mind can come up with.
The lathe can only handle projects up to 22 inches long, but I can't think of too many things a hobbyist would make that would exceed this.
I wish that the G0602 had a better paint job, but since this doesn't negatively impact the functioning of the tool it doesn't impact my overall opinion. The premium price tag on the G0602 is well worth the premium results that you get from this lathe, and the peace of mind of knowing that Grizzly's customer service team will take good care of you.
Frequently Asked Questions
Below you'll find some of the most commonly asked questions about the G0602 as well as things I wondered about during the research and purchasing process.
Where are Grizzly lathes made?
Grizzly lathes are made in China. The majority of metal lathes are made in China and Taiwan because of the reduced labor this is obviously not ideal, I've yet to find a product without this downside.
Are Grizzly lathes any good?
They have powerful motors which can turn any project in the given range of dimensions. I find Grizzly lathes to be the most reliable and stable machines on the market. They also prioritize the reduction of vibration transfer. The user, therefore, enjoys the ultimate vibrationless turn.
It's clear that the designer made every design decision with the consumer in mind.
What kind of tool post is recommended for the G0602?
You should get an AXA-type tool post. For more information about the best tool posts for the money, read my related article here.
What is the distance measured between the centers?
This mini benchtop metal lathe has 22 inches between the centers. Anything that you want to lathe that is larger than 22 inches would require a full-size lathe, or be made in sections and assembled later.
How many longitudinal feeds does the G0602 have?
The G0602 has nine longitudinal feeds.
What are the cross-slide travel and the carriage travel of the Grizzly G0602 lathe?
The Grizzly G0602 has 6 1/2 inches of cross-slide travel and 18 1/2 inches of carriage travel.
What kind of tailstock barrel taper does the G0602 have?
The G0602 uses an MT #3 type tailstock barrel for ultimate usability.
Can you lathe both metal and wood with the G0602?
Yes, the G0602 can lathe both wood and metal. Grizzly sells several cutting tools, which can be switched out at will.