In this post, we go over our selection of the best scroll saws you can buy.
Our Five Top Picks
There is something for everyone on our list, from beginners to professionals.
Our list of the best scroll saws was made by searching reviews on the retailer websites, comparing features, and speaking with product owners.
Rest assured that with variable speed options, quality construction, and easy-to-use designs, any saw on this list will make even the most complex cutting projects fast and easy for all skill levels.
Best Scroll Saw: DEWALT 20-Inch Variable-Speed Scroll Saw
Our list starts with the best scroll saw on the market, the DeWalt 20-Inch Variable-Speed Scroll Saw. It is the perfect choice for professional woodworkers because it has a large 20-inch throat capacity and variable speed control.
The parallel-linked arm minimizes noise and vibration for easier use. It also has a thin, strong metal hold-down foot that will ensure safety but not block your sight line.
One of the best features is the easy-to-reach location of the on-off switch, tension lever, and speed adjustment on the front of the saw.
The DeWalt 20-Inch Variable-Speed Scroll Saw can cut softwoods, hardwoods, plastic, and sheet metal. It also boasts a variable speed control which can be adjusted to a stroke speed of 400 to 1,750 SPM.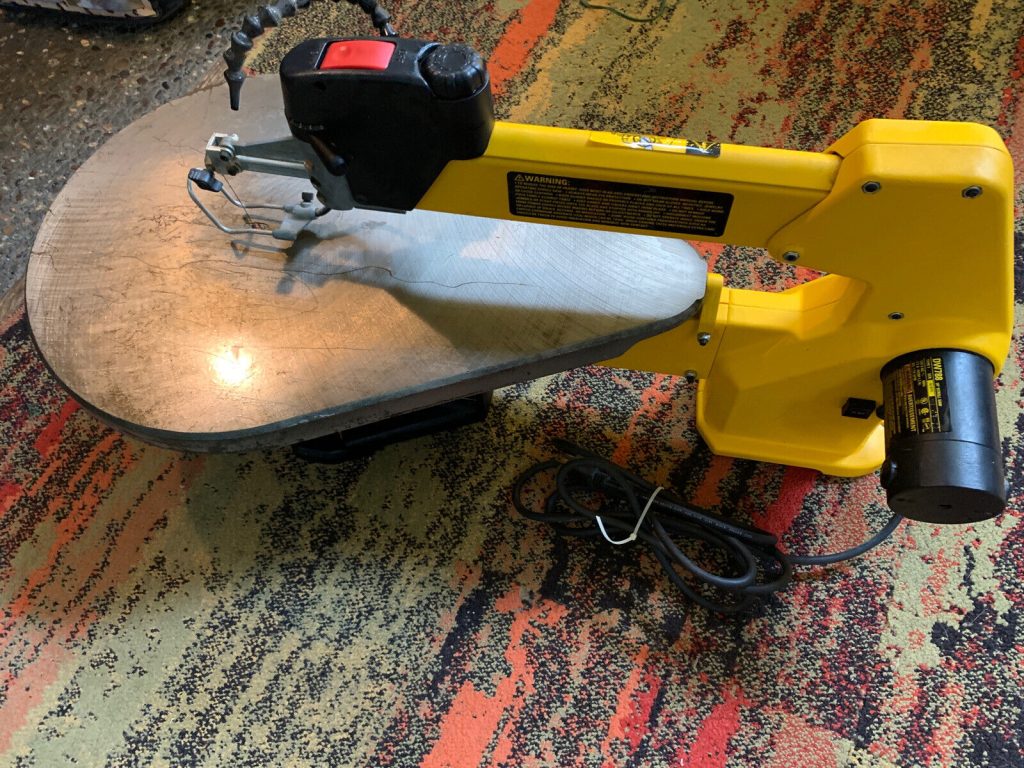 It is possible to cut precise angles with this scroll saw as the table tilts 45 degrees. This model also includes a stand which makes it easy to use, considering the weight of this saw.
Finally, this model has an LED light making intricate cuts easier.
Features
Parallel-link Scroll Saw
20-inch throat size
Bevel
Dust blower
Pros
Blades are easy to change
Variable speed adjustment
Cons
Heavy weighing in at about 60 pounds
Best Value Scroll Saw: WEN 16-Inch Variable Speed Scroll Saw
If you need features like variable speed cutting, a 45-degree tilt, and other awesome features at an affordable point, the 16-inch scroll saw by WEN is what you have been looking for.
This machine has a throat depth of 16 inches, an LED light that illuminates the cutting area, an air blower, a tension control knob, and a 1-and-1/2-inch dust collection port.
Blade storage is also included in this model, making blade storage simple. It also has a narrow foot lock for safety with maximum visibility.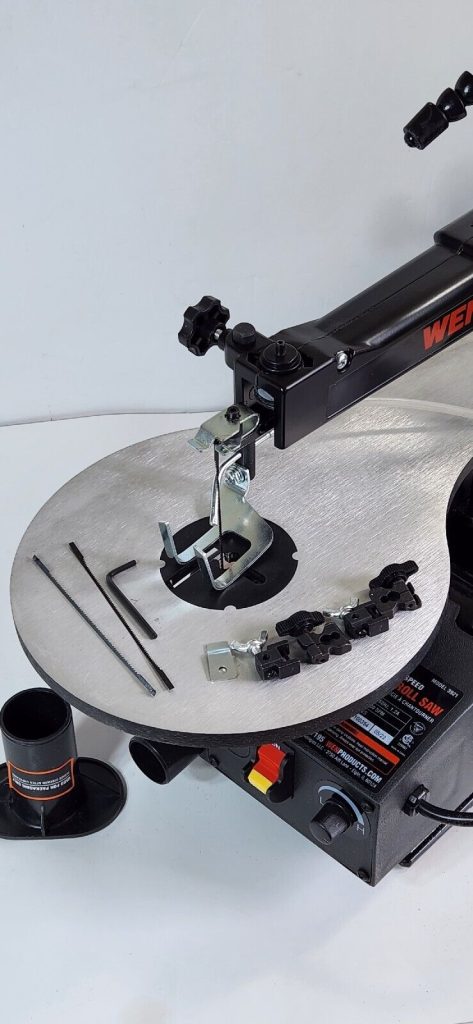 The WEN scroll saw uses pin-head blades but includes a thumbscrew adapter that can easily change the blade. It also has a cool 90-degree position, so you can cut materials from the side instead of front to back.
This scroll saw has a variable speed control to cut wood, metals, plastics, and more, at speeds from 400 to 1,600 SPM.
Features
Parallel arm design
16-inch throat capacity
400 to 1,600 SPM
LED work light
16-by-11-inch table beveling table
Dust extractor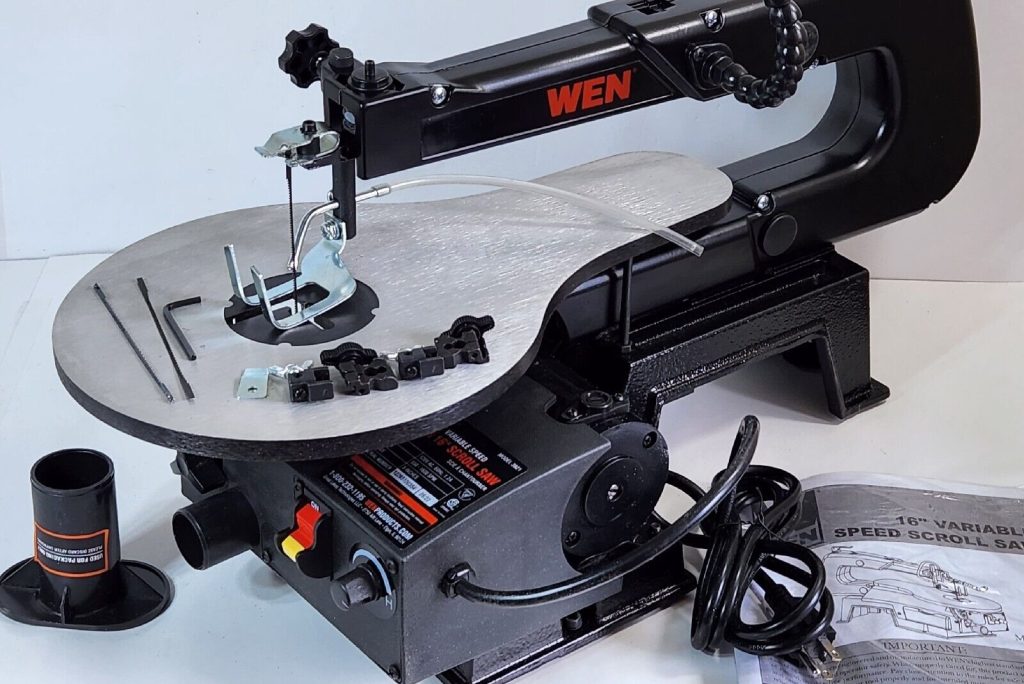 Pros
Affordable
Adjustable speed
Cons
No optional stand attachment
Best Compact Design: Dremel Moto-Saw Variable Speed Compact Scroll Saw
If you need a scroll saw with a more compact design, the Dremel Moto-Saw Variable Speed Compact Scroll Saw Kit might be what you need.
The Dremel has a quick-clamp base that allows you to attach it to tables and benches and use it as a handheld saw if you need to cope with moldings or scroll on a larger workpiece.
It also features a system that automatically adjusts the tension to the blade to prevent it from breaking.
The Dremel also has a built-in dust collection port and variable speed control for cutting any material quickly and cleanly.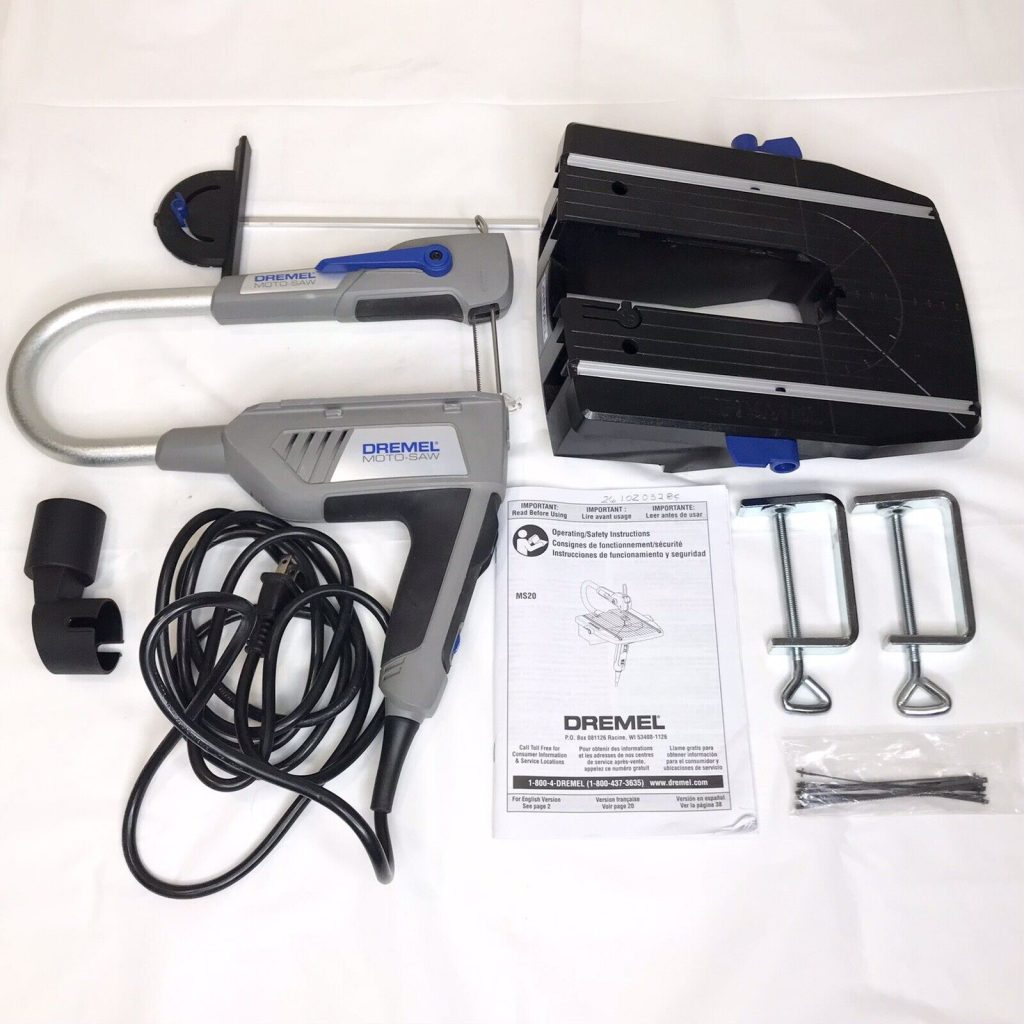 Features
Dust collection port
Has a coping mode
Variable speed control
Pros
Cons
Best for Newbies: Rockwell Shop Series 16 In. Scroll Saw
The Rockwell Shop Series 16-Inch Scroll Saw is the best entry-level scroll saw. If you want to explore the woodworking world but want anything too complicated, this is the scroll saw for you. It has a 16-inch throat capacity, a variable power range of 500 – 1,700 SPM, and a large variety of features, so it can easily cut a wide variety of materials.
The table can tilt up to 45 degrees to the left, although it does not bevel to the right, which can be a deal breaker for some people.
To make it easier for beginners, the Rockwell scroll saw uses plain-end blades and has an easy-to-use blade storage option.
The Rockwell Shop Series is a good choice for beginners new to scroll saws because the plastic shield lowers to cover the blade preventing injuries as they learn. It also has a hold-down foot for additional safety.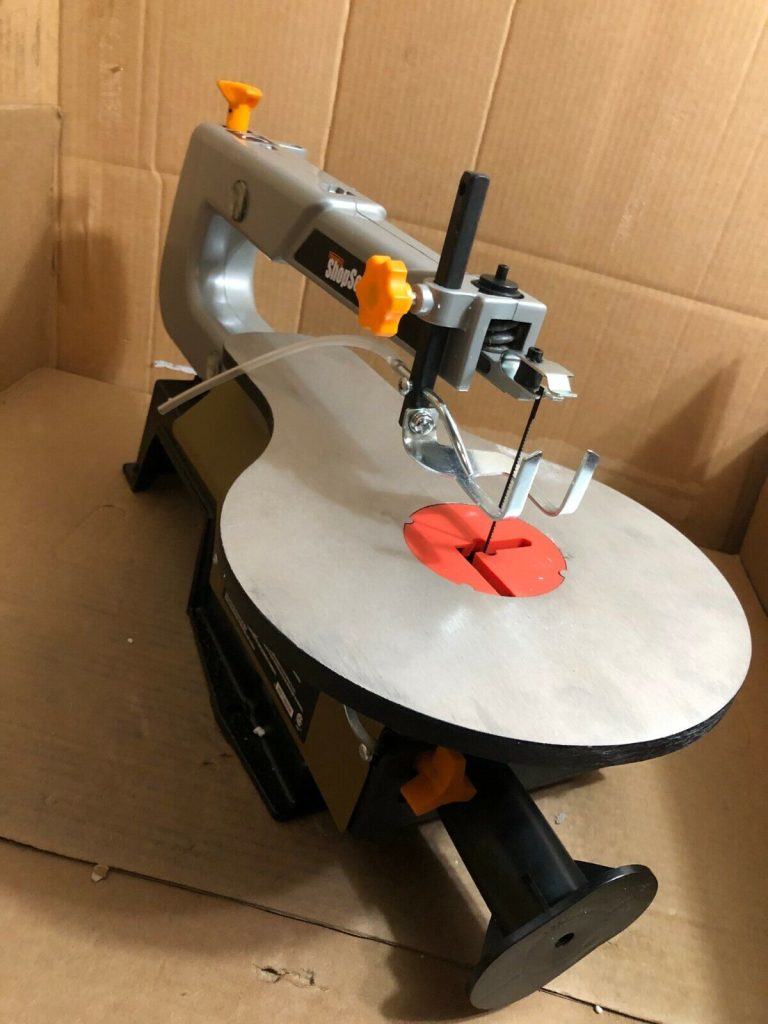 Features
Parallel arm design
16-inch throat size
Bevel
Dust blower
500 – 1,700 SPM
Pros
Perfect for new beginners
Onboard blade storage
Cons
What is a Scroll Saw Used For?
If you want to create intricate designs with materials like thin metal, plastic, plexiglass, and foam, you are probably in the market for a scroll saw. They are similar to a jigsaw but not handheld and placed on a table or the included stand.
A scroll saw has a very thin blade for making curves, corners, shapes, and virtually any design you can imagine. The blade moves up and down at blazing speed, allowing you to feed the material through smoothly.
Scroll saws make shaped wooden signs, inlay work, musical instruments, and much more.
What to Look for in a Scroll Saw
Before we jump into the list, here are the factors and features we used to narrow our selection to only the best scroll saws.
Depending on what features you need and the quality of the saw, you can find one from $125 to $1,000. However, it is possible to find decent scroll saws for home woodworkers for less than $500.
The higher-end models are better suited to professionals. When shopping and comparing different scroll saw models, consider the following features.
Blade Type
When considering the type of blade the saw uses, it comes down to either plain-end blades or pin-end blades.
Plain-end blades
The standard blade is known as a pinless blade. It is held with a clamp at the top and bottom of the blade below the saw table.
Plain-end blades are good for different types of material, including wood, plastic, and metal. These blades usually need a tool to tighten and release the clamps on the scroll saw.
Pin-end blades
Pin-end blades are slightly different, with small cross pins at each end of the blade. These pins are which are positioned into hooks ma. A pin-end blade is the easiest type of blade to change since there is no need for an additional tool to change it.
Saw Arm Design
The arm of the saw is its most important component because it holds the blade. Scroll saws have three different types of arms: C-type, parallel, and parallel-linked.
C-Type Arm Design
C-type saws have one arm that moves up and down continuously. There is one pivot point at the back of this saw, and the motor is located at the bottom of the arm. This basic style is easy to use, fast, and powerful, but they aren't the best saws in terms of accuracy. 
Parallel Arm Design
In parallel arm scroll saws, each arm is attached to a tension rod or spring, has a pivot point near the front, and is parallel to the other. In addition to being shorter in blade strokes than C-type saws, these are far more accurate and can cut with more speed.
Parallel-Linked Arm Design
The parallel-linked arm scroll saw is similar to the parallel arm scroll saw but has multiple pivot points. This adds power to the saw while allowing for more detail than the parallel arm scroll saw.
Blade Tension
To use a scroll saw effectively, the tension on the blade needs to be adjustable. Certain projects need more blade flexibility than others. It is also important for the thickness of the blade. 
A thin blade could snap with too much tension. On the other hand, if there is not enough pressure on the blade, it may twist and make an unwanted jagged edge. This is why having adjustable blade tension is important.
There are two common types of blade tension adjusters. For some saws, the blade tension can be set by adjusting a lever, while other models have tension control knobs.
Throat Depth
Another important factor is the throat depth of a scroll saw. This is measured by how far the blade is from the saw's back frame. The deeper the throat capacity, the wider the material you can cut. 
The throat capacity of some saws can be as small as 12 inches, while some large commercial scroll saws have a capacity of 30 inches.
As a rule of thumb, choose a saw with a throat capacity of at least 18 inches. This is important if you think there is any chance you will need to cut larger designs. You never want to underestimate how much throat capacity you need.
Of course, it is important to remember that material can be rotated while cutting with a scroll saw. Hence, the maximum width of any material that can be cut with it is about twice as wide as its throat capacity.
Foot Pedal Switch
All scroll saws made or sold in the U.S. have a hold-down foot that ensures the material you are cutting is firmly pressed against the table. This is a safety precaution that ensures you won't lose any fingers.
One of the drawbacks is that a large hold-down foot can prevent you from seeing clearly while cutting, causing inaccurate cuts.
On some models, it is possible to remove the foot altogether to make it easer to see while cutting.  Also, you can choose a saw with a thin metal hold-down foot to have the safety feature without bulkiness.
Dust Collection System
To make cleaning up the pesky wood dust easier, look for a model with a duct collection system. Some of these are as simple as a dust blower. At the same time, other models have a dust collection system built into their cutting tables, typically a hole on the bottom that can be attached to a wet/dry vacuum to suck the dust away into a larger container.
Bevel Cutting
With scroll saws, the tables are tilted so the material can be positioned at an angle, making it ideal for creating beveled edges. Most tables tilt 45 degrees, usually to the left, but some tilt in both directions. This can be a convenient feature as you will not need to turn the material over and make an angle on the other side.
There are also newer types of scroll saws with a tilted head rather than a tilted table for more precision and to make them easier to control. Make sure to consider how the saw tilts before making a purchase.
Variable Speed Control
The speed of a scroll saw is measured by the number of strokes that can be made with the tool in a minute or the SPM. Depending on the machine, this is as low as 400 SPM and as high as 1,800 SPM.
400 SPM is perfect for cutting softwoods like cedar. Hardwoods like walnut are easier to cut at higher speeds. Choosing a saw with variable speed control allows you to cut all wood types effectively.
Attached Stand
Some scroll saw models are attached to stands, so you won't need to clean off your workbench to have space for one. It also allows you to stand closer and maintain a comfortable position compared to leaning over a workbench.