Chainsaws are versatile power tools with many uses, both within the home and in industrial settings. They can be used for anything from felling or pruning trees to shaping ice! You'll even find specialized chainsaw brands for cutting concrete.
But with such an array of uses, how do you choose the best chainsaw for your needs? Contrary to popular belief (and a certain popular 90s TV sitcom character), the answer is not necessarily "more power"!
The best chainsaws should enhance your woodcutting experience and that doesn't always come from a more powerful tool. To choose the best chainsaw for you, you'll need to consider what you'll be using it for and the duration. Other factors to keep in mind include durability, ease of use, and of course, your budget!
Here, we've shared our thoughts on the top 10 best chainsaws of 2023!
How to Choose the Best Chainsaw for You
If you've never owned a chainsaw before, it can be intimidating when you consider buying one. These loud and powerful machines have a set of teeth attached to a rotating chain that can cut through a wide range of materials – they can look and feel dangerous. But with a little know-how, you can feel reassured that you're buying a useful and safe power tool.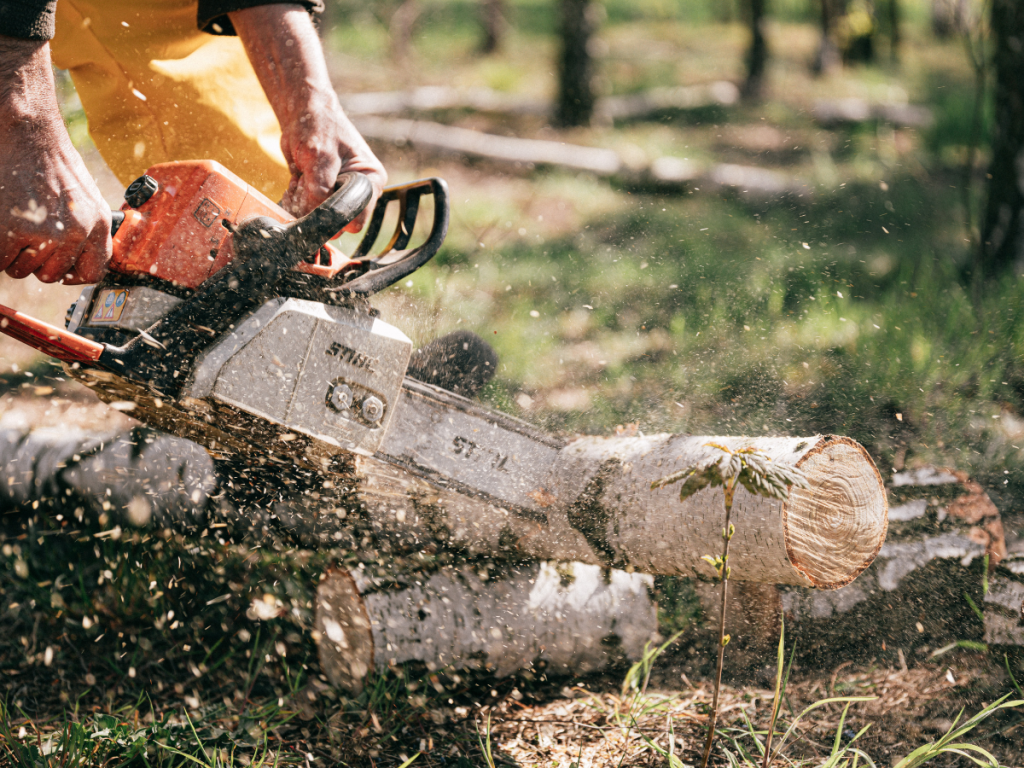 Know the Safety Features
It's important that you're fully aware of the safety features of any power tool that you operate and it's especially true of chainsaws. A chainsaw is not a toy and used incorrectly, it can cut through far more than you intended.
As an absolute bare minimum, you should be looking for a chainsaw that has a chain brake, muffler, top hand guard, and throttle lock. Here we'll walk you through the main chainsaw safety features, so you're fully informed when you're buying a new chainsaw.
Anti-Vibration Technology
It's easy to overlook this particular safety feature, but once you've tried a chainsaw that has anti-vibration technology, you'll never go back.
Prolonged exposure to the vibration in power tools can cause various kinds of health conditions, such as hand-arm vibration syndrome or vibration white finger. The condition is long-term, so it's best to minimize the risk as best you can.
Check your prospective chainsaw for anti-vibration technology, or at the very least, low-vibration modes.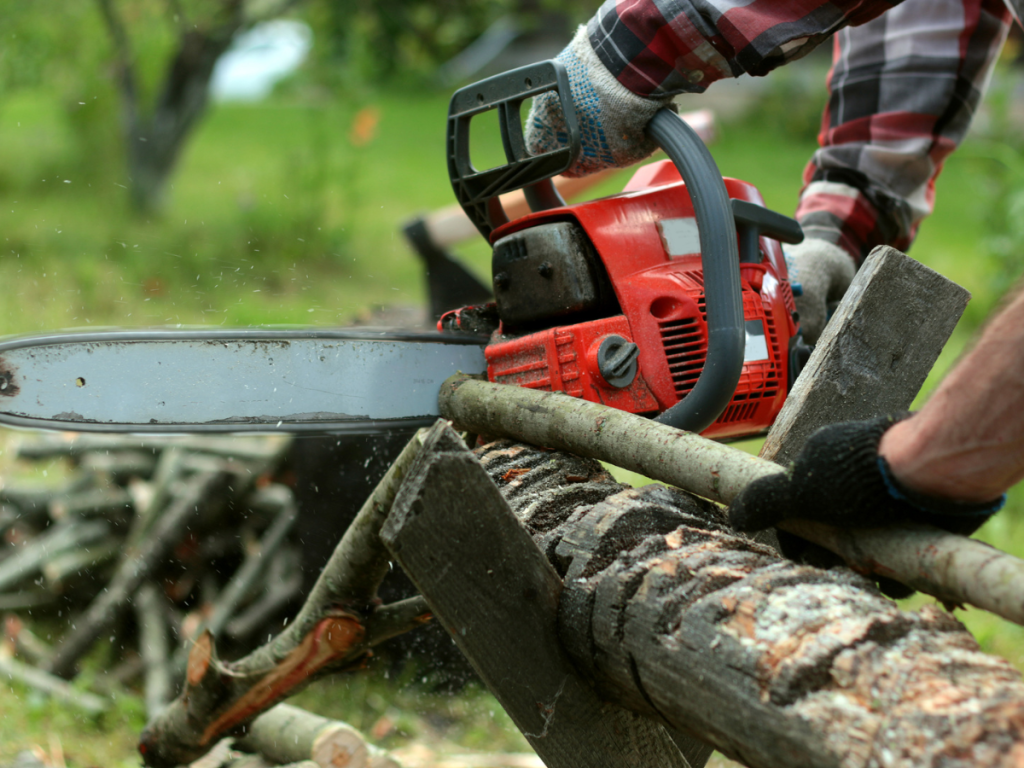 Centrifugal Clutch
A centrifugal clutch is a very useful safety feature that ensures the chainsaw only operates when you're ready. If you happen to have left the chainsaw idle with the engine on, the centrifugal clutch will stop the chain from moving by disengaging the throttle.
To use the chainsaw, you will need to squeeze the throttle, again. The centrifugal clutch is a handy safety option to stop you from picking up a running power tool by mistake.
Chain Brake
Sometimes when a chainsaw comes into contact with a surface like a wood log, the contact point can cause a kickback. Essentially, a kickback is when the chainsaw recoils suddenly and often with considerable force.
Kickbacks can cause severe injury, including head injuries if the chainsaw operator isn't wearing any safety equipment, such as a helmet.
A chain brake is a critical safety feature that enables you to stop the running chain immediately, reducing the likelihood of injuries from kickbacks.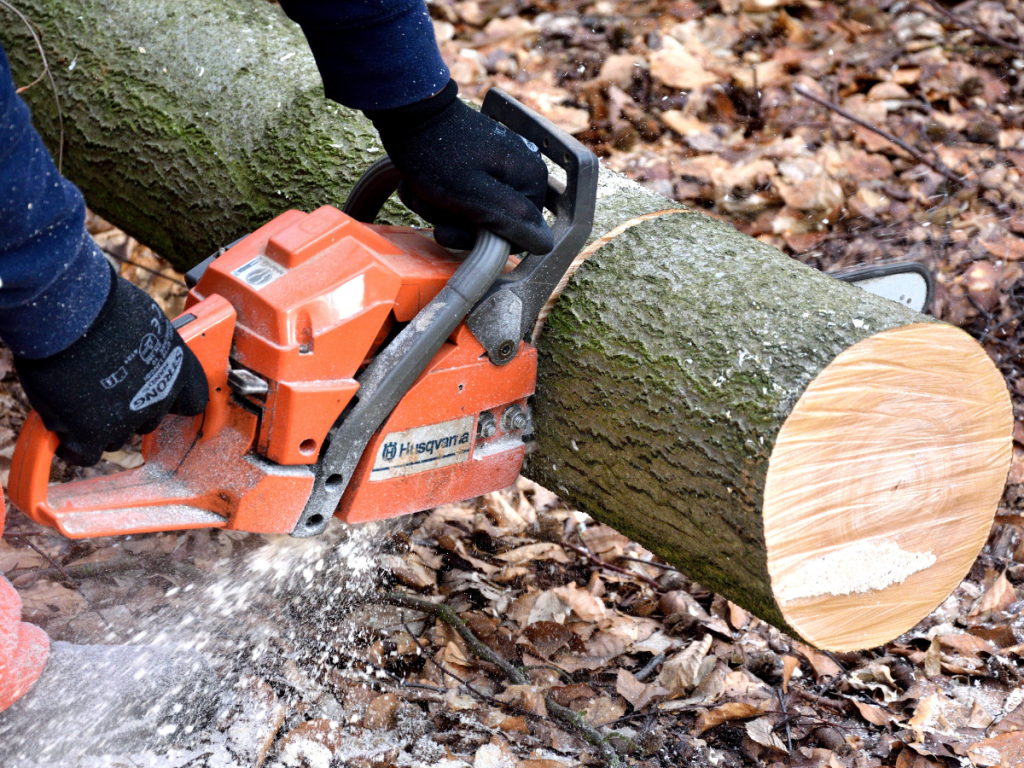 Chain Catcher
From time to time, a chain can get derailed or detached from the chain bar while the tool is in operation. When that happens, the chain can go flying in any direction.
The best way to avoid a flying chain is to properly maintain the chain, but even then, accidents can and do happen. A chain catcher serves to catch the derailed chain before it hits you and prevents nasty injuries.
Color-Coded Caps for Fuel and Oil
For gas-powered chainsaws, you'll find there are two tanks – one for fuel and one for oil. Just like if you pumped diesel into a gas-powered car, the effects of mixing up the fuel and oil caps could be catastrophic.
To avoid this scenario, many of the best chainsaw brands color-code the caps for fuel and oil. You'll still have to pay attention to which one you've removed, but it makes it much easier to ensure you're pouring fuel or oil into the correct tank.
Dead Man's Switch
The dead man's switch is connected to the throttle. When you press the dead man's switch, it activates the chain brake to stop the chainsaw. Dead.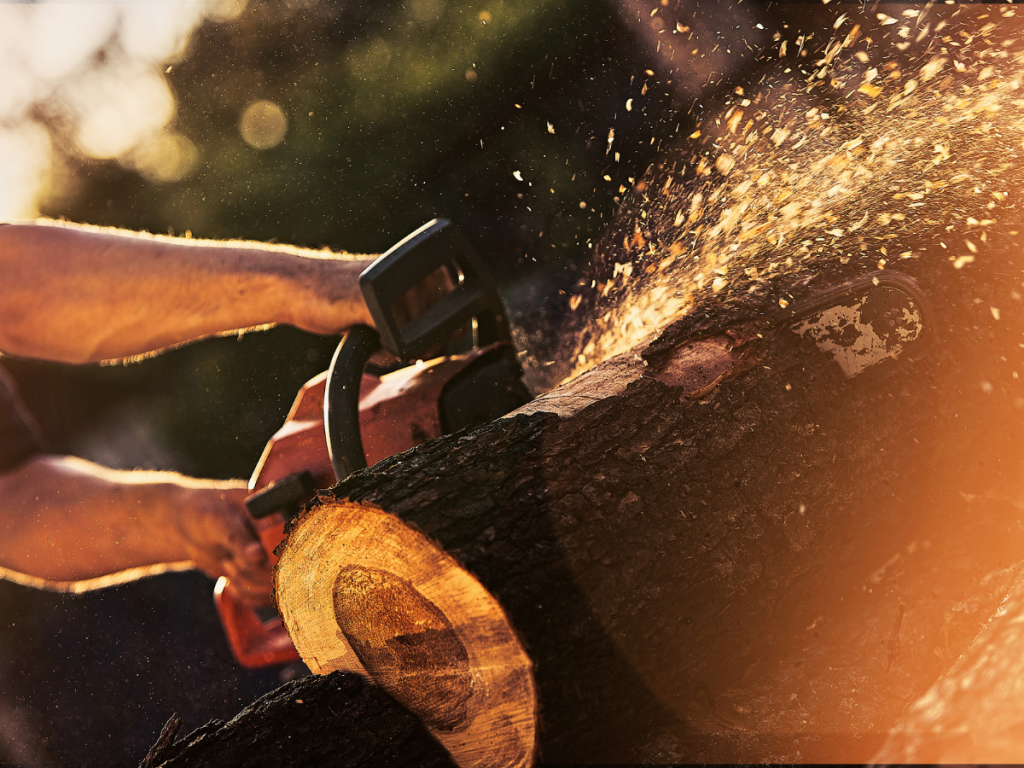 Muffler
If you're considering a gas chainsaw, then a muffler is a non-negotiable safety feature. The muffler directs fumes away from your face when the machine is in operation.
Right HandGuard
A right handguard is designed to keep your fingers safe in the event the chain derails or breaks away from the bar. It's obviously a very useful safety feature for right-handed operators but will be less beneficial for left-handed operators.
In any event, whenever you work with a chainsaw, you should always wear a pair of protective gloves to keep your hands safe.
Throttle Lock
Modern chainsaws often feature a throttle lock as a safety feature. Primarily, it's used to prevent accidental throttle advance, but it can also help you to control the throttle speed. Ultimately, the throttle lock keeps you in control of the machine, not the other way around.
Top Hand Guard
A top handguard is located at the top of the machine in front of the handle. It's designed to shield your hands from any flying debris or a flying chain when the chainsaw is in use.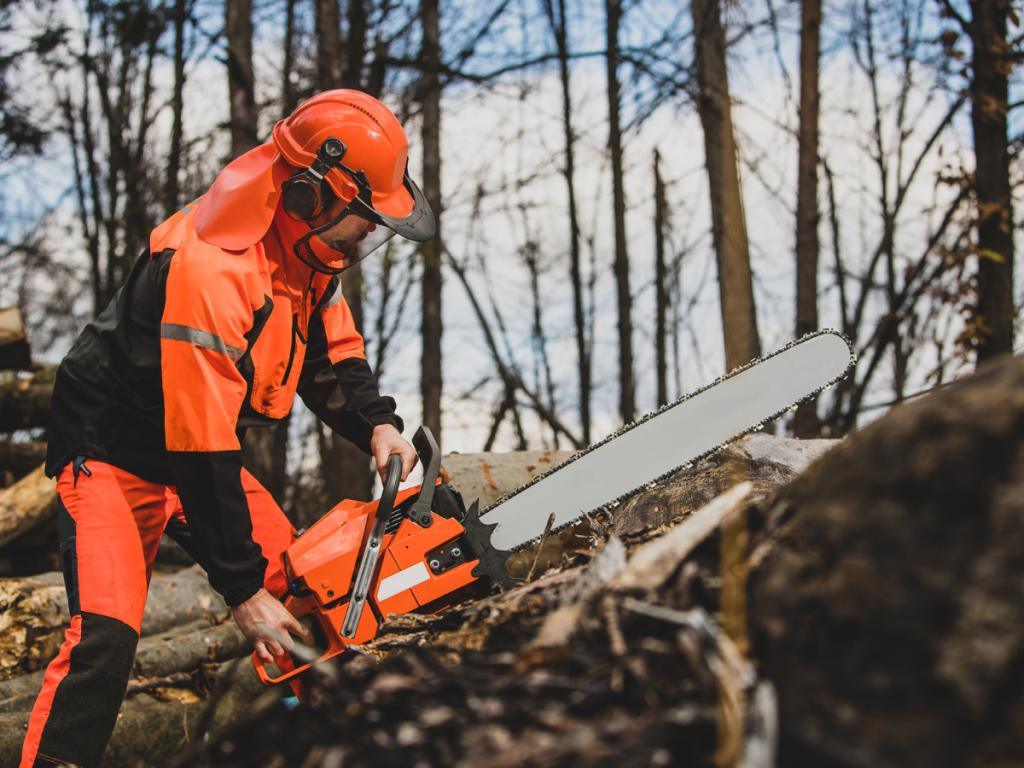 What Size Chainsaw Should I Buy?
When we talk about the size of the chainsaw, we're referring to its bar size and there is quite a lot of variation. So to answer this question, you'll need to give some thought to what you'll be doing with the chainsaw.
As a general rule of thumb, you'll need a chainsaw that has a bar length that's around 2″ longer than the thickness of the material you're trying to cut.
Here we'll run through a few of the common chainsaw bar sizes and what they're typically used for.
24" Bar Size
Chainsaws with a 24-inch bar length are considered large and are usually reserved for commercial purposes. Home users are unlikely to need a chainsaw as large as this, but they may need to beg, borrow or steal a 24″ chainsaw on the odd occasion when they need to cut a very large tree stump
20" Bar Size
A long 20-inch bar chainsaw is also usually reserved for commercial settings and is typically used to mill long or thick trees.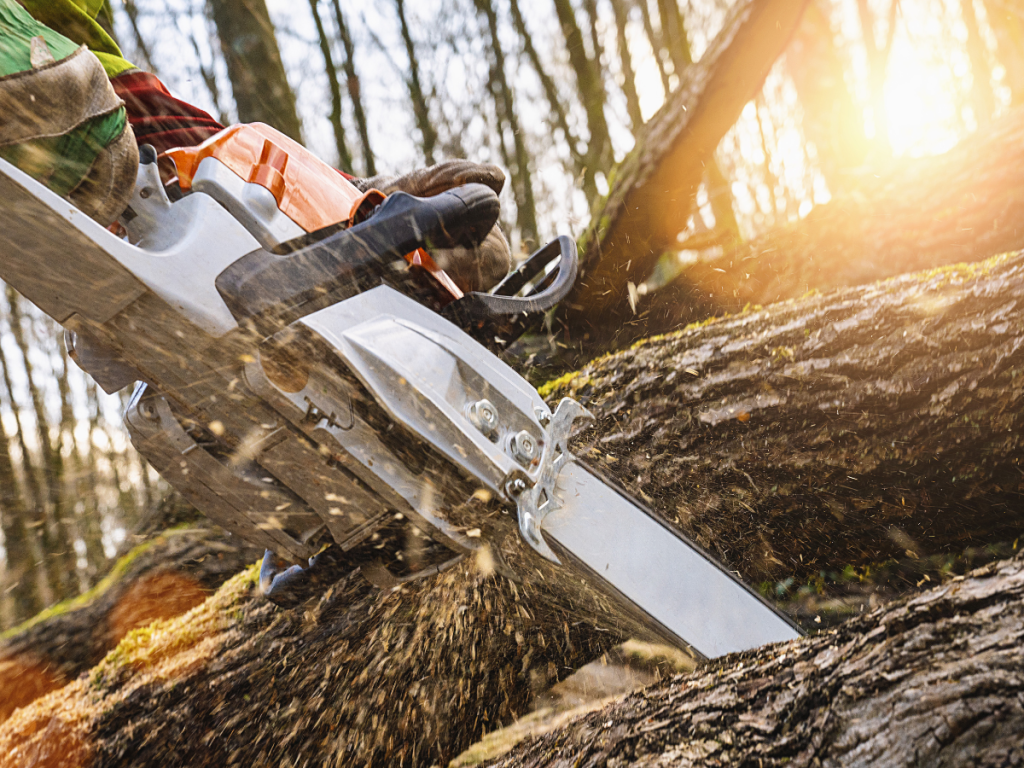 18" Bar Size
An 18-inch bar chainsaw can make large, deep cuts. It easily handles a 16″ wood log, enabling you to cut it into smaller pieces with ease.
16" Bar Size
A 16-inch bar is the most common bar length. Chainsaws of this size are extremely versatile and can be used for pruning, trimming, cutting, and felling large trees.
14" Bar Size
Chainsaws with a 14-inch bar length are commonly used for medium-duty work, such as cutting firewood. This size of chainsaw commonly comes as a corded electric chainsaw, or sometimes as cordless electric models.
10" Bar Size
10-inch bar chainsaws are ideal for cutting much smaller trees. They're often referred to as battery-powered chainsaws.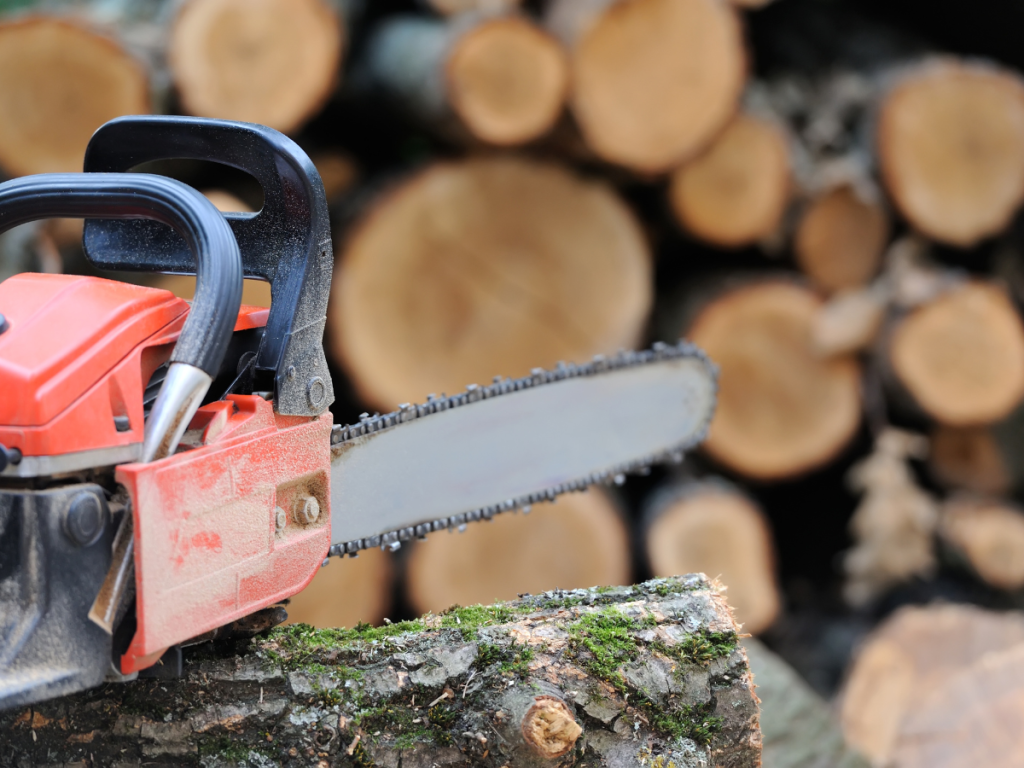 6" Bar Size
6-inch bar chainsaws are among the smallest of the chainsaw models. They're really only suitable for light pruning or lightweight wood cutting.
How to Choose Between the Different Types of Chainsaws?
Now that you've got an idea of the safety features to look for and the different sizes of chainsaws, you'll need to have an understanding of the different types of chainsaws and what they're best suited to do.
Your main choice is to do with how your chainsaw is powered: gas or electricity. However, within these broad categories, there are further nuances that are worth noting.
Gas Chainsaws
Gas chainsaws run on petrol or diesel. They're ideal for large, chunky tasks such as cutting down large trees, milling lumber, or other big-ticket, commercial applications.
Gas saws are the tool of choice for remote jobs where there isn't a nearby electricity source or where more power is needed.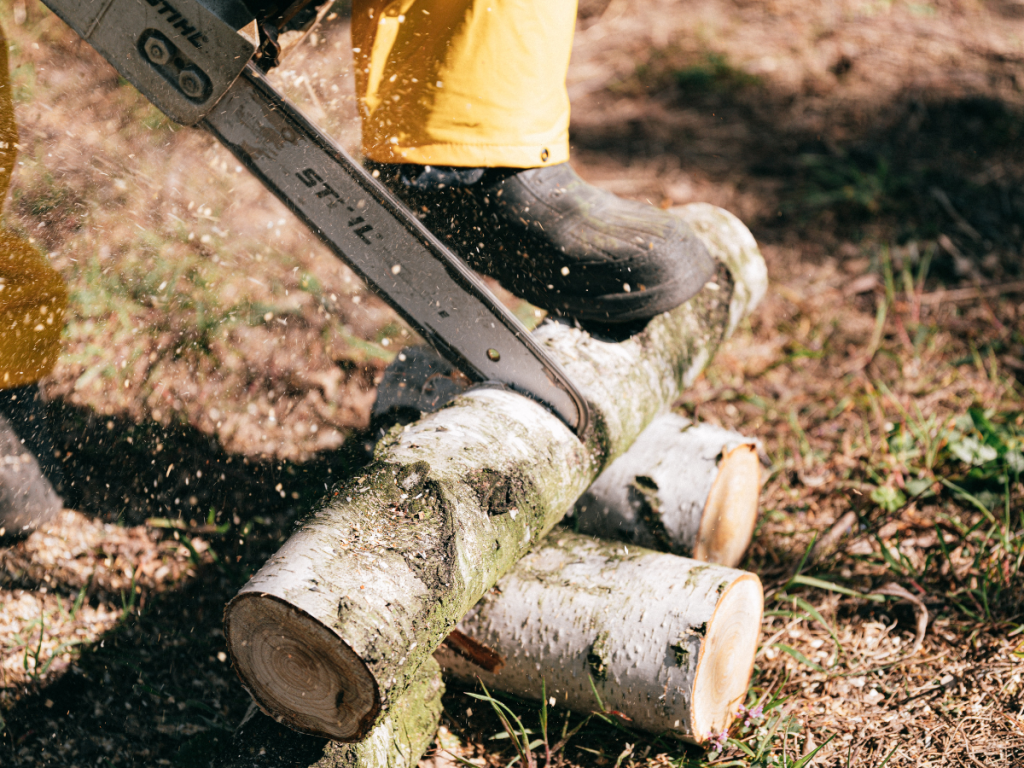 Electric Chainsaws
In a nutshell, an electric model runs on electricity rather than petrol.
Corded Electric Chainsaw: As it says on the tin, a corded electric saw needs to be plugged into a nearby power source to run. So, they're typically limited to lightweight or medium-duty jobs.
Cordless Electric Chainsaw: Cordless electric models run on batteries and so, they tend not to be as powerful as gas-powered models or corded models. Also known as battery-powered chainsaws, cordless models are mainly used for yard work or cutting down small tree branches.
Mini Chainsaws
Chainsaws with a 6″ bar size are also known as mini chainsaws. They're handheld and typically used for pruning work. Their small stature makes them a handy tool for older people and women.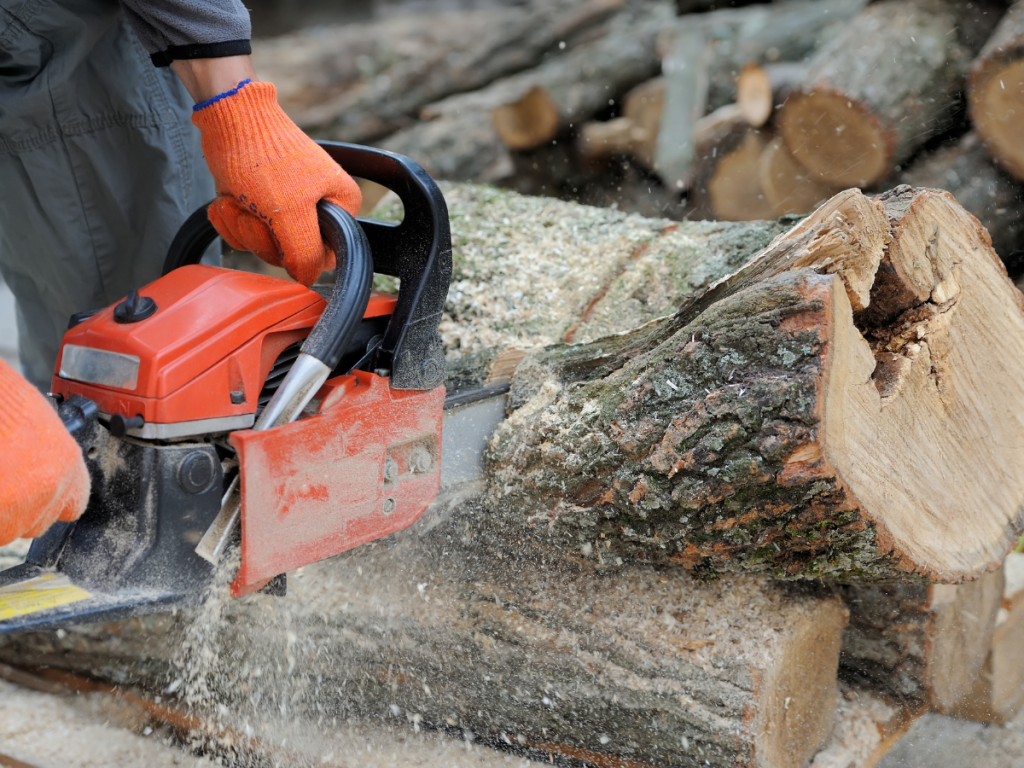 Manual Chainsaws
Manual chainsaws are not your typical chainsaw. Here you'll get a large chain between two grips that you use to manually saw through materials.
What Can I Expect to Pay for a Chainsaw?
An important deciding factor when choosing a new chainsaw is budget. Knowing what you can expect to pay for a decent chainsaw can help you to decide on your must-have features.
Chainsaw prices range from $50 to thousands of dollars, depending on the size and functions you need. Here's a rough guide on chainsaw cost:
$50-$100: Mini/small chainsaw
$100-$200: Gas and electric models for home-use
$200-$400: More powerful chainsaws
$400-$600: This is the start of commercial-use chainsaws
$600+: As you climb the price bracket, you're looking at more powerful commercial-use chainsaws with increasingly larger bar lengths.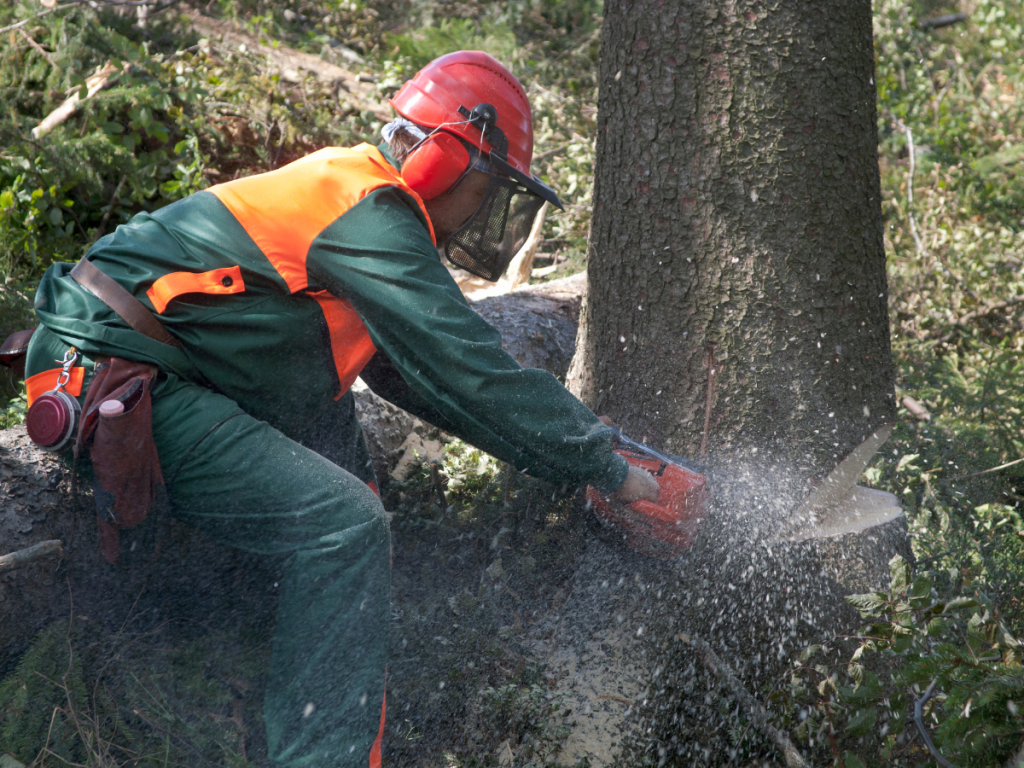 Top 10 Best Chainsaws
Now that you've got an idea of what you're looking for, it's time to take a look at our thoughts on the top 10 best chainsaws on the market.
1) Best Overall – Husqvarna 120 Mark II
Specs
Weight: 4.22lbs
Bar Length: 16″
Power: 2.1HP
Type: Gas
Husqvarna chainsaws never fail to impress, and that includes the 120 Mark II. This machine packs a substantial power punch with 2.1HP, housed in a lightweight chassis that makes this chainsaw a delight to handle. It's light and portable, making it ideal for a vast array of jobs.
The Husqvarna 120 Mark II features a 32.22 CC gas engine and 16″ long bar, so it makes short work of medium-sized trees and cutting large logs into lumber. However, it's versatile enough to handle cutting firewood, too.
It would be remiss of us not to mention the 120 Mark II's safety features. Like many other Husqvarna chainsaws, the 120 Mark II features a safety chain brake and a combined choke/stop control.
It also features Husqvarna's X-Torq function which delivers lower fuel consumption and reduced exhaust emission levels. While this is a nice eco-friendly feature, we still found that the chainsaw's gas emissions can be overwhelming.
The ergonomic grip handle and the anti-vibration dampeners make using the 120 Mark II an overall enjoyable experience.
Pros
Compact, lightweight power tool.
Powerful enough to cut small and medium trees easily.
Portable
X-Torq function reduces gas emissions.
Durable and reliable
Cons
Less eco-friendly than electric models
Gas emissions can make you cough
Slow to get started compared to electric chainsaws
Conclusion
The Husqvarna 120 Mark II is a powerful gas chainsaw that is both durable and compact. It's user-friendly and the anti-vibration technology makes it a joy to use. While there are some downsides, such as the slow start and higher gas emissions when compared to electric models, overall the 120 Mark II is a great all-rounder for the price.
2) Best Electric – Oregon CS1500
Specs
Weight: 12.6lbs
Bar Length: 18″
Power: 2400W
Type: Corded Electric
The Oregon CS1500 features a 15 Amp motor and literally turns on when you press the ignition button. Unlike gas models, there's no waiting around with the Oregon CS1500.
One of the best features of the Oregon CS1500 is its built-in chainsaw sharpener. With the self-sharpening technology, this corded electric chainsaw can sharpen itself in 3-5 seconds, saving you both time and hassle! Oregon is the first of the big chainsaw brands to integrate PowerSharp technology, which allows the machine to self-sharpen its chain.
The self-sharpening technology is combined with a powerful motor and 18″ bar length, which means that the Oregon CS1500 makes short work of cutting trees and thick logs.
The Oregon CS1500 is a relatively safe as well as powerful electric chainsaw. In fact, this particular chainsaw has been UL-certified, which means it's been tested to a nationally-recognized safety standard.
On the downside, the Oregon CS1500 is a heavy tool, weighing in at 12.6 lbs. This can make it challenging to operate for prolonged periods of time.
Of course, like any corded electric chainsaw, you're restricted by the location of a power source. While a power extension will resolve the problem, at least partially, if you're going to be regularly cutting materials away from a power source, you may want to consider a gas-powered chainsaw instead.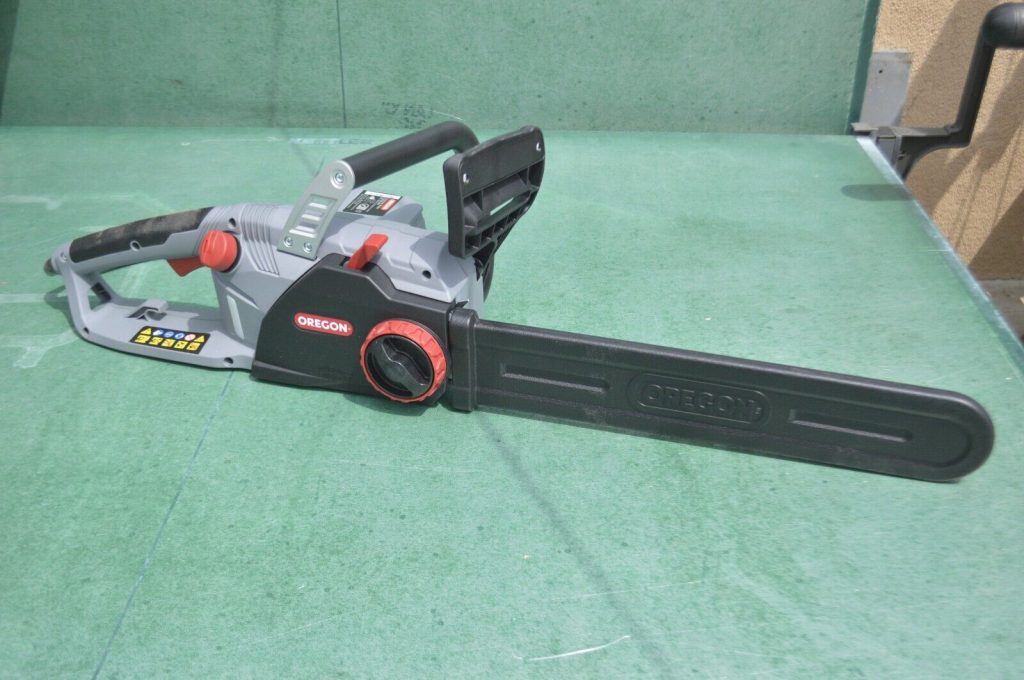 Pros
Self-sharpening technology for easy chain maintenance
Large 18″ bar that will cope with most applications
Ideal for cutting trees and firewood
UL-certified
2-year warranty
Cons
Heavy and bulky
Needs a power outlet to run
Conclusion
The Oregon CS1500 is an excellent electric chainsaw, which features an in-built chainsaw sharpener. It delivers more than enough power for most home uses, including cutting firewood and thicker logs. Like other electric models, this tool benefits from fewer gas emissions and you'll save money on fuel. On the flip side, you'll need to be near a power outlet to use it.
3) Best Gas – Husqvarna 24 Inch 460 Rancher Gas Chainsaw
Specs
Weight: 25.7lbs
Bar Length: 24″
Power: 3.62HP
Type: Gas
The Husqvarna 24″ 460 Rancher is the big brother to the Husqvarna 120 Mark II. This robust machine has been designed for commercial use and it shows! With a 24″ bar length and a substantial 25.7lb in weight, the Rancher gas chainsaw makes short work of even the thickest of trees.
The Husqvarna Rancher has plenty of safety features, too. A chain brake is used to activate the engine and the tool comes with an air filter to keep things eco-friendly. It also features Husqvarna's LowVib technology, a combined choke/stop control, and a smart start function. Like the 120 Mark II, the Rancher also features the X-Torq technology to reduce gas emissions.
This user-friendly power tool is one of the best chainsaws on the market and features an easy chain adjustment system that enables you to manage the chain tension as you need to.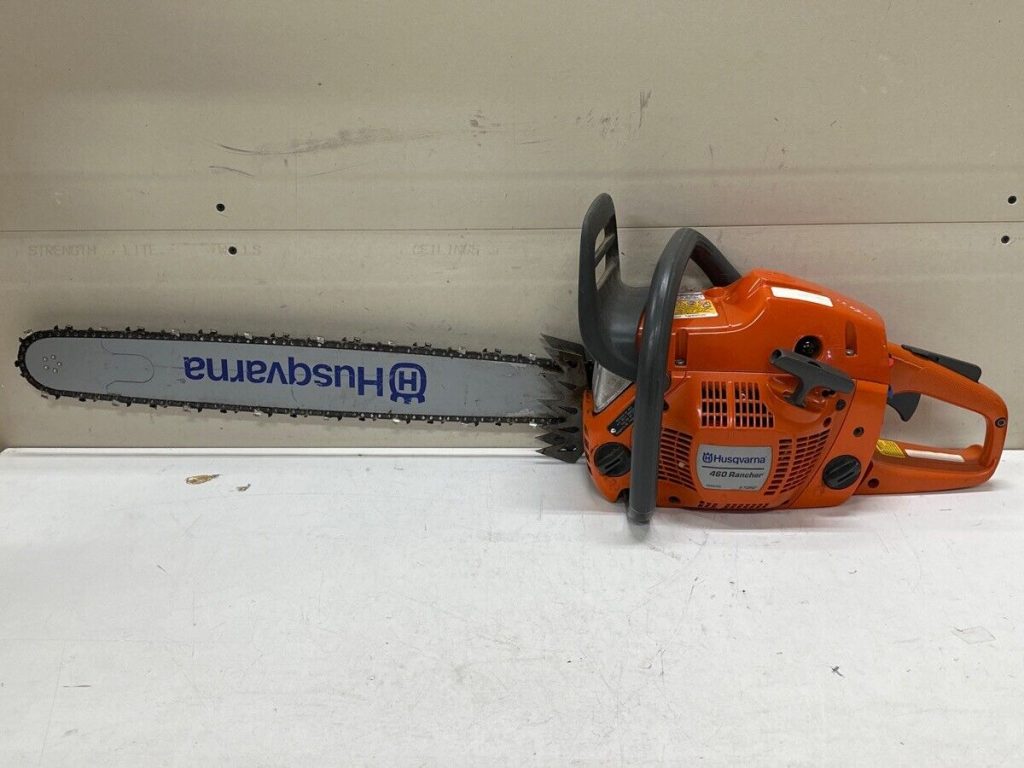 Pros
Substantial power
Long bar length
Easy tension adjustments
Automatic chain oiler
Cons
Heavy – the heaviest model we've reviewed
Pricey
Conclusion
The Husqvarna Rancher gas-powered chainsaw is a powerful piece of kit. It's a heavy-duty chainsaw that's designed to deal with tough jobs. Although it's pricey compared to some of the other models in our review, you get what you pay for. This chainsaw is hot on safety features, reliable, and powerful. That's why it's important to take appropriate precautions when using this model, including gloves and a helmet.
4) Best Cordless – WORX WG322 PowerShare
Specs
Weight: 6.19lbs
Bar Length: 10″
Power: 20V/3.1HP
Type: Cordless Electric
This small but mighty chainsaw is designed for home use – ideally pruning trees, cutting small branches, or trimming hedges. With its small bar length of 10″, it's not for you if you're planning to cut large, hefty trees.
This mini chainsaw is fast and powerful, running from a 20V/3.1HP motor. With this chainsaw, you'll get clean cuts every time.
Of the battery-powered saws in our review, the Worx WG322 has some very useful features, such as automatic chain tensioning and an automatic chain oiler. With some adjustments of the black knob on the tool, you can adjust your chainsaw's tension without the need for additional tools. Meanwhile, the automatic oiler means the machine keeps the chain lubricated, so you don't need to pause your work.
Worx hasn't forgotten about safety features, either. The WG322 offers both a safety brake as well as an easy-to-handle grip.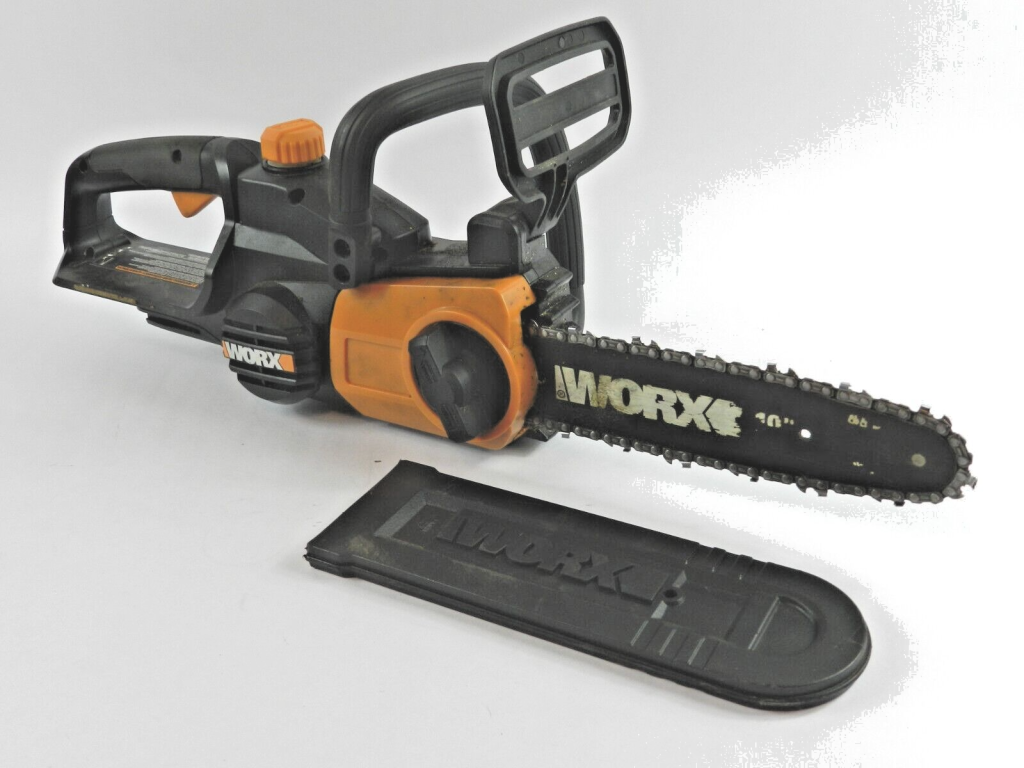 Pros
Lightweight machine
Easy to use and reliable, making it a great choice for older people
Automatic chain tension adjustment – no extra tools required
Perfect for maintenance of yards and gardens
Cons
Must use Worx original batteries
Battery drainage can be frustrating
Conclusion
Without a doubt, for such a small, lightweight chainsaw, the Worx WG322 packs a punch. It's ideal for pruning, trimming, and cutting small branches, but it's also versatile enough to be used for carving wood. It's one of the better battery chainsaws around, although it's still no match for a gas-powered model.
5) Greenworks 12-Inch 40V Chainsaw
Specs
Weight: 6lbs
Bar Length: 12″
Power: 40V
Type: Cordless Electric
With the Greenworks chainsaw, you get the convenience of cordless electricity with enough power to perform 75 cuts while running on the same batteries. The 40V GMax battery is reliable and ensures that there's no power fade as the charge is used up.
This battery-powered chainsaw features a 12″ steel chain bar, which is both sharp and causes minimal tension when it's in use. The Greenworks 12″ 40V chainsaw is lightweight and portable, so you'll have excellent control throughout its operation. It's also one of the quieter battery-powered models.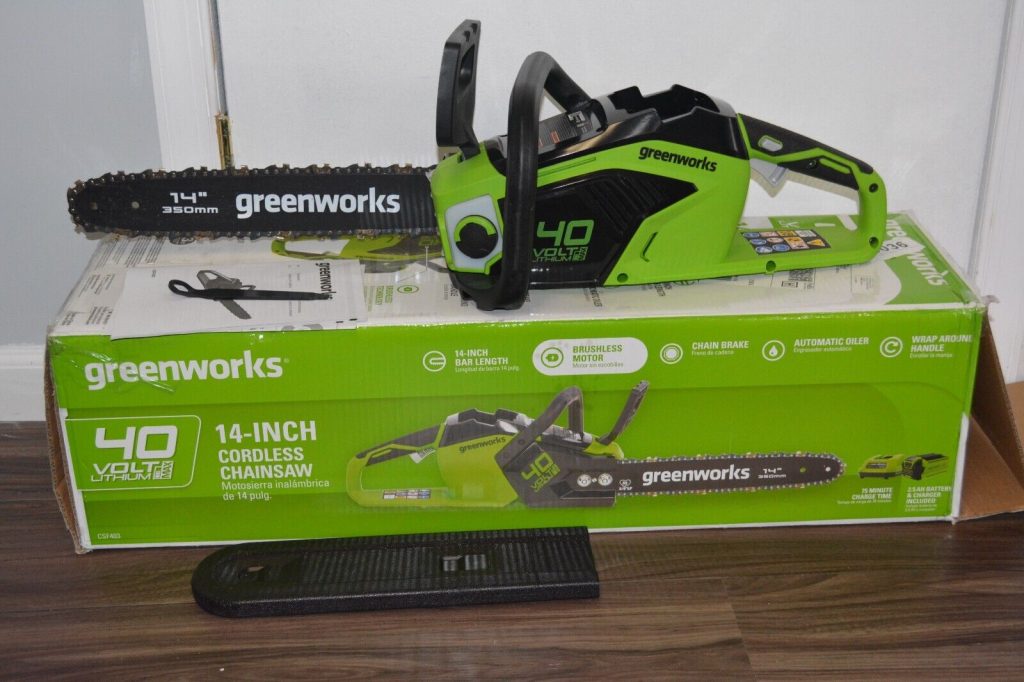 Pros
Instant electric start
No power fade
Comes with an automatic chain oiler
Cons
Chain wheel needs to be handled gently
Conclusion
The Greenworks 12″ 40V cordless chainsaw is lightweight and easy to carry, which makes it handy for a huge range of applications. You'll be in full control when the machine is running. It's a long-lasting battery-powered chainsaw that delivers consistent performance as the battery drains.
5) BLACK+DECKER 20V MAX Chainsaw
Specs
Weight: 7.2lbs
Bar Length: 10″
Power: 20V
Type: Cordless Electric
Black+Decker's 20V MAX battery-powered chainsaw runs from a 20V lithium-ion battery and has a 10″ long chain bar. The chainsaw comes with an Oregon low kickback bar, so you'll get smooth and fast cuts.
Battery-powered tools provide you with the added benefit of easy maneuverability and you'll have no problem carrying this lightweight power tool around your backyard as you cut away any unwanted materials.
The Black+Decker 20V Max chainsaw is relatively easy to maintain. Chain tension adjustments can be made without the need to use extra tools. It's also straightforward to apply chain oil and bar oil.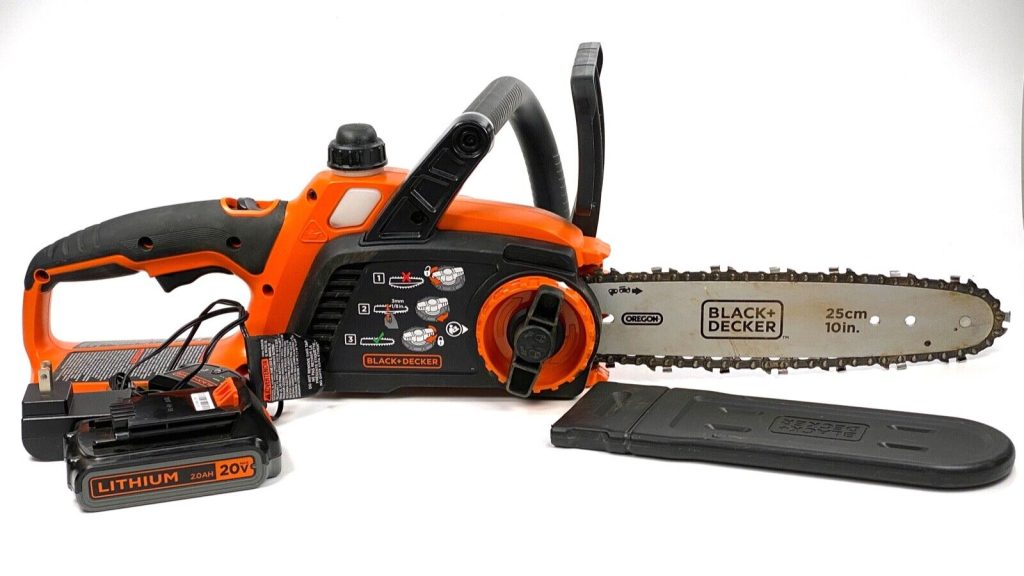 Pros
Excellent battery performance
Easy tension adjustments
A low kickback bar enables faster cuts
Easy oiling system
Cons
Cannot be used for thick wood
Conclusion
An excellent cordless option for home use. The Black + Decker 20V Max chainsaw is lightweight and its battery is very long-lasting. Overall, this is a handy tool for light yard work.  
6) BLACK+DECKER (CS1518) Chainsaw
Specs
Weight: 12lbs
Bar Length: 18″
Power: 550W
Type: Corded Electric
Black+Decker's CS1518 chainsaw is a corded electric model with an 18″ chain bar. Like the previously reviewed Black+ Decker 20V Max chainsaw, the CS1518 features an Oregon low kickback bar, which gives it a fast cutting speed.
As it's one of Black+Decker's corded electric versions, you don't need to worry about running out of juice mid-cut.
Like many of the machines reviewed, the CS1518 uses a chain tension adjustment system that doesn't require the use of additional tools. It also features a convenient oil-filling system. Simply peer through the clear window to check the oil level and when your tool may need a top-up.
Pros
Decent bar length
Easy chain tensioning adjustments
Chain brake
Reliable
Cons
Needs a nearby power source
Conclusion
In the Black+Decker CS1518, you're getting a powerful 15A motor that delivers fast cuts. The 18″ chain bar is suitable for most home uses and the corded power source means you don't need to worry about power fade. The automatic oil filling system takes the stress out of maintenance.
7) Makita XCU03PT1 Battery-Powered Chainsaw
Specs
Weight: 22lbs
Bar Length: 14″
Power: 36V
Type: Cordless Electric
The Makita XCU03PT1 runs from two 18V lithium-ion batteries, and the wonderful folks at Makita have even supplied two spares so you'll really get your money's worth! Best of all, the brushless motor delivers the equivalent power of a 32CC gas-powered chainsaw. So, you're getting the benefits of mobility without gas emissions!
The XCU03PT1 utilizes a toolless chain tensioning system, so adjusting the chain tension is a breeze. You'll also benefit from variable speeds, which will enable you to synchronize your cutting performance.
There are also plenty of safety features. A built-in lock-off lever should help to prevent damage from mechanical failures. The machine automatically switches off when it detects that you've left the chainsaw idle for any length of time.
Maintenance is relatively straightforward as you can check the oil levels through a check bar. You'll also find that the oil filling port is generously-sized.
Pros
Runs from 2x 18V batteries
2 spare batteries are provided, so no disruption to your work
Variable chain speeds
Generous oil-filling port
Cons
Conclusion
The Makita XCU03PT1 battery-powered chainsaw delivers the equivalent power of a 32CC gas-powered chainsaw. It's cleaner than its gas-powered counterparts but remains portable, unlike corded electric chainsaws. This chainsaw gives you a great deal of control through its variable speed options and the automatic switch-off is not only an excellent safety feature but can also extend the product's life.
8) CRAFTSMAN V20 (CMCCS620M1) Chainsaw
Specs
Weight: 14lbs
Bar Length: 12″
Power: 20V
Type: Cordless Electric
The Craftsman V20 (CMCCS620M1) chainsaw is a cordless electric model that runs on a 20V battery. It has a reasonable battery life, delivering up to 60 cuts from a single charge. A total of 4 batteries are provided out of the box, so you'll have a few spares to keep you running when you're out and about.
The Craftsman chainsaw only has a 12″ chain bar, but that's plenty for many home jobs and crafting tasks. This small, but sturdy chainsaw can handle wood up to 10″ thick without any problems. It's moderately lightweight and performs well in tight spaces.
The tool is easy to maintain with a toolless chain tension adjustment system. It also has an automatic oiler, so your chainsaw will be perfectly lubricated at all times. The chainsaw even has a bubble level, which is especially handy for straight cuts.
Pros
Automatic chain oiler
4 batteries provided
Compact and reliable
Bubble level
Cons
It can take a long time to cut through, depending on the thickness of the material
Conclusion
With no power cord to get in the way, the Craftsman V20 (CMCCS620M1) is portable and can get into small, tight spaces with ease. The bubble level is a nice touch and allows you to make precise, accurate cuts. Maintenance is straightforward with the toolless chain tension adjustment system and auto oiling system.
9) DEWALT 40V MAX XR
Specs
Weight: 9lbs
Bar Length: 16″
Power: 40V
Type: Cordless Electric
With a 16″ bar and chain and a low kickback position, the Dewalt 20V Max XR delivers reliable, smooth, and consistent cutting. The chainsaw operates a high-torque brushless motor, which delivers up to 57% more run time in comparison to a brushed motor.
In terms of safety features, the Dewalt offers a chain brake to protect you against kickbacks. It also features a comfortable ergonomic grip handle that ensures you remain in control of the tool. The trigger pull ensures that the chainsaw only powers up when you're ready to go, and the instant machine ignition means you can get started right away!
Chain tension adjustments can be made via the bar tightening knob, so you won't need any additional tools.
One of the nicest features of the Dewalt is the variable speed controls. There's a choice of two different speed settings: 0-550 RPM and 0-2000 RPM. It's a handy feature especially when you need to be mindful of noise. Just turn the speed down and you'll find the sound a lot less harsh on the ears.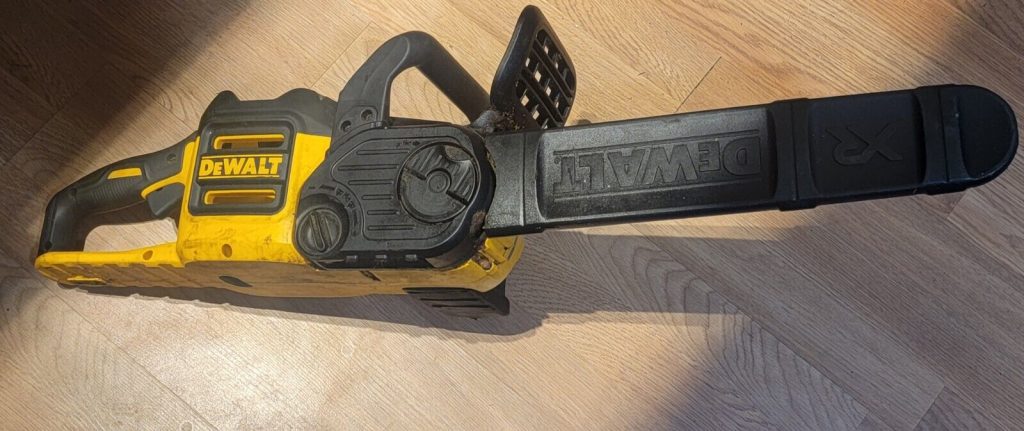 Pros
No power cord to trip you up
Long bar length for tough jobs
Easy to adjust tension, no tools needed
Minimum maintenance
Cons
Can be expensive in comparison to other models
Conclusion
The Dewalt 20V MAX XR is a powerful tool for its size. The best feature is the variable speed setting, which leaves you in complete control while you work. This chainsaw is a great option for pruning branches and small trees and cutting hedges.
What are the Best Chainsaw Brands?
While we've been through 10 of the best chainsaws around at the moment, there are quite a few chainsaw brands worth a mention.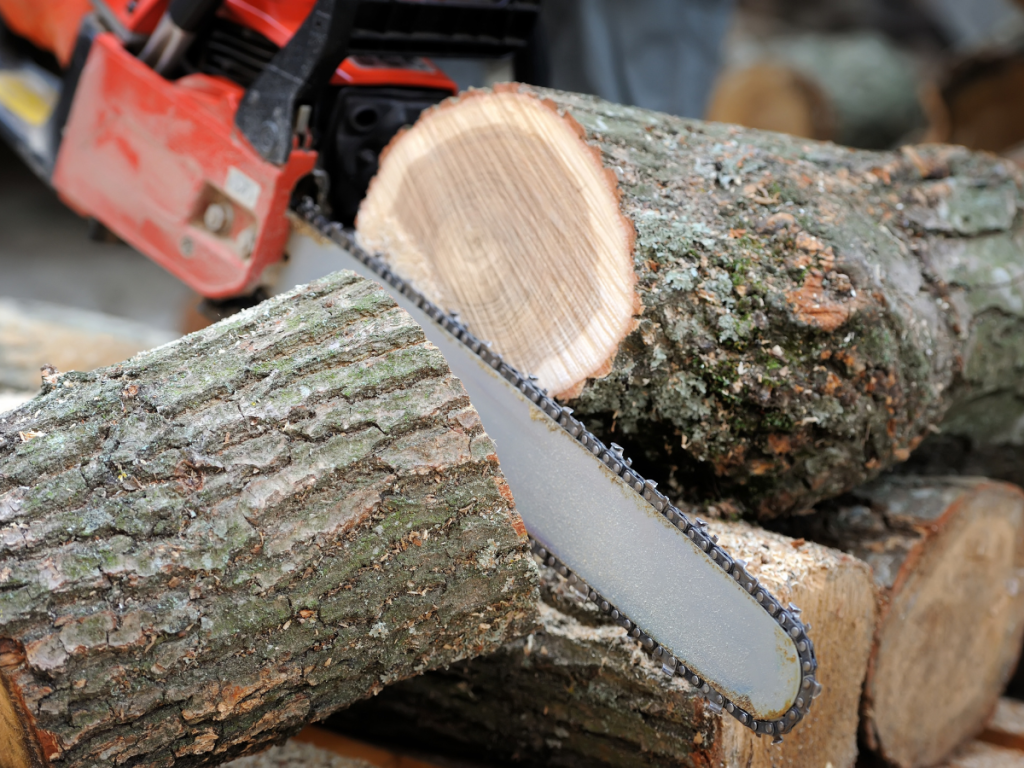 Husqvarna
Husqvarna chainsaws are some of the best home and professional chainsaws around. Check them out if you're looking for an affordable gas chainsaw.
Oregon
Oregon is an innovative chainsaw brand. It's the only brand to feature self-sharpening technology, which makes chainsaw maintenance much, much easier.
Worx
Worx has been making lawn and garden tools since 2004. It delivers high-quality chainsaws and there are a number of models under the Worx banner, including the WG322 that we reviewed.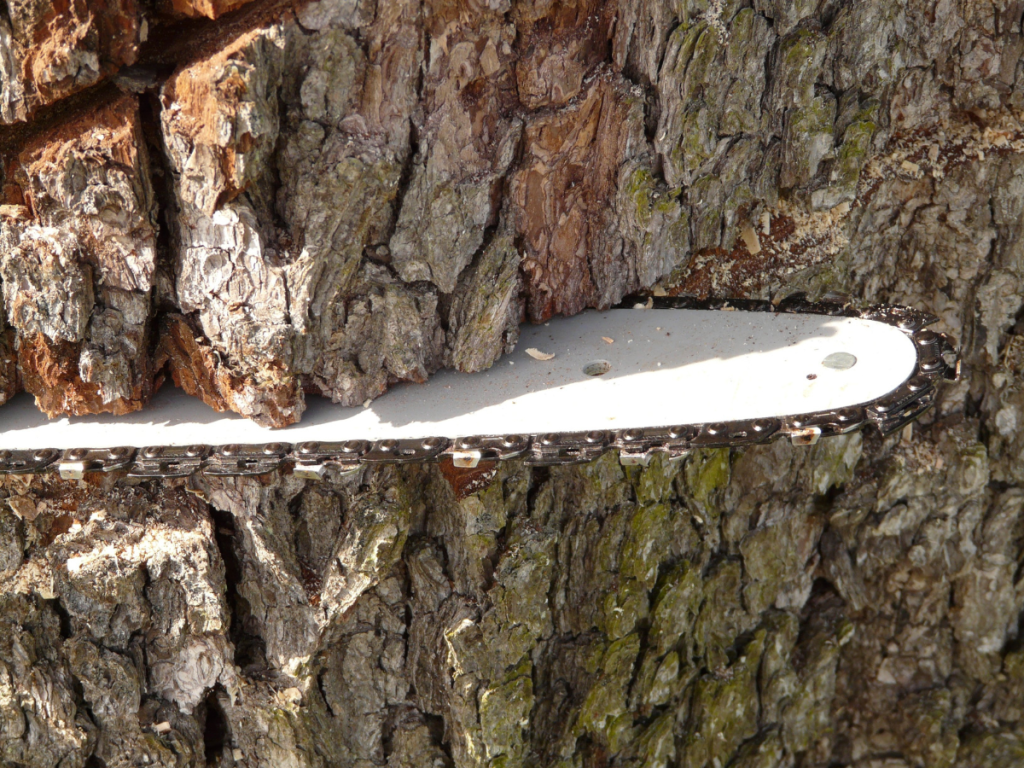 Greenworks
Greenworks has been leading the way in battery innovation since 2002, so it's unsurprising that its battery-powered chainsaws are unrivaled.
Dewalt
Dewalt is an American manufacturer of power tools and hand tools and a subsidiary of Black+Decker. It has a reputation for producing quality power tools and its chainsaw line is no exception.
Black+Decker
Black+Decker has been supplying home improvement enthusiasts with high-quality power tools for over 100 years.
Makita
Japanese power tool manufacturer, Makita, produces cordless electric power tools that are comparable to Greenworks.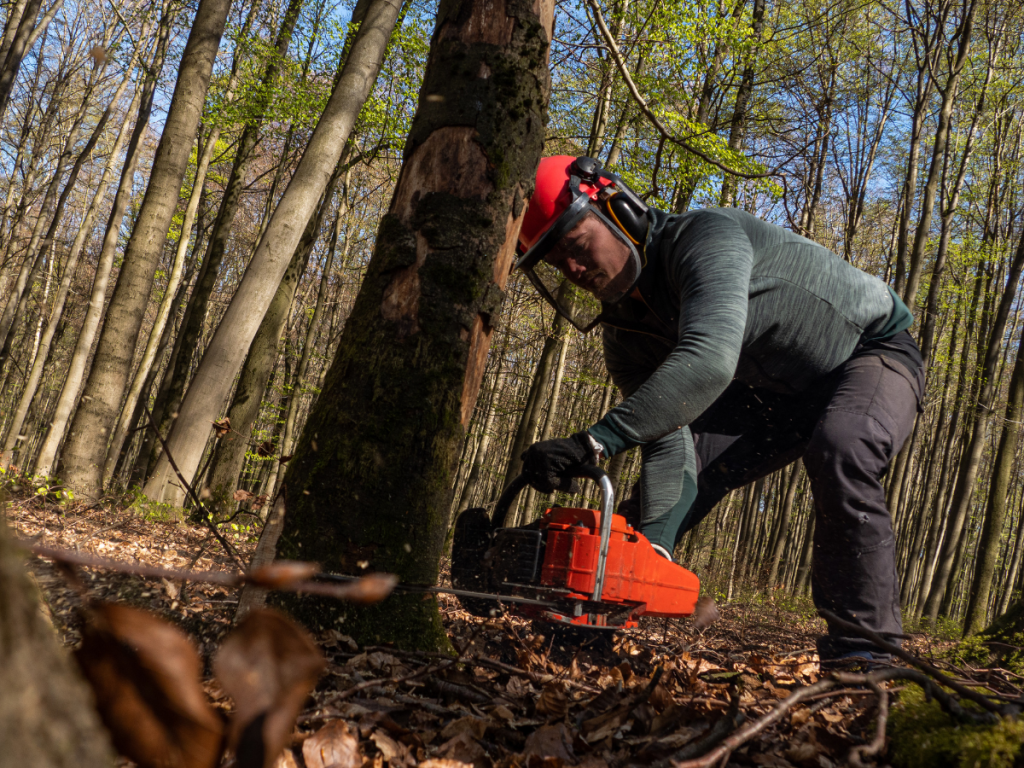 Poulan Pro
Poulan Pro is a manufacturer of outdoor power equipment. It's a relatively new brand, but one worth watching. Two of its gas chainsaw models include the PR5020 and the 42CC.
STIHL
STIHL chainsaws still set the standards for chainsaws. The company produces a wide range of chainsaws including cordless, petrol, and mini chainsaws.
Echo
Japanese brand, Echo, has existed since the 70s. Echo chainsaws come in both gas and cordless models and are worth taking a look at if you're in the market for a new chainsaw.
How Dangerous is a Chainsaw?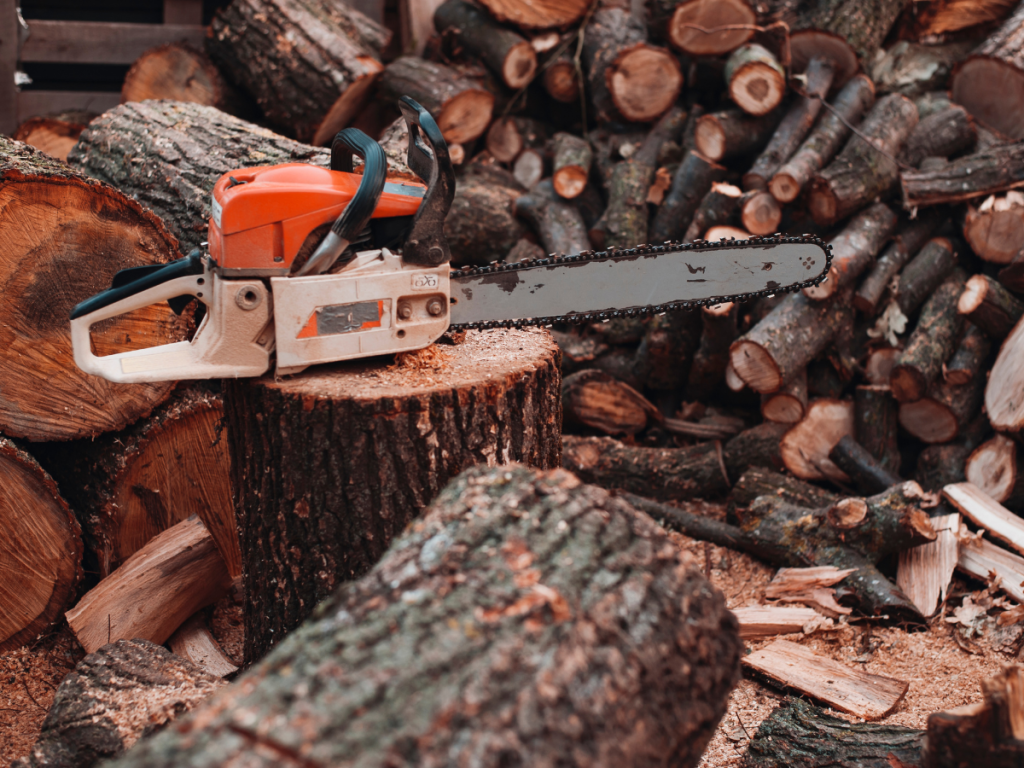 Just mention the word chainsaw and you'll see most inexperienced home users quiver in fear! And understandably, too. Chainsaws were often called the "most dangerous tool" with good reason.
Running from gas, chainsaws were historically bulky and powerful. They had a tendency to run wild and could be difficult to operate.
Nowadays, that's less true. Technology has advanced considerably and chainsaws are becoming increasingly lightweight, even gas versions. Mini and small chainsaws are becoming more widespread. These compact machines are user-friendly and easy to handle.
There's always a safety risk with gas chainsaws, but increasingly we're seeing powerful electric chainsaws that perform favorably when compared with gas-powered models. They produce much less air pollution, are easier to handle, and can manage common home cutting tasks with ease.
Like any power tool, you should take appropriate precautions when operating a chainsaw. But if you respect the tool and act responsibly, it's no more dangerous than any other tool you'd have in your home.
What Safety Precautions Should You Take with a Chainsaw?
To minimize risk when using a chainsaw, you should always take the appropriate safety precautions. These go over and above the standard safety features that you should check for when you're buying your chainsaw. So, if you haven't already, make sure you've got the following accessories.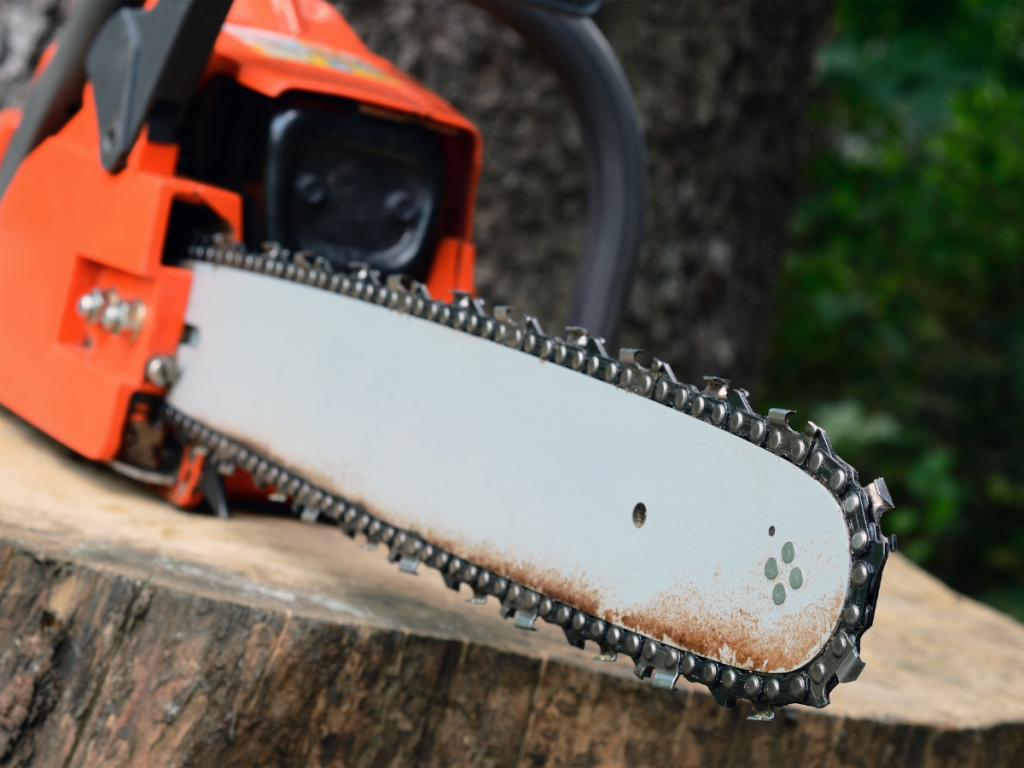 Helmet
Remember those pesky kickbacks that we mentioned? If a kickback hits you in the head, it can cause a serious head injury. Protect your face with a chainsaw helmet. It'll keep you safe from kickbacks and chain derailings.
Noise Protection
Chainsaws can be noisy beasts. If you're using one regularly, you'll need ear defenders or noise-canceling headphones to remove excessive noise and protect your hearing.
Protective Pants
You'll need protective pants or chaps to protect your legs and thighs, just in case the tool does get out of control.
Protective Gloves
While many chainsaws come with protective guards, you should always wear protective gloves to keep your hands and fingers safe. Without the gloves, your hands and fingers are at risk of cuts, nicks, or worse.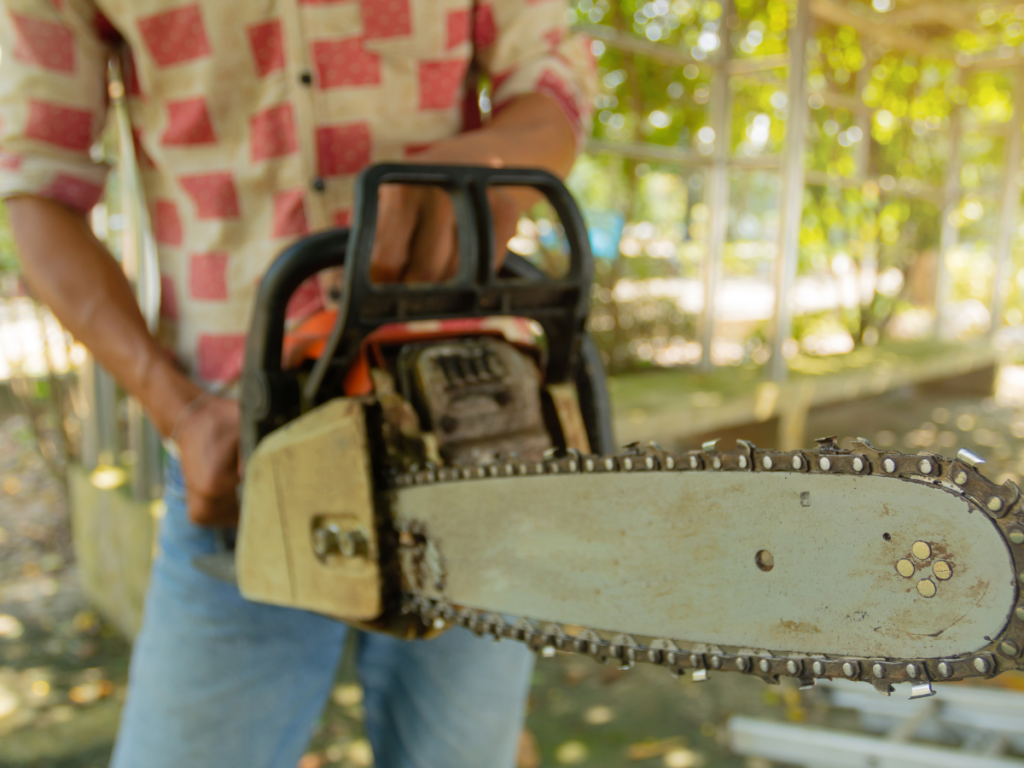 Work Boots
Like your fingers, your toes also need protection in case the chainsaw gets out of control. Choose a durable pair of work boots that cover your feet and keep you comfortable.
Forestry Jacket/Shirt
A thick forestry jacket or shirt will not only keep you warmer, but it'll also protect you from stray cuts from the chainsaw.
First Aid Kit
No workplace is completely accident-free. Keep a first aid close by, just in case.
How to Maintain Your Chainsaw
After you've invested a chunk of money into a chainsaw, it makes sense to properly maintain your new tool. Otherwise, you're at risk of substantially shortening its lifespan. Nobody likes a damaged or rusty tool.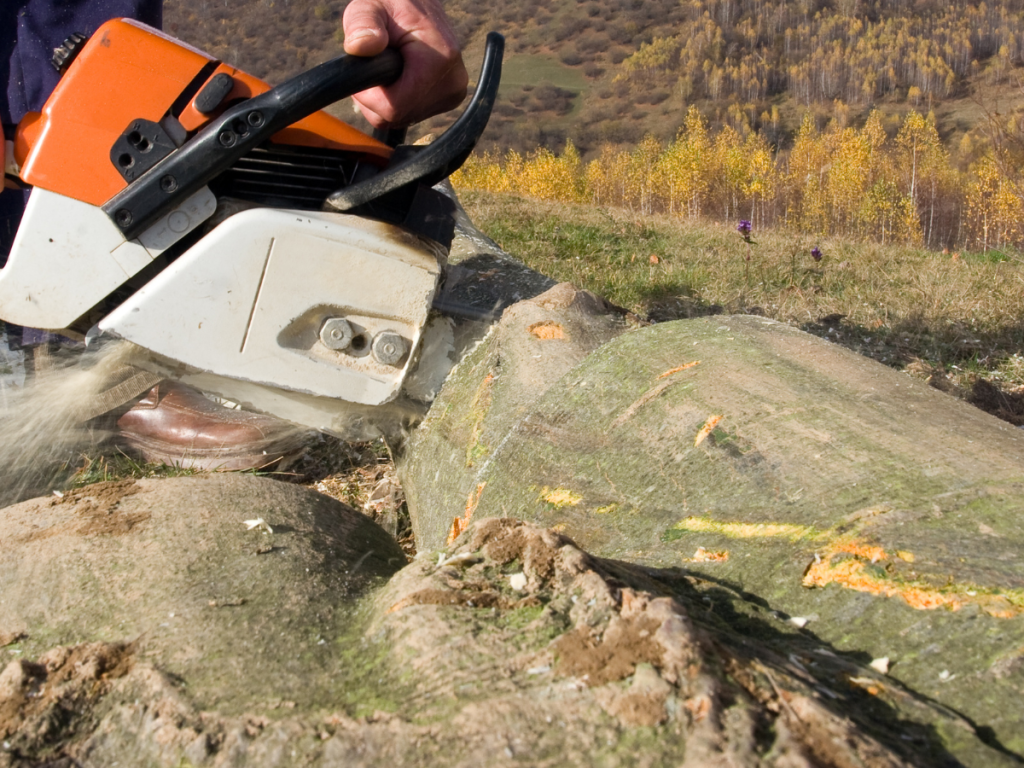 Keep your chainsaw operating smoothly with the following simple maintenance steps:
Sharpen the chain
Thoroughly clean all of the chainsaw's parts with gasoline
Clean the air filter
Replace the fuel lines
Clean and adjust the carburetor
Remove and adjust the spark plug
If you're not planning to use the chainsaw for the next two months, drain the fuel from the tank
Always hang your chainsaw properly
The Final Word
Buying a chainsaw may seem daunting at first, but with our handy guide, you should be armed with all the knowledge you need to make an informed decision.
Our review has covered 10 of our favorite chainsaws on the market, and we'd highly recommend the Husqvarna 120 Mark II as the best overall chainsaw. But there are many, many more chainsaws available on the market that are worth considering.
So, grab a cuppa and have a good think about what you need your chainsaw to do. Then take a look at some of the brands we've suggested to find one that fits your needs.