You are likely well aware of the value of possessing a miter saw if you are accustomed to dealing with fine wood professionally or just for fun.
Without a miter saw, I'm sure I've attempted to cut angles, and to be honest, it's complicated. You can mess up the remainder of your project if you don't know if you were able to get things as accurate as you needed them.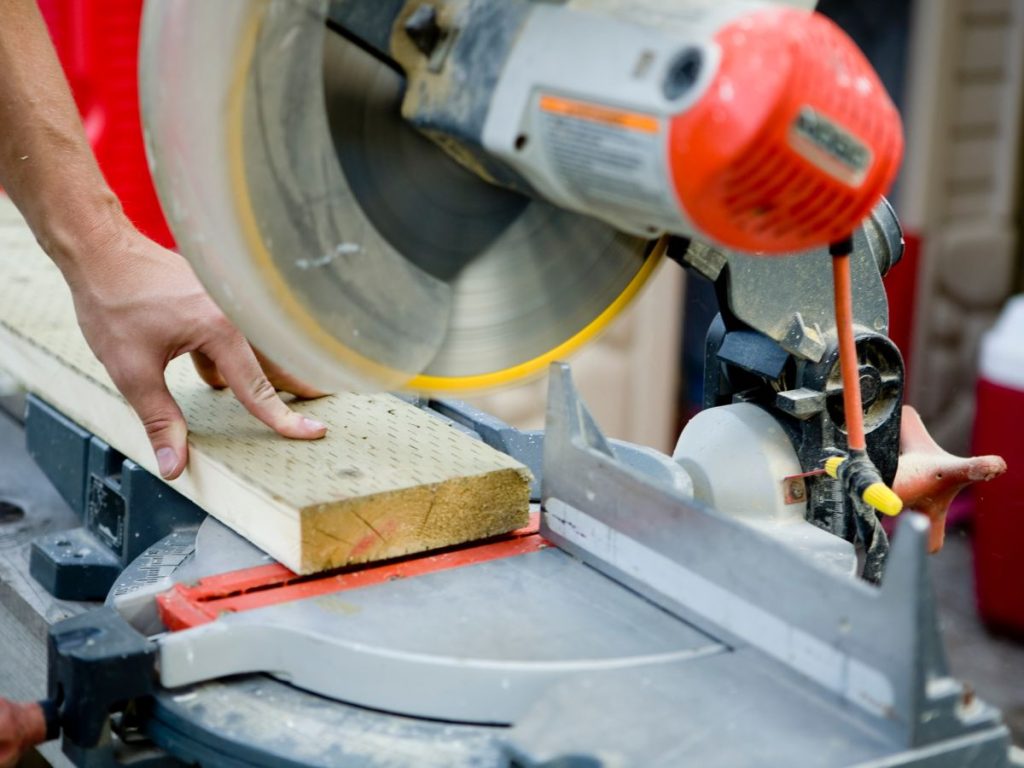 Many seasoned woodworkers would even go so far as to say that using a miter saw is essential to finishing a project well! When it comes to the workshop, it is a necessary tool that is useful for virtually anything.
Although there are many other sizes of miter saws on the market, a 10-inch or a 12-inch miter can be used to complete practically any work; therefore, they are the ones you should be considering purchasing.
Since they are mostly interchangeable, choosing 10 or 12 inches relies on the nature of the project and personal choice.
So that's what I'm going to discuss today here. The top 7, 10-inch, and 12-inch miter saws are listed below.
Take a moment to consider what you want the saw to accomplish for you before deciding which one is best for you.
10-inch Sliding Compound Miter Saws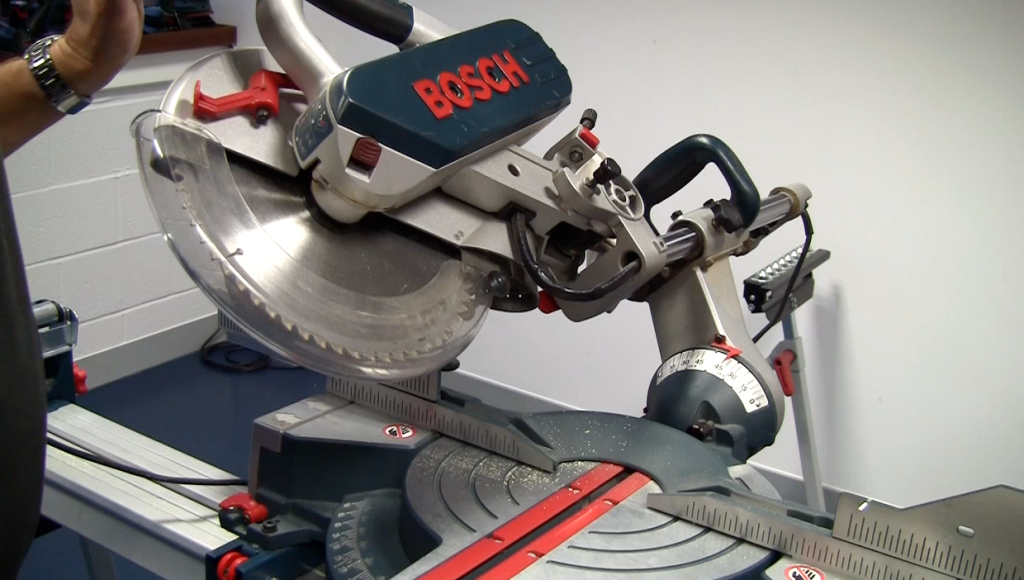 The most popular miter saw available now is the 10-inch sliding compound miter saws model. It is strong and effective with both hardwood and softwood. The blade is usually of excellent quality, and the design allows for easy wood cutting.
I believe 10-inch gadgets are better suited for quick jobs and DIY carpentry projects. 10-inch saws are easier to move from house to worksite, take up less room in your workshop, and can be stored away in relatively remote locations if necessary.
Pros Of 10-Inch Miter Saws
Cost-effective
Less heavy and portable
Smoother finish when blade speed is higher
Very little swaying
Many Of them have a dedicated dust collection system
Cons Of 10-Inch Miter Saws
Unable to handle more challenging wood and thicker cuts
12-inch Sliding Compound Miter Saws
When cutting thicker stock, the more prominent 12-inch sliding compound miter saws will nearly always perform better than the 10-inch. They are often bigger, bulkier machines with a higher capacity, which also means they are a little bit more sturdy.
Additionally, the 12-inch miters frequently feature stronger motors. A 12-inch miter saw's motor will typically have a power of around 15 Amps. On a 10-inch, that isn't always the case.
When utilizing this saw, more teeth on the blade will come in contact with the material at any one moment due to the bigger blade size's effect on tooth speed.
Pros Of 12-Inch Miter Saws
Capable of deeper cuts
Durable
More potent
Versatile
Many Of them have a dedicated dust collection system
Cons Of 12-Inch Miter Saws
Heavy
More costly
With a fewer number of blade options
A 10-inch blade is required for fine cutting.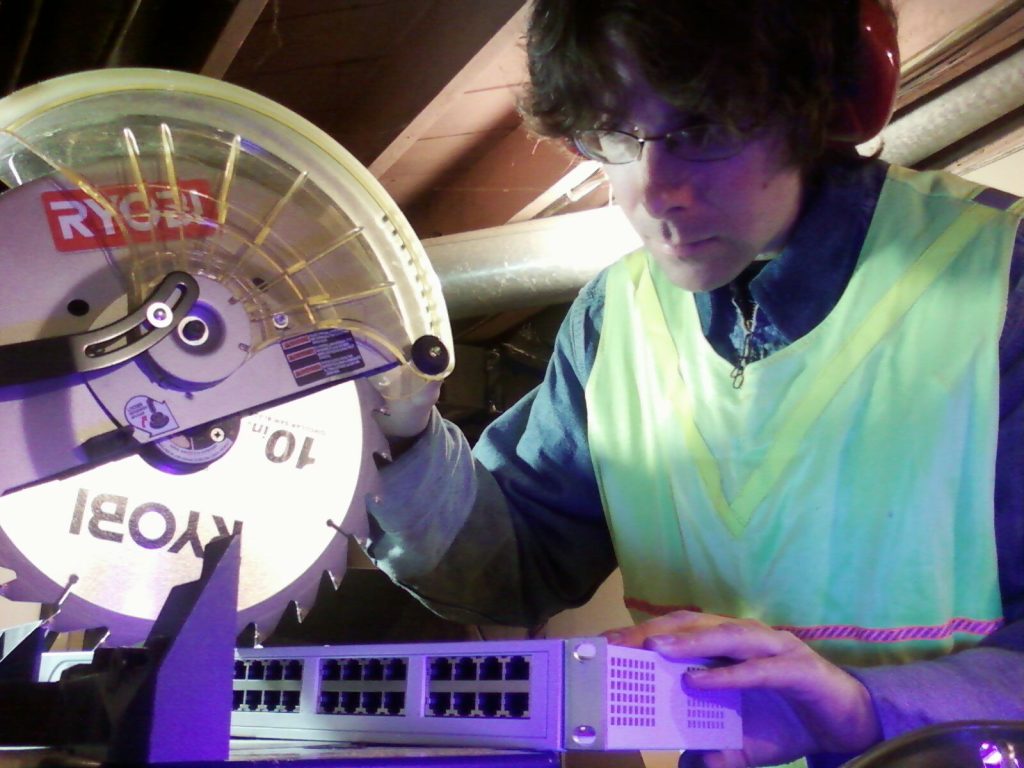 7 Best 10-inch Sliding Compound Miter Saws
A 10-inch miter saw will rapidly become your closest friend for producing precise cuts with the highest level of efficiency. It is ideal for framing, minor home repair, and building jobs.
With options for every price range and project size, I've carefully investigated, tested, and compared the top models now available to bring you this list of the 7 best 10-inch miter saws.
Evolution RAGE3 10-Inch Miter Saw
Any miter saw that ships with a proprietary, precisely crafted blade has much to live up to. I was eager to test if the Evolution Power Tools Rage 3-DB could live up to the promise, mainly because it claimed to be able to handle steel, aluminium, wood with nails, or plastic – all with the same blade.
Honestly, the 3-DB did not fall short in cutting power. Custom-designed blades and a high-torque gearbox make cutting through a wide range of materials exceedingly simple while generating hardly any heat or sparks. This saw is about as flexible as a miter saw can be when used with a dual bevel and a 3-inch cutting depth.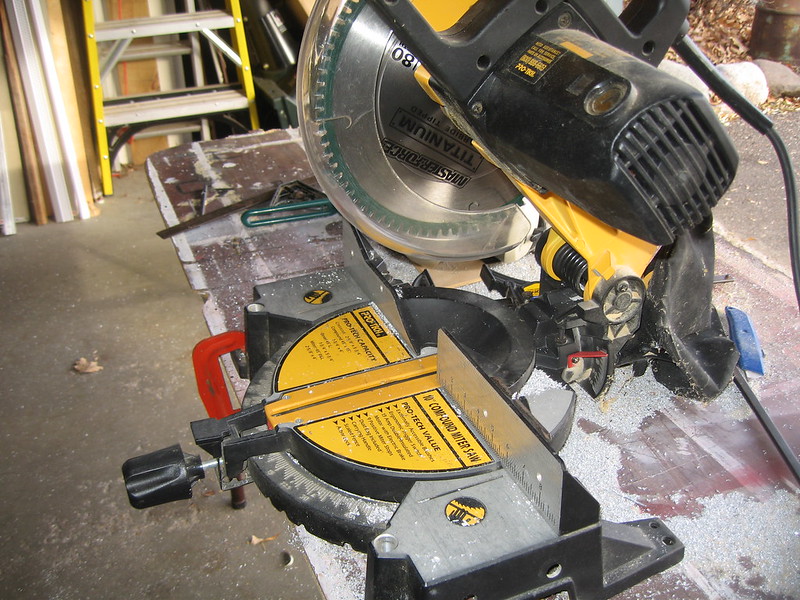 Naturally, that adaptability also entails a somewhat higher cost. Given the more fantastic range of tasks that the 3-DB may be used for, this makes it a viable option for someone searching for a multipurpose saw—as long as they're ready to make a higher investment.
Pros
A patented blade design quickly cuts through practically any material.
Significant and deep-cutting capability
A three-year warranty to safeguard your money
Accurate miter cuts
Dust collection system
Cons
Insufficient dust collection
Significantly larger and heavier than other 10-inch miter saws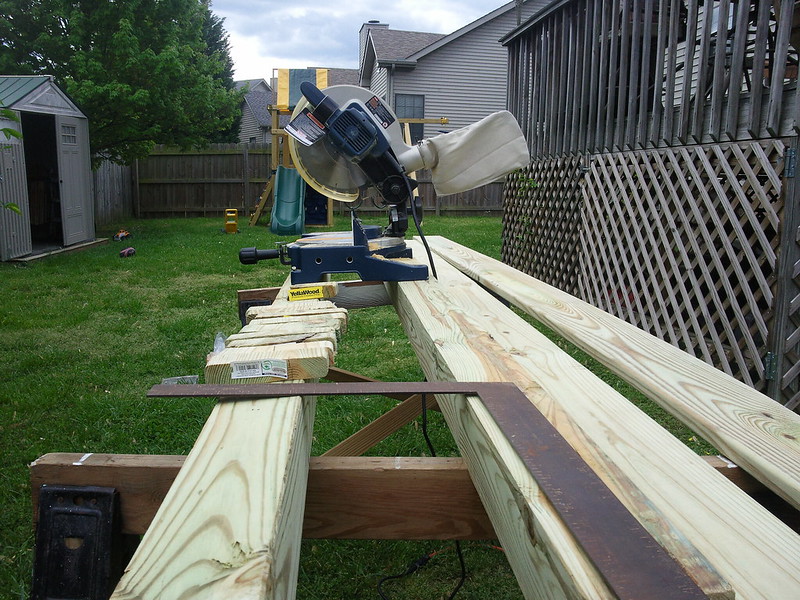 Chicago 10 Inch Sliding Compound Miter Saw
The Chicago Electric sliding compound miter saw delivers unexpectedly strong performance at incredibly low pricing, making it perfect for DIY and home repair jobs. What it lacks in some of the smoothness and dependability offered by more well-equipped instruments, it gains in affordable cost.
First, the motor. With 15 amps, it has the power to support a blade speed of 5000 RPMs, placing it on par with other, more costly miter saws in my assessment.
However, in contrast to the quiet performance of my 1st option, it achieves this decent pace in the loudest and most jarring manner conceivable.
Because of this, even though it is an accurate saw out of the box, continuous usage will cause it to soon get out of alignment, costing you essential time and effort in constant re-adjustments. I advise it to anybody looking for a miter saw at the lowest possible cost.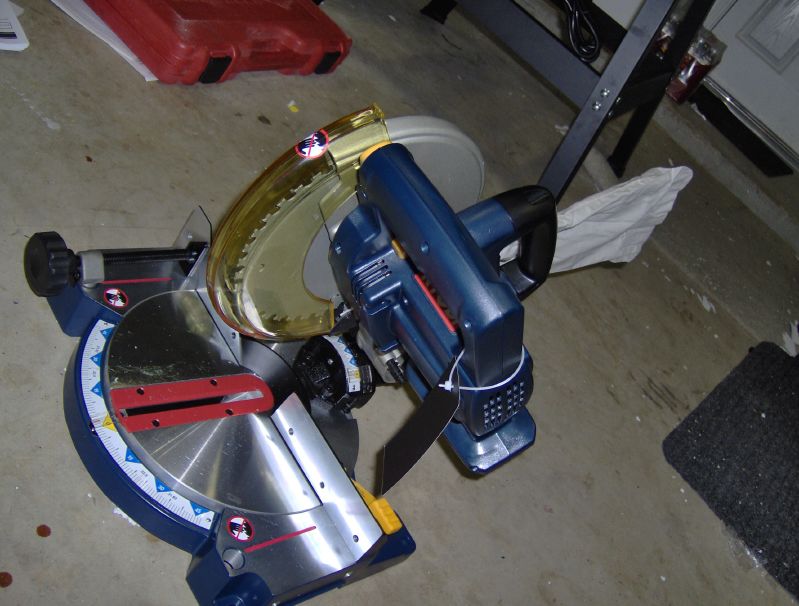 Pros
Strong cutting ability
Sleek construction
Solid construction
Reliable guides and simple adjustments for accurate cuts
Cons
At high RPM, vibration intensity increases
Dewalt DW713 10-inch Portable Miter Saw
I just couldn't resist adding a Dewalt product to my list of top options, this time a 10-inch portable saw because the company has so many fantastic miter saws to choose from.
Its portability and remarkable compactness make it the ideal tool for woodworking while moving from one location to another.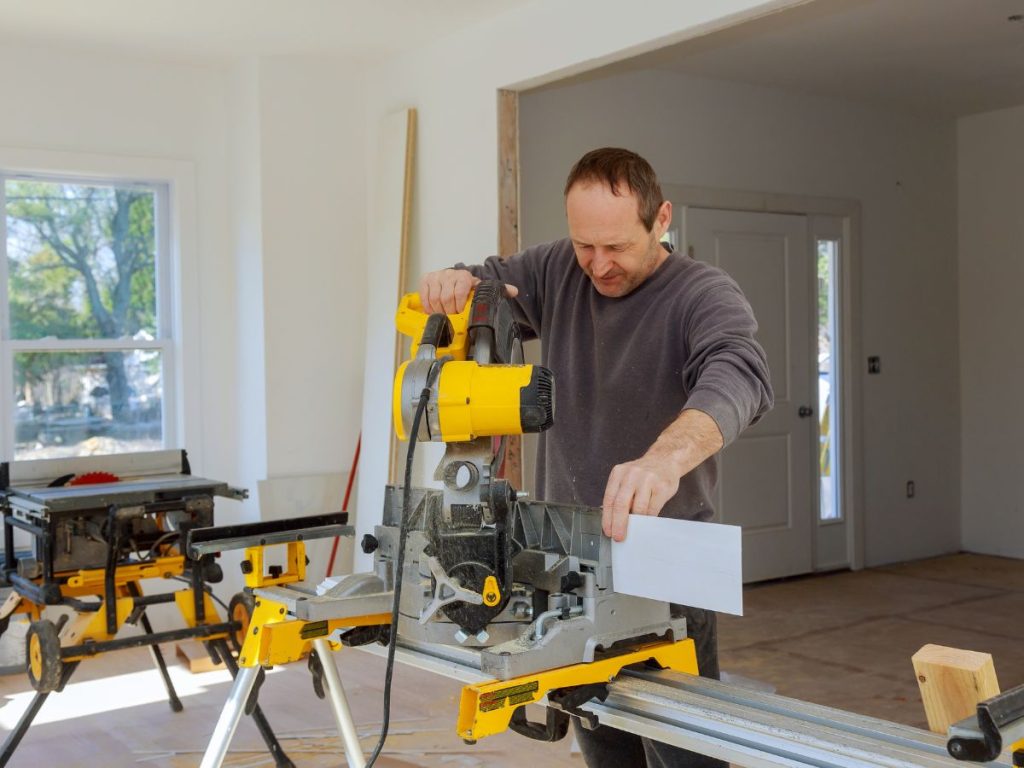 With a strong motor at a reasonable price, it works well for creating crosscut and miter cuts. For the finest overall performance, a stainless steel detent plate guarantees increased longevity and reliable precision.
Additionally, it incorporates a cam miter lock for precisely setting the miter cut and an override mechanism in case you need to make a last-minute adjustment.
In the event that you wish to make any bevel cuts, the fence, which is supported by the machine base, might move out of position.
Pros
Top-selling product
Exceptionally portable and small
Motor of 15 amps
Reliable and exact
Cons
Not quite as precise as the Dewalt 12-inch
Best 10-Inch Saw For Power Users: Bosch CM10GD 10-Inch Miter Saw
The Bosch CM10GD improves and outperforms the DeWalt in my top rank in terms of simplicity and streamlined design.
The dual-bevel design and the exclusive Axial-Glide technology, which takes the place of the rail/slide found in other miter saws, make this saw much more expensive, but it compensates for the additional cost with top-of-the-line capabilities in every category.
The DeWalt's 4800 RPM blade speed is matched by the 15-amp motor's higher torque output. Because of this, it can easily cut through the toughest hardwoods and finish any task you give it.
The heavy-duty CM10GD is a reliable piece of equipment that feels like it might be passed down to your grandchildren because it is nearly entirely made of metal.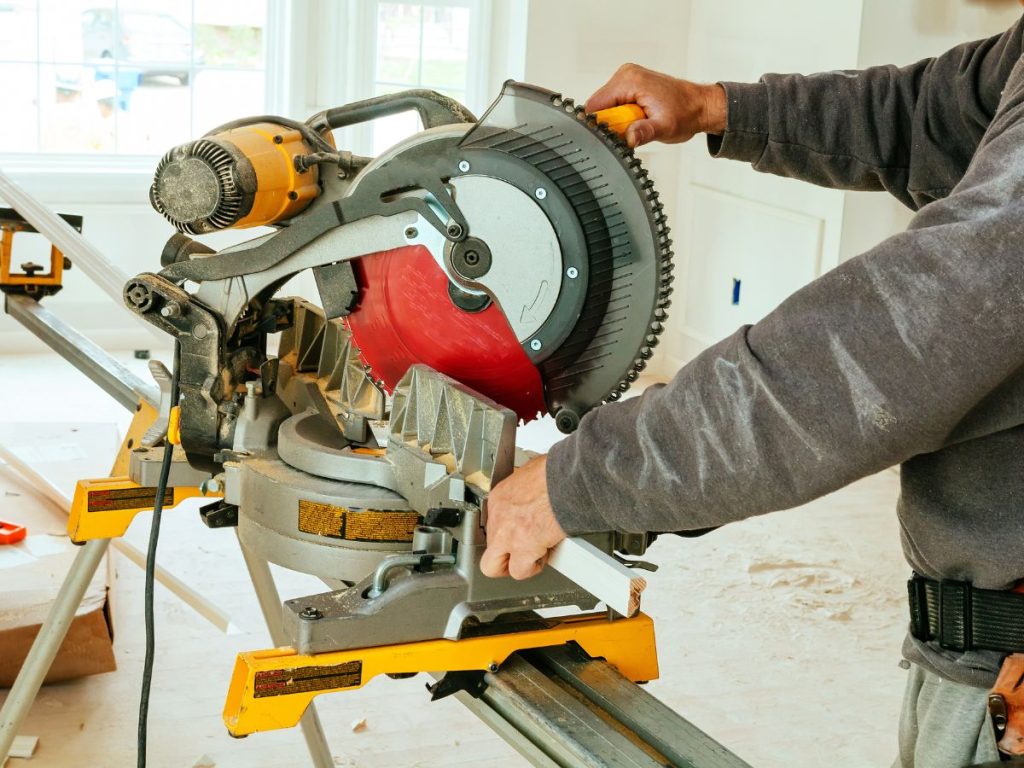 In conclusion, this Bosch 10-inch miter saw delivers the best of everything but costs more to start off with. It's ideal for amateur woodworkers hoping to advance in their skill or for professional carpenters seeking the most amount of utility from a miter saw.
Pros
A strong motor and a lot of torque
A dual bevel system results in quicker, more quick and precise cuts
Arm guide for axial glide
Astonishing 6″ depth cut capability
Comes with a Blade guard and a dust bag
Cons
Pricey, particularly when compared to comparable 10-inch miter saws
Makita LS1018 10-inch Miter Saw
The Makita 10-inch miter saw is one of the smallest on the market, yet despite its compact size, it ranks among the best on the market for durability and reliability.
The Makita is used by woodworkers of all skill levels and adapts to your demands, outperforming what you may expect from looking at it.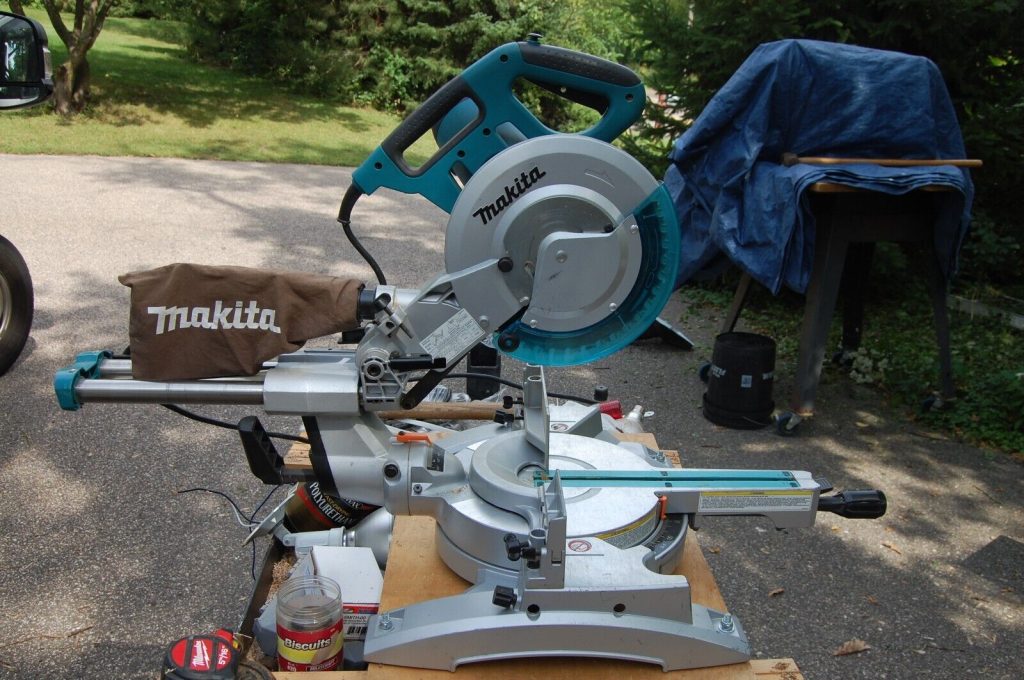 Thanks to its practical design, this miter saw is especially appropriate for DIY projects or working at home because it is so simple and straightforward to operate. Compared to other, more powerful miter saws, it offers a reliable 13.0 motor amp that runs smoothly and needs less maintenance.
It has a linear ball bearing mechanism for cutting accuracy, and you may change the bevel both left and right.
Pros
Practical and simple to use
Extremely robust and resilient
Accurate linear ball bearing system
A motor amp of 13.0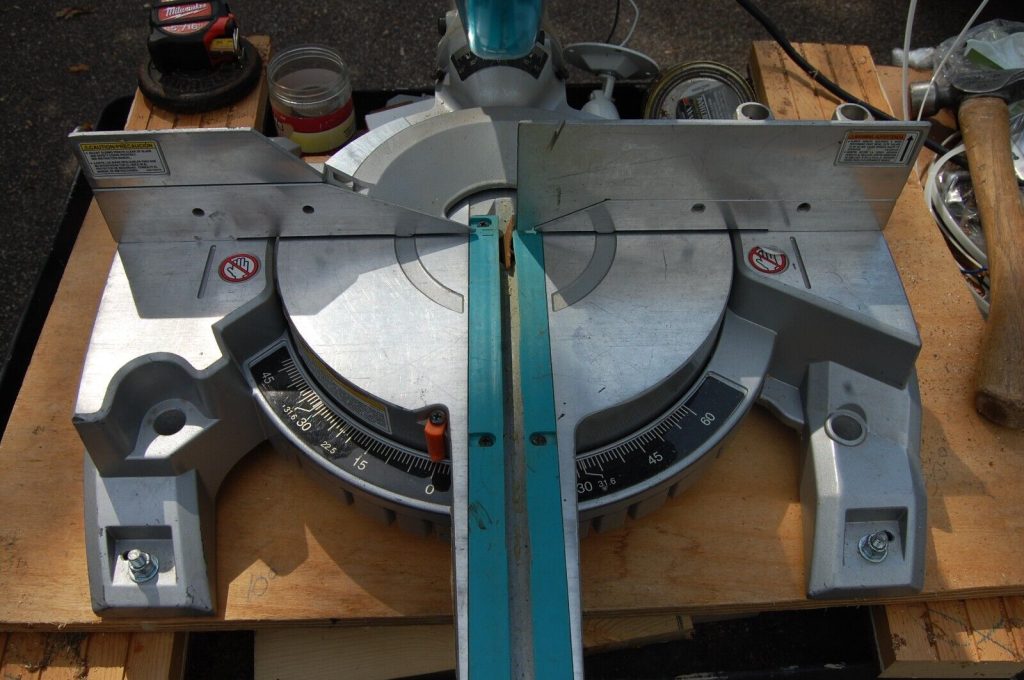 Cons
Less adaptable than other miter saws
Best 10-Inch Saw Overall: Metabo HPT 10-inch Miter Saw C10FCH2S
The greatest 10-inch miter saw currently available, in my opinion, is this one made by Metabo. Please bear with me even if you might not be familiar with the name. You see, Metabo used to be known as Hitachi, which could give you more faith in the caliber of this miter saw.
It features a brushless 15 Amp motor, which is fantastic since it produces more than 1500W of power. With a brushless motor, you can confidently work on your projects because you don't have to worry as much about maintenance or burning out.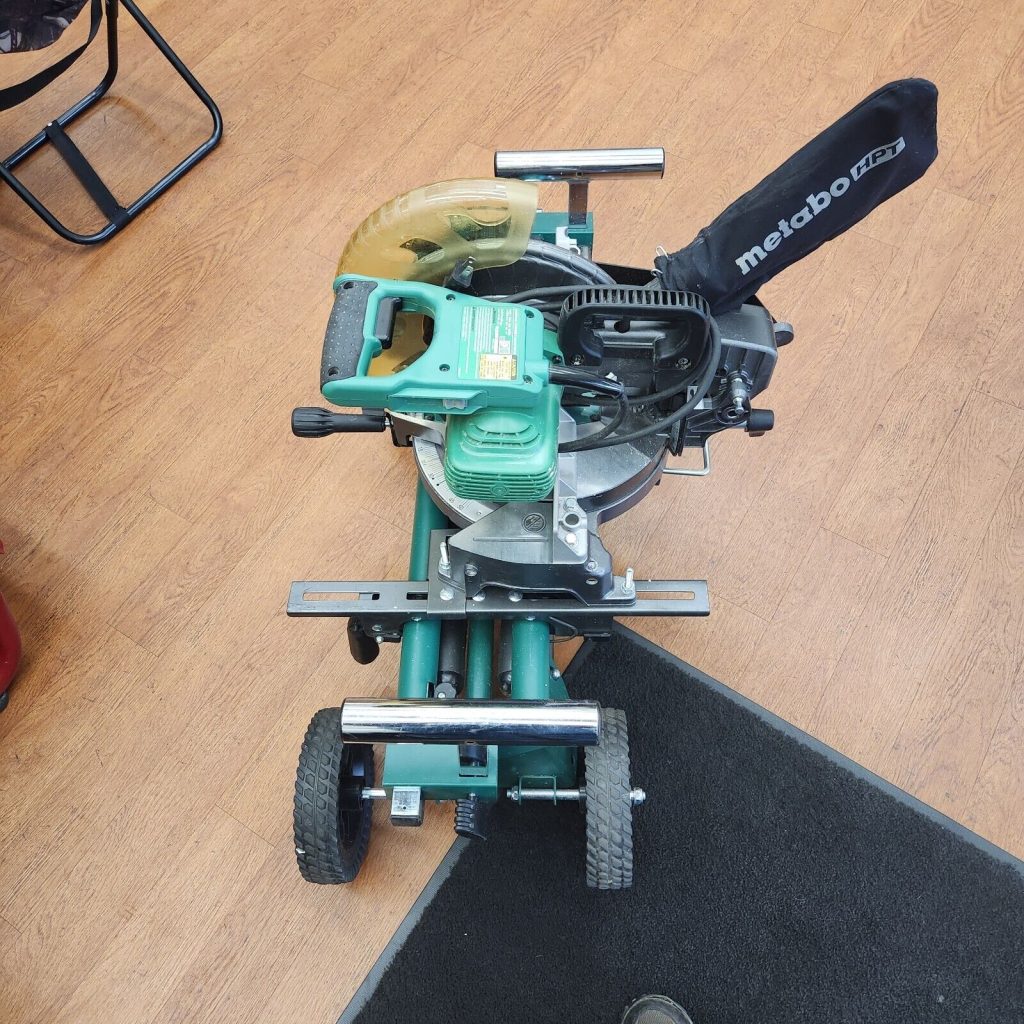 Additionally, I believe it provides you with more than enough cutting angles. Even though the bevel range may have been improved by adding a few degrees, you should be able to utilize this miter saw for practically all projects.
But I also appreciate that the miter saw includes a laser guide. I think having a laser gives you more confidence to do your cut since you know everything will be flawless.
Additionally, it's incredibly remarkable that this miter saw weighs under 27 lbs because it's not too hefty. The best 10-inch miter saw comes with a 4″ fence that is simple to set up and a comfortable grip that lessens vibration.
Pros
Its strong motor can chop through tougher forests.
The brushless motor requires minimal maintenance.
It's simple to modify and first set up.
To make things simpler, it features a laser guide.
It helps to lessen vibration.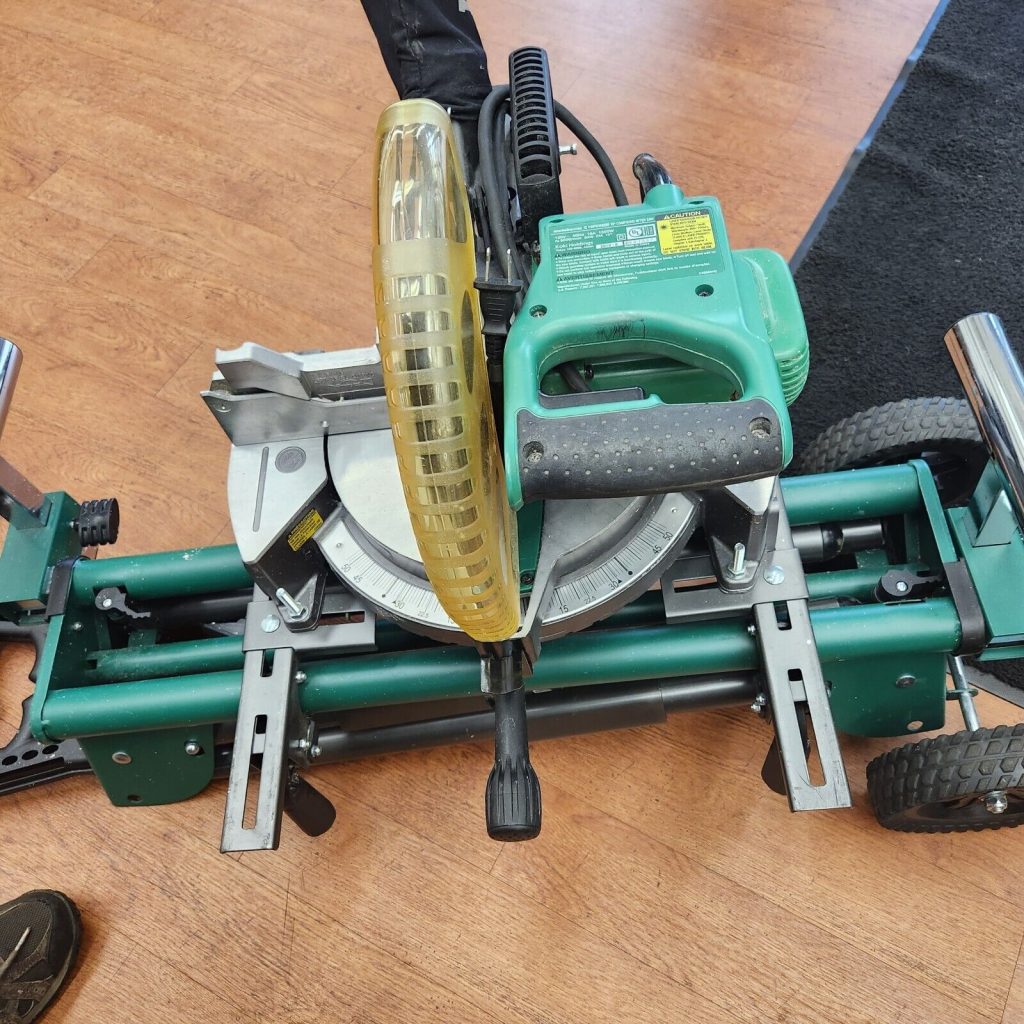 Cons
The angles provided may be a little bit better.
Best Budget 10-Inch Miter Saw: Metabo C10FCG 10-Inch
If you're on a tighter budget, the Metabo C10FCG (previously Hitachi C10FCG) could be the most excellent 10-inch miter saw for the money because it is lightweight and incredibly portable. This saw, which is sold at a fraction of the cost of many of its rivals, reduces weight and cost by replacing a significant number of metal parts with lighter and less expensive plastic. But how does that impact its overall usefulness and robustness?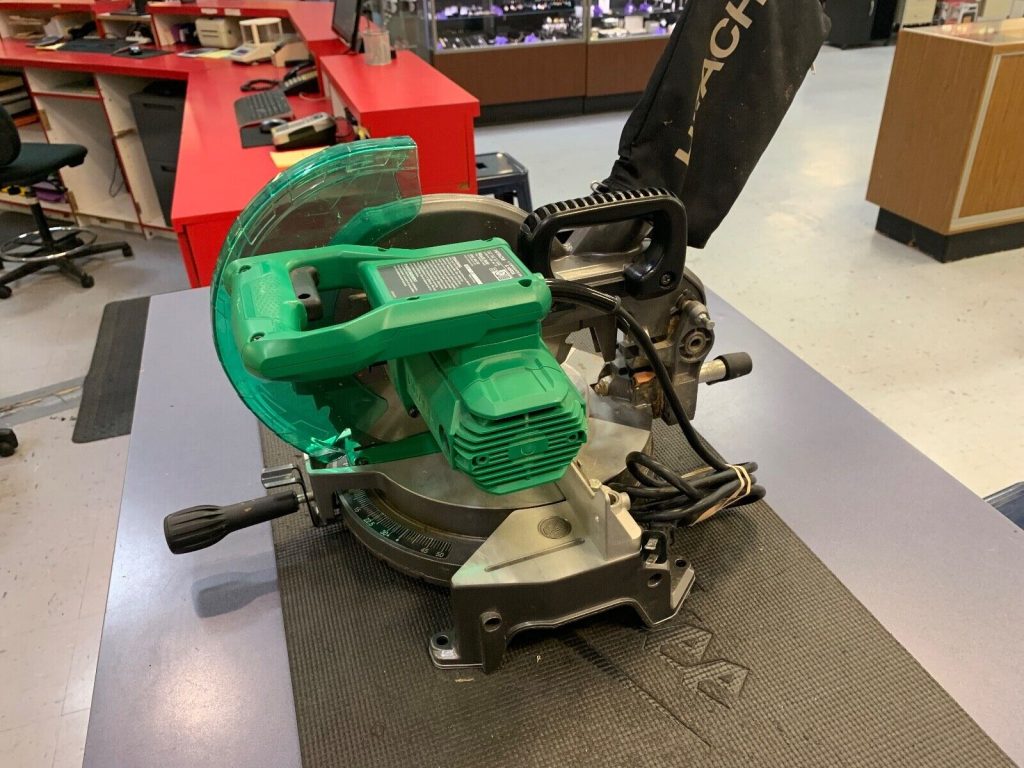 According to my observations, the C10FCG defies the adage that "you get what you pay for" by continuing to deliver good performance even at its noticeably cheaper price. Its 5000 RPM blade speed and 15-amp, 2.57-horsepower motor delivers cutting power similar to other premium miter saws. The Metabo C10FCG is a secure investment to make for all of your next DIY or home improvement projects, especially when you consider the manufacturer's 5-year guarantee.
Pros
Portable and lightweight
Great power for the money
Easily adjustable guides allow for precise, rapid cuts
The compact design is ideal for usage at home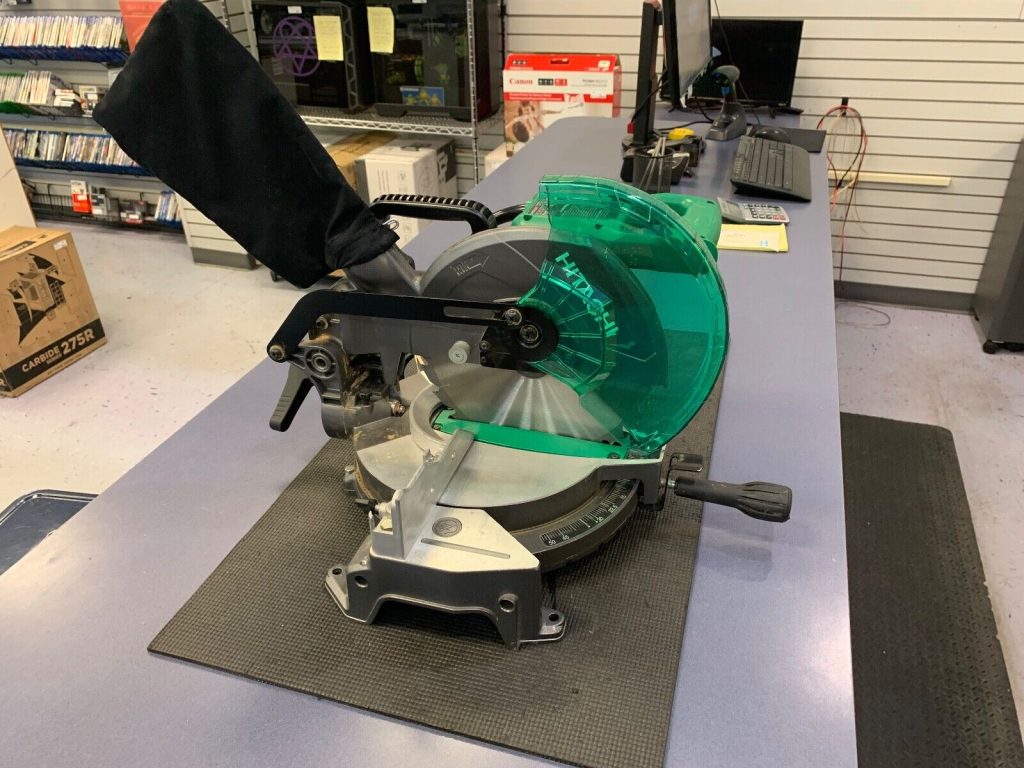 Cons
The instruction handbook is really hard to understand.
A fragile physique is insufficiently durable for professional job settings.
7 Best 12-inch Sliding Compound Miter Saws
Are you sick of having to turn wooden objects over in order to cut through? The greatest option could be to think about purchasing a 12-inch miter saw. The market has a vast range of options, and picking the incorrect model for your purposes might ruin your project and waste time and money.
I've selected seven distinct 12-inch miter saw manufacturers to examine for you. As I utilized them, I noted all the benefits and drawbacks I found.
DeWalt DWS780 12-Inch Miter Saw
DeWalt DWS780 12″ Miter Saw is best one of the best 12-inch miter I have ever used. This model and my top pick are incredibly similar, and DeWalt power tools have a long history of producing top-notch power tools. This model has a special belt drive and gearbox design, allowing you to cut vertically more effectively than many other brands.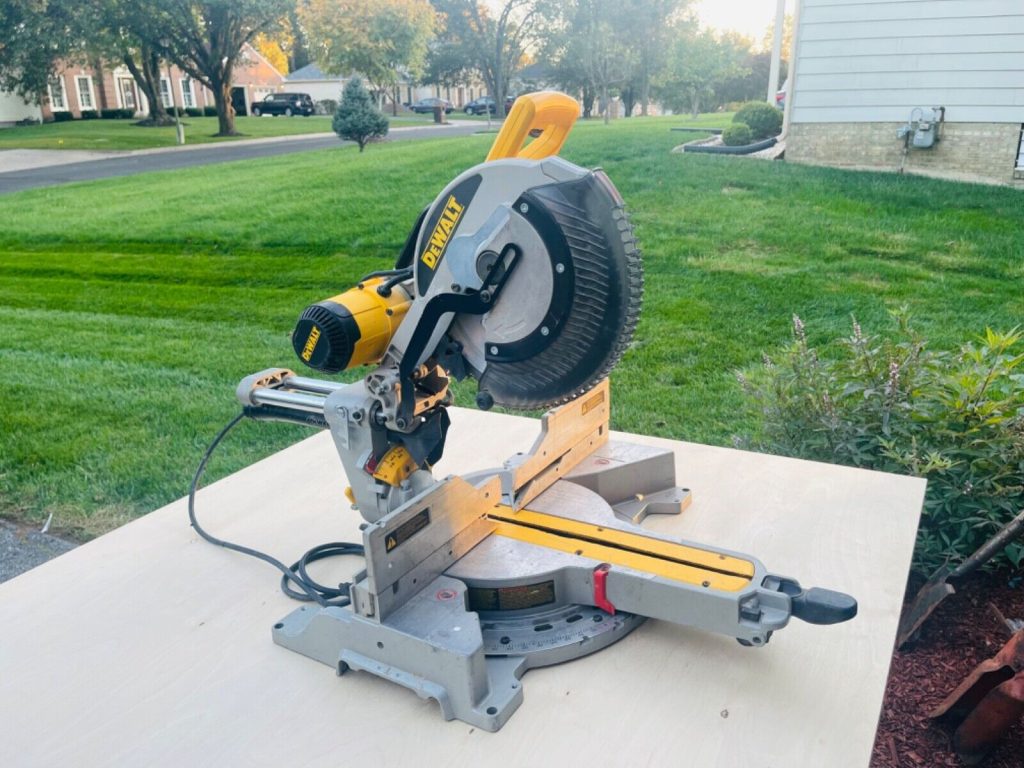 Thanks to the adjustment-free cut line indicator, you won't ever have to guess where your blade will be, and the 15-amp motor's 3800 RPM can cut through even the hardest hardwoods. It can cut a 212 at 45 degrees and a 216 at 90 degrees with accuracy.
Along with numerous other equipment, it also includes a blade and dust bag so you can get started right away.
The DWS780 isn't at the top of the list because it would frequently become clogged with dust while in operation. This miter saw is substantially slower than my top option since the clogs would need us to stop working and clean them out, taking important time.
The second small issue was a difficult assembly with several pieces that did not simply fit together.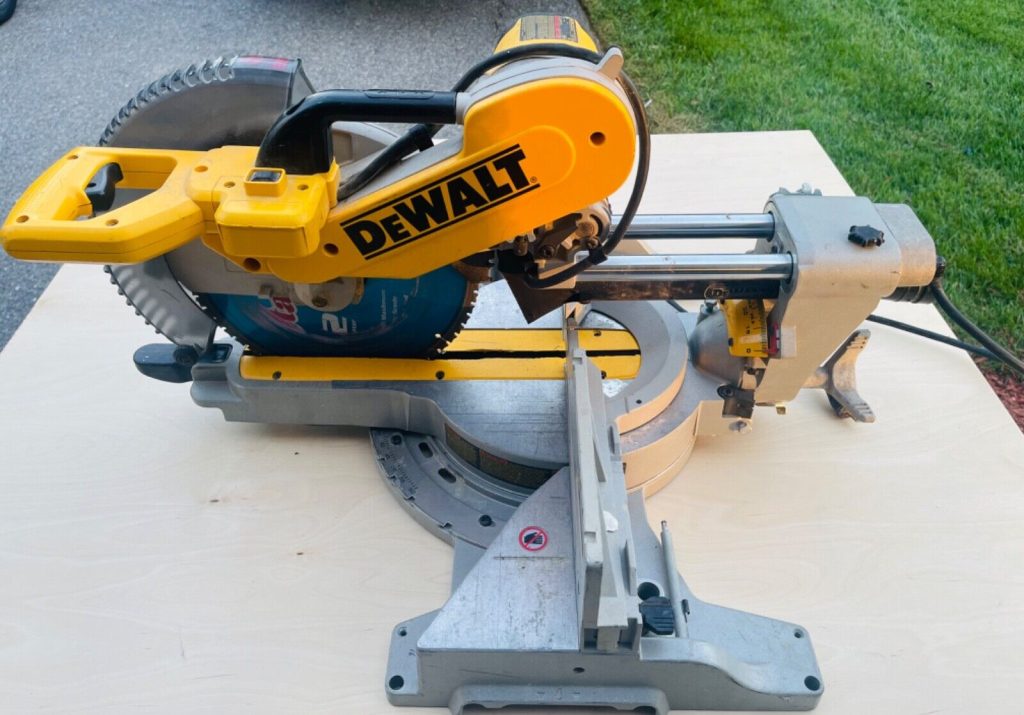 Pros
Blade speed of 5,300 RPM
When operating, the motor is kept cooler by dual copper windings.
Large maximum cutting capacity of 238 inches at 90 degrees
A positive stop at 0 and 45 degrees and a 53-degree bevel.
The inbuilt wrench makes changing the blades simple.
Comes with a blade guard
Cons
Clogged dust collectors
Tough to build
Best Budget 12-Inch Miter Saw: SKIL 3821-01 12-Inch Quick Mount Compound Miter Saw with Laser
As the name implies, the SKILSAW 3821-01 12″ Quick Mount Compound Miter Saw with Laser offers the user a helpful laser mark that makes it easier to see where your blade will cut. You can cut larger pieces of timber thanks to extension rails and a strong 15.5-amp motor that can spin at 4500 RPMs.
This saw has a quick-mount mechanism that enables a simple and rapid connection to a stand, and it is light enough to manage.
This saw had a serious flaw: I found it quite challenging to cut straight edges. Although you can achieve the angle, the blade will change one or two degrees when you tighten the arm.
Pros
A motor at 15,5 amps
4500 RPM
Rail extensions
Fastening system
Laser pointing
Dust bag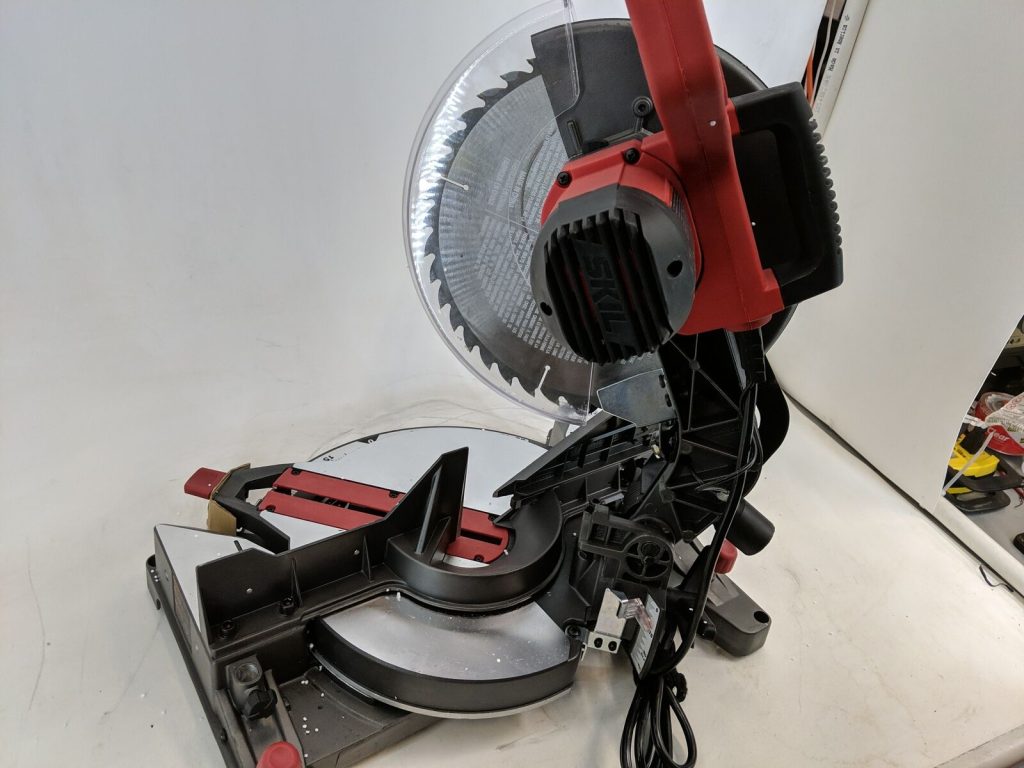 Cons
Metabo HPT C12fdhs 12-Inch Compound Miter Saw
Among brands, the Metabo HPT 12″ Compound Miter Saw has a broad base for added stability. The blade easily cuts through most types of wood thanks to the powerful 15-amp motor. You can create precise cuts thanks to MICRO beveling and laser marking technology. A special non-slip and pleasant elastomer composition is used in the handle. Additionally, it lengthens work times and lessens saw vibrations.
The Metabo HPT 12″ Compound Miter Saw's terrible packaging was the one thing I didn't like about it. The laser's inaccurate marking of the cut line was the other issue I encountered, and I was unable to fix it.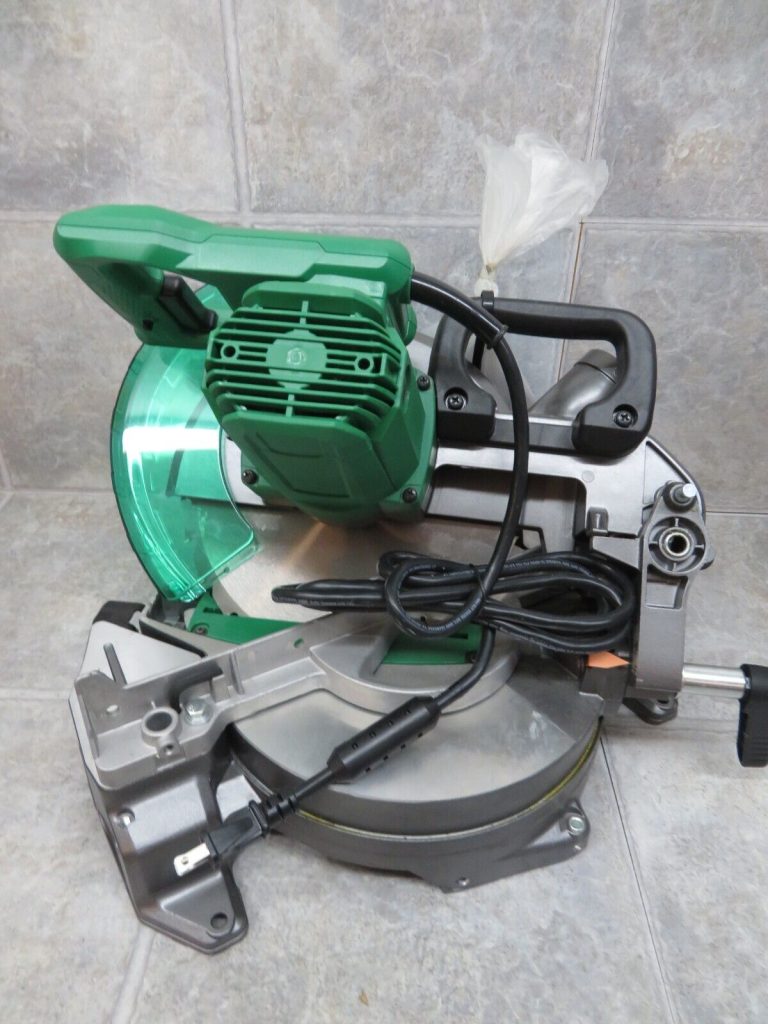 Pros
15 ac motor
Laser pointing
Microbeveling precision
Small vibration
Wide base
Cons
Subpar packing
Laser is not precise
Best Portable 12-Inch Miter Saw: Makita LS1221
In my comparison, the Makita LS1221 was the lightest saw. Ironically, it also included the fewest plastic components—make sense? All things considered, the Makita LS1221 is, without a doubt, my top pick for a portable 12-inch miter.
But don't be fooled into believing that this saw lacks functionality or power because of its lightweight. This saw uses a gear-reduced direct-drive motor; hence it just has one bevel by default.
Every component of the saw has an excellent machined finish or is painted. There were no concealed sharp edges or unfinished surfaces. This saw's overall construction quality is comparable to a Swiss watch.
The swing arm that triggers the blade guard is nearly entirely concealed in this saw, which gives it a neat appearance, unlike all the other saws in the review. I greatly value the readily removable twin table extensions. Also included is a material clamp.
The same provided wrench may be used to modify every part that is moveable or changeable by the user!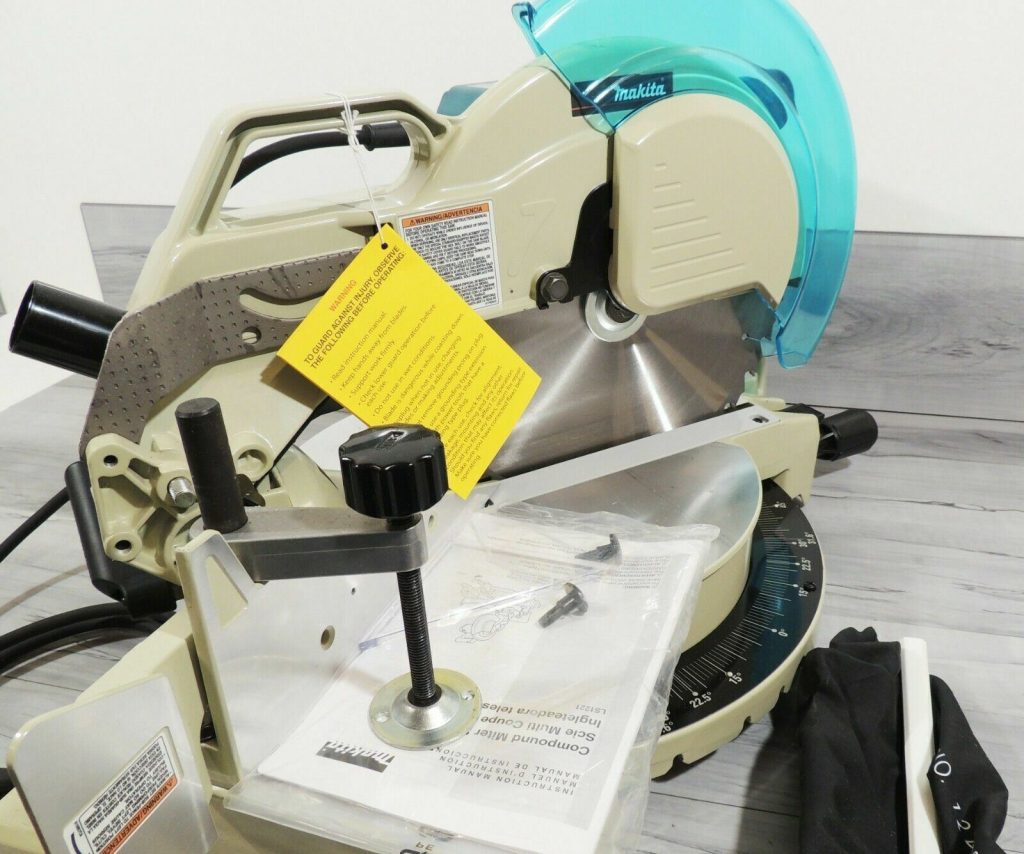 Pros
Almost no plastic
Lightweight
Most accessible trigger safety to operate
Table extensions
Material clamp
Blade guard
Cons
No crown bevel detent
Limited dust collecting port
Low material cut height against the fence
Best 12-Inch Miter Saw Overall: DeWalt 12-Inch Double Bevel Compound Miter Saw DWS716
This DeWalt model ought to fulfill all the essentials if you want to purchase a 12-inch miter saw. Because it is a double-bevel and compound miter saw, you have more chances to make more cuts than you ever imagined.
It has a 15 Amp motor that produces 3,800 RPM, which is more than enough for practically any job. It contains a cam lock mechanism that is simple to use and holds everything in place, as well as a stainless steel miter detent plate with 14 positive stops.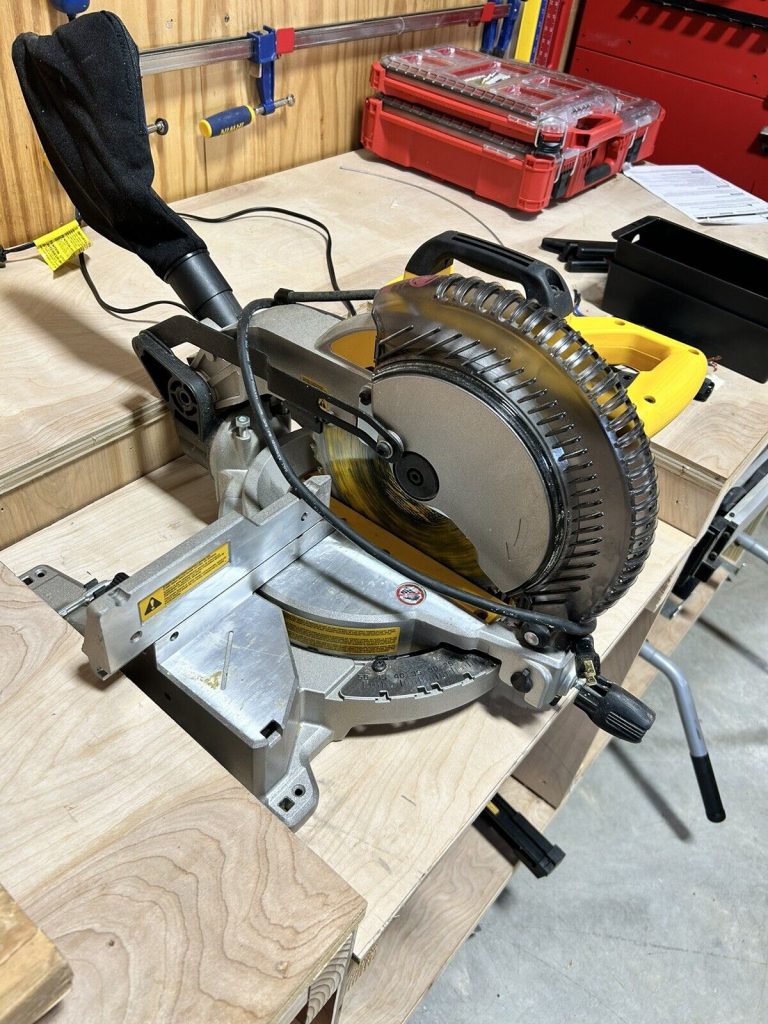 This program is really reliable and simple to set up, in my opinion. Additionally, I adore how tall the sliding gates are, supporting base molding up to 6 12″ and crown molding up to 6 58″.
That's not all, however. It does have a very effective dust-collecting mechanism, making it simple to observe what is going on because you are not buried in dust. In other models, I frequently find the dust collection to be weak, but not in this one.
What more could you want for in a miter saw than this one's overall speed, power, and ability to make clean cuts?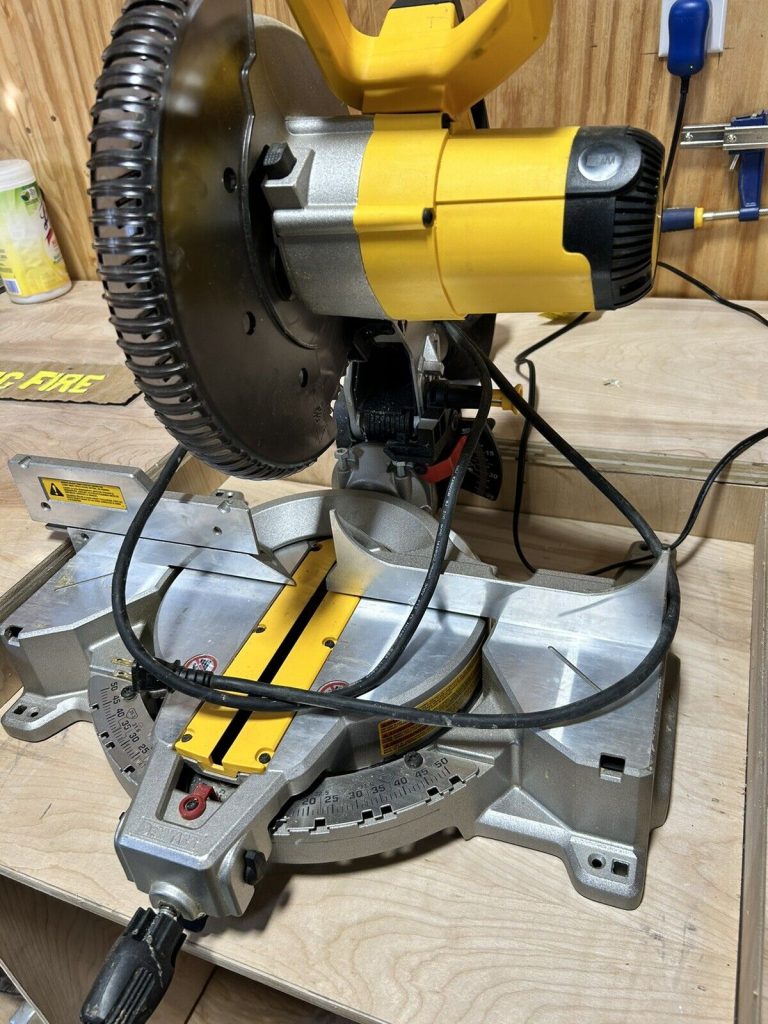 Pros
It features a powerful motor that can reach 3,800 RPM.
It is a powerful tool.
It provides a variety of angles thanks to the double bevel
Despite having so many possibilities, this model's angles are simple to set up.
One of the greatest dust-collecting systems
Cons
Because there are so many possibilities, this might not be appropriate for novices.
Best 12-Inch Miter Saw For Power Users: Bosch GCM18V-12GDCN
The Bosch GCM18V-12GDCN is a high-tech saw with an axial gliding mechanism and two bevels. Bi-turbo brushless technology for high-performance motors powers it. Additionally, Bosch provides an eco-mode that 20% increases the battery life of the CORE 18V PROFACTOR. This gliding miter saw is wireless for your convenience, so you can simply get around it.
It also features a sizable cutting capacity of 4.7-inch depth and 15.7-inch breadth, which is perfect for framing, finishing, and trimming. This allows for larger and smoother cross-cuts. It will offer you precise and clean cuts by guiding the blade between two lasers.
Pros
Wireless
ECO Mode, which prolongs battery life.
Portable
Abundant cutting power
Cons
The charger and battery are available separately.
Pricey
Battery-only operation
Conclusion
I'm confident that every model on my list is exceptional at what it does; consequently, your projects will operate much more smoothly.
Instead of searching for a generalized answer, you should concentrate on purchasing the proper miter saw for the job. As you can see from the 10-inch vs 12-inch miter saw comparison above, both blades are appropriate for various tasks. The capabilities of the two miter saws differ.
Even though they appear interchangeable, switching between them for certain tasks doesn't produce good outcomes. You can make deeper cuts using a 12-inch miter saw, which is appropriate for hardwood. A 10-inch miter saw, on the other hand, is appropriate for thin wood.
Everything is usage-dependent. So, if you're unsure whether to get a 10- or 12-inch miter saw, your primary concern should be the intended function. The 10-inch miter saw is ideal if you need a miter saw for little chores around your house or workplace.
But if you're a professional who works on bigger jobs frequently, a robust tool like the 12-inch miter saw will be the best option. You can operate more quickly and efficiently with a big miter saw.