In this article, we've provided a breakdown of the best roughing gouges, ranked from our least favorite to the best overall.
Despite the ranking, we truly believe that each of these roughing gouges is a commendable machine and, depending on your needs, well worth it.
Before we go any further, here's a rundown of our final ranks; feel free to skip ahead to the ones that pique your interest.
Best Overall: Schaaf Wood Carving Tools
Suited to both the expert woodturner and the freshest of beginners, Schaaf has definitely lived up to their reputation for producing tools of outstanding quality at affordable prices with this set, easily standing toe-to-toe with their high-end competition.
Fashioned from alloy chromium-vanadium steel, these tools are guaranteed to stave off rust and hold their edge. With a quick sharpening out of the box, these tools will be ready to tackle just about any task you throw at them.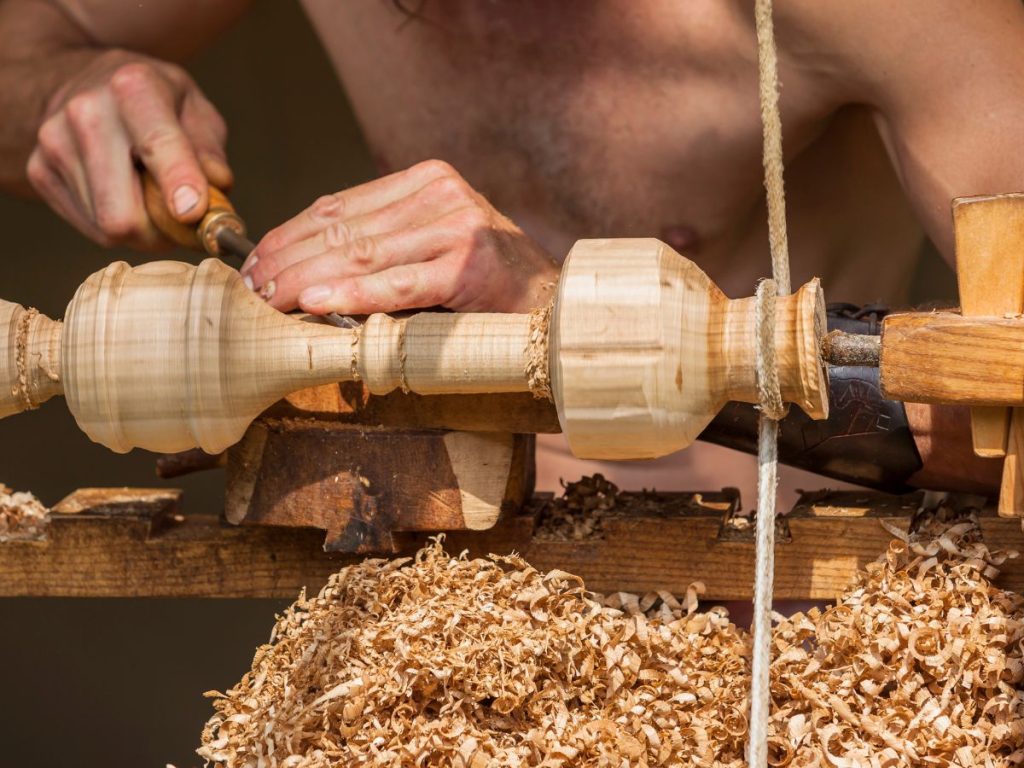 Verdict
High quality and affordable. Comfortable grip handles. Includes a well-made canvas tool holder. It is suited to experts and beginners.
Best Budget: Hurricane Woodturning Roughing Gouge
Fashioned from HSS and coming right out of the box razor-sharp, the Hurricane is remarkably affordable. With some quick fine-tuning, you'll be good to go without wasting too much time.
The ash handle is sturdy and long enough for an easy grip, and the tool as a whole is formidable against both large blanks and suited to more delicate pen blanks.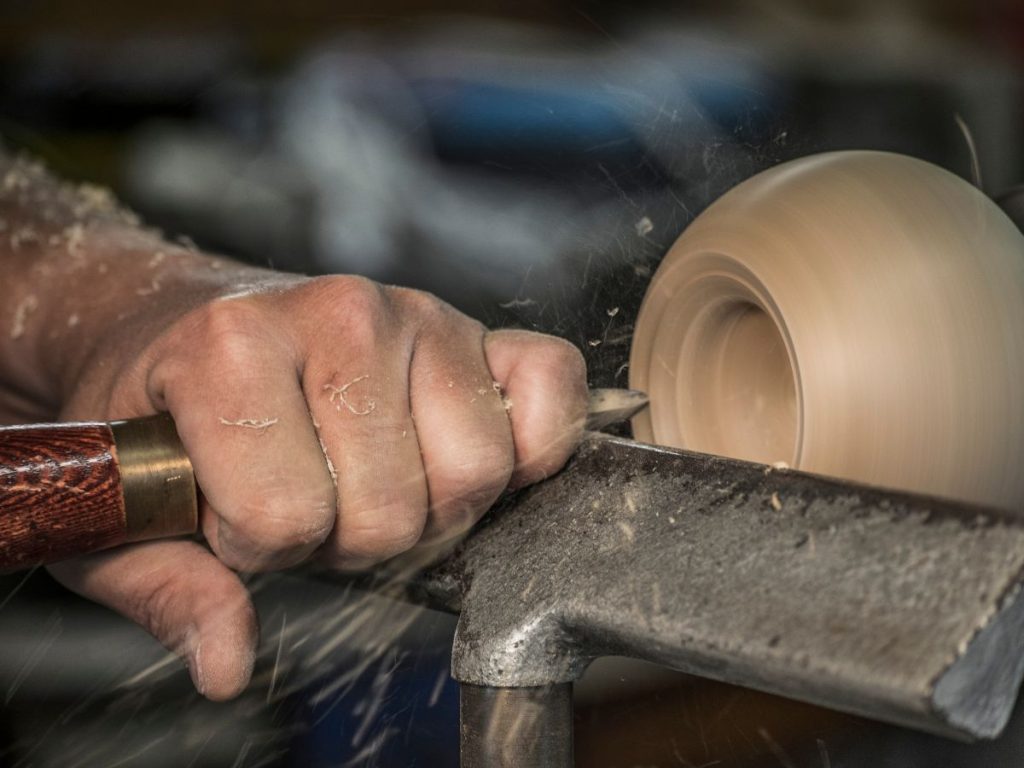 Verdict
Affordable and good quality for beginners. Comfortable to handle and not too difficult to sharpen. Good starter roughing gouge for experimenting with preferences.
Best for Beginners: PSI Woodworking Wood Lathe Set
Sale
PSI Woodworking LCHSS8 Wood Lathe 8pc HSS Chisel Set
Ideal chisel kit for turning pens pepper mills spindles bowls and lots more woodturning projects of all sizes
Each chisel measures 16-1/4" in length with a 6-1/4" M2 High Speed Steel blade and a 10" hardwood turned handles
Set includes (8) chisels 3/16" Parting Tool 5/8" Spear Scraper 1" Skew Chisel 5/8" Skew Chisel 5/8" Round Nose Scraper 1/2" Bowl Gouge 3/4" Spindle Gouge 7/8" Roughing Gouge
Includes wooden case for storage and carrying
Great for woodworkers woodturners and penturners of all skill levels
Perfect for beginners, this 8-piece set, which packs away neatly into its wooden case, is an affordable option that won't come with any undue surprises. Each tool is firmly set in its handles and will treat you as well as you treat them.
With reasonable upkeep, this is a good set of tools that will help you carve your way into woodturning, and are good to go right out of the box.
While you'll have quite a bit of sharpening to do with this set, you get the added experience of getting familiar with a flat stone.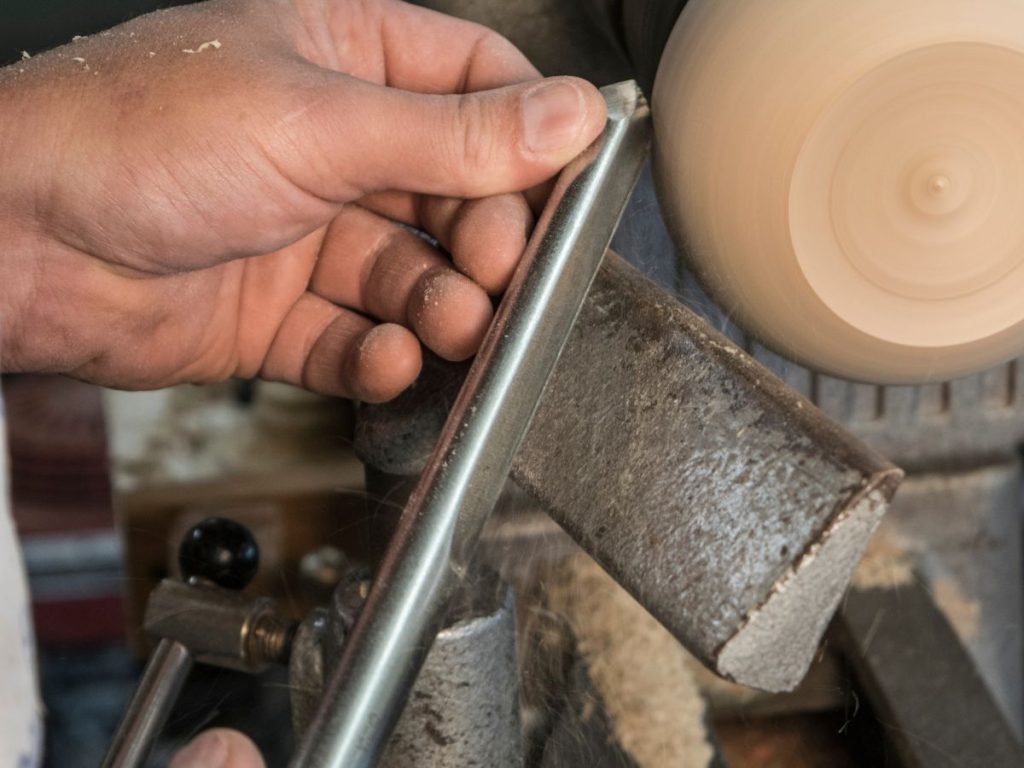 Verdict
Affordable and versatile enough to give users an idea of their woodturning preferences. Great for beginners. Requires quite a bit of sharpening as it loses its edge relatively quickly.
Best for Hobbyists: Bastex Professional Quality Wood Turning Chisel Set
Affordable and forgiving, this set will allow any hobbyist a chance at entering into the world of woodturning.
Although the edges do require some upkeep to remain sharp, they hold up fairly well for such an accessible set.
This is also the perfect set for those looking to experiment with new styles without damaging their heavier-duty roughing gouges.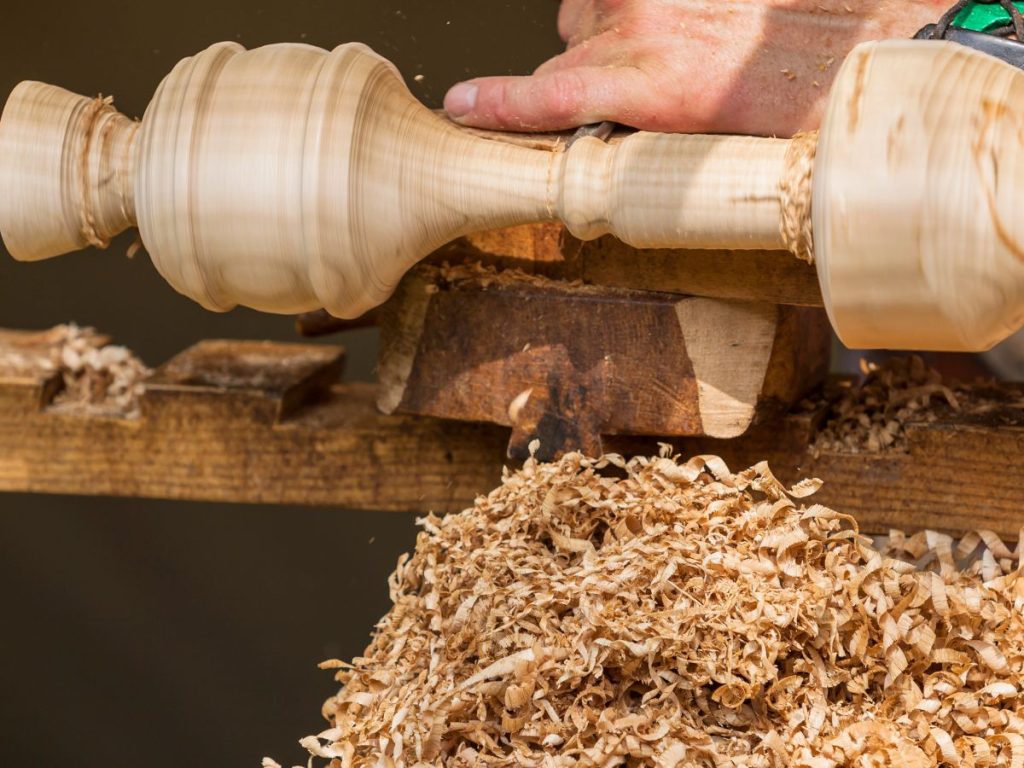 Verdict
Affordable and of reasonable quality. Requires intermittent sharpening to maintain the edge. Best for beginners and those looking to spare more expensive gouges some abuse.
Best for Power Users: Robert Sorby Turning Tool Set
Robert Sorby's reputation truly does precede them with this 8-piece tool set made from an M2 tungsten-molybdenum HSS that is both well-balanced and wear-resistant.
The steel makes sharpening a breeze while also holding onto its edge for dear life, meaning you can spend more time working and less time making round trips to and from the flat stone.
The set includes a ¾" roughing gouge that will appeal to just about any skill level, and treat beginners and experts alike to a masterful turning experience. With long, embellished handles, this set is as striking as it is useful.
The handles are long, ornate and provide excellent control while turning.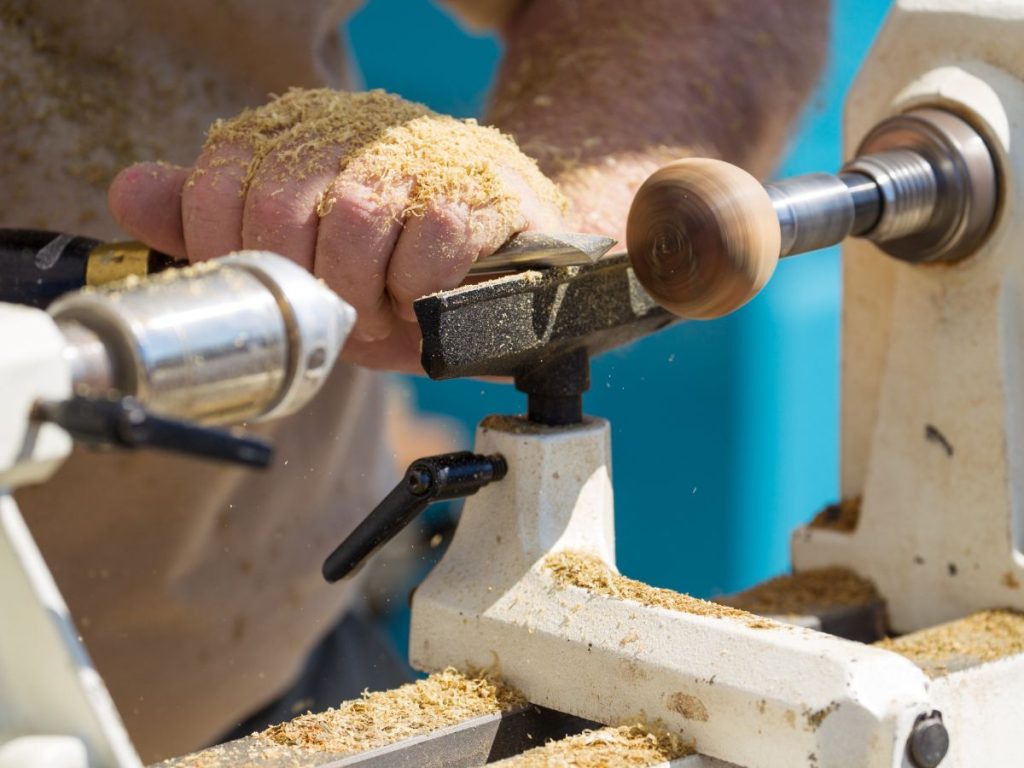 Key Features
Great steel quality and provides a versatile set of tools that perform best after an extra edge to truly appreciate the seamless cut. Long handles provide excellent control while turning.
IMOTECHOM 1-Inch Roughing Gouge
Another example of quality over quantity, this Imotechom model gives you just one 6.7" blade fashioned from HSS, with an 11.8" handle for a comfortable grip.
Like the brand's other offerings, this gouge comes pre-sharpened, right out of the box.
In addition to being a beautiful tool, this roughing gouge has a heavy-duty feel and leaves no doubt that it will be able to hold its own against the most stubborn of blanks.
We wouldn't be surprised to see you reaching for this model more often than not.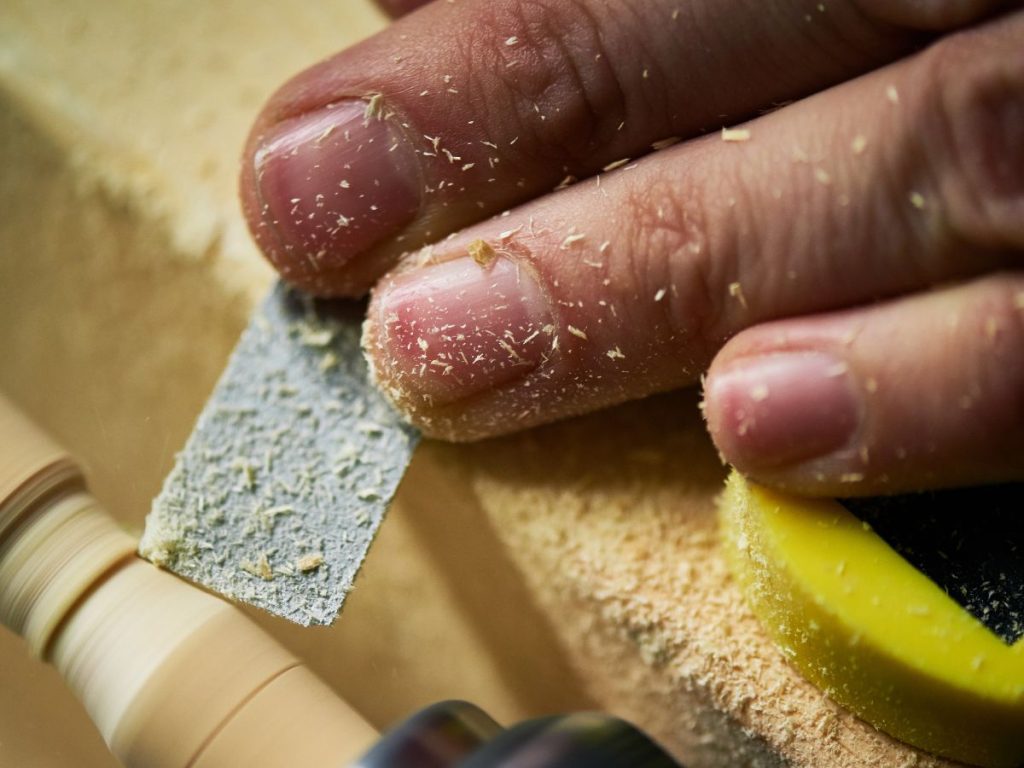 Verdict
Made from high-quality wood and steel and versatile enough for most projects. Well balanced and good for a range of experience levels.
IMOTECHOM 2 Pieces HSS Roughing Gouge
IMOTECHOM 2-Pieces HSS Roughing Gouge Lathe Chisel Set Wood Turning Tools with Wooden Box, 1-Inches and 2-Inches
SHARPENED CHISEL HEADS - Accurately pre-sharpened by machine for all turning tools.
BLADE - 6.7-Inches and 5.1-Inches High Speed Steel blades outlast high carbon steel and will give you years of use.
HANDLE - 11.8-Inches and 13.3-Inches teak wood handle is harder and comfortable for using.
WOODEN BOX - Enhanced all parts includes double layer panels, enlarged structure, thickened hinge, packaging in mail box with EPE protection, to keep the turning tools and case in good condition.
CONTENTS - 1-Inches Roughing Gouge; 2-Inches Roughing Gouge
In the world of woodturning, we tend to place quality over quantity. The beautiful two-piece Imotechom set, pre-sharpened and fashioned from durable high-speed steel (HSS), would be perfect for your next spindle project.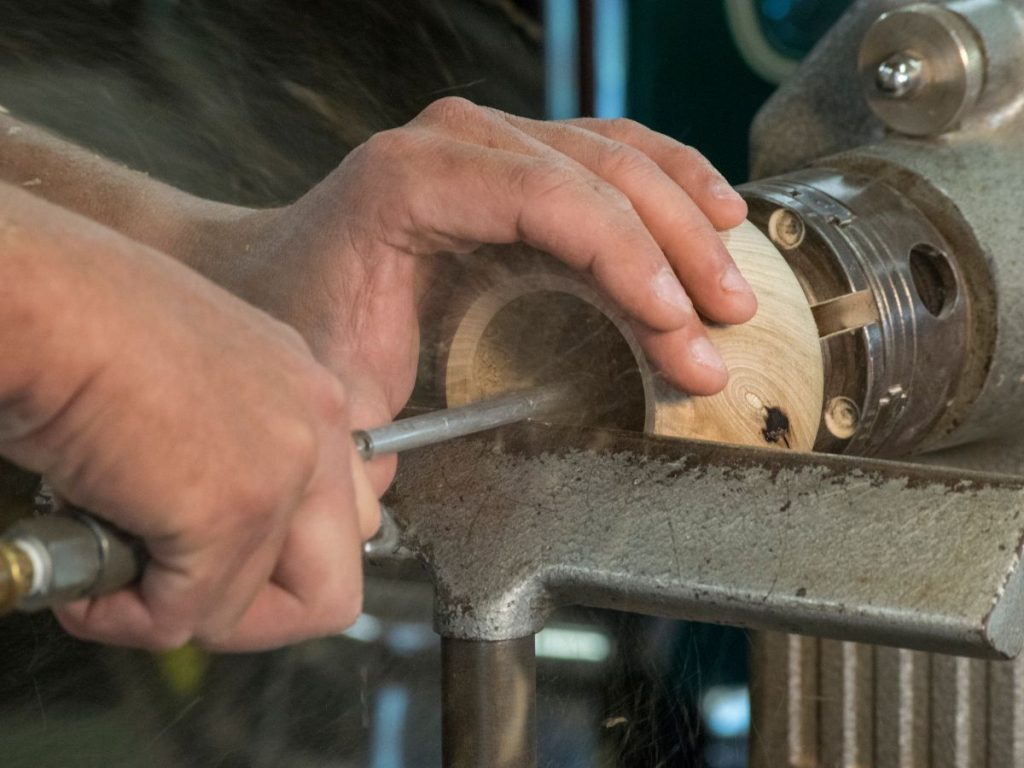 With two blades sitting at 5.1" and 6.7" respectively, this set is versatile enough to get you through just about any project on your roster for years to come. It's also worth noting that they're far from unsightly, and will definitely be an aesthetically pleasing addition to your workbench.
Verdict
Made from high-quality wood and steel and versatile enough for most projects.
Things To Keep In Mind When Selecting The Best Roughing Gouge For You
Spindle roughing gouges, more commonly known simply as roughing gouges, are the first tool you'd reach for on a spindle project. They come in loads of different shapes and sizes, with different models suited to different projects and types of wood.
It's also easy to confuse a roughing gouge with a spindle gouge, especially when you're buying a kit that includes both.
A spindle gouge is suited to more detailed work and finer shaping, and a roughing gouge has a more pronounced flute and thicker steel on its side.
But when it comes to roughing gouges, there's still lots of variety. So how do you know which is best for you?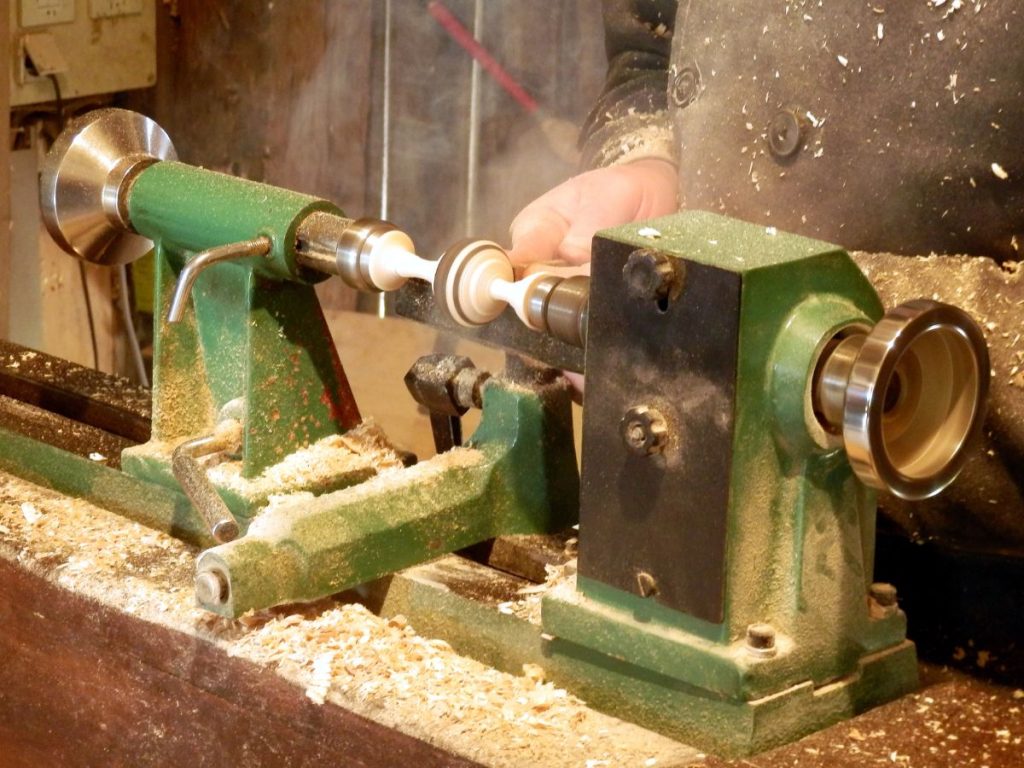 Firstly, it's most important to keep your experience level in mind before hitting the shops. Beginners might want to hold back on the heftier splurges until you've got your footing and a better idea of your preferences and work style. See also: Guide to Best Woodturning Tools.
You still get a very nice roughing gouge after you figure out how to use them.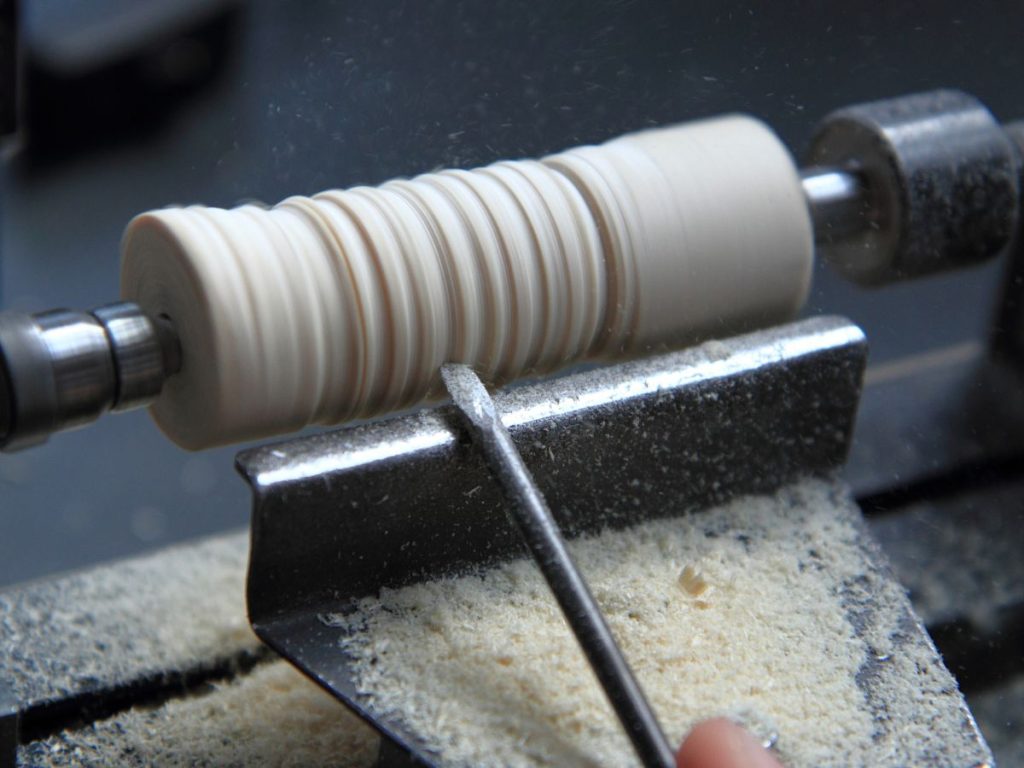 Beyond that, the following three factors are good to take into consideration:
Brand
With woodturning, as with just about any other hobby, the quality of our instruments matters. This is why when you're on the market for a tool that's going to last you a lifetime, you'll want to pay some mind to its branding.
Be sure to pick a brand with not only a good reputation, but that uses quality materials that aren't going to wither away within a couple of uses.
In our case, we do review some Chinese- and off-brands, but only because their bang-for-buck is often unmatched.
Steel
You're probably going to be picking between High-Speed Steel (HSS) and Powdered Steel (PS), which are the two top dogs of the roughing gouge market.
Both are quality materials that will hold an edge, but PS tends to fetch a higher price tag than HSS, which is generally more affordable and just as good for beginners.
See also: Carbide VS. Traditional HSS Woodturning Tools.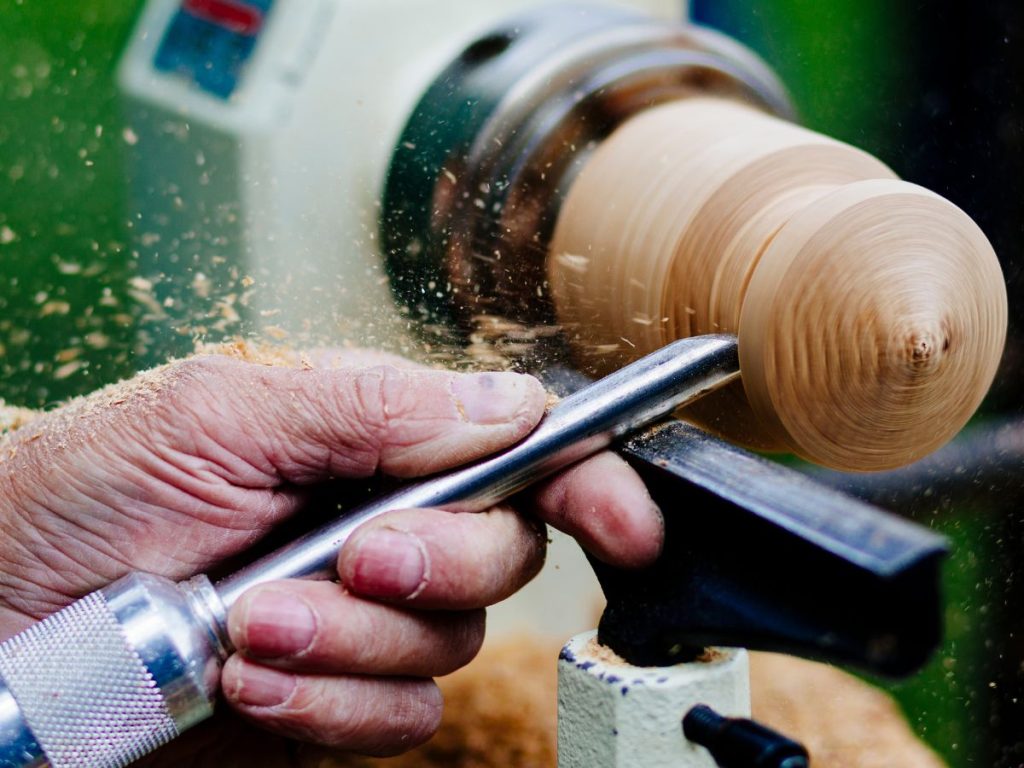 Price
Lastly, you're going to want to keep your budget in mind before making any purchases. It's easy to blow the bank for a new hobby when every purchase is exciting and promising.
Remember that the price range for tools varies greatly, so you'll probably be able to find something that suits you regardless of your budget.
Tips for Using Your Roughing Gouge
If you're eager to get to work with your roughing gouge, we'd prefer it if you went in prepared. Here's some stuff to keep in mind.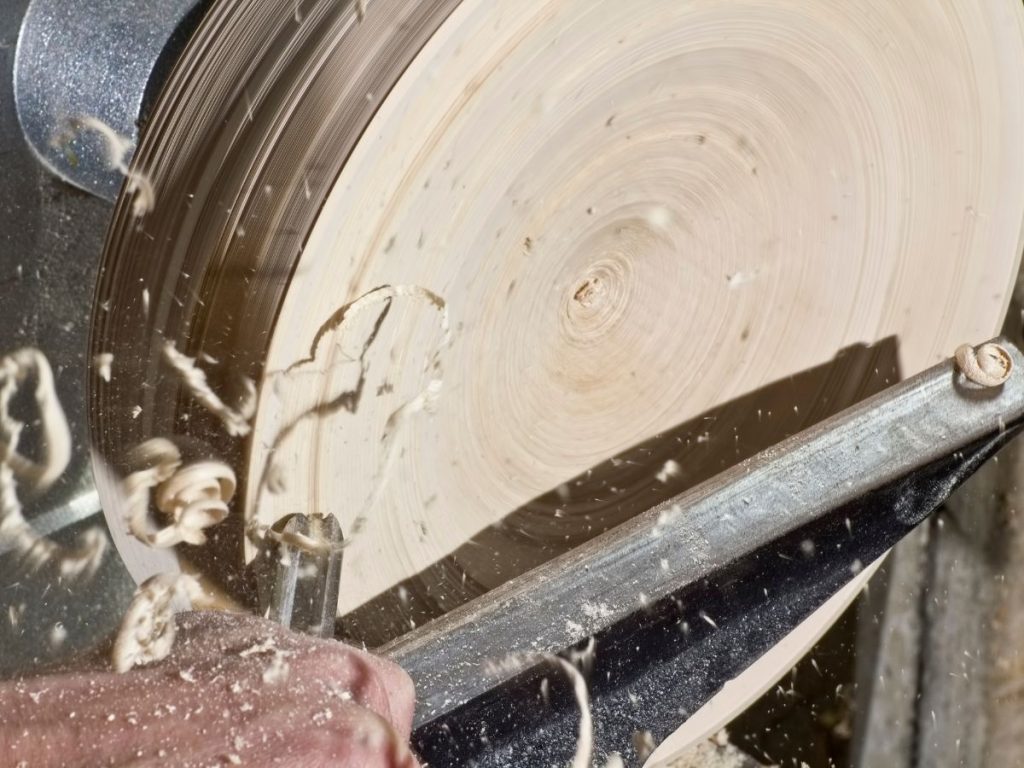 Safety First
If you've got even just a lick of experience in woodturning, you know that things can get hairy, and quick. Whether it's just an errant splinter, or something worthy of the ER, it's best to err on the side of caution when working with tools such as these.
Even though roughing gouges are referred to as such colloquially, their official names are spindle roughing gouges. This is because they're only meant to be used to rough out the initial blank of a spindle project.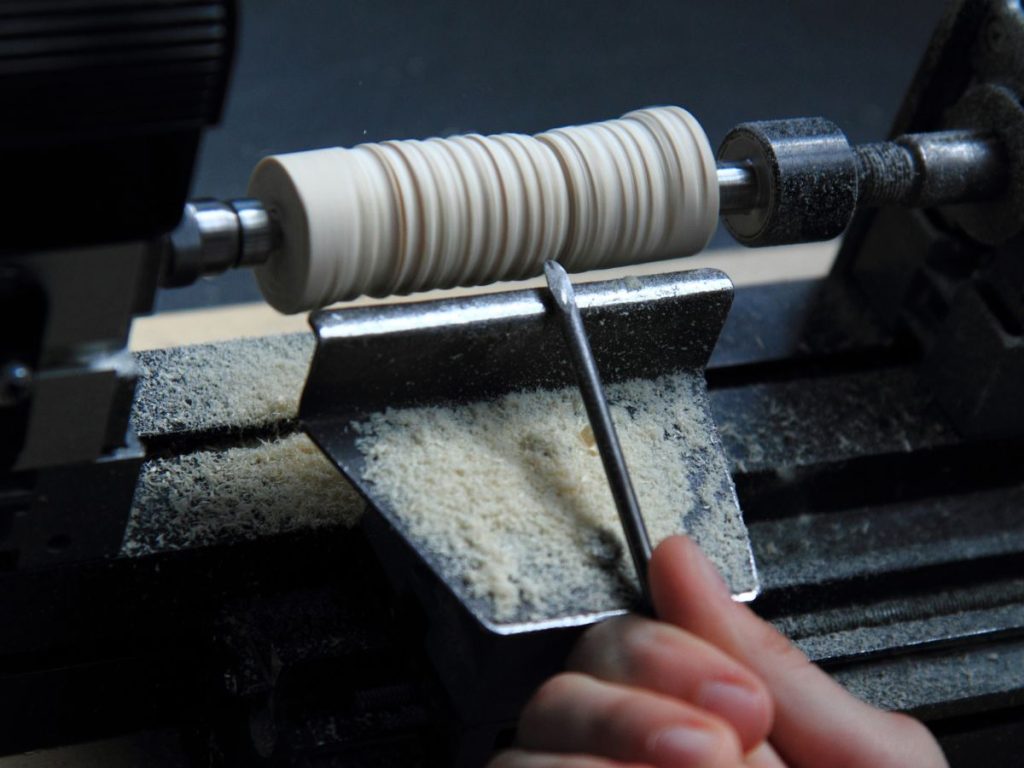 We've already covered the difference between these and bowl gouges, but you should know never to use a roughing gouge on a bowl blank or on cross-grain wood, where its thinner tang can snap. Let them stick to what they do best.
Furthermore, we just know that everyone and their mother had reminded you of this, but it's worth another mention; always be equipped with the proper safety equipment when starting a project.
As fun as woodturning is, there's some heavy-duty stuff involved, and we'd very much like for all our readers to stay as intact as they were before starting out.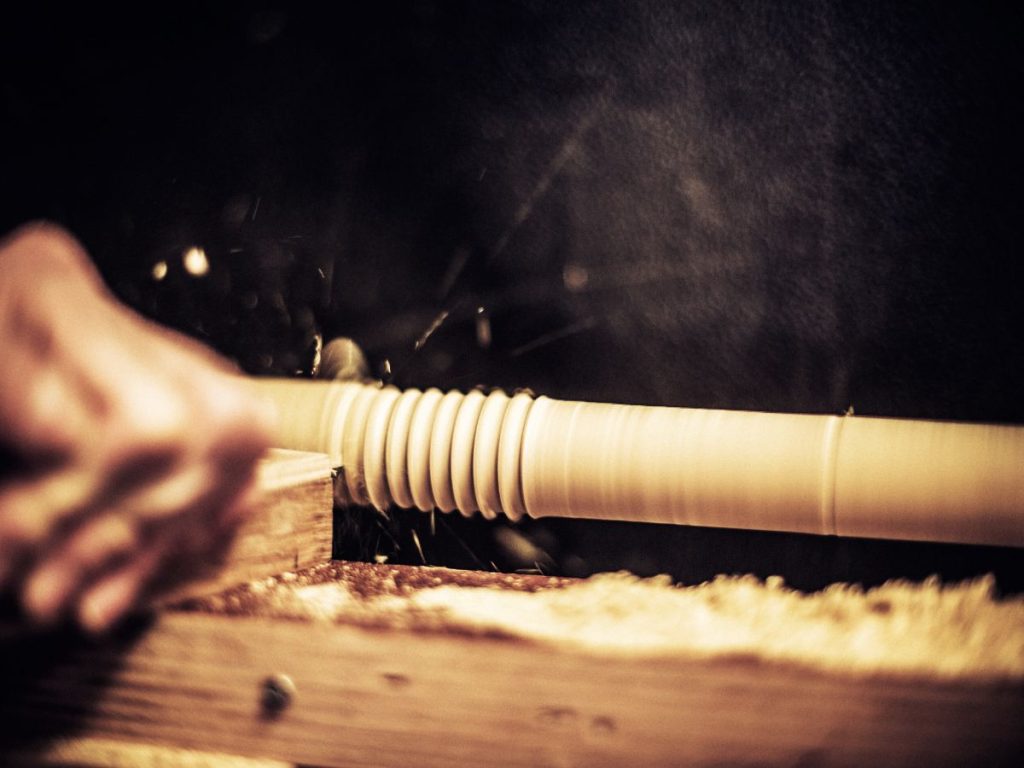 The ABCs of Woodturning
Another thing for you to know are the ABCs. In this case:
Anchor,
Bevel,
Cut.
It's probably the easiest way to understand how to use a roughing gouge.
Anchor
Anchor your roughing gouge on the tool rest, and ensure that this is done firmly; you don't want your tool going flying across the workshop.
Be sure to adjust the tool rest so it's lined up to about the middle of the wood block too.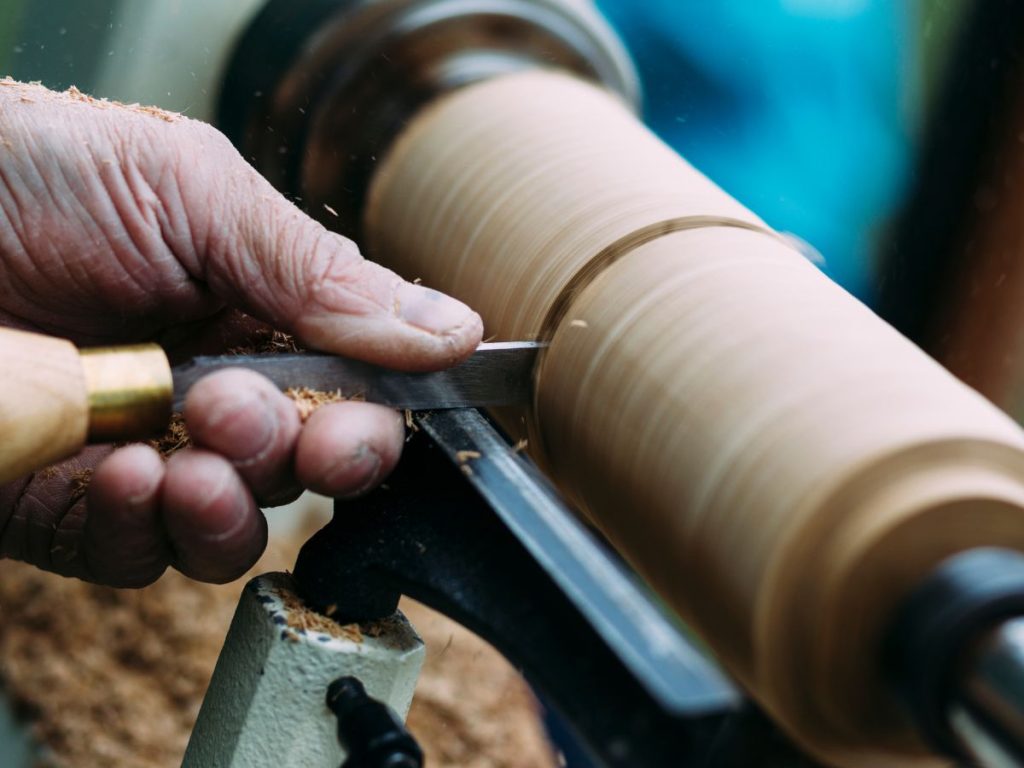 Bevel
Move the bevel against the wood block, which you'll do by angling your roughing gouge while it rests against the tool rest. It's a little tricky at first, but make sure that you maintain support on your gouge throughout the cutting process.
Cut
Simple enough, keep the bevel on the wood block and move it in back-and-forth motions to cut through the wood and smooth it out.
FAQs
To cover all our bases coming out of this article, here are some frequently asked questions that you may also have on your mind: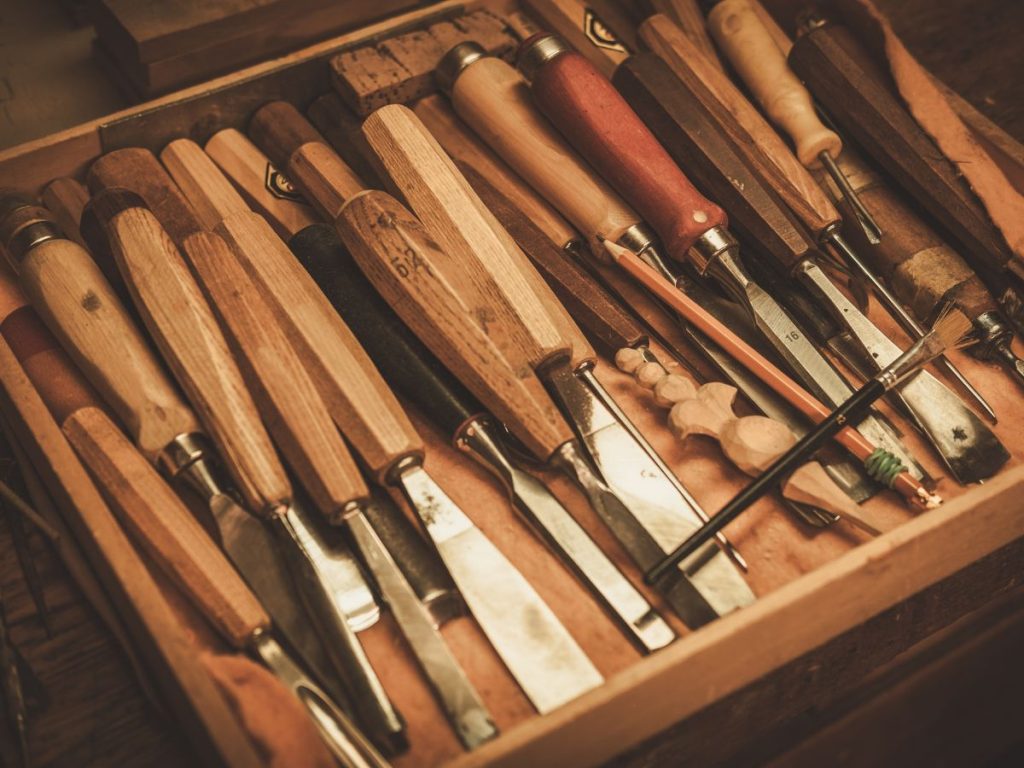 What Is A Roughing Gouge For?
A roughing gouge is a tool used to shape a square piece of wood, typically called a blank, into a cylinder, essentially "roughing out" the square edges. You'd use a roughing gouge to give a spindle project its initial shape.
Bowl Gouge vs. Roughing Gouge
Bowl gouges are used to make the initial cuts into a bowl project while roughing gouges rough out the edges of spindle projects. The flute of a roughing gouge is connected to the handle through a thin tang, making it unsuitable for bowl projects where a bowl gouge, whose flute goes directly into the handle, would be more suited.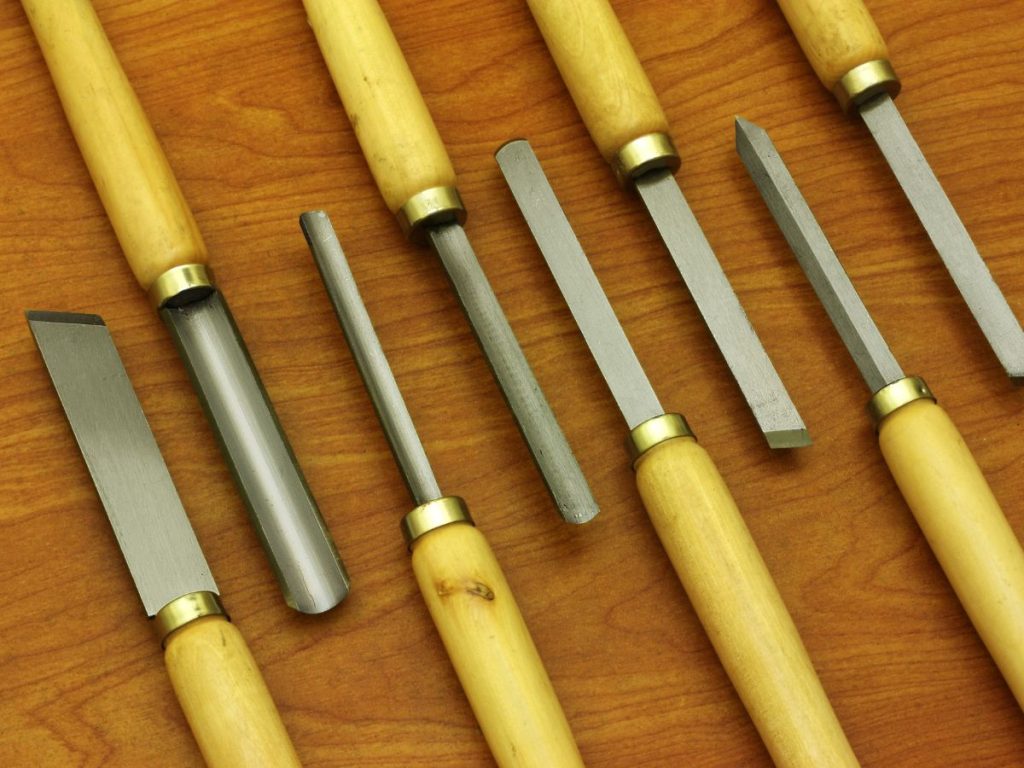 What Is The Best Size Roughing Gouge?
The most popular sizes are 1" and ¾" roughing gouges, which should be able to manage just about any project imaginable. If it were a choice between the two, especially for a beginner, the ¾" is more than versatile enough on its own.
What Is The Best Angle For A Roughing Gouge To Be?
An angle between 40 to 55 degrees is ideal for the bevel of a roughing gouge, which is in line with most manufacturers' factory defaults. However, the exact angle is subject to change depending on the project type, wood type, and of course, personal preference.