Woodturning is incredibly fun. But it's also potentially maiming.
In a previous post, we went over what can go wrong and how to avoid that — things like getting trained and being learning about dust collection.
In this post, we will look at a list of items that you would need for your protection. Thank us later.
#1: Safety Goggles
Dewalt DPG82-11C Concealer Clear Anti-Fog Dual Mold Safety Goggle, Clear Lens, 1 Pair
DEWALT tough Coat hard coated lens provides tough protection against scratches
DEWALT Xtra clear anti-fog lens coating provides tough protection against fogging
Soft, dual injected rubber conforms to the face to provide a high level protection from dust and debris
Adjustable, elastic cloth head strap provides a comfortable fit
Ventilation channels allow breathability and added protection against fogging
Like the ears, your eyes need to be protected from the debris too. Dust and wood chips can fly all around you while you work, and having to tend to your eyes during work is very dangerous. Use good quality safety goggles to keep your eyes safe.
#2: Face Shield
Honeywell Uvex Bionic Face Shield with Clear Polycarbonate Visor (S8500)
Full Shield Design Provides Built-In Chin Protection And Extended Top-Of-Head Coverage; Protects Against Falling Or Flying Objects, Impacts, Chemical Splashes And Airborne Debris; Black Matte Color
Clear Polycarbonate Visor With Excellent Optics Provide Increased Visibility; Comfortable Rear Cell Foam And Lightweight, Balanced, Ergonomic Design For Extended Use
Easy-To-Set, Ratcheting Headgear Assures Comfortable, Secure Fit; Highly Adjustable Headgear Tilts Visor Nearer Or Farther From Face For Preference And Application; 2, 784 Total Possible Positions
Easily Replaceable Visor Available In The Following Options: Clear Uncoated, Clear Anti-Fog/Anti-Scratch, Shade 3.0 And Shade 5.0; Breathable, Removable, Washable Headband
Face shields are a MUST in woodturning. They are perfect to protect not just your eyes but your entire face. Good-quality face shields provide all-around protection to your eyes, nose, and mouth. They can also be easily cleaned and replaced.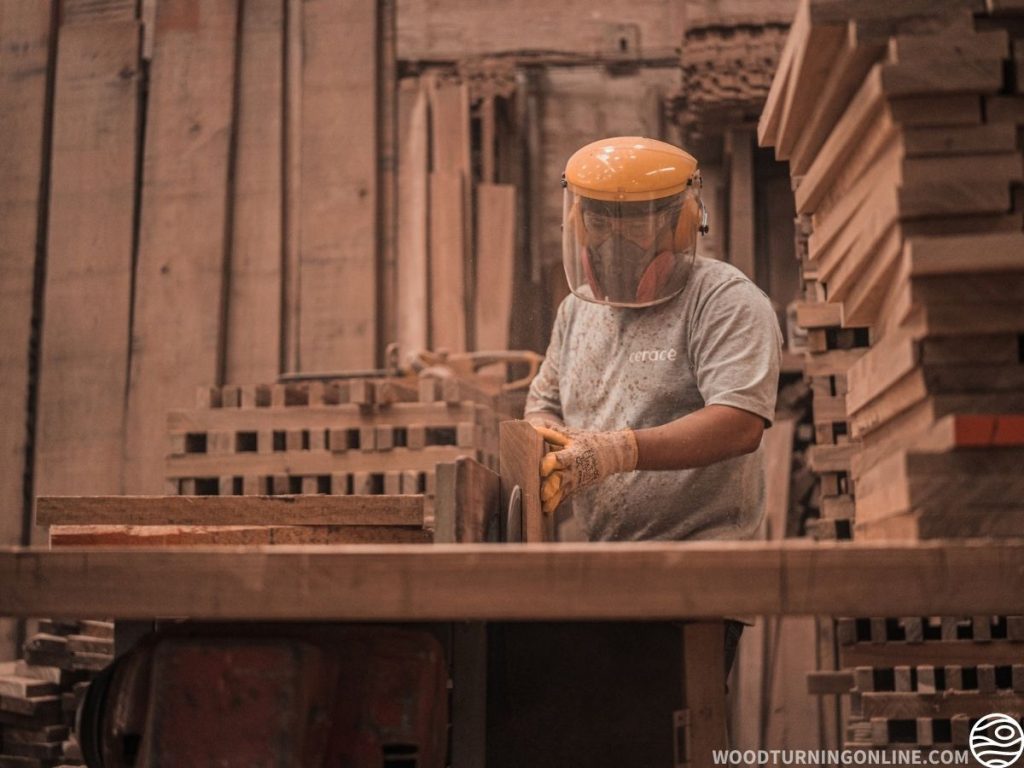 #3: Respirator
Sale
Respirator Mask Reusable Half Face Gas Cover/ Shield with Safety Glasses, Filters for Painting, Welding, Polishing, Woodworking and Other Work Protection (Medium)
Sealed & Comfortable: The sealing edge is made from food-grade elastic silicone gum, which fits the face well, provides you with a comfortable wearing feeling. This paint mask strap belt can be...
Professional & Double Protection: The safety mask face cover for dust adopts double filtration system that can effectively obstruct 97% of organic vapor / gas, smoke, pollen, dust and other particles...
Fully Adjustable Comfort Strap: Face cover and safety glasses strap belt are suitable for most head sizes, designed for tight and comfortable wearing. Comprehensive anti-fog splashing to prevent any...
Widely Application: This reusable mask makes the job done without frequent change. Work for science, outdoor work, soldering, railway, fabrication, sawfly, workshop, eye protection DIY, lab, chainsaw...
Package Includes:1x Half Face Cover, 1x safety goggles, 2 x Filter boxes, 8 x Filters Cotton, 2 x Plastic Covers. We are committed to ensuring that you are 100% satisfied. If you have any questions,...
Woodturning creates fine dust; you want to live to be a little old turner. Simple as that.
Don't scrimp here. This is an area where you will want to invest in decent equipment. Adequate dust protection is a hotly debated topic but all sources agree that paper dust masks are not sufficient protection from fine wood dust. The best approach is a multi-level attack that collects dust at the source, filters the air in your shop, and provides you with personal protection. The commercial market abounds with air scrubbers, filters, half-mask respirators, full-face respirators, dust collectors, etc. Do some research on the topic and decide what is best for you and your turning environment.
#4: Ear Plugs/Ear Muffs
Flents Foam Ear Plugs, 50 Pair for Sleeping, Snoring, Loud Noise, Traveling, Concerts, Construction, & Studying, Contour to Ear, NRR 33, Clear, Made in the USA
HEARING PROTECTION: For Sleeping, Loud Noise, Concerts, Construction, Heavy Machinery, Music, and Other loud environments. Also great for creating silence
CONVENIENT: Jar holds 50 Pairs, Easy to Take Anywhere
COMFORTABLE FIT: Smooth, Comfortable, Extra soft and extra light foam that tapers to your ear canal for a custom fit
33 DECIBEL NRR (Noise Reduction Rate)
Made without Natural Latex, Made in the USA
A lot of woodworking equipment can get very noisy and can damage the ears. While operating such machinery, use earplugs or earmuffs to keep your ears safe. These also help to prevent dust and debris from getting into your ear.
#5: Comfortable, Well-Gripped Shoes
Wearing a pair of closed and comfortable shoes is a must while handling any spinning machinery. This can prevent any accidental slips and falls, which account for a lot of casualties.
#6: Safety Gloves for the Guide Hand
Sale
NoCry Cut Resistant Work Gloves for Women and Men, with Reinforced Fingers; Comfortable, 100% Food Grade Kitchen Cooking Gloves; Ambidextrous Safety Cutting Gloves; Level 5 Protection; Grey
BRAND NEW 3-FINGER REINFORCED DESIGN FOR EXTRA PROTECTION AND COMFORT. We reinforced the three fingers most vulnerable to cuts with stainless steel thread. It makes that part of the gloves extra tough...
EN388 LEVEL 5 CUT RESISTANCE RATING. Enjoy the highest level of protection on the market. Our tight-knit, lightweight protective gloves are more than 4 times tougher than leather. Slip them on to...
PERFECT FOR MEN AND WOMEN AND AVAILABLE IN PLENTY OF SIZES. Forget about one size fits all work and safety gloves. Our cut resistant gloves come in 4 different sizes so that the fit is just right....
FOOD SAFE SO YOU CAN USE THEM IN THE KITCHEN AND BEYOND. Protect your hands in the kitchen and slip these cut resistant gloves on before slicing meat, chopping vegetables, cooking, using a cheese...
MACHINE WASHABLE AND LONG LASTING. Your cut resistant gloves should make life easier. That's why we made cleaning your gloves a breeze. Done? Just throw them in the washing machine, on a cool cycle,...
While your working hand needs to be free from any sort of cover, you can choose to cover your other hand with safety gloves that have a good grip. This keeps the hands safe from flying wood chips and dust.
#7: Turning Smock
ROCKLER Wood Working Denim Apron –Woodworking Apron Protects from Flying Chips, Shavings - Comfortable Knee-Length Shop Aprons for Men – Workshop Safety Heavy Duty Apron - Woodworking Gifts for Men
Denim Apron For Men & Women: Stay safe while turning with our woodturner's shop apron. It's a womens & mens workshop apron that you can use in your shop or work site. Our denim apron for women is...
Protects from Dust & Shavings: The heavy-duty, comfortable design of our tool apron protects you from flying chips and shavings and keeps dust from getting into your shirt.
Gives Extra Comfort: The shoulder straps of this workshop apron criss cross for extra comfort and a safe, tight fit. One size fits all. Our denim shop aprons are exceptionally well made and also...
Durable Construction: If you've been looking for a good quality woodshop apron in denim then our small shop apron is for you. This woodworking apron is the perfect shop accessory and is made from...
Widely Used: Our shop aprons for men for woodworking are suitable for woodworkers, woodturner's, DIY'ers, mechanics and more. Even present this as a fathers day gift apron.
A turning smock, while not essential, can help keep your clothes clean from dust.