In this project, George Awburn describes how to get started making the handle for the spoon. Then he shows a drawing of a wooden chuck designed to hold the spoon so that you can hollow out the bowl of the spoon on the lathe. The handle does revolve around like a propeller so keeping your hands behind the tool rest is critical.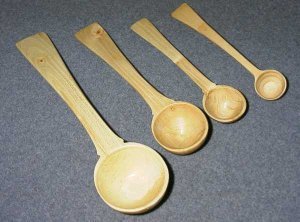 The Method
Turn a cylinder 30 mm in diameter 150 mm long between centers.
Mark off a length equal to the bowl diameter.
Mark a point halfway along with measurement, then mark the total length required. See the drawing.
Shape bowl and handle as suggested. When completed, saw the resultant piece in half length-wise or alternatively start off with two pieces of wood joined with a "paper joint".
The next step is to prepare a wooden chuck to enable the spoon to be held whilst the bowl is hollowed out. From a suitably sized long grained piece of wood turn a cylinder of about 40 mm diameter and hollow out the end to suit the outside of the spoon's bowl.
Continue hollowing at a lesser diameter for another 30 or 40 mm.
Make 4 saw cuts to form the fingers of the cup chuck and fit a worm drive clip as shown to enable the chuck to be tightened. A recess needs to be cut in the face of the chuck to accommodate the handle which will be standing upright during the hollowing process.
After fitting the spoon to the chuck careful and light cutting should be employed to form the inner bowl of the spoon. A wall thickness of 2mm is desirable.
The handle may be shaped by using a disc or belt sander.