At some point, homeowners will decide to remodel or upgrade their homes. If you are going to remodel or revamp your space, one of the best tools I can recommend for your project is the reciprocating saw.
The reciprocating saw is a handheld saw that is strong enough to be used for demolition or remodeling your home, as it can easily cut through metal, PVC, wood, or even nails. This DIY investment can range from $45 to $700.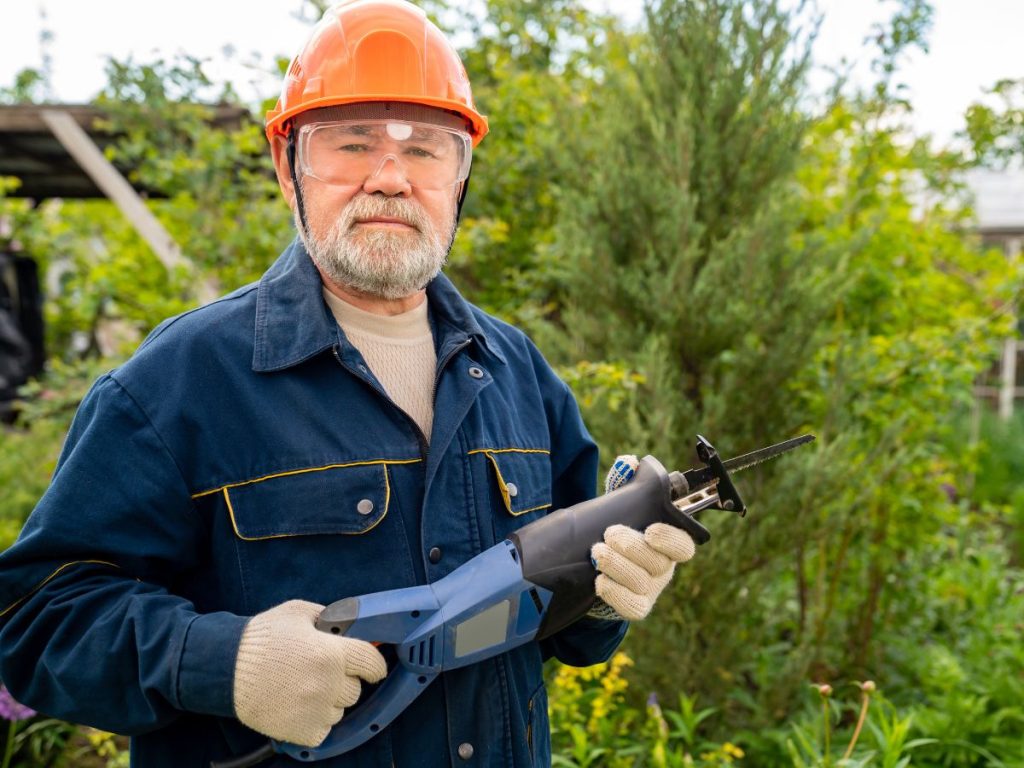 Best Cordless: DEWALT 20V MAX XR
Sale
DEWALT 20V MAX* XR Reciprocating Saw, Compact, Tool Only (DCS367B)
DEWALT 20V reciprocating saw has up to 2.5x more runtime
Compact 14.5-inch length fits in between studs and in other tight spots
Only 5 lbs. in weight (tool only)
Keyless 4-Position Blade Clamp for quick and easy blade changes and cutting versatility
1-1/8-inch stroke length
The Dewalt 20V Max XR Reciprocating saw has a 2.5 more runtime than the competitors. It is 14.5 inches in length and fits easier into small spaces. The stroke length of this saw is 1-1/8 inches, with four keyless positions blade clamp for quick. This cordless tool is a compact reciprocating saw designed to fit into small spaces.
Product Details
Power Source – Battery
Blade martial – High-Speed Steel
Variable speed – 2,900 SPM
Weight – 5 lbs
Battery Power – 20v maximum speed
Warranty: 3-year limited warranty
Pros
The compact saw design fits in between studs
Powerful 20v Lithium-ion battery
Lightweight
Fast and efficient
Cordless reciprocating saw
Built-in Led light
VersatileCON
It vibrates a lot
Issues with blade clamp not locking
My opinion: The Dewalt 20V Max RX Reciprocating saw has a long battery life before it needs recharging. It is very comfortable and easy to use for an extended period. I strongly recommend this to professional handypersons who know precisely how to manage such machines because it vibrates. Excellent for demolition projects.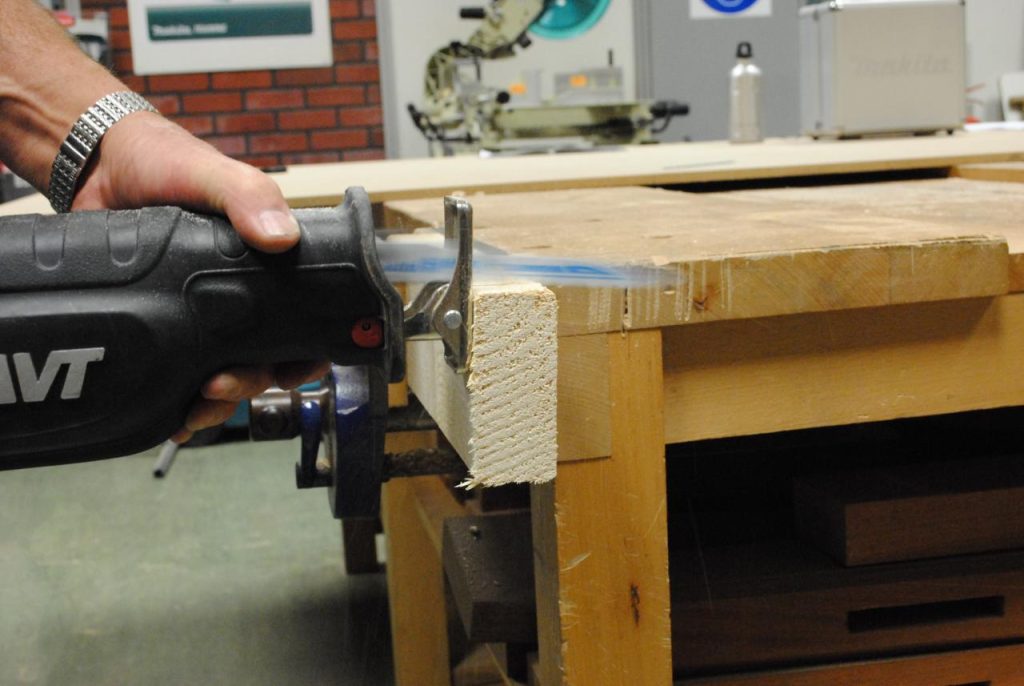 Best Ultra-Low Budget: BLACK+DECKER 20V MAX
The Black & Decker 20V Max Cordless reciprocating saw – is a cordless battery-powered saw that allows tool-free blade change. It has a variable speed trigger of up to 3,000 strokes per minute (spm). It is priced below $100 as low as $45, which is excellent value for your money.
Product Details
Saw Blade material: High-speed steel
Power source: battery and charger
Special feature: Brake (safety feature)
Weight: 4.5 lbs
Battery power: 20v maximum speed
Warranty: 2-year limited warranty
Led light
Pros
High-speed steel blade
Cordless reciprocating saw with tool-free blade change
Pivoting shoe which enhances stability
Electric brake – a built-in stopping mechanism
Versatile and lightweight
Cons
Low battery life
Faulty blade lock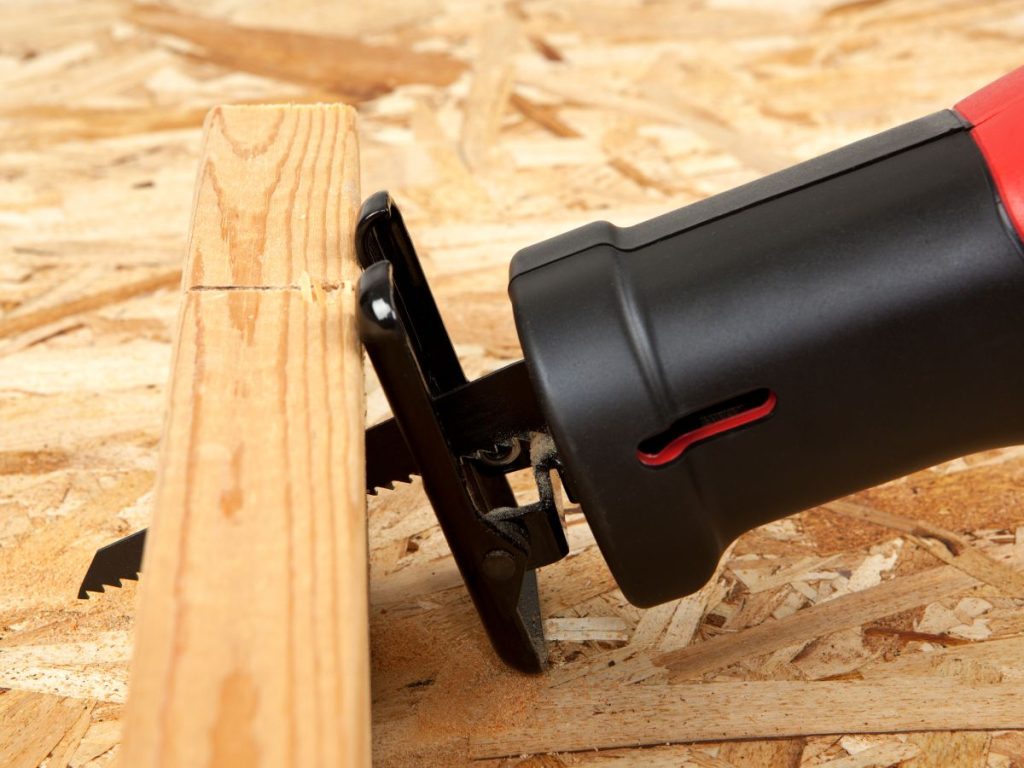 My Opinion: This saw is excellent value for under $100. It is ideal for short projects as the battery life is low. One plus feature I love is the safety feature which controls speed and shuts off on its own, which is excellent for beginners.
Best For Newbies: Milwaukee 2719-20 M18 FUEL Hackzall
Sale
Milwaukee 2719-20 M18 FUEL Hackzall (Bare Tool), Red, Black,
POWERSTATE Brushless Motor: Increased cutting speed and power throught the toughtest applications
REDLINK Plus Intelligence: The most advanced system of cordless power tool electronics; provides optimized performance and overload protection using total sysem communication between tool, battery and...
REDLITHIUM battery technology: Superior pack construction, electronics and performance deliver more work per charge and more work over pack life than any battery on the market
1-Handed design provides superior control and versatitily over standard reciprocating saws
7/8 in. stroke length removes more material with each stroke resulting in the faster cuts
The Milwaukee 2719-20 M18 Fuel Hackzall – has excellent cutting speed and power. It has a 7/8 stroke length, which can remove more material and ensure a faster cut. This Milwaukee also has a power state brushless motor which gives it speed.
Product Details
Saw Blade material: High-speed steel
Power source: battery
Special feature: Brushless motor (increases speed)
Weight: 4.3 lbs
Battery power: 18v
Warranty: None
Led Light
Pros
Easy to use
High-speed motor
Optimized performance and has overload protection
One-handed design for better control
3x longer tool life
Cordless reciprocating saw
Pivoting shoe – for cleaner cuts
Cons
Weak blade, according to project size
Battery overheats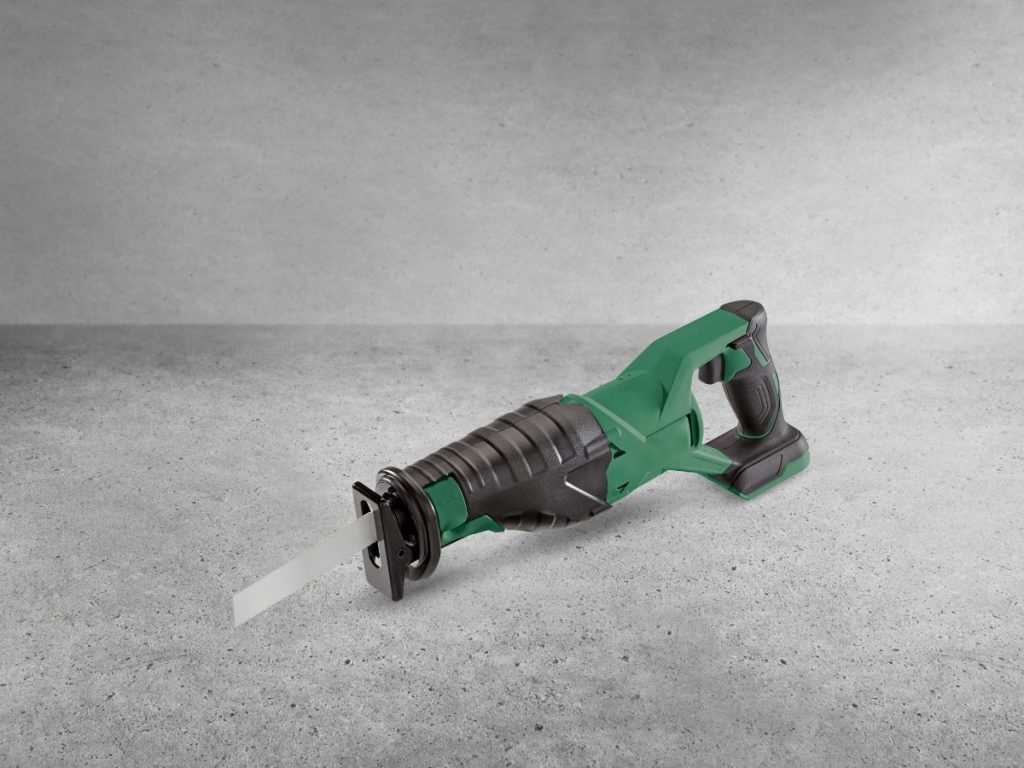 My Opinion: One of the main reasons I choose this as my top for beginners is low vibration; this is very important to maintain control and avoid injury. This cordless model is also effortless, compact, and lightweight—great price and quality for small jobs.
Best For Pros: WORX WX550L 20V
Sale
WORX WX550L 20V Power Share Axis Cordless Reciprocating & Jig Saw
[2 SAWS IN 1] Pivoting, push-button head turns your jigsaw into a reciprocating saw and back again in just seconds
[ORBITAL CUTTING] The slight circular motion is more efficient for most materials than the traditional back and forth stroke. Get the job done quicker, with less strain on your hands
[DO IT ALL WITH THE SAME BATTERY] Worx Power Share is compatible with all Worx 20v and 40v tools, outdoor power and lifestyle products
[COMPACT AND LIGHTWEIGHT] At only 4.2 lbs. you can maneuver easily, make intricate cuts, and work longer with less fatigue
[DUST BLOWER] The integrated blower keeps dust and debris away from the surface of your cut, giving you better visibility of the cut and a more pleasant working environment
The 20V Power Share Axis cordless reciprocating and jig saw has two saws in one, with pivoting push buttons that quickly turn the jigsaw back into a reciprocating saw. It has a speed of 3,000 rpm and a 1/4-inch stroke length.
Product Details
Blade material: High-speed steel
Power source: Battery and charger
Special feature: Brushless motor
Weight: 4.36 lbs
Battery power: 20v max
Warranty: 30-day manufacturer limited
Pros
Two saws in one
Orbital cutting – for efficiency and precision cutting
Compact and lightweight
Dust blower
Works with any brand of saw blades
Cuts many materials (cutting wood)
Cons
The battery does not last long
Vibrates a lot
Very loud
My Opinion: This two-in-one saw is durable, robust, and an excellent tool to add to any professional's kit. I highly recommend it for anyone doing woodworking or cutting trees or branches around their home.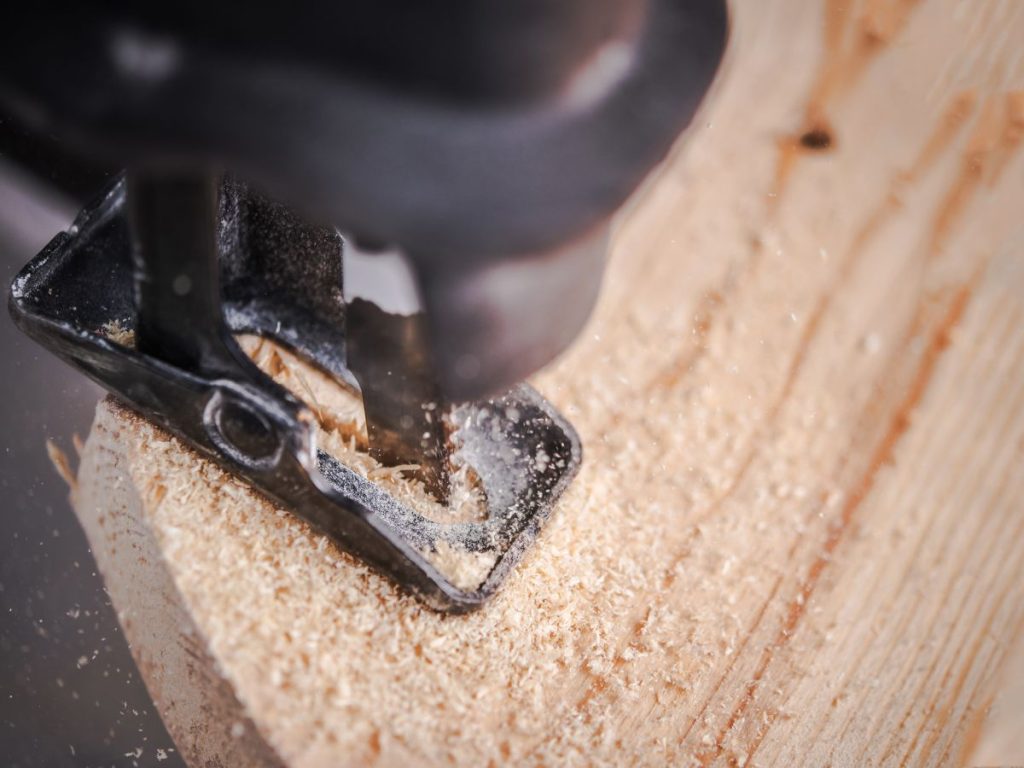 Best Corded: DEWALT 12-Amp
Sale
The Dewalt compact 12V amp reciprocating saw has a keyless blade clamp for quick and easy blade change. It has variable speed from 0-3,000 spm and a 1-1/8 inch stroke length to ensure fast and efficient cutting.
Product Details
Blade material: High-speed steel
Power source: Electric cord reciprocating saw
Special feature: Brushless motor
Weight: 1 lb
Battery power: N/A
Warranty: 3-year limited warranty
Pros
Compact and lightweight design.
Lever-action reciprocating saw
Powerful 12 amp motor for heavy-duty activity
Variable speed control
Cons
Limits movement because it is a corded reciprocating saw
High vibration
Loud
May require an extension cord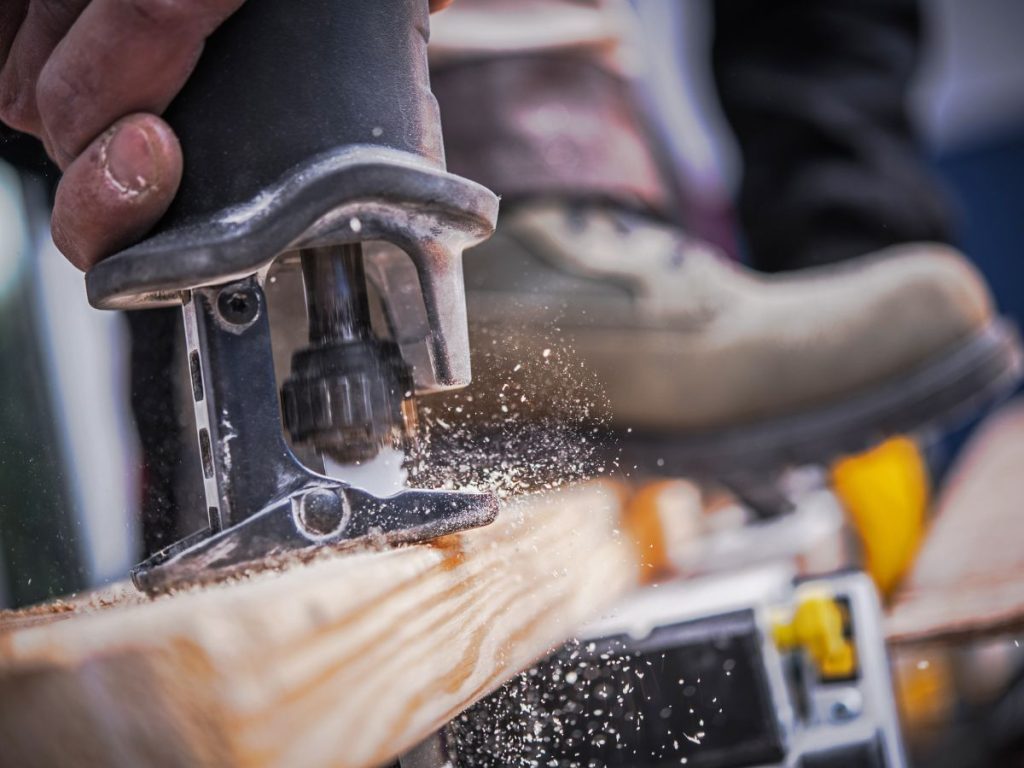 Opinion: Powerful corded reciprocating saw with a brushless motor. The different positions of the blade clamp are unique, allowing for flush, precise cutting, and increased versatility. Excellent for cutting through metal, cutting wood, plastic, drywall, fiberglass, and other demolition work. Remember that it is corded, and you may require an extension cord sometimes, but if you need more power, this saw should make your list.
Best Value for Money: BOSCH PS60-102 12V Max
Sale
BOSCH PS60-102 12V Max Pocket Reciprocating Saw Kit with 2.5Ah Battery
COMPACT: The Bosch PS60-102 Reciprocating Saw is compact and lightweight making it ideal for working in tight spaces. Its superior ergonomics allow for both one-handed use and overhead use.
ROBUST: The PS60-102 reciprocating saw is tough enough to cut different types of materials including hard materials like copper and conduit. The tool also featured a fast motor brake for more safe and...
PROTECTION: The PS60-102 features a complete protection system including protection from overheating and overloading as well as under voltage protection. Electronic Cell Protection offers linger tool...
DURABLE: With a durable design and a front rubber wrap, the reciprocating saw provides protection for internal parts from dust, debris, and water. Its bumper design minimizes vibration.
CONVENIENT: The PS60-102 reciprocating saw comes complete with an LED light to effectively illuminate dark work spaces as well as a battery fuel gauge to indicate capacity level.Speed:0-3,600
The Bosch PS60-102 12V Max Pocket Reciprocating saw kit with a 2.5Ah battery – is relatively small and lightweight but robust. It has variable speeds from 0 to 3,000 strokes per minute (spm), and it also has a fuel gauge which aids in easier battery management for continuous work.
Product Details
Blade material: High-speed steel
Power source: Battery and charger
Special feature: Brake (for safety)
Weight: 5.59 lbs
Battery power: 12v
Warranty: Limited 1 year
Pros
12v max motor
Trigger lock-off switch prevents an accident
Tool-free blade change
Battery fuel gauge – to monitor battery level
Soft grip, with multiple grip positions
Cordless reciprocating saw
Cons
Low battery life
The more intense the project, the faster the battery dies
Slow cutting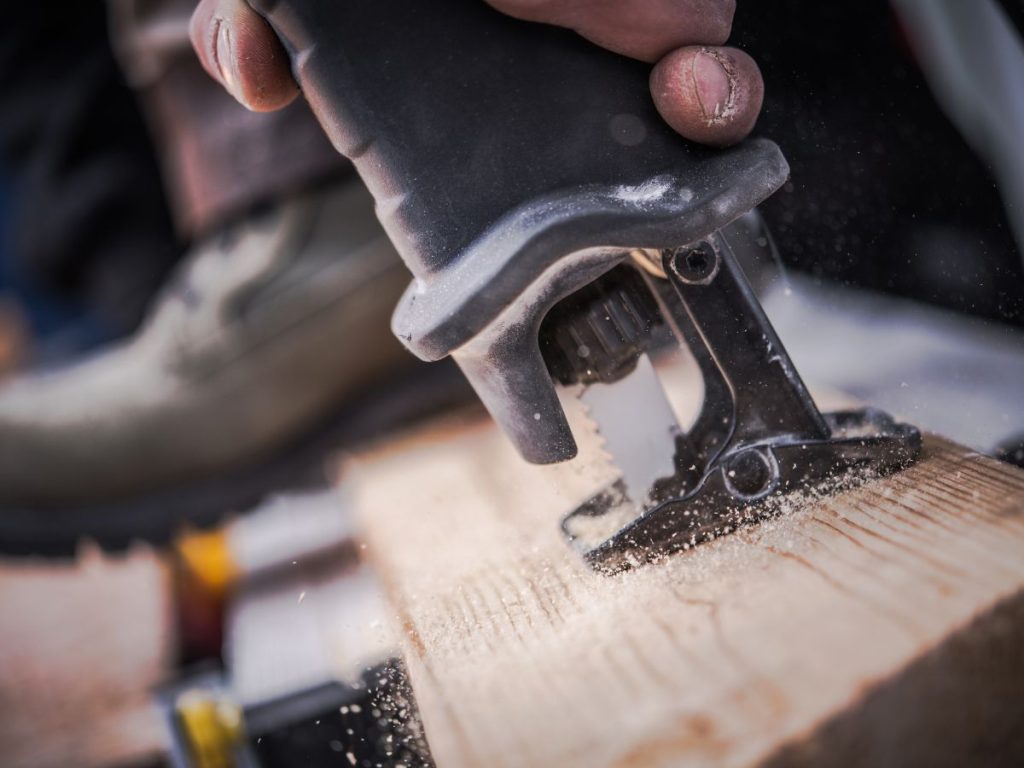 My Opinion: I recommend this pocket-size Bosch reciprocating saw for every household to get a must-have tool. It is compact and lightweight with superior ergonomics, allowing users to use one hand and safely work overhead. It has a durable design, wrapped in rubber, protecting the internal parts from water, debris, and dust. For easy storage, it has a carry case.
Honorable Mention: Ingersoll Rand 429 Heavy Duty Air
Sale
Ingersoll Rand 429 Air Reciprocating Saw, Heavy Duty, Lock Out Lever, 6 Cutting Blades, Positive Blade Retainer, 10,000 Strokes Per Min, Silver
VERSATILE PNEUMATIC SAW: The Ingersoll Rand 429 Air Reciprocating Saw cuts flat and curved surfaces in all types of plastics, fiberglass, and composite materials, as well as aluminum and sheet metal.
LOCK-OUT LEVER: For extra safety, this saw features a unique system that prevents accidental throttle operation by utilizing a spring-loaded latch that resets each time the lever is released.
BEST USES: With an inline configuration, this cutting tool allows for easier access in tight spaces. Its reduced vibration is excellent for body shop repair, muffler and exhaust work, and sun roof...
DURABLE RELIABILITY: Positive blade retainer and adjustable blade guide increases blade life, so you can count on this tool to last.
The Ingersoll Rand 429 Heavy Duty Air Reciprocating Saw is versatile and cuts flat, curved surfaces. It comes with a speed trigger of 10,000 spm, and the average air compression is 8 CFM. Complete with six high-speed steel cutting blades and two hex wrenches.
Product Details
Blade material: High-speed steel
Power source: Hand powered
Special feature: Versatility (cuts any surface and most materials)
Weight: 1.32 lbs
Battery power: Not battery operated
Warranty: 1 year
Pros
Versatile – handles various surfaces and all types of material
Extra safety lever
Easy access in tight spaces
Reduced vibration control
Durable blades
Cordless reciprocating saw
Cons
Pricey for the size
Slow motor start-up.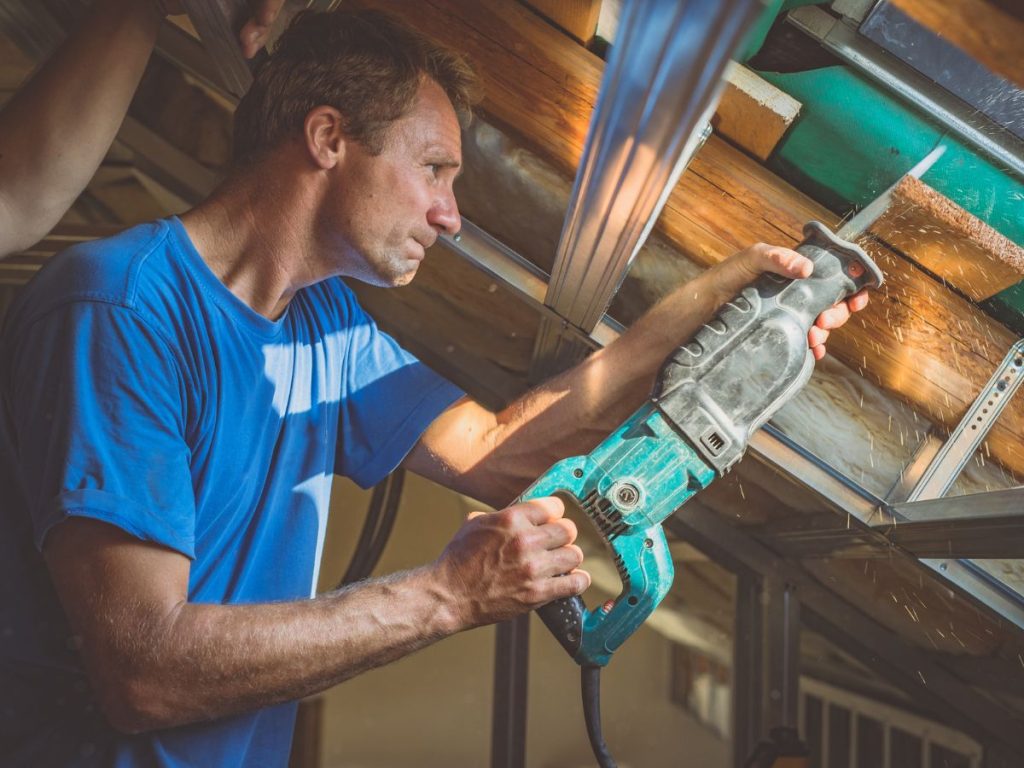 My Opinion: In my book, this is the best all-around reciprocating saw to manage any material your project entails. It comes with extra blades and two wrenches. The Ingersol Rand is top quality, reliable, durable, and performs well. A beginner can efficiently utilize this saw with low vibration and great additional safety features. I highly recommend it to professionals for small projects and to amateurs.
Choosing The Best Budget Reciprocating Saw For Your Needs
One of the first decisions you must make when choosing a reciprocating saw is what power source you want. Secondly, decide your price range; I suggest a price range between $110 and $300. A complete kit would be a better investment instead of just the bare reciprocating saw.
Further, help in deciding the power source is outlined below. Apart from the price some other things that you should pay close attention to when choosing a reciprocating saw
Power source
There are two types of power sources you can choose from, cordless and corded. 
A cordless reciprocating saw is a saw that works with a battery or is hand powered. The benefit of this is that it is portable and can even operate outdoors without an electrical connection.
A corded saw works with an electrical connection and is great for prolonged projects. The downside is that it limits portability.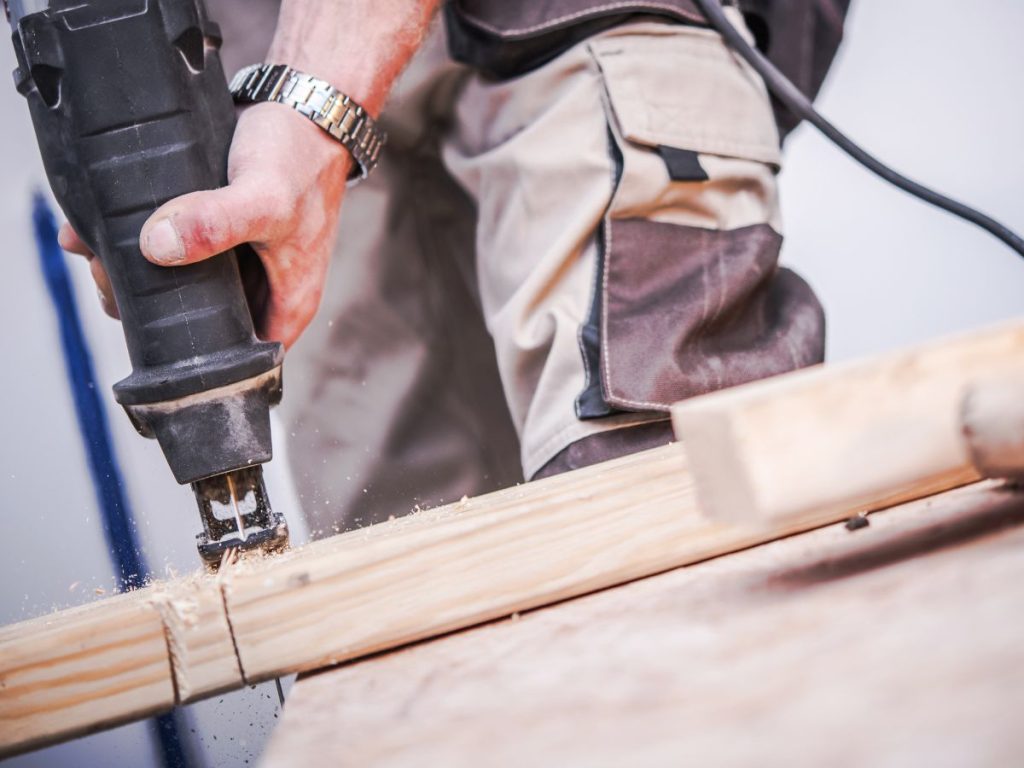 Speed and stroke length
A reciprocating saw cutting speed is based on the stroke length, and the stroke length is the distance the saw blade moves up and down.
In most cases, the speed of a reciprocating saw is measured by the strokes per minute (spm). The higher the spm, the faster the speed.
Reciprocating saw stroke lengths range from 1-1/4 to 1-1/8, with 1-1/8 inches being the longer stroke length and the most commonly bought.
The stroke speed ranges from 2700 to 3000 spm, and a rate of 2900 and above is ideal for most projects. It is wiser, however, to get a saw with variable speed because it allows for greater control and is more efficient.
Orbital action
The orbital action is simply the movement of the blade in the reciprocating saw. The more aggressive the cut, the more vibration, and sound the saw makes
Orbital action increases speed but reduces accuracy. Newbies should avoid purchasing saws that have orbital motion without vibration control to prevent potential accidents.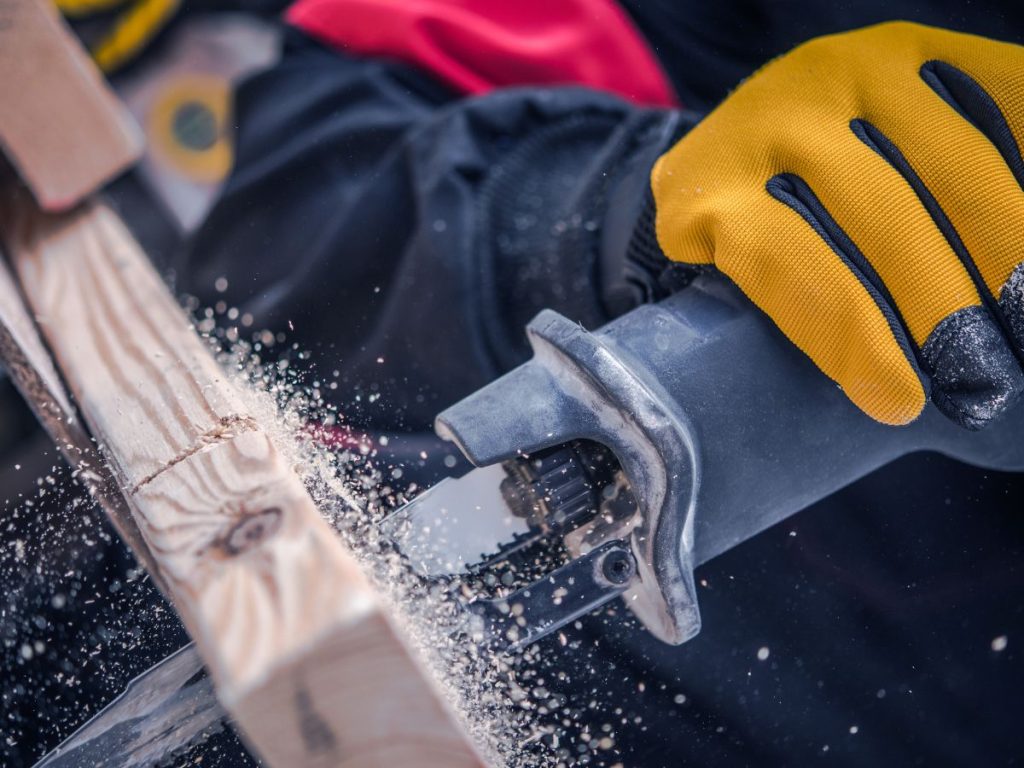 Other features
Blade type – some reciprocating saws only work with their brand standard reciprocating saw blades and not blades universal. Carefully read the specifications as, at times, there are no blades included in the package, but they must be bought separately. The right blade is important for certain construction and demolition work.
Size – Every saw has a different size. Large reciprocating saws are mainly used for heavy-duty demolition and large remodeling jobs. Some are compact and can easily be managed with one hand. Handheld saws are perfect for narrow, constrained spaces. Choose the size that best fits your needs.
Vibration control – the more a reciprocating saw vibrates, the less control you have over the saw and the more possibility for error. The lower the vibration, the more control you have over the reciprocating saw and reduce muscle fatigue.
Tool-less blade change feature – is a convenient feature, especially for newbies. It allows you to change blades without using any tools.
Led light – is an excellent extra feature, especially when working in dark spaces.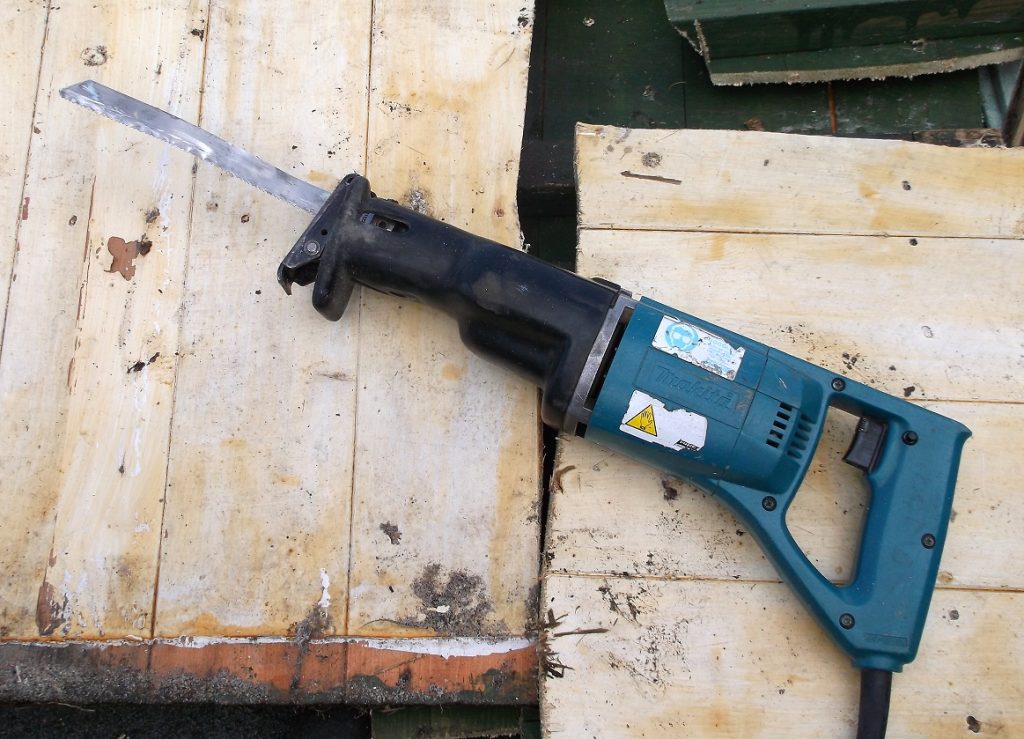 Conclusion
In conclusion, because reciprocating saws can be dangerous and unpredictable, I strongly recommend looking for a saw with as many safety features as possible and one that is durable. Accidents can happen at any time to anyone, no matter how trained they may be. There is no perfect reciprocating saw, but with these tips choosing one of the best reciprocating saws would be less stressful.
All the best with your demolition or remodeling project, and I hope this article makes the selection process easier.