Most people would have to agree that magnets are pretty cool. And most of us would have owned several while growing up. But now I seem to seldom see or use them.
But there has to be a way to include magnets into our turnings. This section will explore different ways that turners can envision using magnets.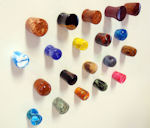 In this photo tutorial, John shows us a clever way of taking advantage of all those pen blank leftovers that we all have. He also shows how he makes a custom screw chuck just for this project. It's very useful here and I expect for other projects too!
The fridge magnets are a just little project and not only make use of those pen blank scraps but allows us to use magnets in our turning, cool!